Meeting Ivo Adam
Jul 17th, 2013 | By
Lindsay
| Category:
Celebrity Sightings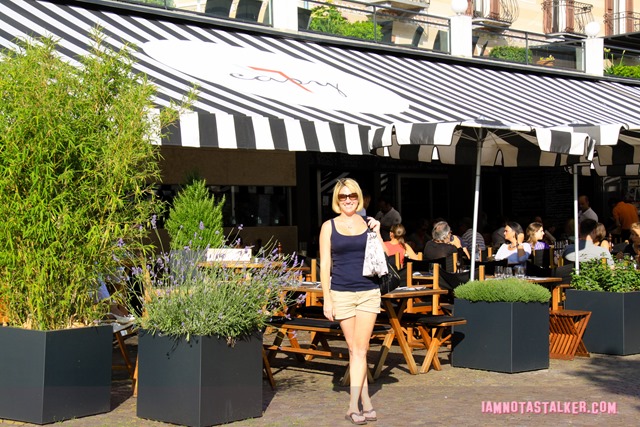 While vacationing in Switzerland last month, I was not expecting to encounter any stars.  But the stalking gods were definitely smiling down upon me because encounter a star, I did – a Swiss celebrity chef named Ivo Adam.
Upon arriving in Ascona, a gorgeous lakeside town in Switzerland's Ticino region, my best friend Robin's girlfriend, Steffi, suggested we grab an afternoon cocktail (or aperitivo) at her favorite area bar, Sea Lounge – a watering hole that sits rights on the harbor of Lake Maggiore.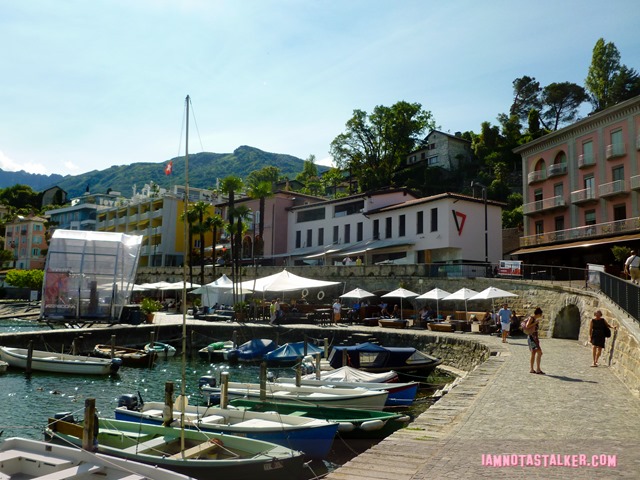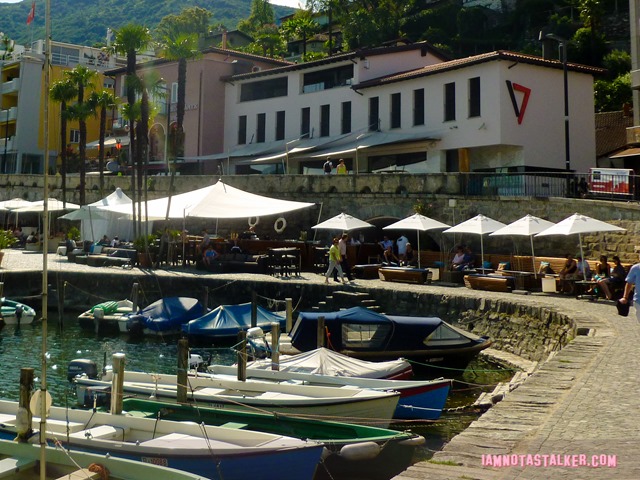 A portion of Sea Lounge is situated inside of a little cave, which is where our group sat.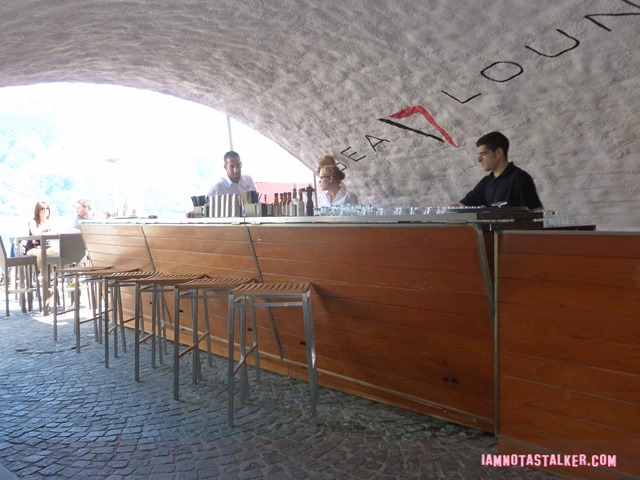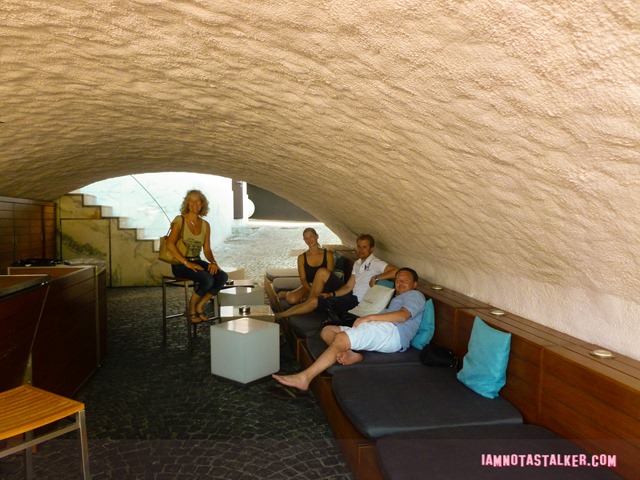 As you can see below, the views, even from inside of the cave, are absolutely spectacular!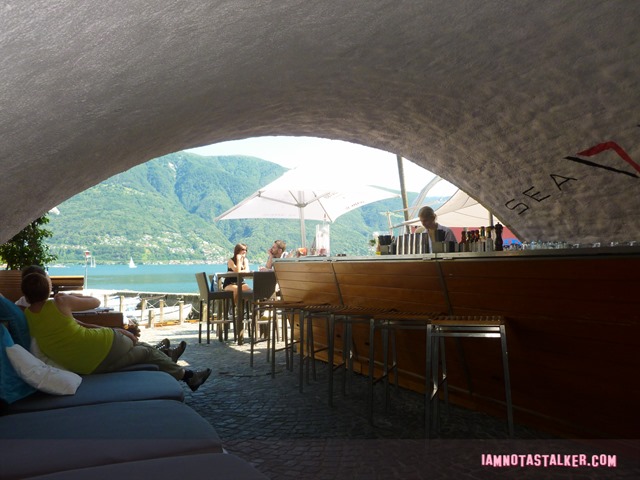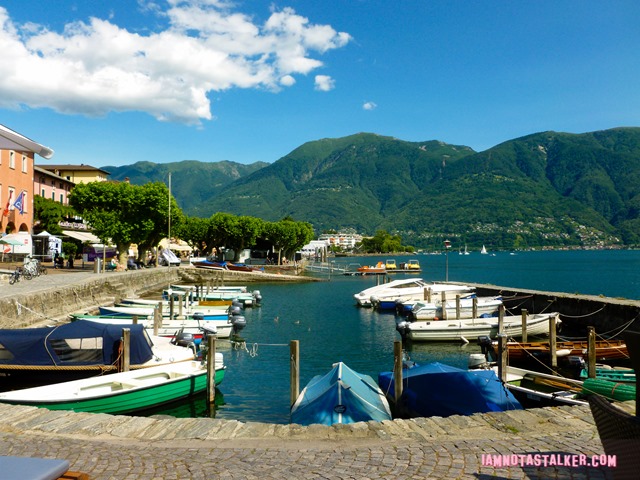 The entire restaurant is pretty darn amazing, actually.  That's the hallway leading to the bathrooms – yes, the bathrooms – pictured below.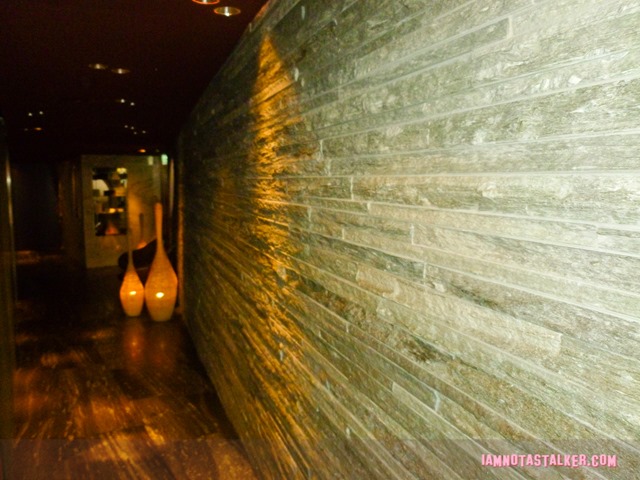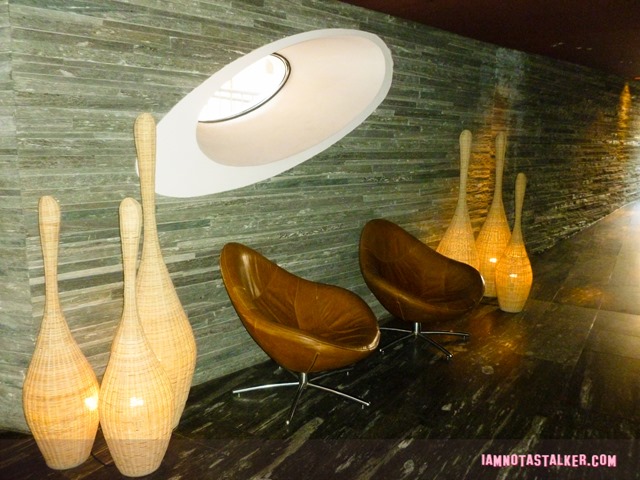 The bathroom faucets, which are controlled by a metal touch screen, were a sight to behold in and of themselves!  As you can see below, when a patron turns the temperature to cold, a blue light comes on.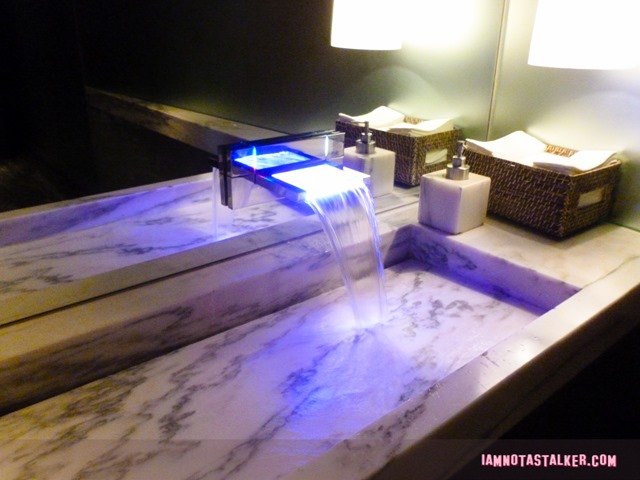 And when the water is turned to hot, a red light comes on.  So incredibly cool!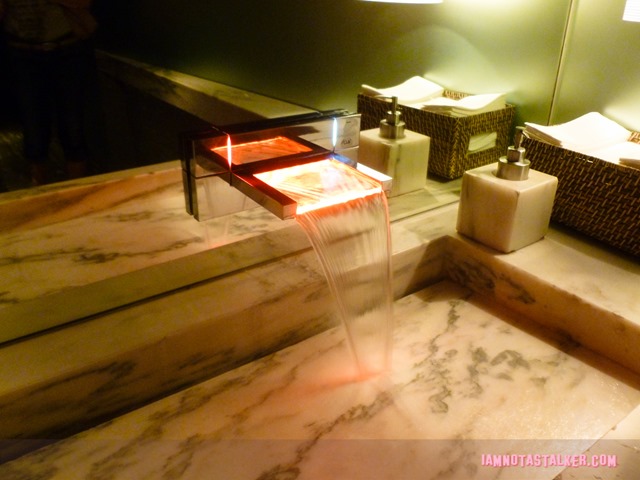 While enjoying our bubbly, Steffi, Robin and Robin's mom, Doina, told the Grim Cheaper and me about Seaside Lounge's owner, celebrity chef Ivo Adam, who is quite well-known in Switzerland thanks to his new television series, The Swiss Cookbook with Ivo Adam, and a series of commercials he starred in for the Coop grocery store chain.  At one point, Steffi mentioned that she had seen Ivo the last time she was at the Lounge.  Well, once I heard that Ivo might actually be on the premises, that was it!  I was bound and determined to get a picture with him and pretty much nothing was going to stop me!  Next thing I know, Doina announced that she saw Ivo approaching.  So I ran up to him, explained that I was a tourist from America and that I would love to take a photo with him.  Ivo agreed, thanked me for visiting, and happily posed with me and Steffi.  As you can imagine, I could NOT have been more excited!  Woot woot!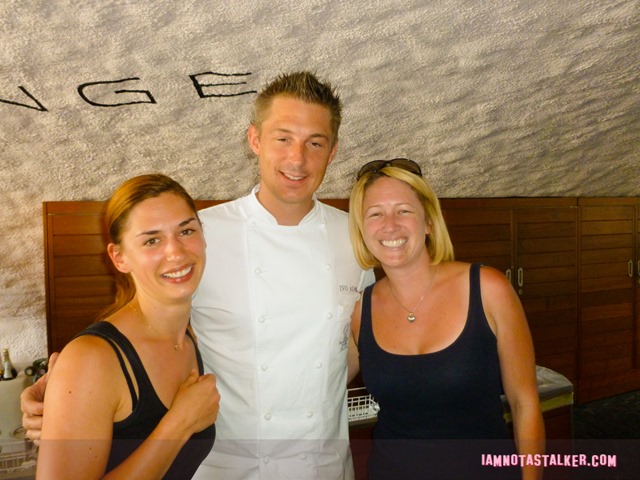 The Biel-born Ivo got his start in the culinary arts while still in elementary school, when he began baking cakes for his classmates' birthdays.  He was later formally trained as a chef, a pastry chef and a chocolatier.  In 2000, Ivo became the youngest person ever appointed to the Swiss Culinary National Team.  He opened his first restaurant, Apropos, in 2004, at the age of 27.  Three years later, he partnered with Birgit and Stefan Breuer to open Seven in Ascona – the name of which is derived from the fact that the Breuer family boasts seven members.  The fine-dining establishment has since gone on to earn a Michelin star.  Sea Lounge was founded shortly thereafter and in 2008, Ivo and the Breuers opened two additional Ascona eateries – a casual bistro named Seven Easy (pictured below) and a sushi bar named Seven Asia.  Robin likes to joke that Ivo owns every restaurant in town.  😉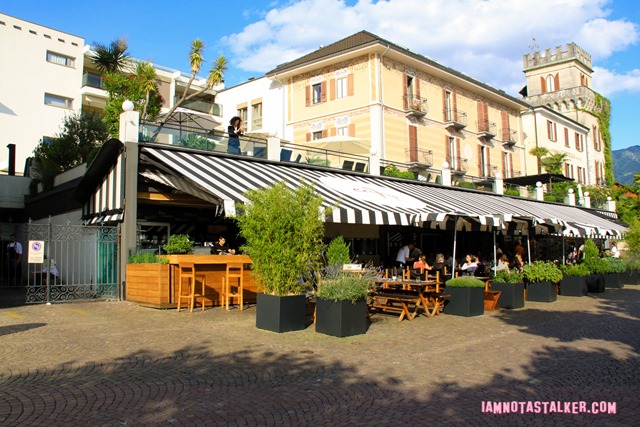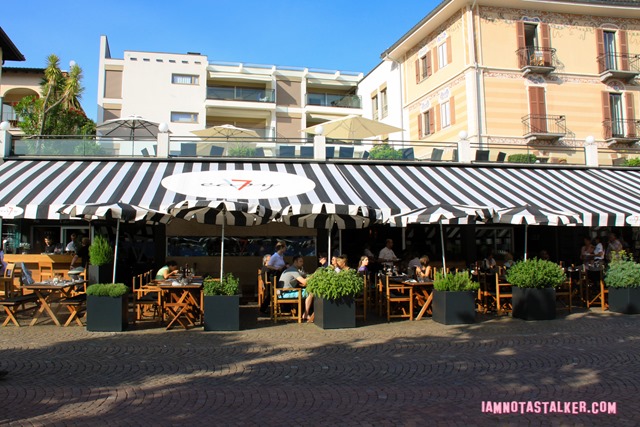 Ivo is also the author of several award-winning cookbooks.  Oh, and he's a hit rapper.  Yes, a rapper.  As Adam stated in a 2008 Swiss News interview, "Back in 2004, I gave a presentation on diet and healthy eating for my diploma and wanted to get my message across to young people.  Rap and hip-hop seemed a great way to do that.  I put together a CD with some rapped recipes."  His CD consisted of 16 recipes – or "rapcipes", as the newspaper called them.  Amazingly enough, the single "Birchermuesli" (about a popular Swiss breakfast dish consisting of oats and fruit) went double-platinum!  Everything the young chef touches seems to turn to gold.  It is no wonder that he has been dubbed the Jamie Oliver of Switzerland.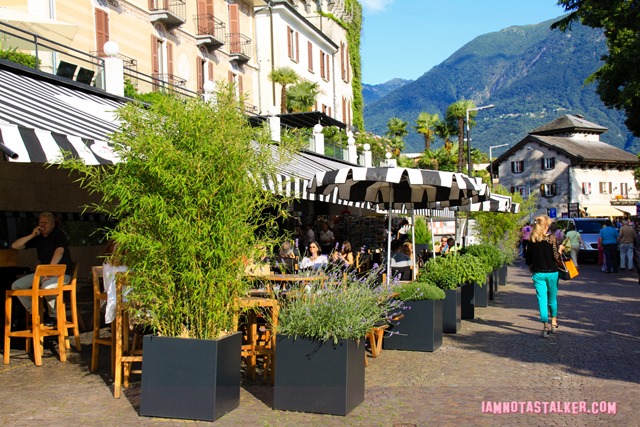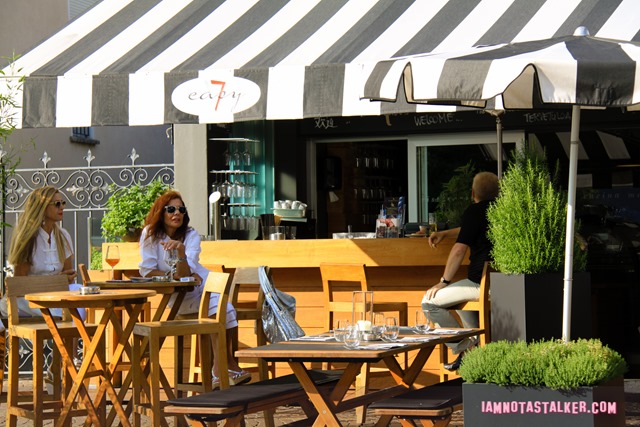 On the recommendation of Steffi, our group wound up eating at Seven Easy that night and, let me tell you, it was spectacular!  Pricey, but spectacular.  Robin made the best menu choice by ordering the UH-MA-ZING truffle pizza.  Though not at all diabetic friendly, I was kicking myself for not having ordered it because it was honestly one of the best things I have ever tasted.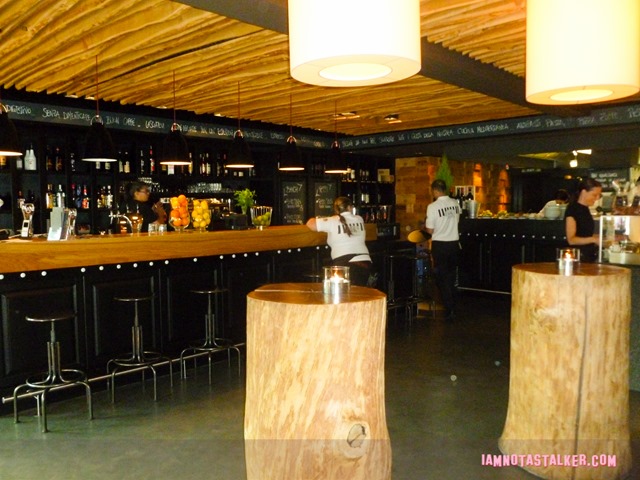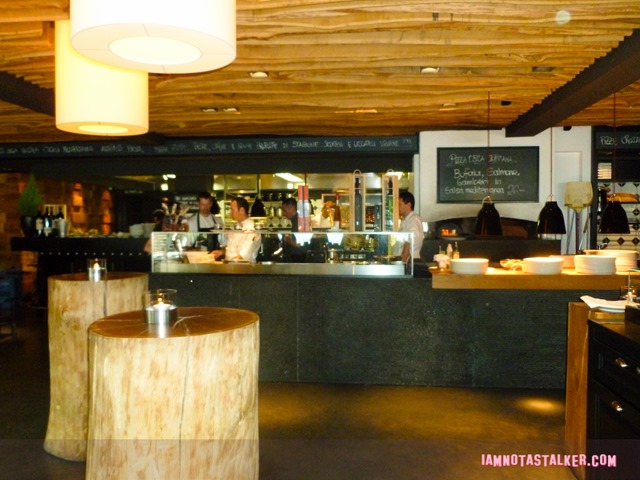 Like Sea Lounge, the design of Easy is altogether unique, with tree trunk cocktail tables, chalkboard menus and a wall made of sawed-off log cross-sections.  Love it!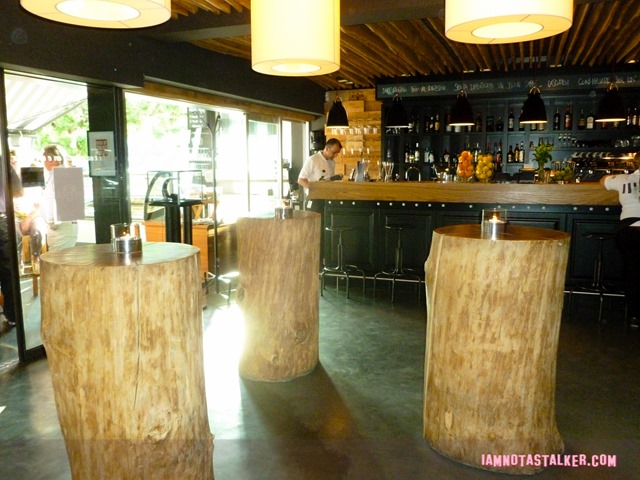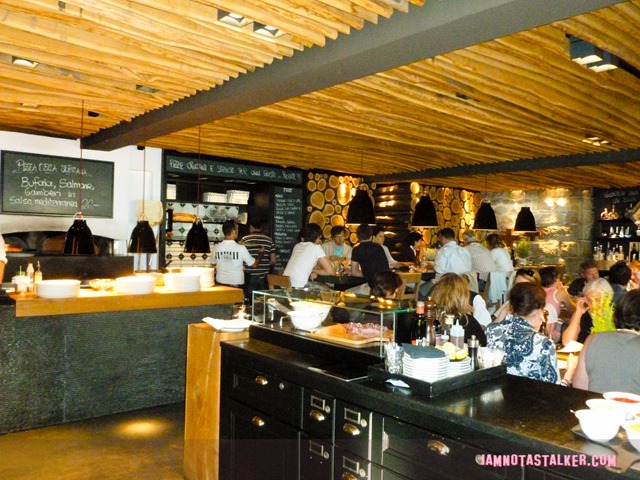 I would be remiss if I did not share some photographs of Ascona in this post, as it is an absolutely GORGEOUS part of Switzerland.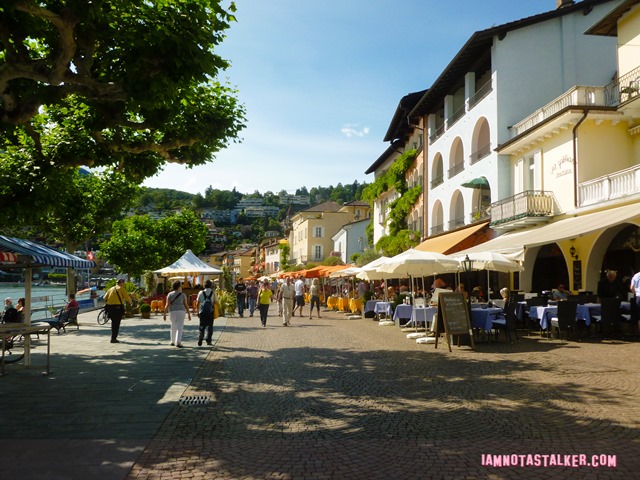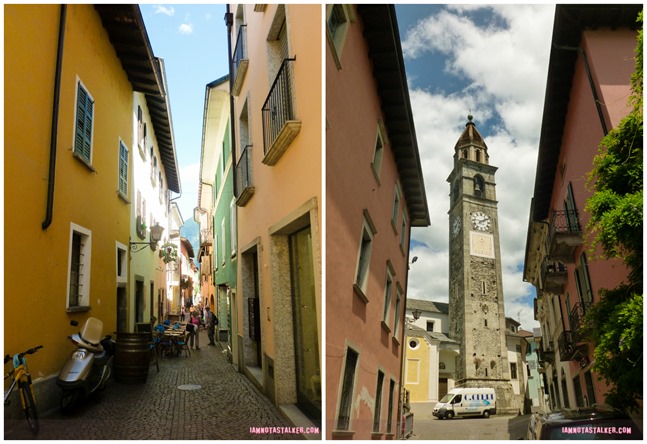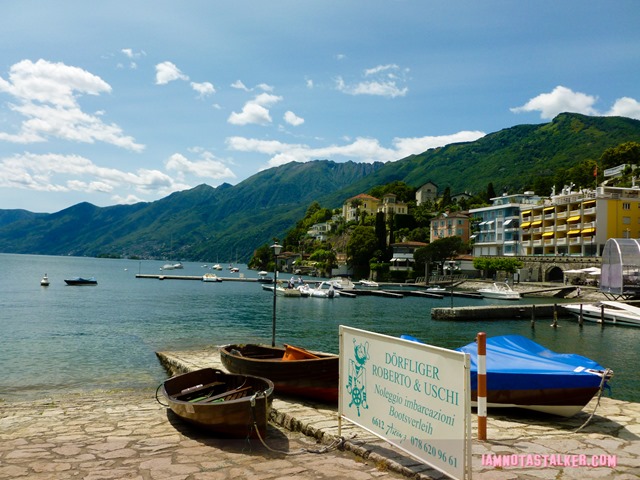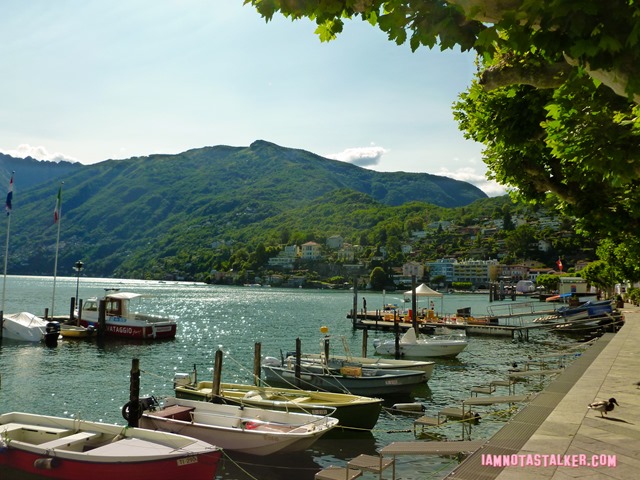 Be sure to follow me on Facebook, Twitter and Instagram for even more stalking fun!  And you can check out my other blog, The Well-Heeled Diabetic, here.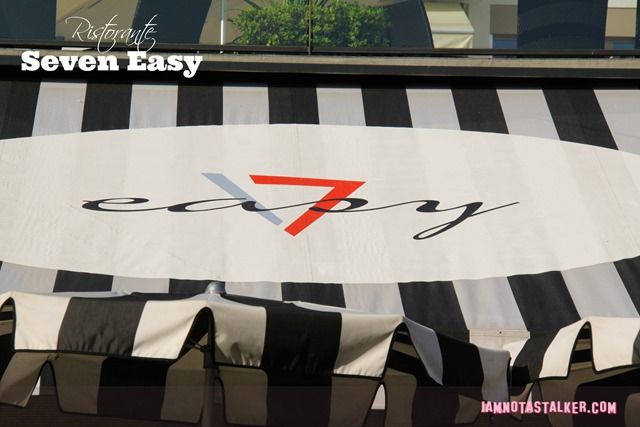 Until next time, Happy Stalking!  🙂
Stalk It: Seven Easy is located at Piazza Giuseppe Motta 61 in Ascona, Switzerland.  Sea Lounge is located at just up the street at via Moscia 2.  You can visit Ivo Adam's official website here.
71243