The "Little Miss Sunshine" Motel
Aug 5th, 2013 | By
Lindsay
| Category:
Movie Locations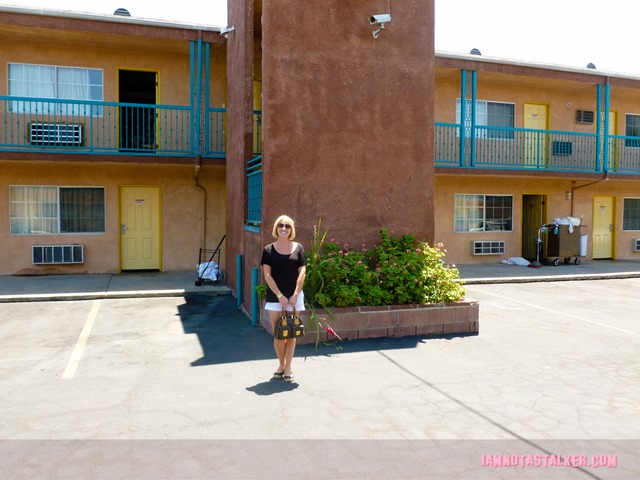 Another Little Miss Sunshine locale that I desperately wanted to stalk was the supposed Arizona motel where the Hoover family – Olive (Abigail Breslin), Richard (Greg Kinnear), Sheryl (Toni Collette), Dwayne (Paul Dano), Grandpa Edwin (Alan Arkin), and Frank Ginsberg (Steve Carell) – stayed mid-way through their road trip from Albuquerque to Redondo Beach in the 2006 flick.  Thankfully, smbstressfest had visited the site during the filming of his fabulous YouTube video, which chronicles most of the locations that appeared in LMS, so I posted a comment on his page asking for the address.  I was not sure if he would get back to me, though, so I also sent screen captures of the motel to Mike, from MovieShotsLA, in case he recognized it.  And, amazingly enough, he did!  At the very same time that I received an email notification alerting me that smbstressfest had replied to my comment with an address, I was also sent an email from Mike letting me know that the Little Miss Sunshine motel was actually the Budget Inn of North Hills located at 9151 Sepulveda Boulevard.  As it turns out, Mike drives by the place almost daily on his way to work.  So I ran right out to stalk it while the Grim Cheaper and I were in L.A. two weekends ago.
As you can see below, the Budget Inn of North Hills has, unfortunately, been remodeled slightly since filming took place in the summer of 2005.  The motel was still in its Little Miss Sunshine state back in May 2007 when smbstressfest stalked it (as you can see in his video), but it seems that I, sadly, missed the boat on this one.  Boo!  At least the basic structure of the property remains unchanged.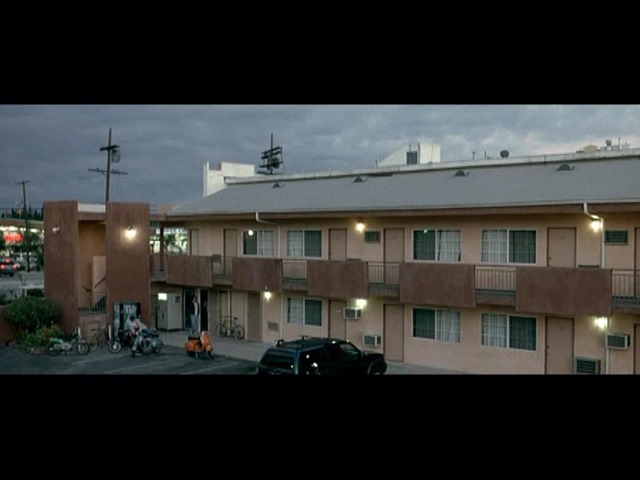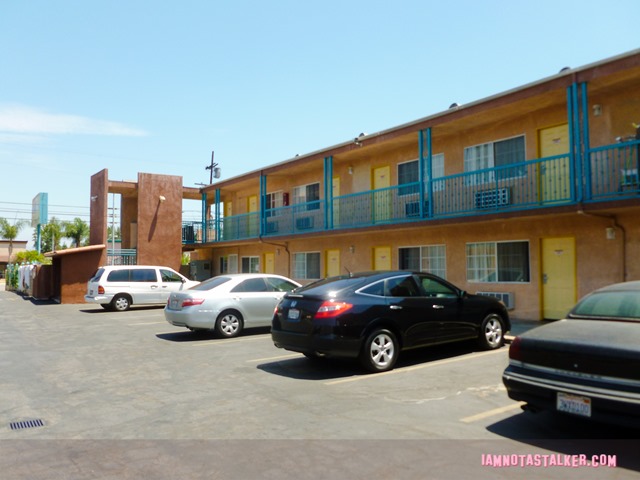 Despite the alterations being fairly minor, I had an extremely hard time getting my bearings while I was stalking the motel and could not get a grasp on what part of the property appeared in Little Miss Sunshine.  I am directionally-challenged anyway (my mom likes to say that I could not find my way out of a paper bag), and because of the way the Budget Inn of North Hills is set up with four practically identical corners, I just could not figure which area had been used in the filming.  So, unfortunately, my photographs of this particular locale are not the greatest.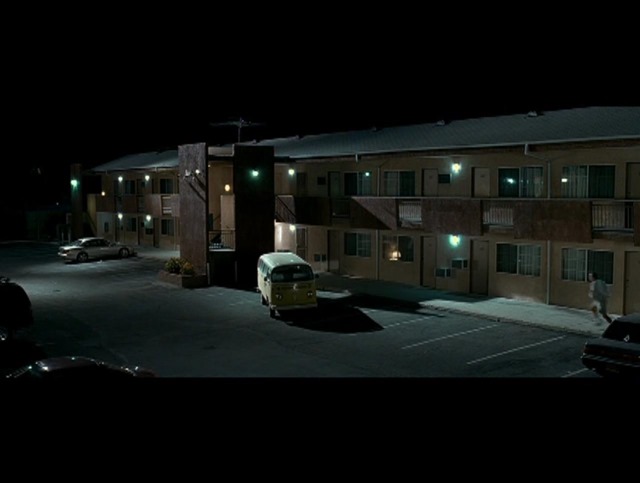 Add to that the fact that the motel is kind of an odd place and, even though I had talked to the management prior to taking photographs, I did not feel entirely comfortable being there and therefore did not do much exploring.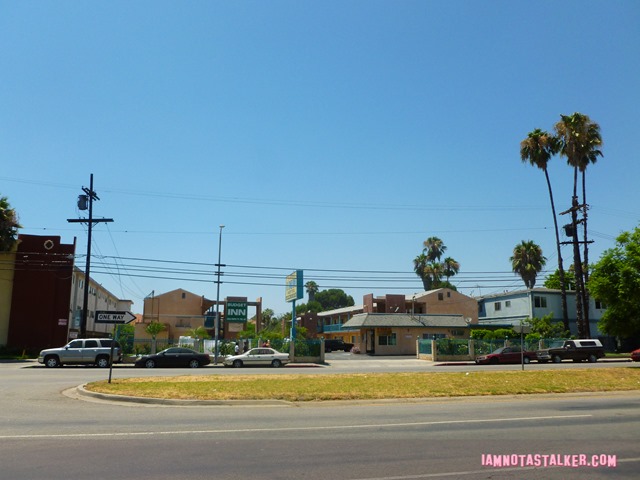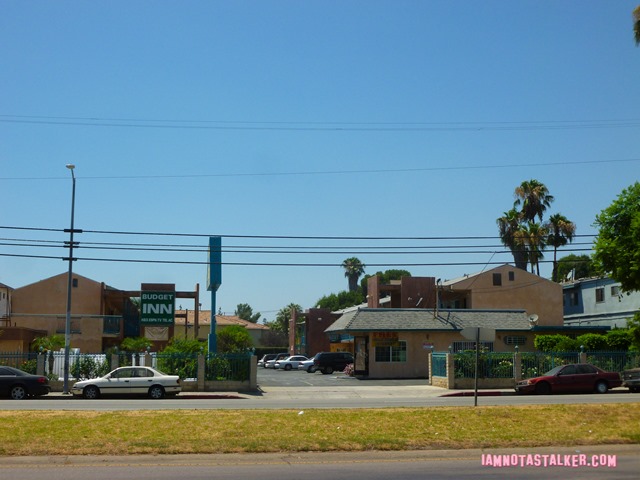 Had I stuck around, I would have loved to have ventured upstairs to take photographs of Room 208, where Olive and Grandpa Edwin spent the night in Little Miss Sunshine.  (Dwayne and Frank and Sheryl and Richard stayed in the two rooms located just east of 208.)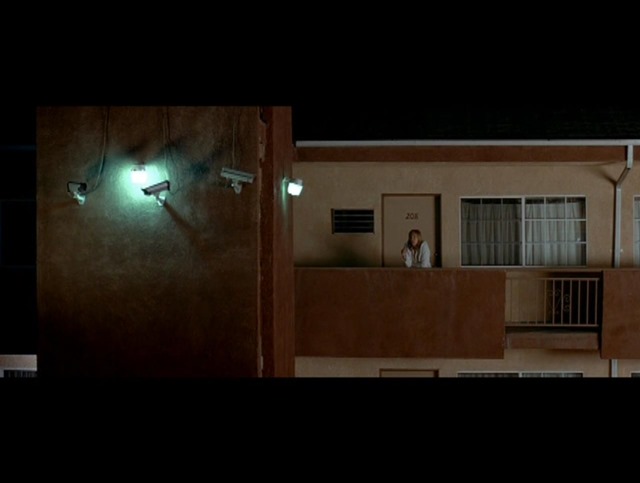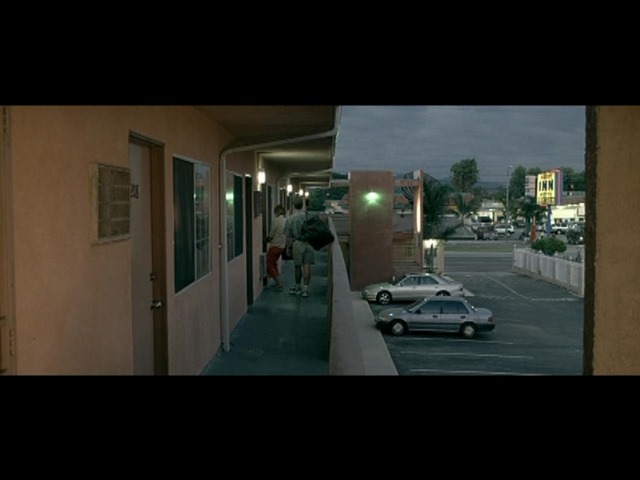 And while I am 99.9% certain that the real life interior of three of the Budget Inn's rooms were used during the filming, unfortunately, due to the remodel, the rooms (which you can see photographs of here) no longer look anything like they did onscreen.  Again, boo!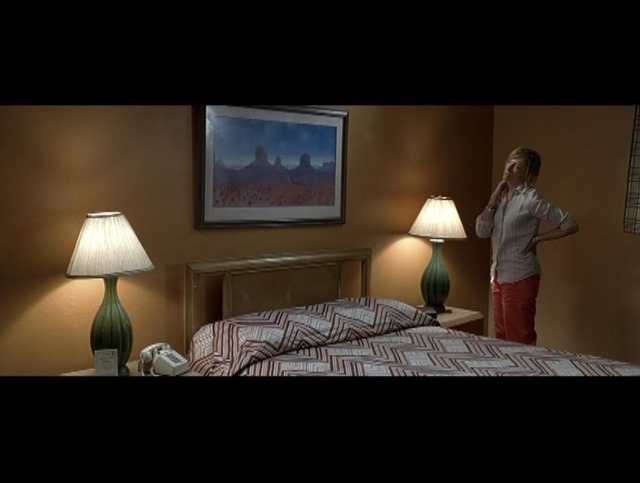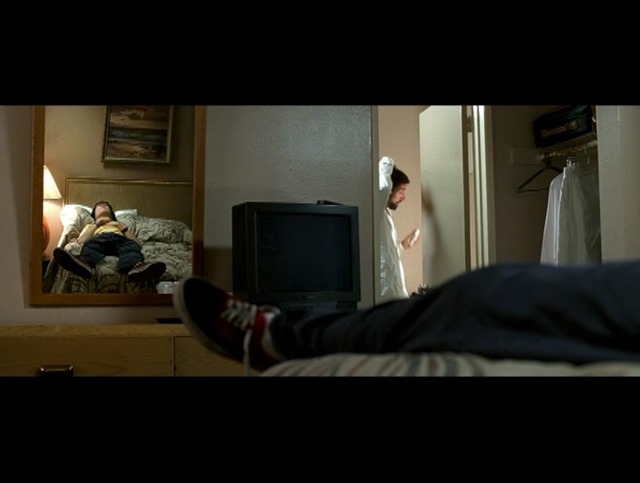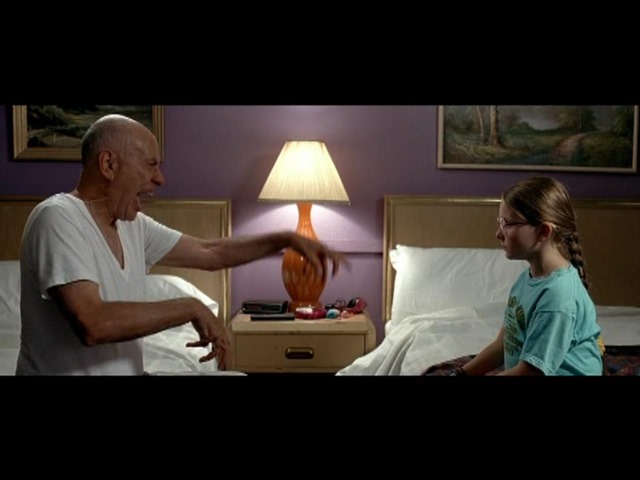 For more stalking fun, be sure to follow me on Facebook, Twitter and Instagram.  And you can check out my other blog, The Well-Heeled Diabetic, here.
Big THANK YOU to fellow stalkers Mike, from MovieShotsLA, and smbstressfest for finding this location! 

Until next time, Happy Stalking! 

Stalk It: The Budget Inn of North Hills, aka the Little Miss Sunshine motel, is located at 9151 Sepulveda Boulevard in North Hills.  You can visit the Booking.com page for the hotel here.  The Hometown Inn from the 2002 Britney Spears' movie Crossroads is located just down the street at 9401 Sepulveda Boulevard.
71911