The Former Site of the "Charles in Charge" House
Jan 17th, 2014 | By
Lindsay
| Category:
TV Locations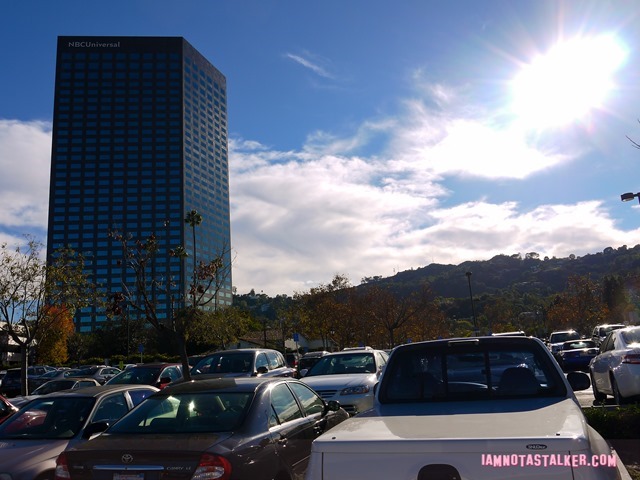 In November, a fellow stalker named Fatri posted a comment on my site asking if I had any information on the Pembroke/Powell house from the 1980's television series Charles in Charge.  I had actually always wondered about the location, but had yet to do any research on it, so I sat right down to start.  I quickly came across an IMDB thread in which it was said that the Pembroke/Powell residence was formerly located on an unnamed side street across from Universal Studios, but was demolished years ago to make way for the parking lot of the Universal City Red Line Station.  The thread also mentioned that the house had been used in the Season 4 episode of Knight Rider titled "KITTnap."  It was thanks to that episode that I found the home's exact former address.  Come to find out, though, the location was not actually a home at all, but a condominium complex.  But more on that later.
On Charles in Charge, the "home" where college student Charles (Scott Baio) worked as a live-in babysitter for first the Pembroke family and then the Powell family was said to be located at 10 Barrington Court in New Brunswick, New Jersey.  The establishing shots pictured below were used in the beginning of the opening credits throughout the series' five-year run.  And now that I really look at them, I am surprised it never occurred to me that the place was not a house.   As you can see, the structure is very obviously an apartment/condominium building.  In my defense, though, the images of the building were shown very, very briefly each week and because Charles in Charge aired in the pre-DVR days, it was tough to do much pausing.  I find it very odd that producers chose to use the location to represent what was supposed to be the Pembroke and Powell's large, upscale residence.  Regardless, I cannot tell you how heartbroken I was to learn that the complex had been demolished, especially after wondering about its location for so long.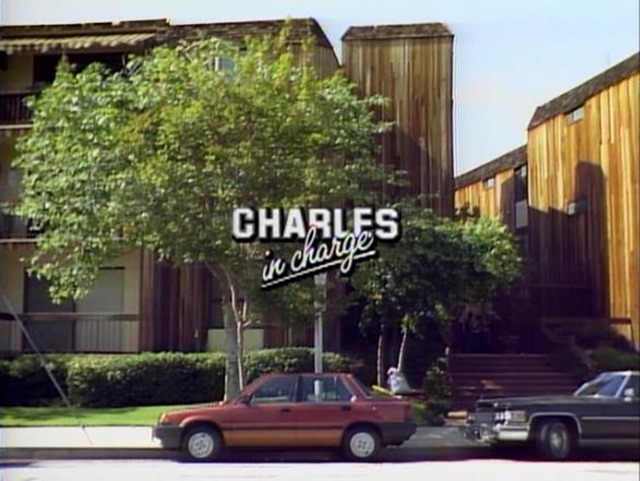 In "KITTnap", the Charles in Charge "house" was the apartment building where Karen Forester (Janine Turner), Michael Knight's (David Hasselhoff) latest flame, lived.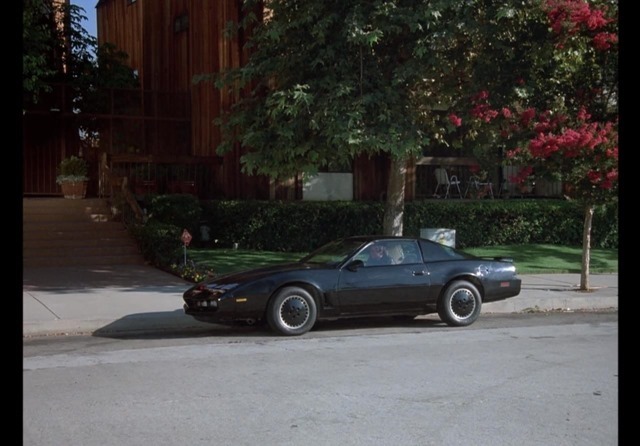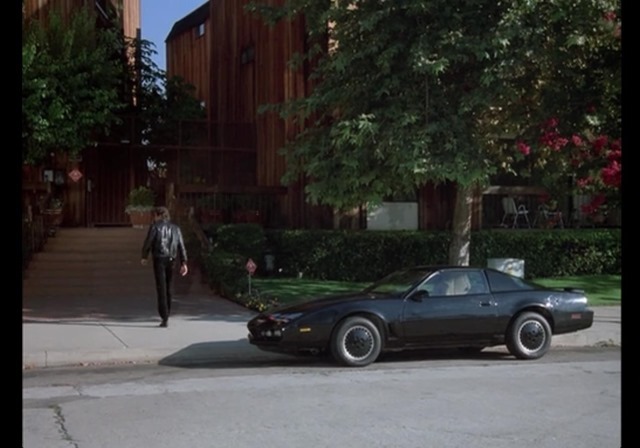 In the episode, a street sign reading "10700 Bluffside Drive" was visible.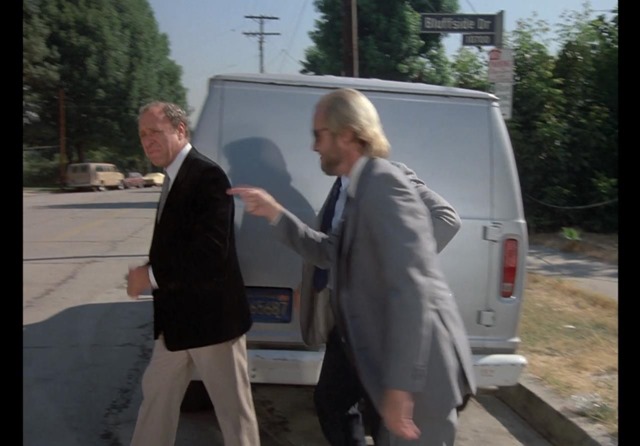 As was a very blurry image of the building's name, Universal Park.  From there, it was not hard to discern that the Charles in Charge "house" was formerly located at 10711 Bluffside Drive in Studio City.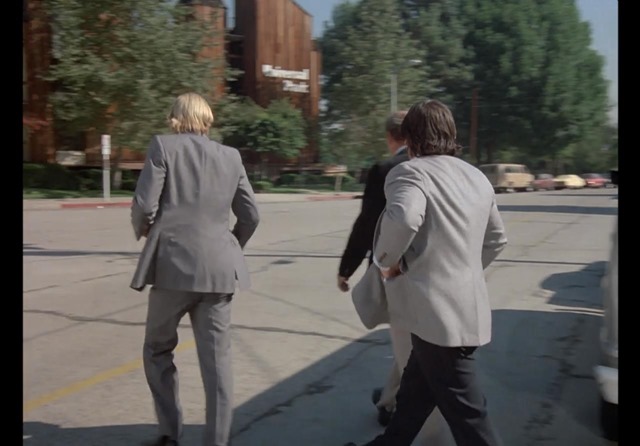 A view of the NBCUniversal building, the Sheraton Universal and the Hilton Los Angeles/Universal City were also visible in the background of "KITTnap."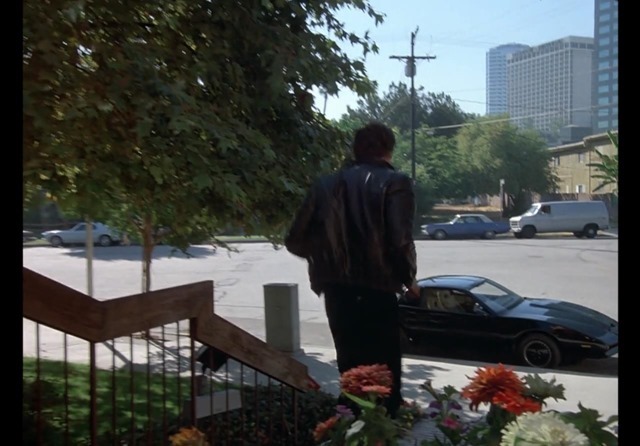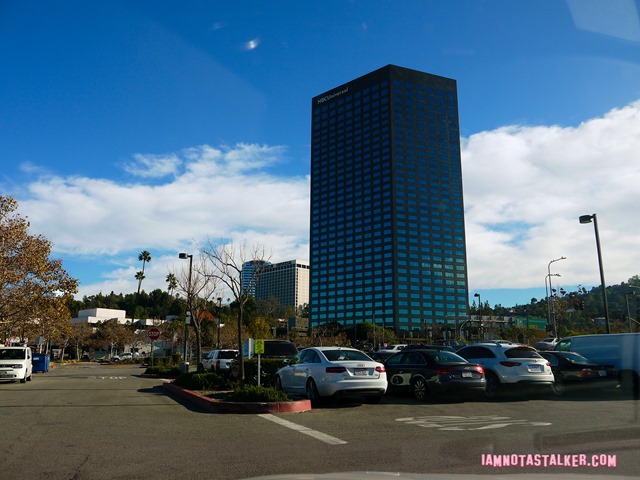 A matching view taken from the Universal City Red Line Station parking lot is pictured below.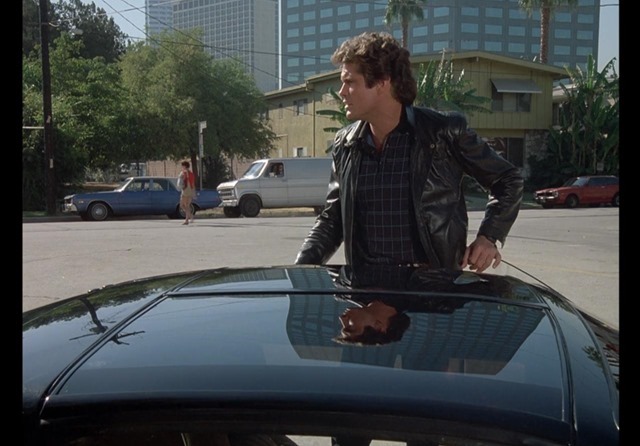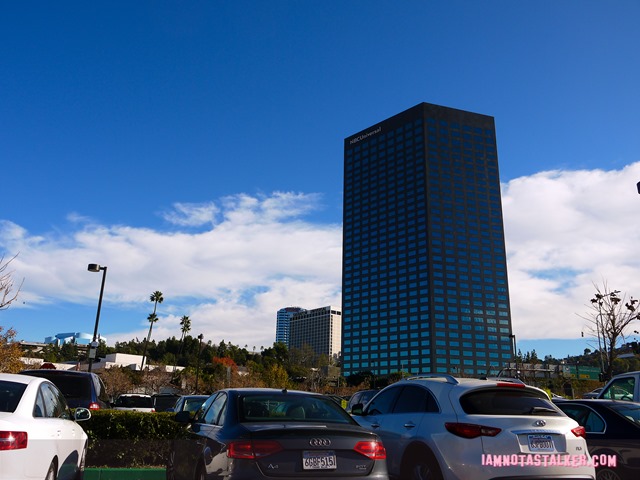 Thanks to Knight Rider Online, I learned that the Season 2 episode titled "Diamonds Aren't a Girl's Best Friend" was also filmed at the Universal Park building.  In the episode, the site was again home to another of Michael's flames.  The guy seems to have had a new girlfriend in every single show!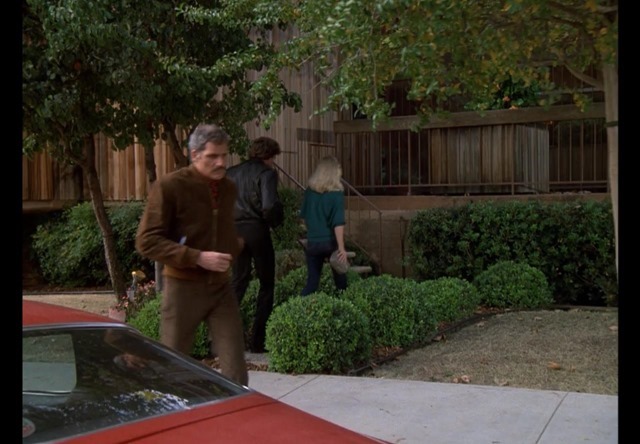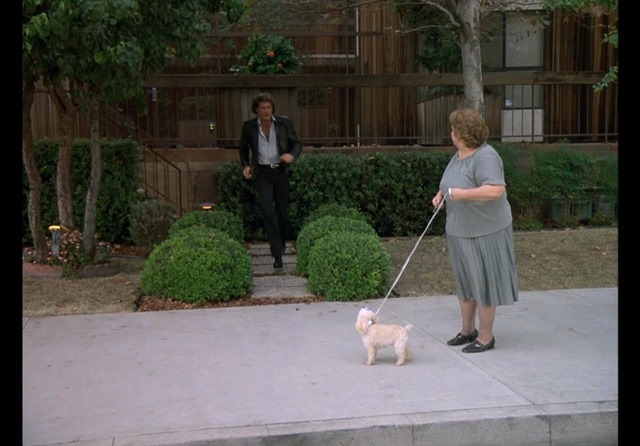 A much clearer view of the Universal Park signage was visible in "Diamonds Aren't a Girl's Best Friend."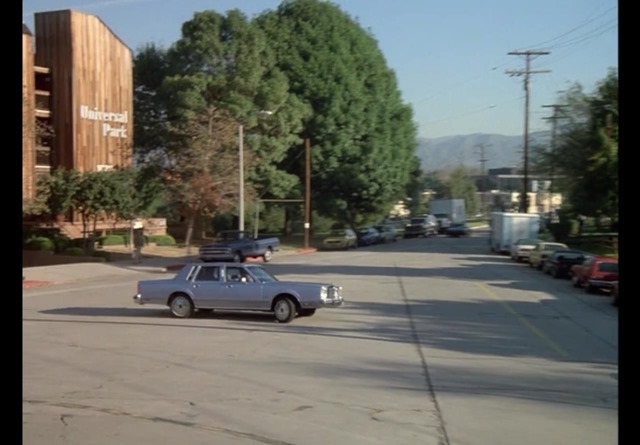 As was an address number of "10711."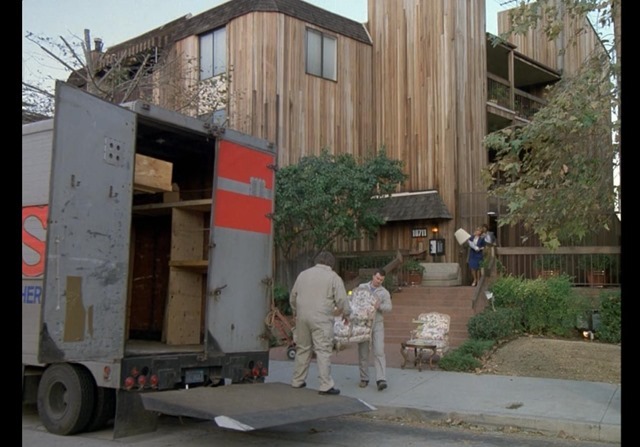 According to a 1996 Daily News article, when the final location was chosen for the new Universal City Red Line Station, Universal Park homeowners "sought condemnation" for the building in order to "avoid living" directly across from an MTA parking lot.  By February of 1996, all of the units in the building had been vacated and Universal Park was demolished shortly thereafter.  A 1980 view of the site from Historic Aerials is pictured below.   Universal Park is denoted with a pink arrow.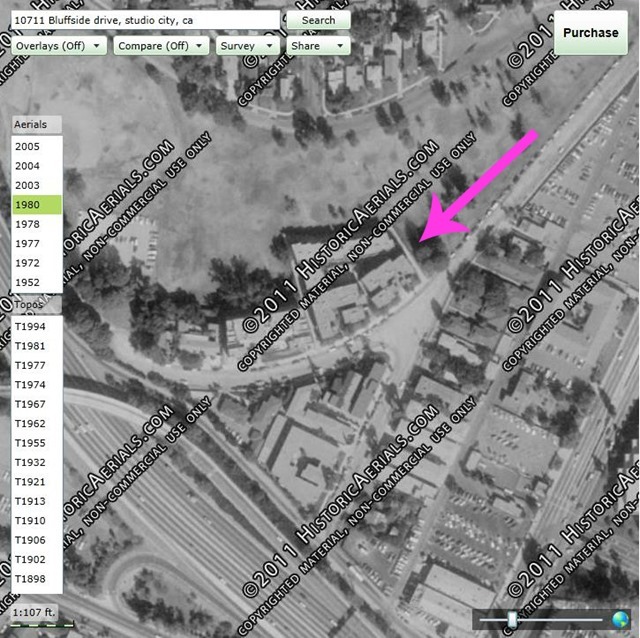 Pictured below is that same 1980 aerial view with an overlay of the current street layout on top of it.  As you can see, during the course of the MTA construction, Bluffside Drive was moved quite a bit to make room for the Red Station parking lot.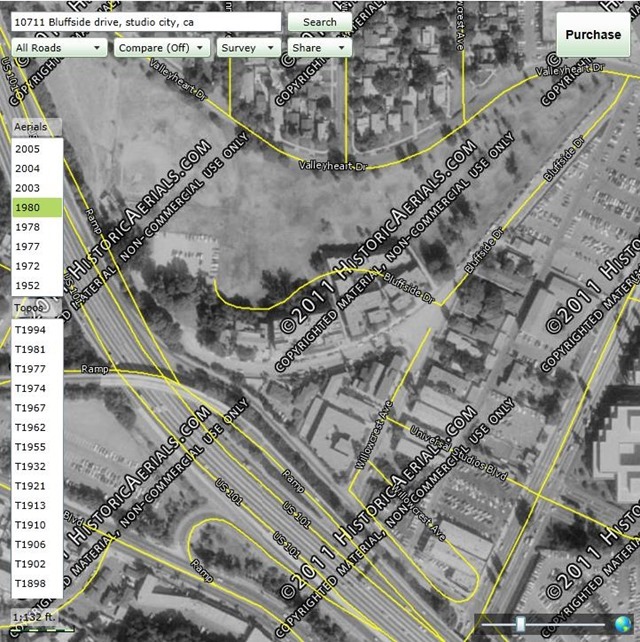 A current view of that same spot is pictured below with Universal Park's former location denoted with a pink "X."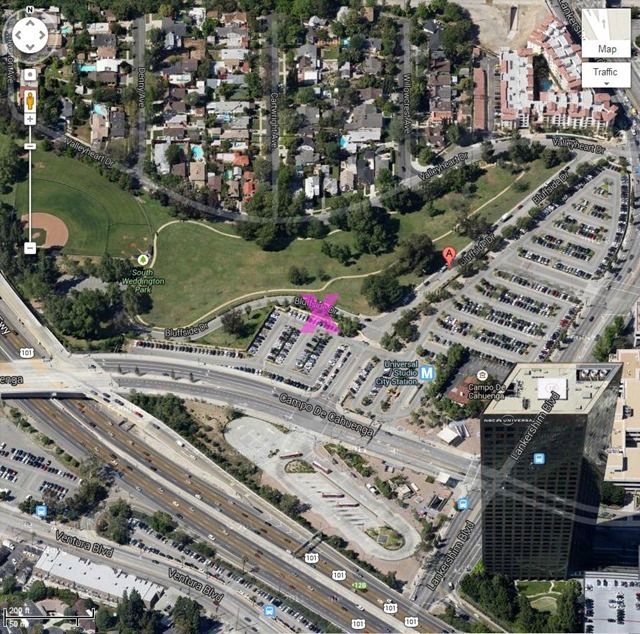 When looking at my photographs of the site, I can't help but be reminded of the "Big Yellow Taxi" lyrics  – "They paved paradise and put up a parking lot."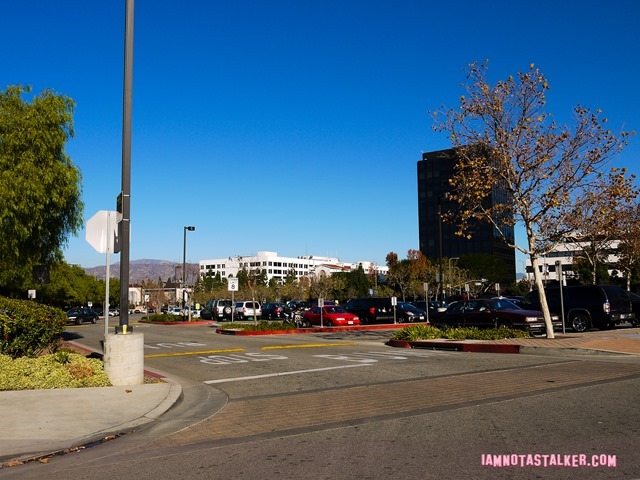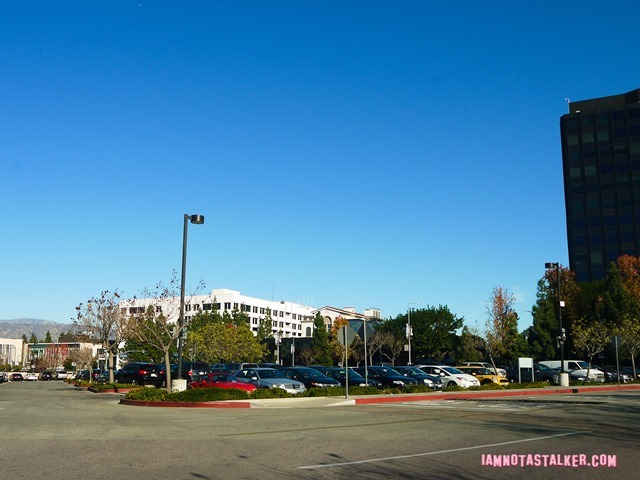 For more stalking fun, be sure to follow me on Facebook, Twitter, Instagram and Los Angeles magazine online.  And you can check out my other blog, The Well-Heeled Diabetic, here.
Until next time, Happy Stalking! 

Stalk It: The Universal Park condominium building, aka the Charles in Charge "house," was formerly located at 10711 Bluffside Drive in Studio City.  The site is now part of the Universal City Red Line Station parking lot.
78687