The "L!fe Happens" House
Mar 7th, 2014 | By
Lindsay
| Category:
Movie Locations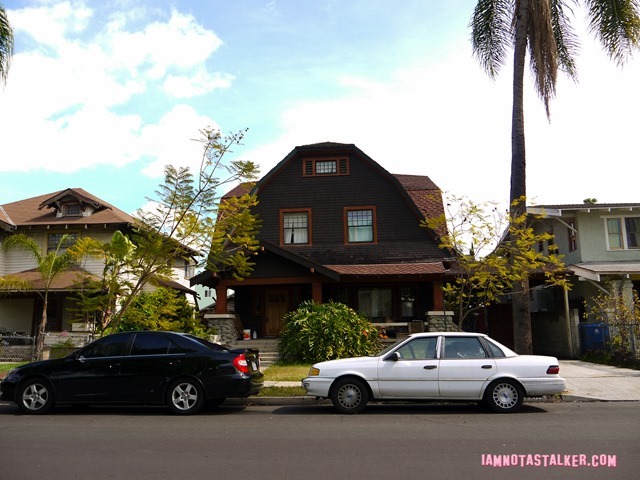 While getting my hair blown out at the Pasadena Blo-Out Lounge (one of my very favorite places) a couple of weeks ago, I caught a portion of the 2011 romantic comedy L!fe Happens, which I had never previously heard of.  Thanks to its obvious L.A. locales, the flick piqued my interest.  A rom-com filmed in Los Angeles that I didn't know about?  How is that possible?  I quickly amended the situation by forcing the Grim Cheaper to watch it on Netflix a few nights later.  And while I didn't particularly love the movie, I did fall into a bit of lust with the unique Craftsman-style home where BFFs Kim (Krysten Ritter), Deena (Kate Bosworth) and Laura (Rachel Bilson) lived in it.  Having Geoff Stults in a starring role didn't hurt, either.  This stalker absolutely loves herself some GS!  But I'm getting off track.
The residence took quite a bit of sleuthing to track down.  While I originally thought that it was most likely located in Echo Park or Silver Lake, after a lot of digging I ended up finding it just off the I-10 freeway near Western Avenue in the Pico-Union area of Los Angeles.
In real life, the home, which was originally built in 1905, boasts four bedrooms, two baths, 2,263 square feet of living space, and a 0.13-acre plot of land.  According to Zillow, it last sold in April 1999 for $150,000, which seems quite a bit low to me.  Maybe it was in very poor shape at the time, though.  It also appears to be undergoing some sort of renovation currently, as well.
L!fe Happens centers around three friends who live together in what is supposedly Silver Lake.  A one night stand (before which, borrowing a storyline from Friends, Kim and Laura battle each other over the last condom in the house) results in Kim becoming pregnant.  She decides to raise the baby as a single mom, while still living with her friends, and the movie takes off from there.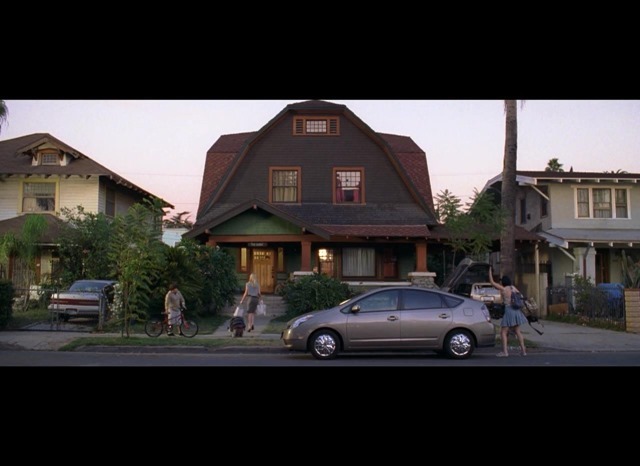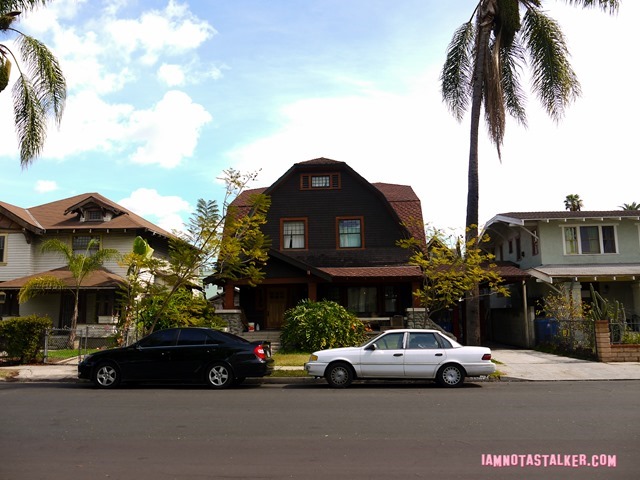 On a side-note – L!fe Happens borrowed another storyline from Friends – the "We both do that!" storyline from the Season 1 episode titled "The One with Two Parts: Part 2," which you can watch below.  But, once again, I'm getting off track.
The house is featured prominently throughout L!fe Happens, although it is never mentioned how Kim (a dog-walker/personal assistant), Deena (a struggling writer) and Laura (who flits from job to job) can afford such an amazeballs residence.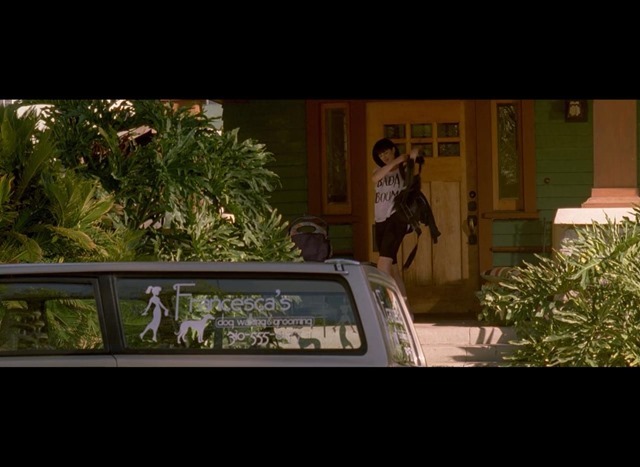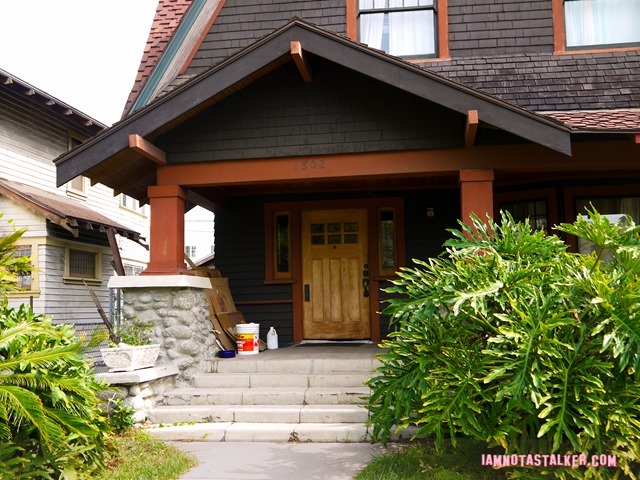 While I loved the home's unique exterior (especially the pentagonal roof!) . . .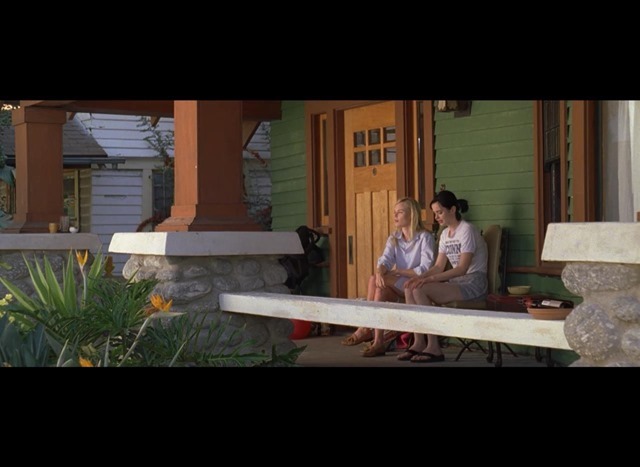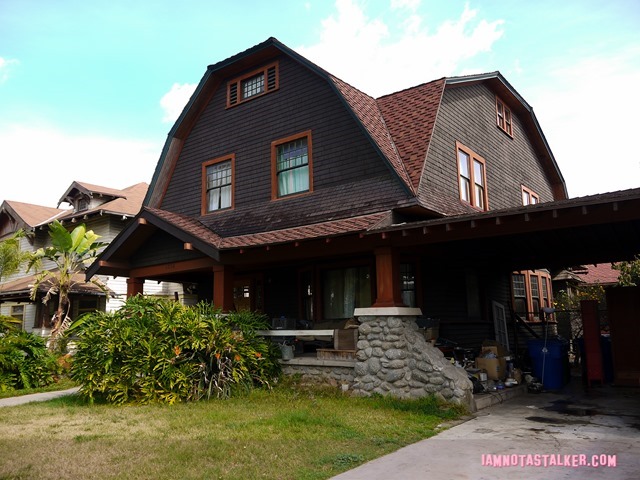 . . . what I became most enamored with was its interior . . .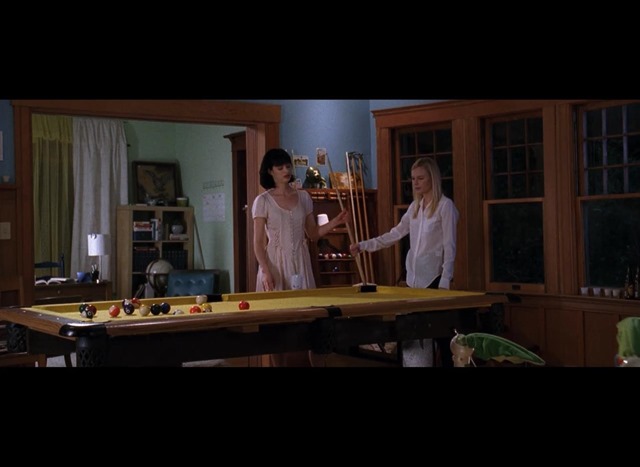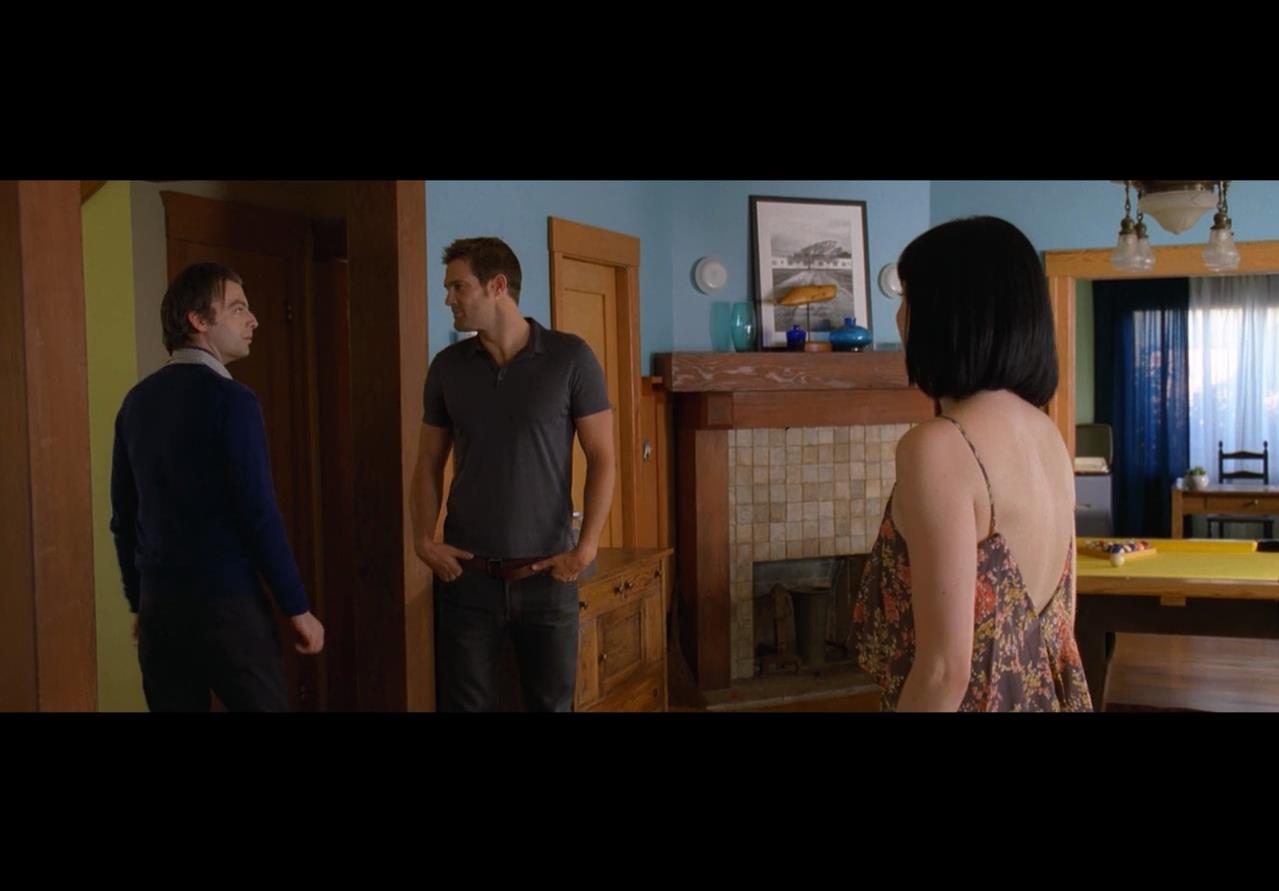 . . . especially the open stairwell.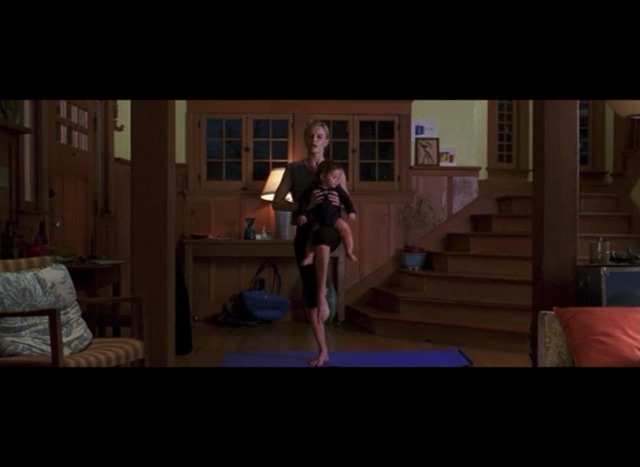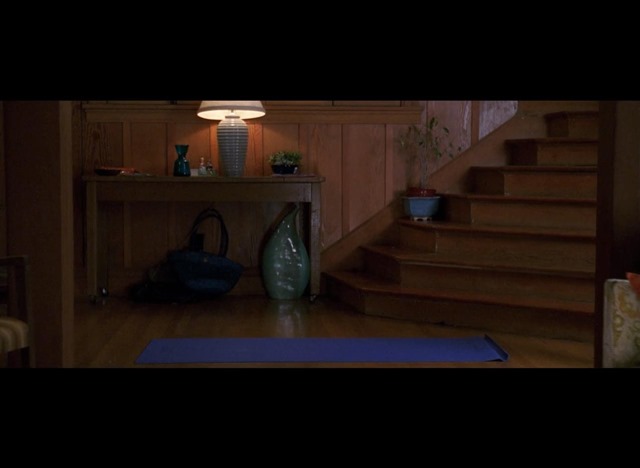 I mean, could it be any more fabulous??  If I lived there, I would so be displaying books and picture frames on each step.  Love, love, love!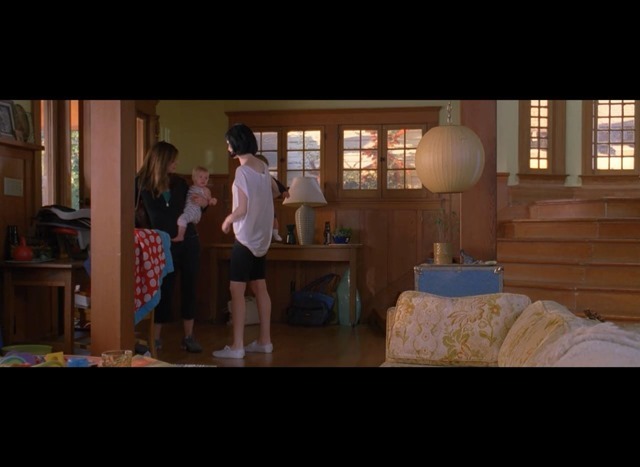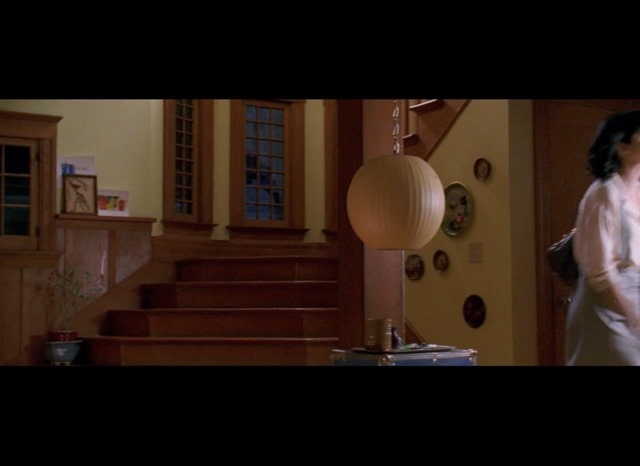 While I originally thought that the interior was a set, after looking through these images, in which my beloved stairwell is visible in the background (comparison screen caps of that scene from the movie are pictured below), I now believe that the real life interior of the home was used in the filming.  Unfortunately, I could not find any photographs with which to verify that, though.  Either way, what I wouldn't give to see the inside of that place!  UPDATE – I just came across this Curbed LA article which features photos of the property and the interior was indeed used in L!fe Happens!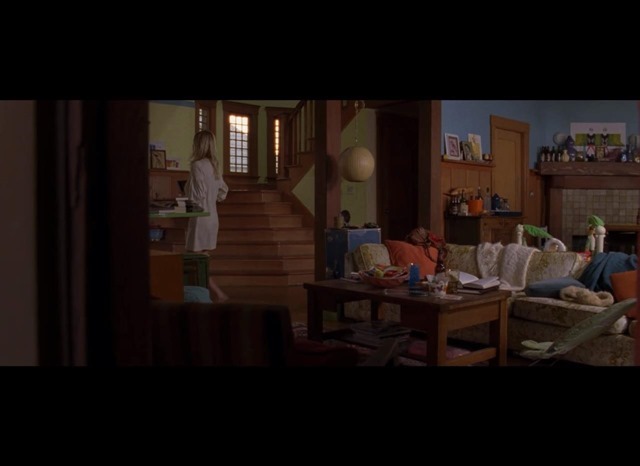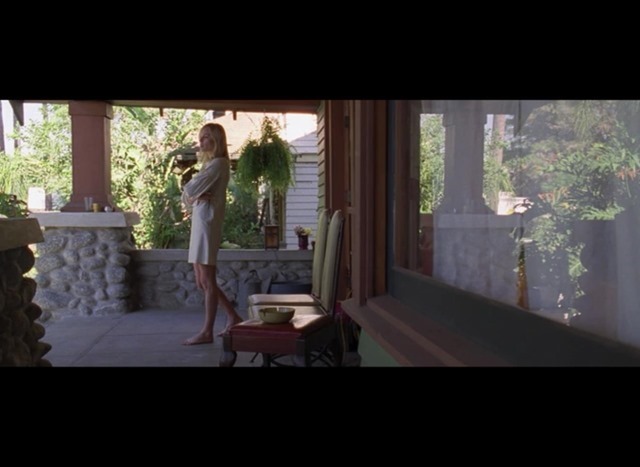 For more stalking fun, be sure to follow me on Facebook, Twitter, Instagram and Los Angeles magazine online.  And you can check out my other blog, The Well-Heeled Diabetic, here.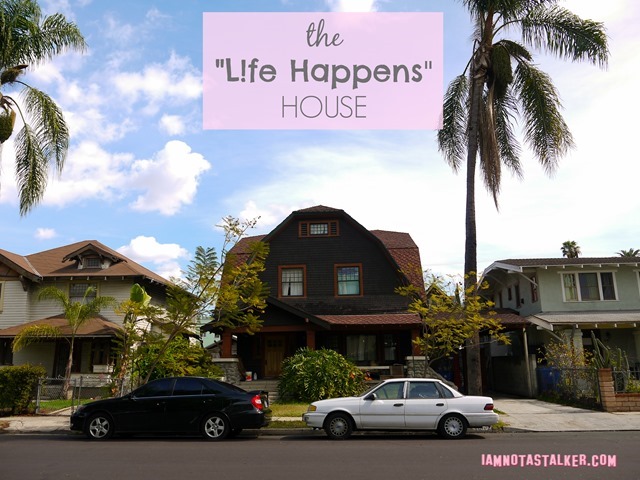 Until next time, Happy Stalking! 

Stalk It: The L!fe Happens house is located at 1802 South Oxford Avenue in the Pico-Union area of Los Angeles.
79618