Azul Tapas Lounge from "Hidden Away"
Apr 11th, 2014 | By
Lindsay
| Category:
Movie Locations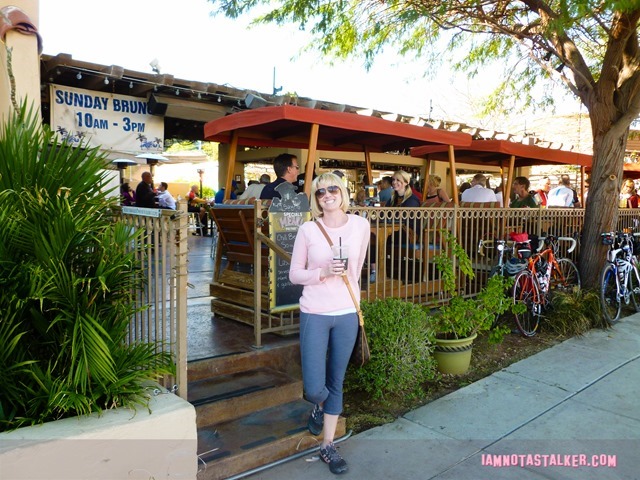 Last February, a film crew descended upon Palm Springs for 12 days to shoot the Lifetime Original Movie Hidden Away.  Sadly, I never got to witness any of the filming, but I read numerous newspaper articles about the production and stalked a few of the locations mentioned, including Azul Tapas Lounge.  Because we do not get the Lifetime channel, I was not able to watch the thriller (and I use that word loosely) until recently after it became available for download on iTunes.  Regrettably, I can't say that Hidden Away was any good.  It was a bit painful to watch, truth be told.  Film critic Jackie K. Cooper had this to say in his review of the flick for the Huffington Post, "What do you do when it is Saturday night and there is no Sharknado on to scoff at?  Well you find something almost as idiotic and that is the Lifetime Original Movie Hidden Away.  Yes, this is a movie so ridiculous that it will make you laugh in spite of yourself."  That's a pretty spot-on analysis.  I did absolutely LOVE seeing my new hometown onscreen, though, and figured its locations were still blog-worthy, regardless.
Azul Tapas Lounge, one of downtown Palm Spring's most popular restaurants, is located inside of the General Telephone Building, which was originally constructed for the California Water & Telephone company in 1934.  The two-story Spanish Eclectic structure, which is a designated Palm Springs Historical Site, operated as a telephone switching center until 1984.  Today, both floors comprise Azul, a tapas restaurant that also serves American fare such as burgers, wraps and pizza.   There are even six different grilled cheese sandwich selections on the menu, as well as a build-your-own grilled cheese option with over forty different add-ons (think poblano peppers, basil pesto, and bacon) !  Um, count me in!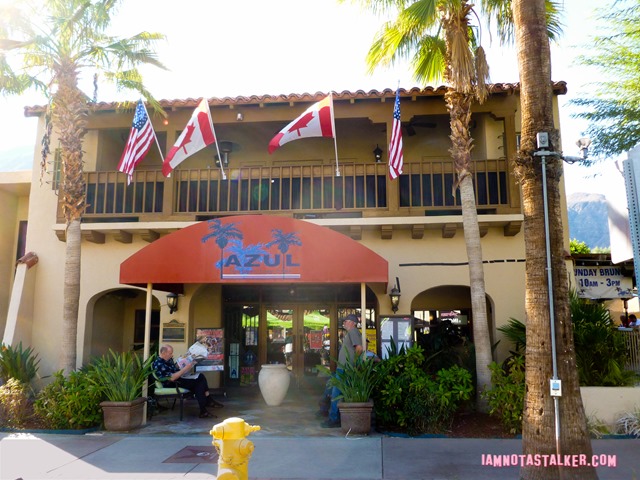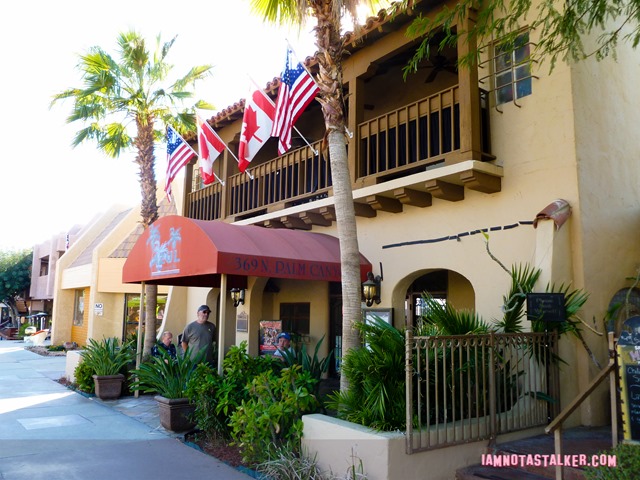 Azul's crowning element, though, is its humongous outdoor patio, which is centered around a large bar and features glider-booths, aka covered, bench-style swings (LOVE!).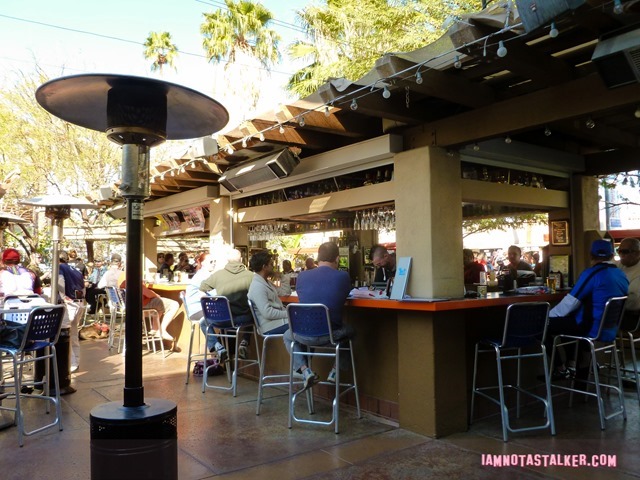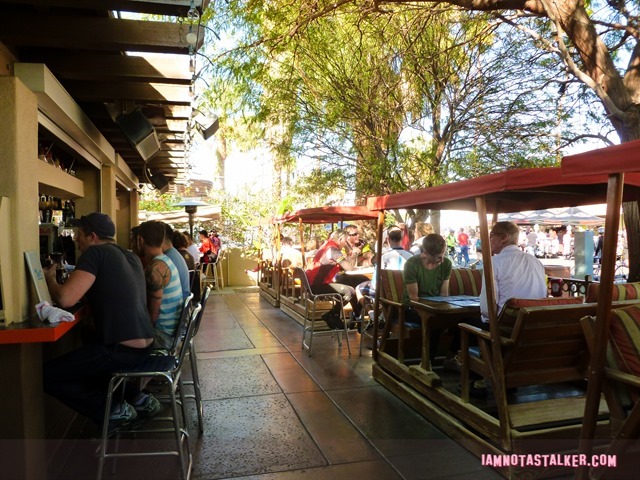 Azul has become something of a celebrity hot spot – well, for Palm Springs, anyway.  Bo Derek, Cloris Leachman and Jane Russell have all dined there in the past and, according to Fab Magazine, Carol Channing even threw her 90th birthday party at the eatery.  Hidden Away's unit production manager Brian Nolan is also a fan of the restaurant, having hung out there during various trips to the desert, which is how it came to be used in the movie.  In a 2013 Palm Springs Life article, Nolan is quoted as saying,, "I knew for this movie we needed a location like this and we needed a cool restaurant, cool patio, coffee kind of scenario.  I called George [Kessinger, Azul's owner] and he was completely open to it and very excited to have us."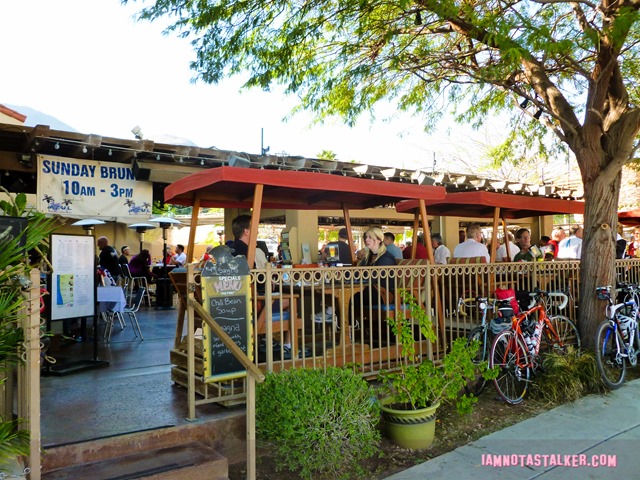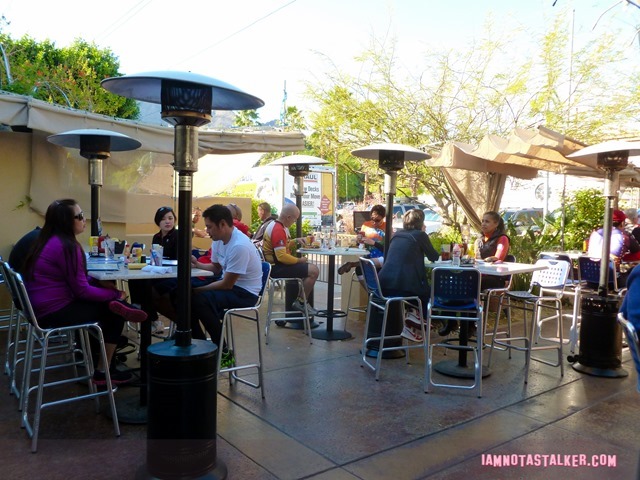 Azul was used three times, as three different restaurants, in Hidden Away.  The interior first popped up as the fictional Blasini's, in the scene in which Brett (Sean Patrick Flanery) proposed to his girlfriend, Alexandra (Emmanuelle Vaugier).  Unbeknownst to Brett is the fact that Alexandra is actually named Stephanie and that she faked her death, as well as the death of her daughter, Rachel (Allie Gonino), ten years prior in order to escape her abusive husband, Andrew (Ivan Sergei).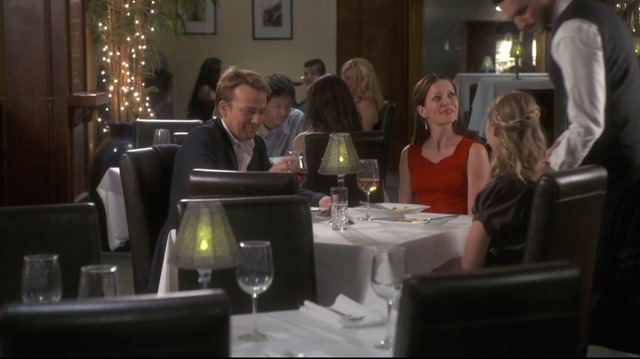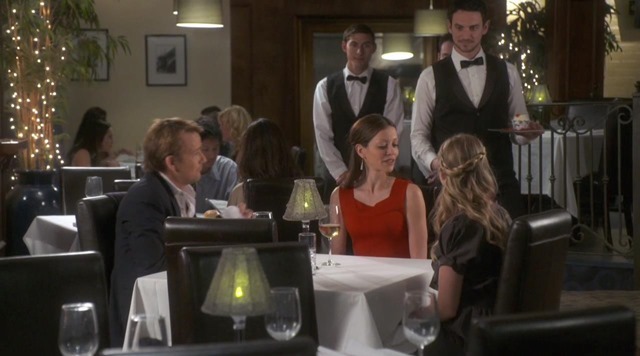 Azul's interior was dressed with twinkle lights and large bamboo plants for the shoot and, in person, looks quite a bit different than it did onscreen.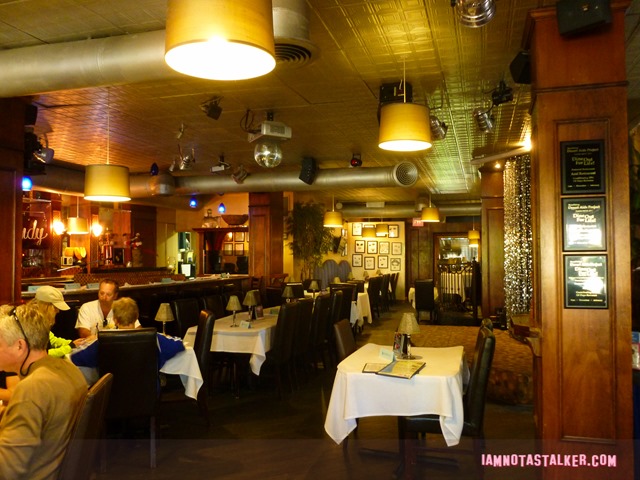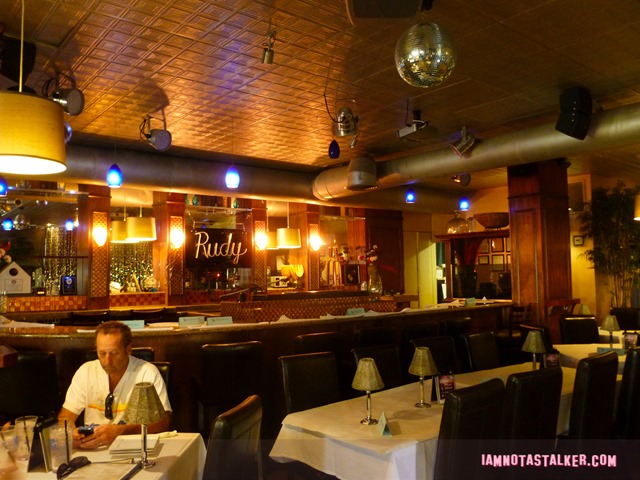 For the exterior of Blasini's, producers used an establishing shot of LG's Prime Steakhouse, located at 255 South Palm Canyon Drive.   Unfortunately, I do not have any photographs of LG's, so please excuse the Google Street View image below.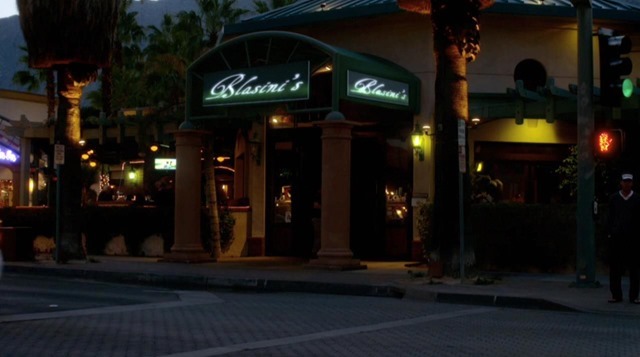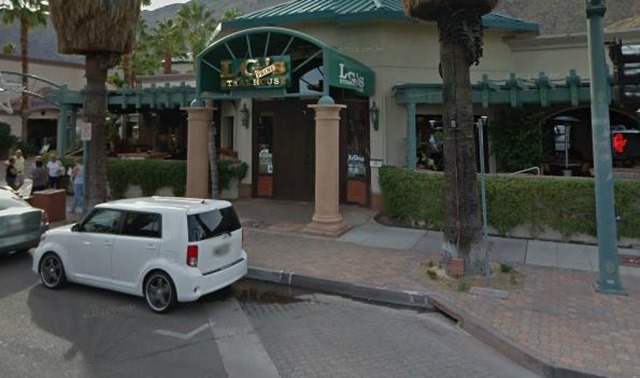 The exterior of Azul was used for some filming, as well.  It popped up as the outside of the upscale eatery where Andrew first confronted Stephanie/Alexandra after tracking her down in Palm Springs.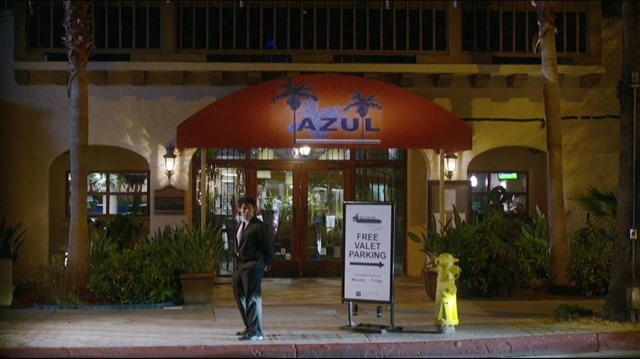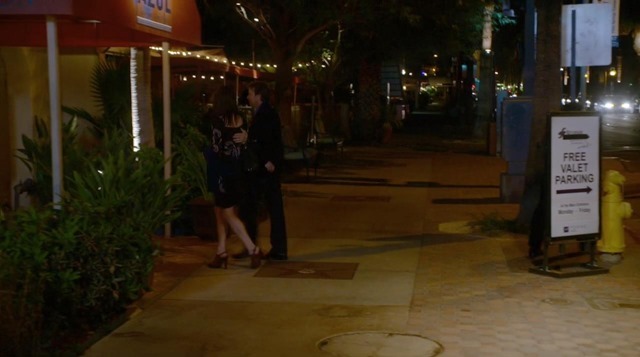 Interior filming for that scene took place at Tinto restaurant, which is located inside of The Saguaro Palm Springs Hotel.  Confused yet?  There's more.  The exterior of The Saguaro appeared in Hidden Away, as well.  I'll save that information for a future post, though.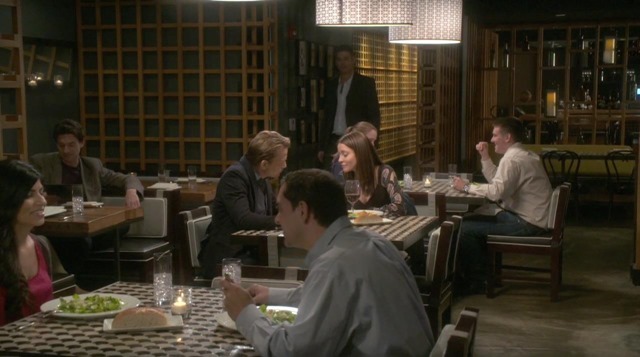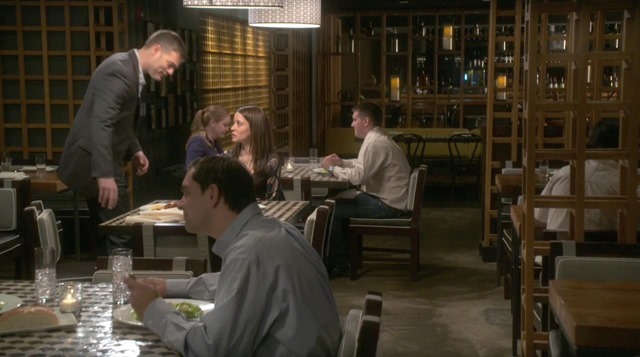 Azul's patio area later masqueraded as a coffee shop towards the end of Hidden Away, in the scene in which Alexandra told her best friend, Lynn (Law & Order's Elisabeth Rohm), that she had faked her death and that her abusive ex-husband was now stalking her.  Andrew is not-surprisingly watching the two women from across the street, while playing with a cigarette lighter and contemplating how to do away with Lynn.  Like I said, it's not a great movie.  Unless you're familiar with Palm Springs and want to see the city onscreen, I definitely wouldn't recommend it.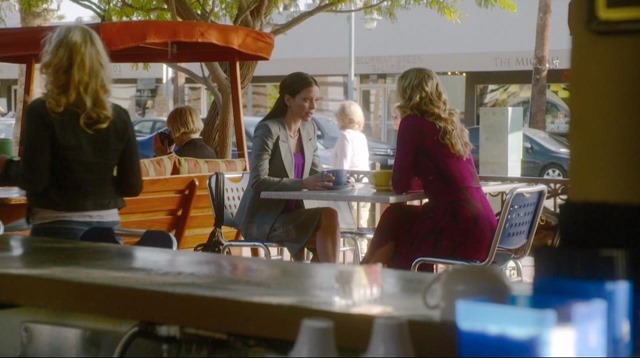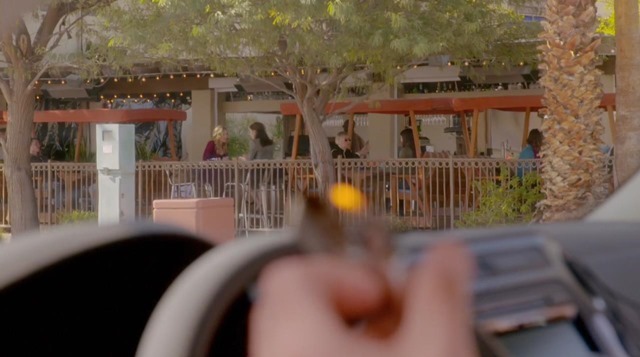 For more stalking fun, be sure to follow me on Facebook, Twitter, Instagram and Los Angeles magazine online.  And you can check out my other blog, The Well-Heeled Diabetic, here.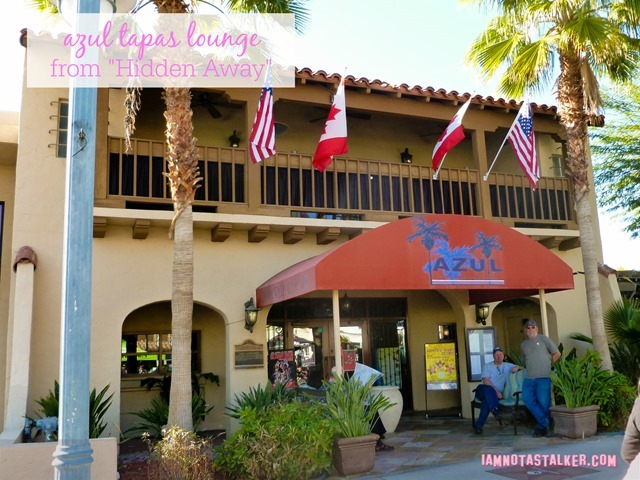 Until next time, Happy Stalking! 

Stalk It: Azul Tapas Lounge, from Hidden Away, is located at 369 North Palm Canyon Drive in downtown Palm Springs.
80088