Phil's Diner from "The X-Files"
Jun 4th, 2014 | By
Lindsay
| Category:
TV Locations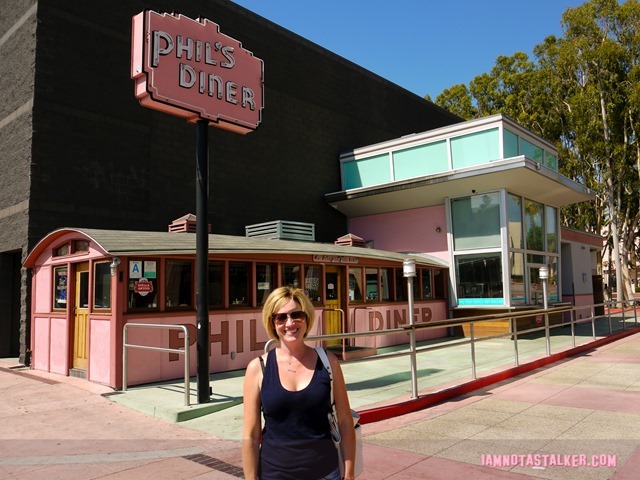 When I was in L.A. last week, Mike, from MovieShotsLA, and I spent two full days stalking.  Our adventures took us from one end of Los Angeles to the other.  At one point, while in North Hollywood, we passed by Phil's Diner at 5230 Lankershim Boulevard and stopped to snap some pics.  I figured the historic-looking restaurant had to have appeared onscreen at some time, so I did a quick Google search on my iPhone and just about fell over when I learned that the eatery had been used in my very favorite episode of The X-Files EVER, Season 2's "Humbug."  ("I've seen the future and the future looks just like him!")  Talk about a lucky twist of fate!
Phil's Diner was constructed in 1926 for the J.F. Phillip restaurant chain (hence the name).  It was designed in a train-car style by Charles Amend and originally stood (according to this article) near the intersection of Ventura and Lankershim Boulevards.  The eatery was relocated at some point to 11138 Chandler Boulevard, where it spent the bulk of its years.  (There are several online articles which state that the café was moved countless times throughout its history, once sitting on Crenshaw Boulevard, near the corner of West Adams.  I am fairly certain that information is incorrect, though.   I believe that storefront was a different Phil's outpost – one that is no longer standing.)  You can check out some fabulous early photographs of Phil's at its Chandler Boulevard location here.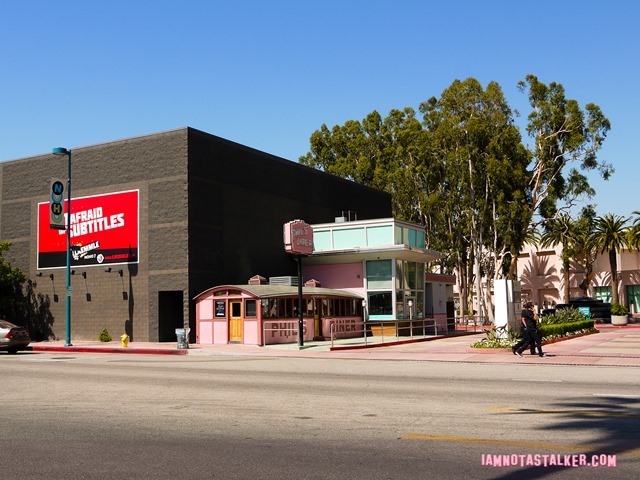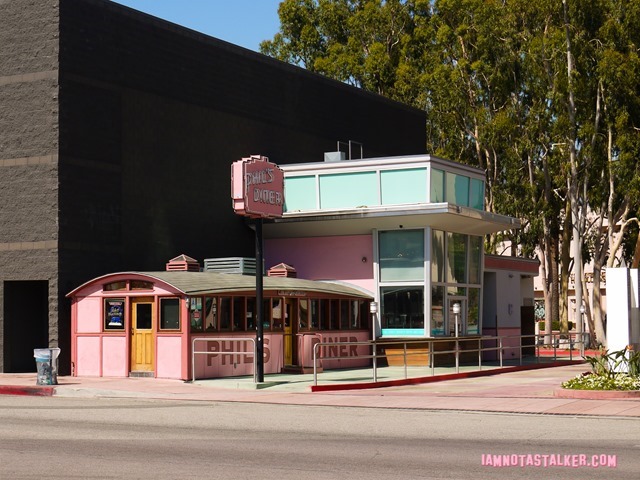 For over two decades, beginning in the 1970s, Phil's Diner was run by Charles and Wendy Hong, a native Korean couple who served up no-fuss American comfort food with an Asian flair.  The restaurant flourished under their leadership.  Then, in the mid-90s, nearby MTA Red Line construction and tunneling caused a severe downfall in patronage and in 1997 the couple was forced to shutter the café.  While it was purchased by a man named Casey Hallenbeck the next year, it stood abandoned for the following decade.  The structure was eventually moved to a vacant lot in 2009, where it sat on blocks in a sad graffiti-covered state.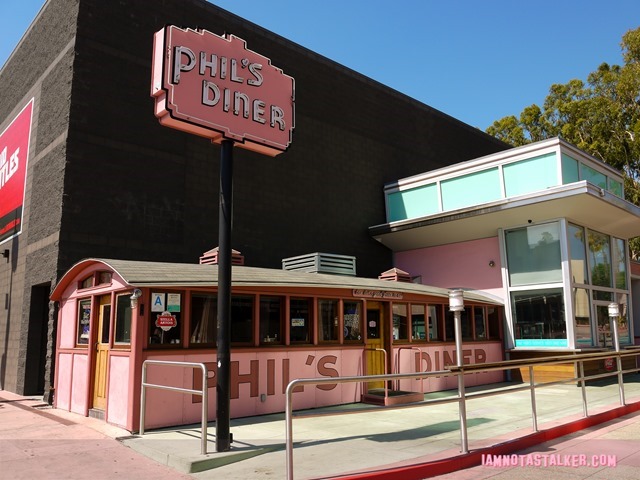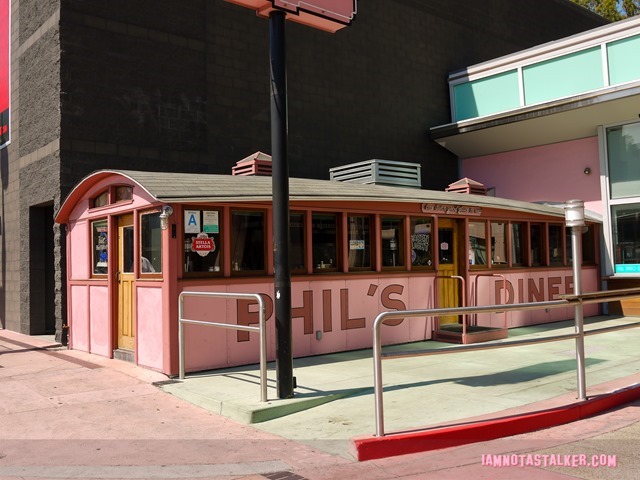 While sitting abandoned, Phil's vintage signage was stolen and never ended up being recovered.  The sign that currently stands in front of Phil's is a replica.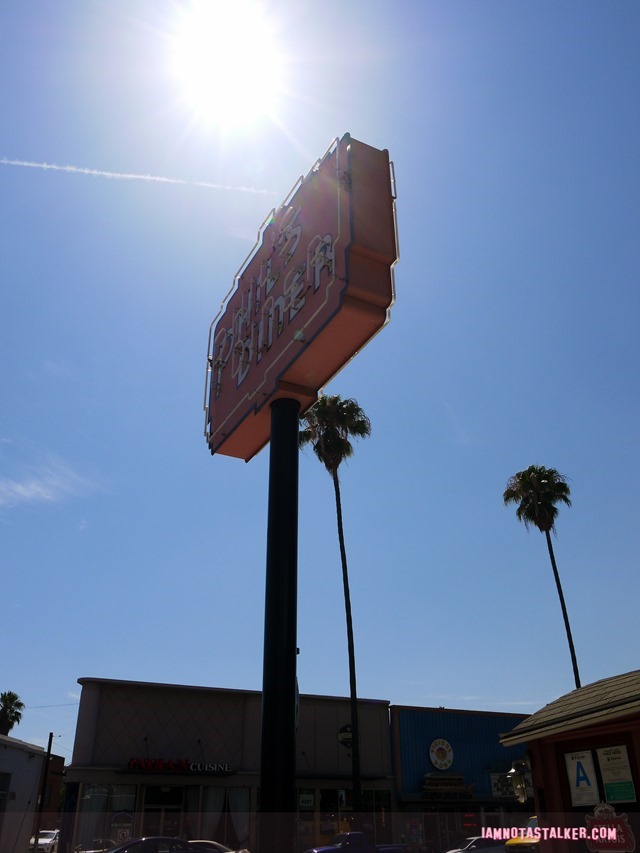 In 2011, Phil's was moved to its current location and plans were made to reopen it as part of the new NoHo Commons complex.  After a $1.1-million restoration, the eatery opened in April 2011, but sadly only lasted eight months.  By December, the restaurant, which is California's oldest dining car and the only surviving outpost of the Phil's chain, was shuttered.  It remains closed to this day.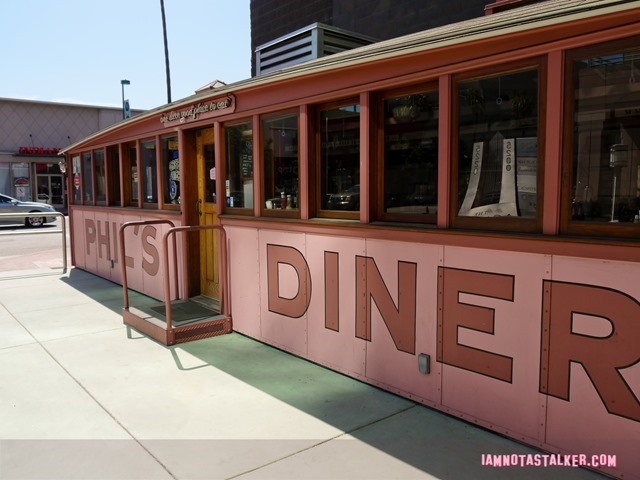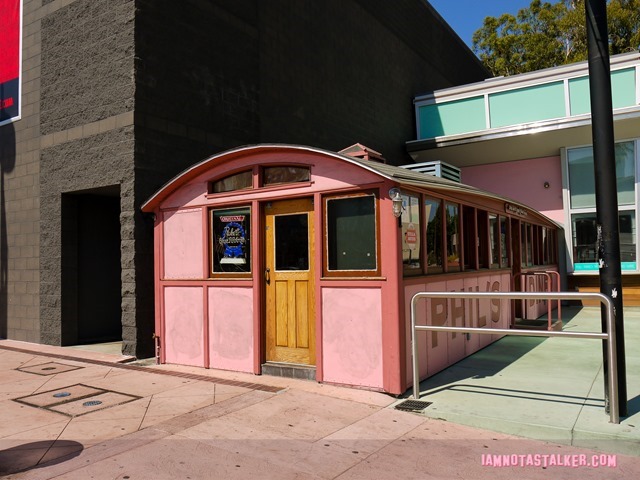 Though closed, I managed to snap a few photographs of Phil's interior through the windows.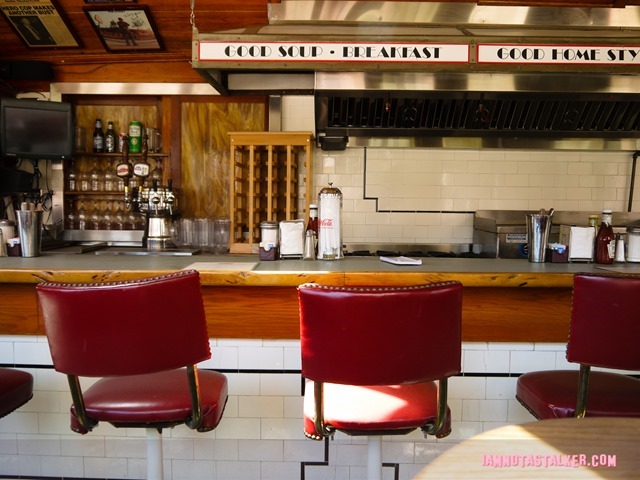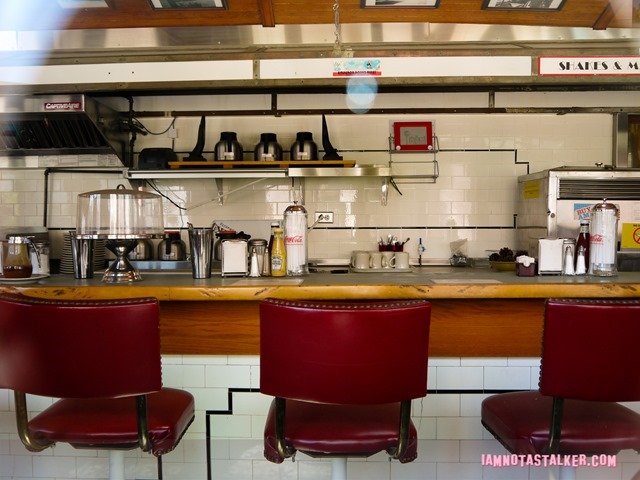 As you can see, despite being out of operation for several years, the eatery is still in great shape.  The wood-detailing is simply gorgeous!  And what I wouldn't give to catch a close-up glimpse of those headshots lining the ceiling!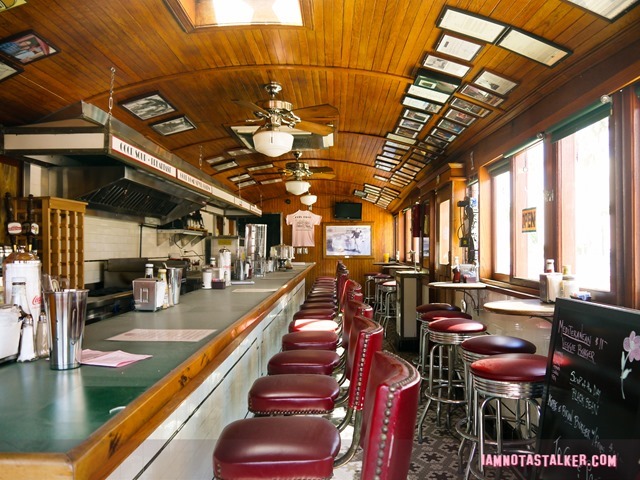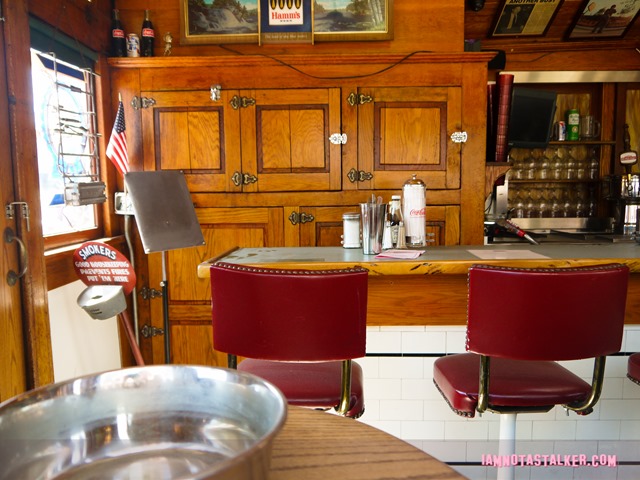 Thanks to its historic look, Phil's Diner has been featured in numerous productions over the years.  Phil Everly, of the Everly Brothers, shot the cover of his 1974 solo album, aptly titled "Phil's Diner," in front of the eatery.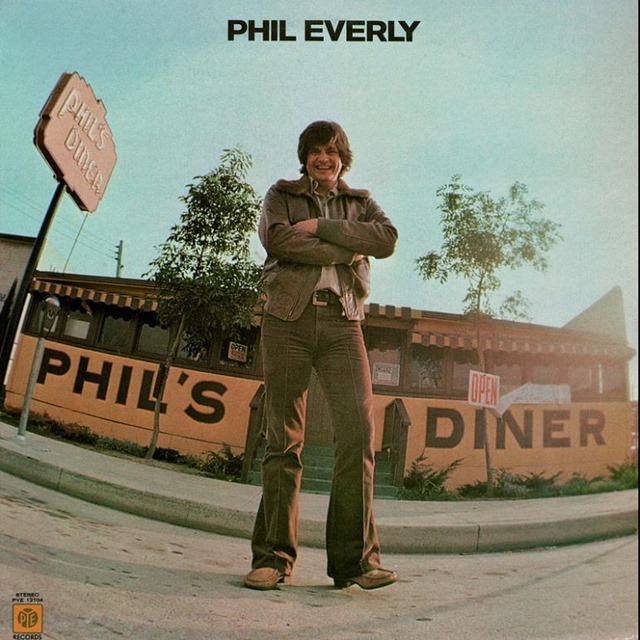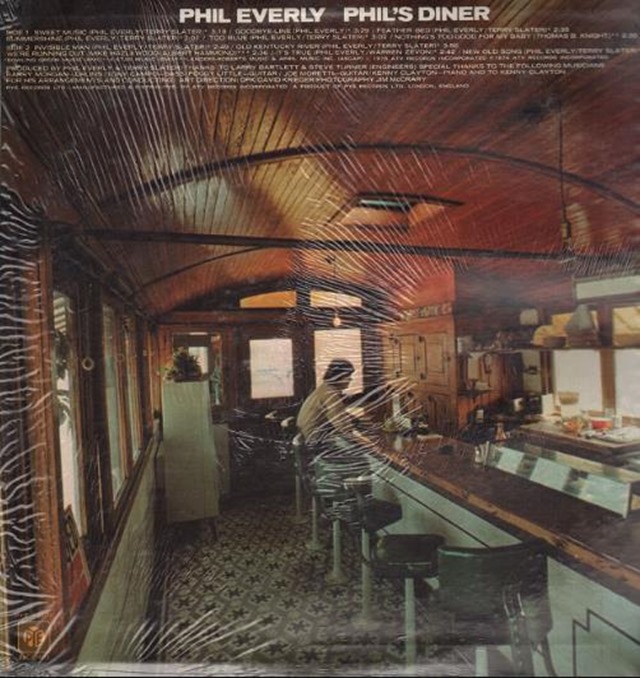 The diner was visible in the background of a 1977 informational video for the Emergency Medical Service titled "Life or Death," which you can watch here.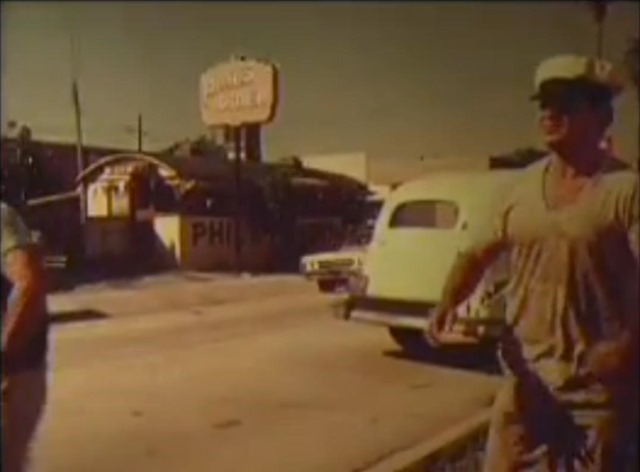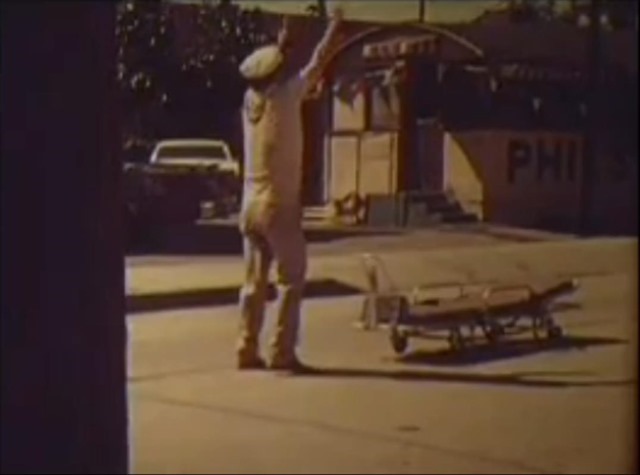 Phil's Diner briefly appeared in 1986's Night of the Creeps, in the scene in which Detective Ray Cameron (Tom Atkins) raced to a death scene.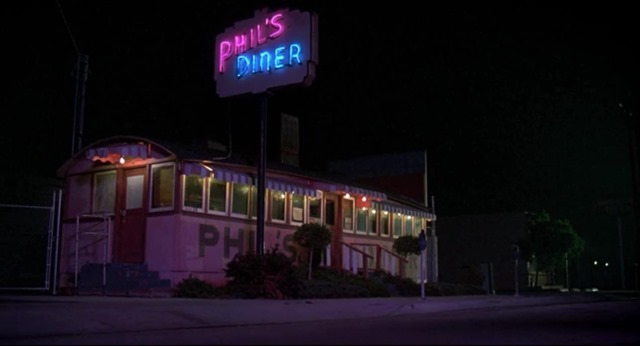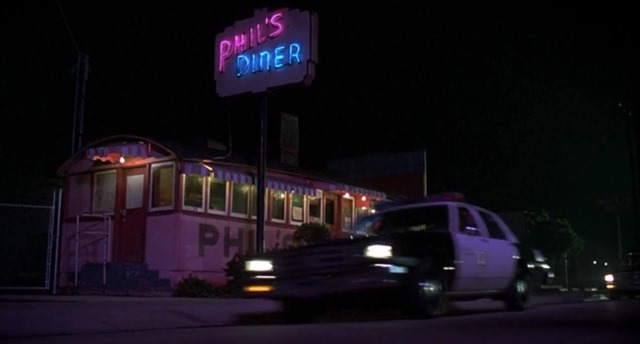 In the Season 2 episode of The X-Files titled "Humbug," Fox Mulder (David Duchovny) and Dana Scully (Gillian Anderson) travel to Gibsonton, Florida to investigate a murder that took place in a rural community of sideshow circus performers.  Upon first arriving in town, the duo head to a local café to speak to Sheriff Hamilton (Wayne Grace) about the killing.  Phil's Diner was used for the establishing shot of that café.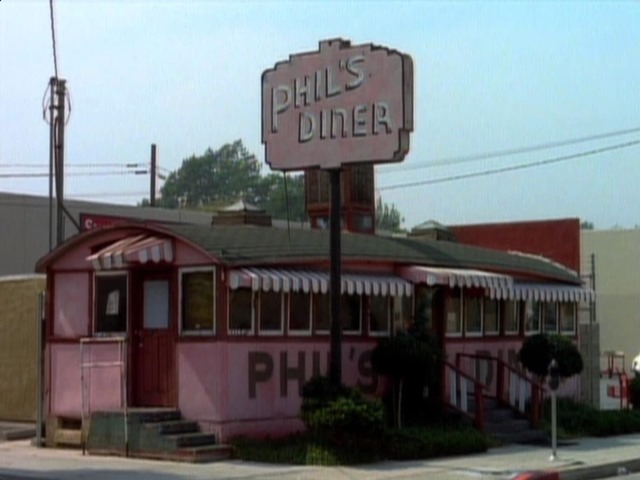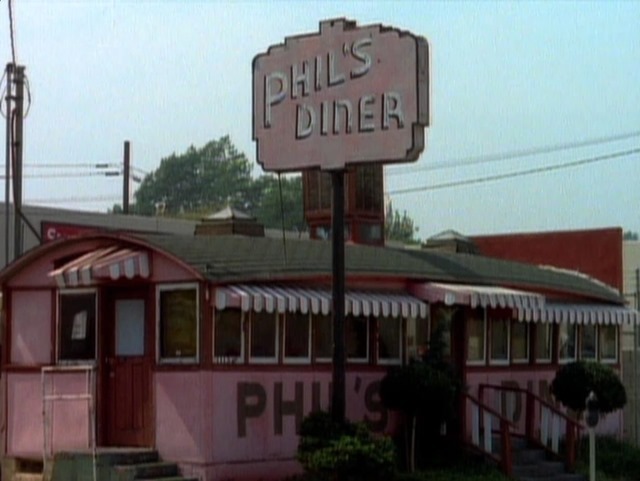 Interior filming took place elsewhere, though – somewhere in Vancouver where the series' first five seasons were lensed.  As you can see below, the interior of the diner that was used was substantially larger than the interior of Phil's.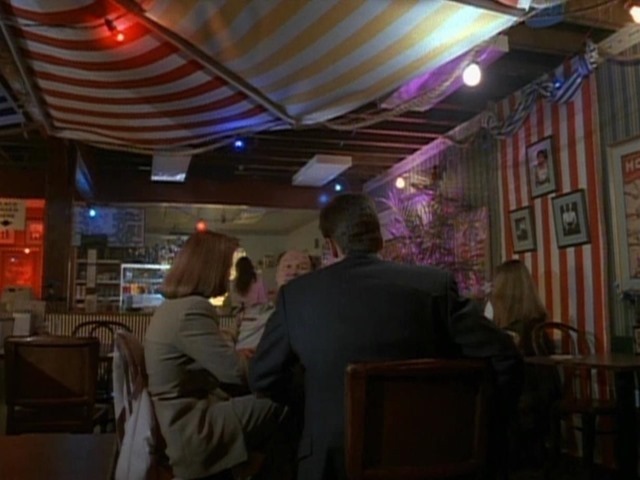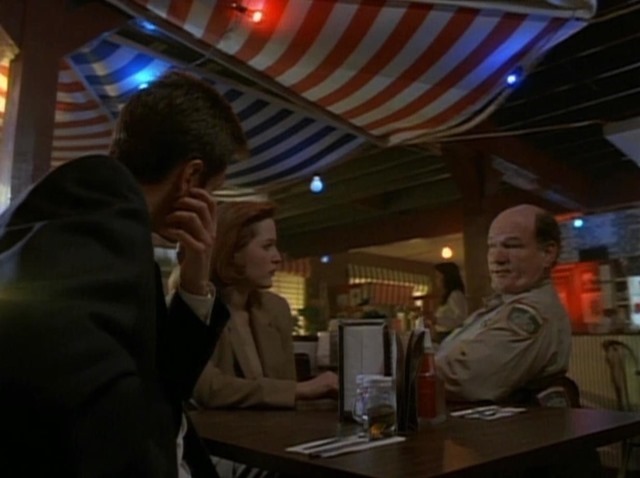 Phil's Diner was also featured in episodes of Baretta, The Millionaire Matchmaker, Hart to Hart and The White Shadow, and in one of the Friday the 13th movies.  I am unsure of the particulars of those productions, though, but if any of my fellow stalkers have information on the filmings, please fill me in.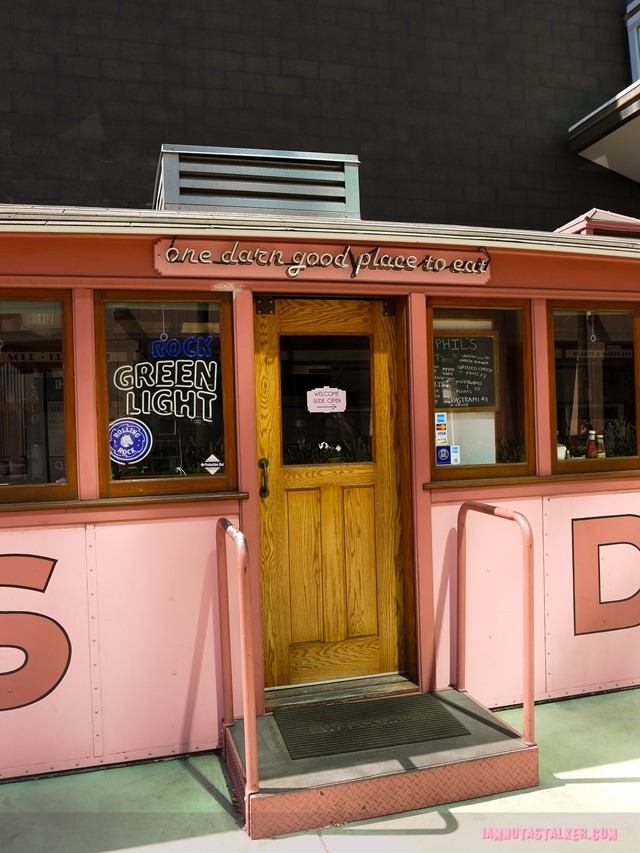 For more stalking fun, be sure to follow me on Facebook, Twitter, Instagram and Los Angeles magazine online.  And you can check out my other blog, The Well-Heeled Diabetic, here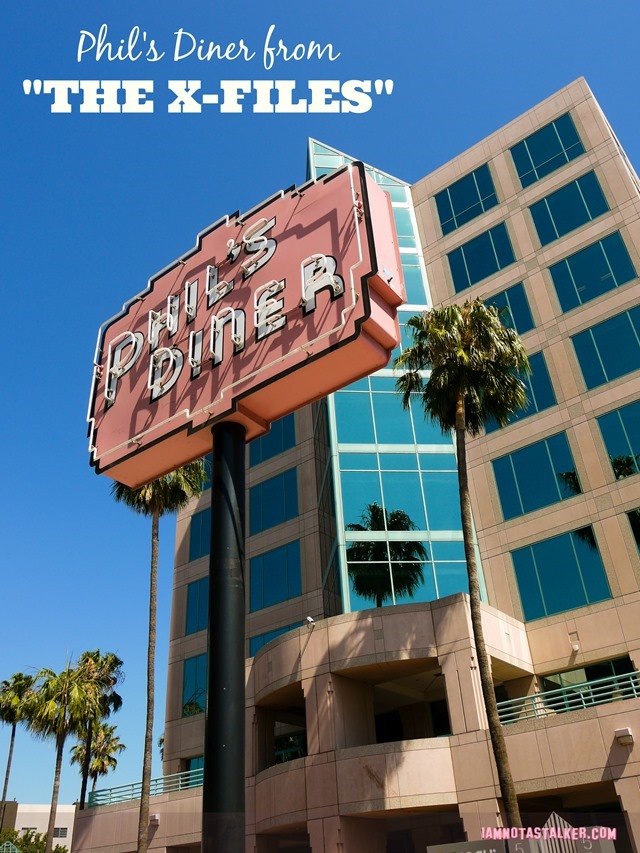 Until next time, Happy Stalking! 

Stalk It: Phil's Diner, from the "Humbug" episode of The X-Files, is located at 5230 Lankershim Boulevard in North Hollywood.  The restaurant is currently closed.
81406