Whitey Bulger's Former Apartment
Oct 1st, 2014 | By
Lindsay
| Category:
Haunted Hollywood
,
This and That
It is finally that time of year again – October 1st, the start of my Haunted Hollywood postings.  And I could not be more excited, so let's get to it!  The October 2013 issue of Los Angeles magazine featured an absolutely enthralling article about the arrest of the infamous Boston mobster James "Whitey" Bulger.  I read the column, titled "The Old Man Next Door," in one short sitting and was elated that author Steven Mikulan had included the address of Bulger's former Santa Monica apartment building.  I finally made it out to stalk the place in January of this year, but held off on blogging about it until now as I figured the locale would make for a perfect Haunted Hollywood posting.
James Bulger was born in 1929 in Boston's North End.  He was given the nickname "Whitey" thanks to his bright blonde hair and reportedly hated the moniker as much as fellow mobster Benjamin Siegel hated being called "Bugsy."   Whitey moved to a South Boston housing project with his family at a young age and his life of crime began shortly thereafter.  By the age of fourteen, he had been arrested for larceny and was eventually sentenced to a juvenile facility.  By 30, he was serving time at Alcatraz for a bank robbery conviction.  After his release, it was not long before he was running South Boston's infamous Winter Hill Gang.  (Jack Nicholson's Frank Costello character in The Departed was based on Bulger.)  In 1993, a task force was implemented to catch and arrest Whitey for numerous crimes, including 19 murders.  The task force was ready to take Bulger in the following year, but he was tipped off and immediately fled Boston.  Oddly enough, he originally went on the lam with a longtime girlfriend named Teresa Stanley.  She tired of life on the run fairly quickly and, upon her return to Massachusetts, Whitey asked a different longtime girlfriend, Catherine Greig, to flee with him.  Apparently, Greig didn't mind playing second fiddle.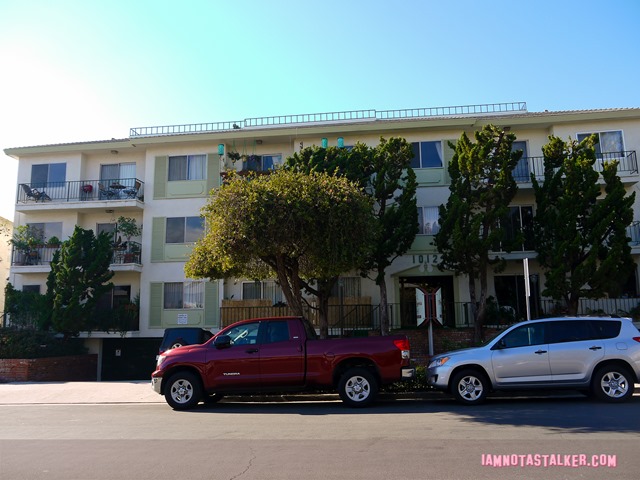 Upon arriving in Santa Monica in 1996, James and Catherine took up residence at the Princess Eugenia apartment building located at 1012 Third Street.  They lived for the next 15 years under the aliases of Charlie and Carol Gasko.  Their life at the Princess Eugenia was a fairly quiet one, though Whitey could often be seen on his balcony looking through a pair of binoculars.  The couple went on daily walks, were friendly with neighbors and took care of a couple of local stray cats.  Their two-bedroom, two-bath apartment hid a more sinister existence, though.  Holes in the walls concealed a stash of $822,198 in cash and a collection of thirty guns.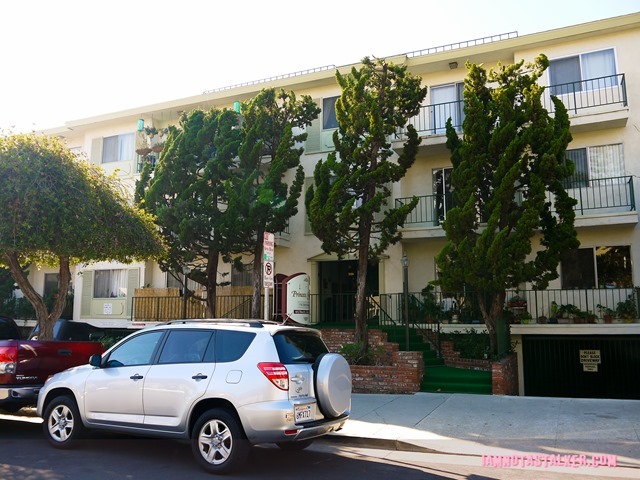 The Gasko's lurid past caught up with them on June 22, 2011.  The previous day, a former Icelandic native named Anna Bjornsdottir had randomly watched an FBI video about Bulger and Greig on TV and recognized the couple immediately.  Anna had lived at the Embassy Hotel Apartments (now named Palihouse) across the street from the Princess Eugenia many years prior and had become friendly with Catherine thanks to a stray neighborhood cat that both women cared for.  She called the FBI and less than 24 hours later they had infiltrated Whitey's building.  Shortly thereafter and thanks to some help from Josh Bond, the Princess Eugenia's manager, Bulger and Greig were arrested without incident in the building's garage.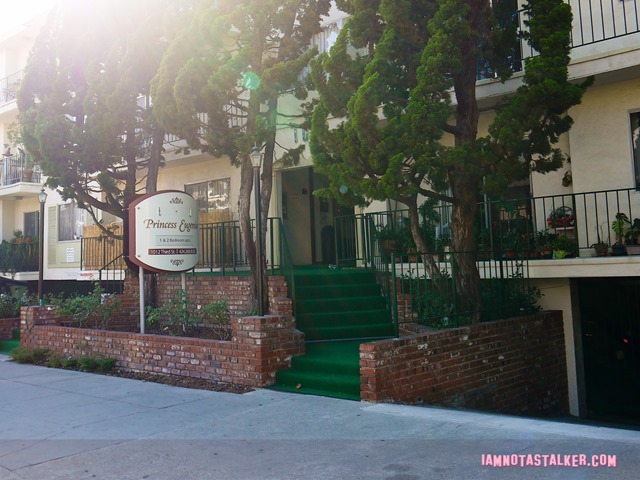 Greig wound up pleading guilty to identity fraud and conspiring to harbor a fugitive and was sentenced to 8 years in prison.  She is currently serving her time at the Wyatt Detention Center in Central Falls, Rhode Island. Whitey's trial lasted two months and he was convicted of 31 counts, including murder involvement, drug trafficking, racketeering, money laundering, and extortion.  He was given two life sentences plus five years and is currently serving that time at the United States Penitentiary in Tucson, Arizona.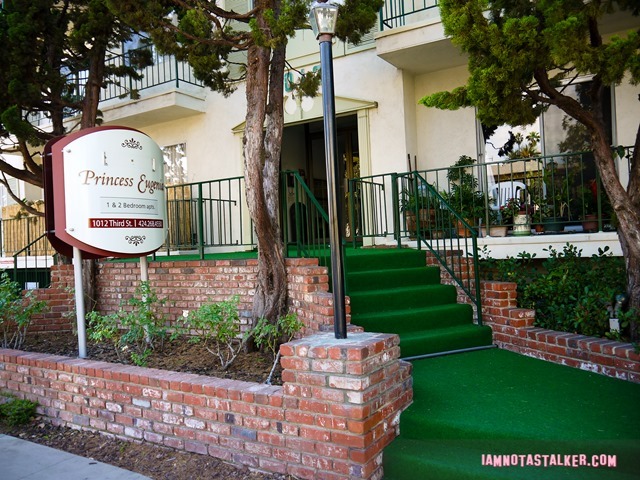 During their stint at the Princess Eugenia, Whitey and Catherine lived in Apartment 303, a corner unit located on the western side of the building's third floor.  Their unit is denoted with an orange arrow below.  You can check out some photographs of the interior of the apartment from the time that the couple lived there here.  To say the place was odd would be an understatement.  Why there was a bed in the living room is beyond me.  You can also see some interior photographs of what the space currently looks like here.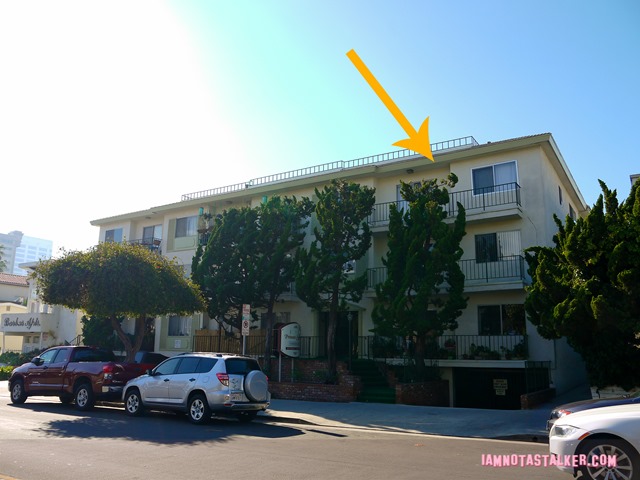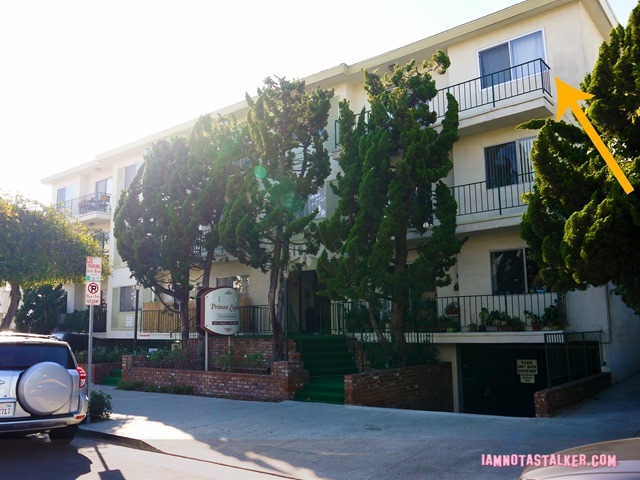 In an eerie twist, while writing this post I learned that Whitey's former apartment unit is blurred out on Google Street View, as you can see below.  I looked up Google's privacy policy and apparently anyone can request to have their residence blurred from view.  Whether this request was made by Whitey himself (a distinct possibility considering he had plastic sheets, duct tape, and black curtains covering all of his windows when he lived at the Eugenia) or the new tenants is anyone's guess, but I was pretty spooked when I came across it.  Freaaaaaaky!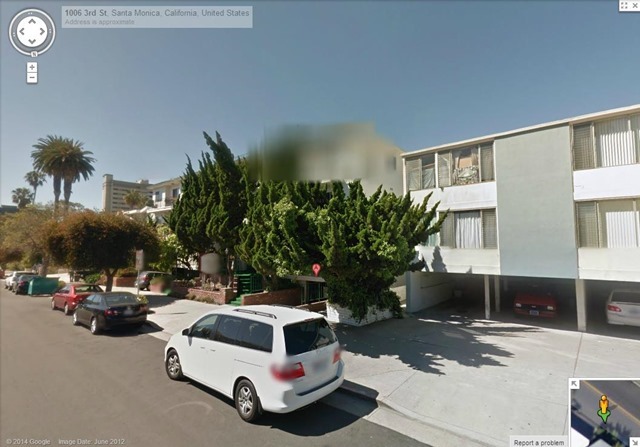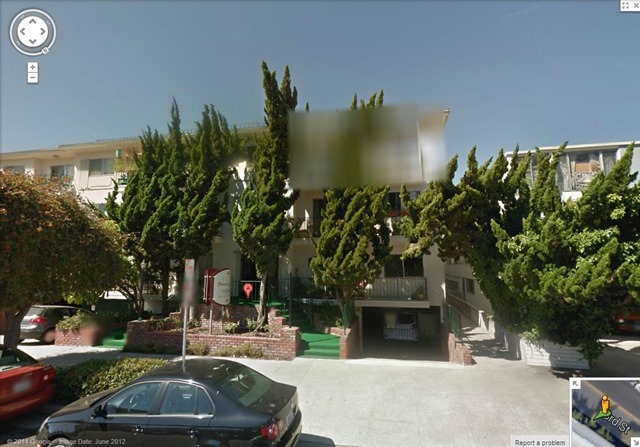 For more stalking fun, be sure to follow me on Facebook, Twitter, Instagram and Los Angeles magazine online.  And you can check out my other blog, The Well-Heeled Diabetic, here.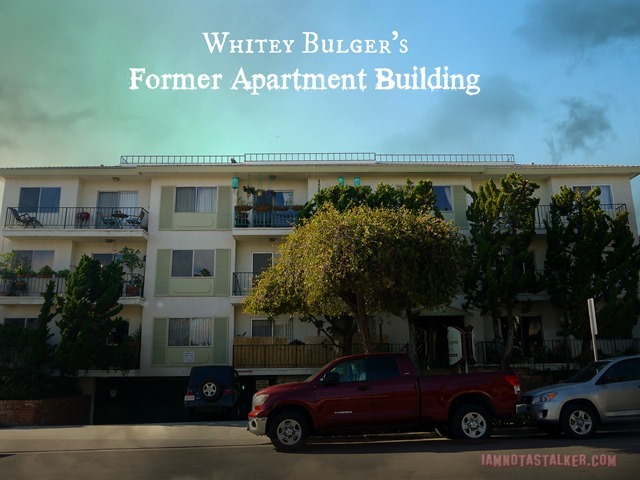 Until next time, Happy Stalking! 

Stalk It: Princess Eugenia, aka Whitey Bulger's former apartment building, is located at 1012 Third Street in Santa Monica.
84098