Yvette Vickers' Former Home
Oct 17th, 2014 | By
Lindsay
| Category:
Celebrity Homes
,
Haunted Hollywood
Boulevard of broken dreams – that phrase pops into my head every time I venture down Hollywood Boulevard and see the men and woman costumed as super heroes or movie stars charging tourists to take a photograph with them.  I can't imagine it is what anyone who sets out for Los Angeles hopes to do and is a reminder of the sad turn a life in show business can take.  Even those who gain notoriety at some point in their career are not immune to a tragic end – like Yvette Vickers, the actress and Playboy Playmate who was found mummified, alone and forgotten, in her decrepit Benedict Canyon home in 2011.  The Grim Cheaper and I ventured out to see her residence in person shortly after her body was discovered, though I never blogged about it.  When I learned recently from my buddy Scott Michaels, of the Find a Death website, that the structure had been torn down, I figured it was finally time that I do so.
For those not familiar with the story, Yvette Vickers grew up with dreams of becoming an actress.  The petite beauty graduated from UCLA with a degree in theatre and quickly landed a role in Sunset Boulevard.  Though it was an uncredited part, it was quite a substantial first break.  Other small roles followed.  She was featured in a White Rain Shampoo commercial and the movie Attack of the 50 Ft. Woman, as well as its sequel, Attack of the Giant Leeches.  In July 1959, she was named the Playboy Playmate of the Month.  Yvette never obtained the level of fame she so desired, though, and spent the next few decades piddling in bit parts, until they, too, dried up.  She dabbled in real estate for a time and, then in early 2000, worked the fan convention circuit.  Sadly though, Vickers was going blind due to macular degeneration.  During her final years she became paranoid and delusional, convinced she had stalkers.  It was not long before she was a complete recluse, holed up in her tiny cottage on Westwanda Drive.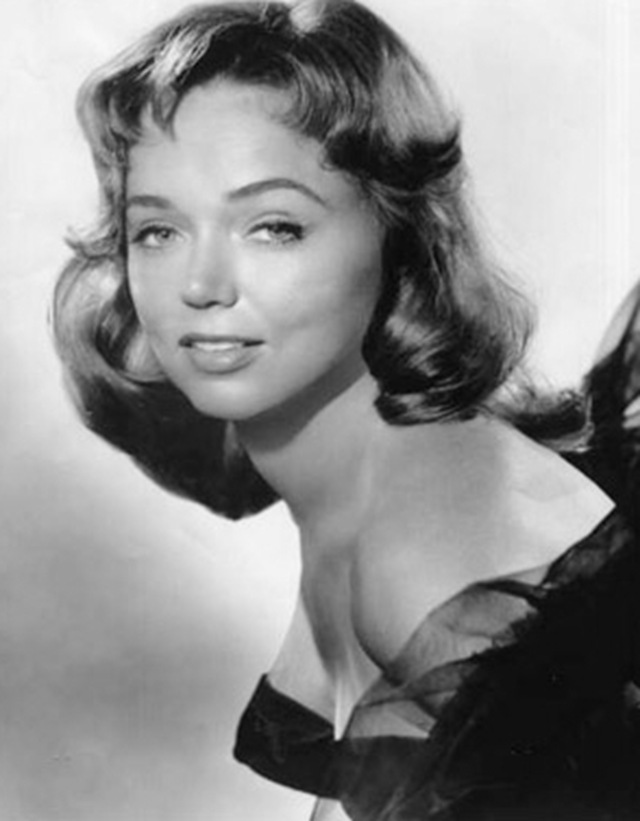 Reports differ as to when Yvette purchased the Benedict Canyon property.  According to a fabulous Los Angeles magazine article from 2012 titled "Left Behind," Vickers originally moved into the residence with her first husband (she had three over the course of her life), jazz bassist Don Prell, shortly after their wedding in 1953. She was then granted the home when the two divorced in 1957.  Scott Michaels's account states, though, that Yvette purchased the bungalow in 1980 at a cost of $56,000.  Either way, it was inside the 1948 dwelling pictured below that Yvette lived out her final years.  The miniscule residence measured one bedroom, one bath and a scant 676 square feet, and sat on a 0.19-acre plot of land.  By all accounts, towards the end, the cottage was dilapidated and falling apart in places.  Broken windows were held together by duct tape, holes in exterior walls were covered over with tarps and exterior foliage had grown through to the interior of the house.  Yvette had also become something of a hoarder, with boxes, clothing and paraphernalia cluttered throughout the tiny structure.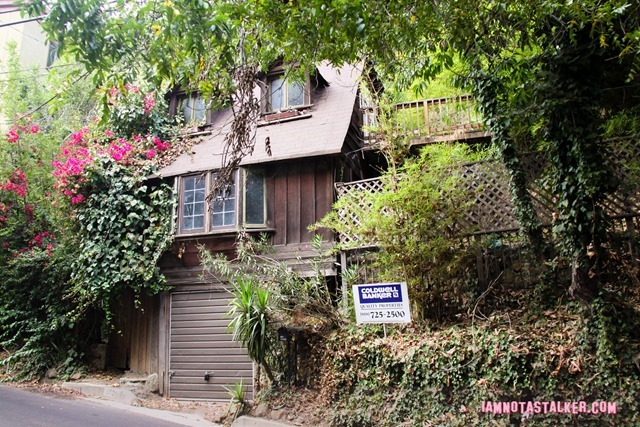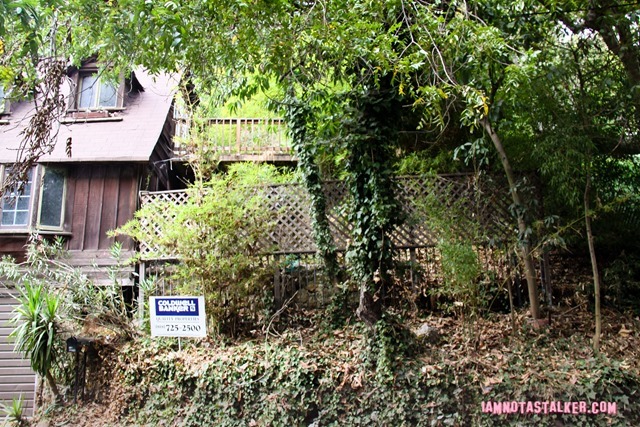 On the morning of April 27th, 2011, Vickers' neighbor Susan Savage happened to pass by the house, spotted some cobwebs in the mailbox and became alarmed.  She had not seen Yvette in months and, though that was not unusual, decided to check on her.  Of entering the home, Susan said, "I knocked on her gate for long time; it was impossible to open.  It was bolted twice, nailed shut, and then, braced at the base with a 2×4.  Trust me, it was NOT easily accessible from the street.  If it was, our mail carrier might have been able to make contact sooner.  I ended up scaling her steeply graded hillside, stepping over high metal barricades and bloodying myself in the process, till I finally got onto her property.  All the doors and windows were locked and reinforced from within.  I knocked on every door/window, calling her name the whole time.  I could see that the lights were on, but there was no response.  I  went down to the front door of the house, and saw the broken window pane which is how I ultimately got in."  When Savage reached the dwelling's second floor, she discovered what was left of Yvette's body, mummified on the floor.  It had likely been sitting there for months.  Though a lot of criticism was soon thrown at neighbors and friends for not notifying authorities that the 82-year-old had not been heard from in months, it is obvious that Yvette was, at least in her final years, someone who did not want any sort of contact with the outside world.
Next-of-kin was Perry Palmer, Yvette's half-brother.  The two had not known of each other's existence until much later in life and never grew close.  Perry had the home cleared of all of Yvette's belongings a couple of months after her death and the property was put on the market as "a major fixer-upper" in September 2011 for $499,000.  You can check out some photos of what the interior of the house looked like at that time here and you can check out a great video filmed by Scott Michaels about the home here. The residence ultimately sold in January of the following year for $275,000 and was torn down at some point thereafter.  Boulevard of broken dreams, indeed.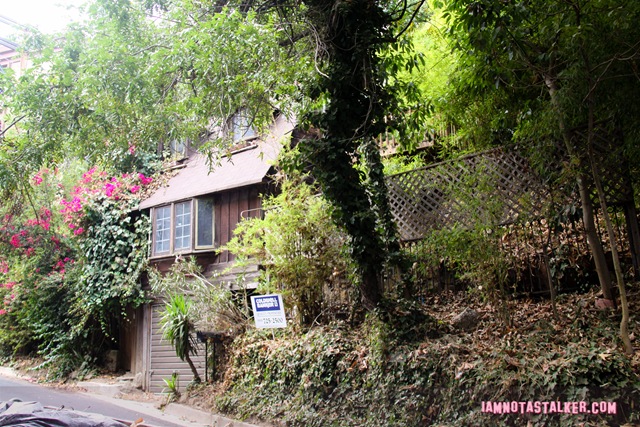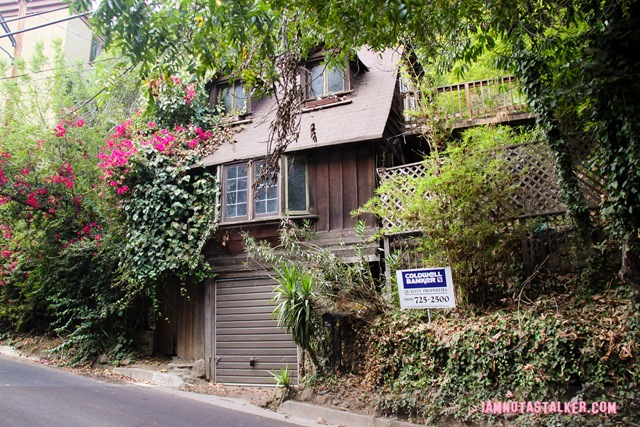 For more stalking fun, be sure to follow me on Facebook, Twitter, Instagram and Los Angeles magazine online.  And you can check out my other blog, The Well-Heeled Diabetic, here.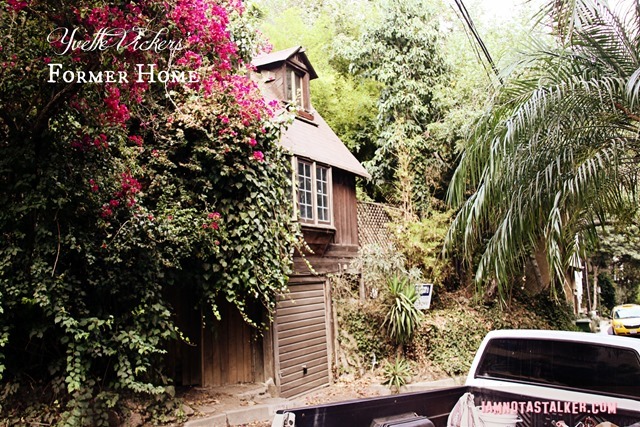 Until next time, Happy Stalking! 

Stalk It: Yvette Vickers' house was formerly located at 10021 Westwanda Drive in Beverly Hills.
84474