Hatfield's Restaurant from "Chef"
Apr 21st, 2015 | By
Lindsay
| Category:
Movie Locations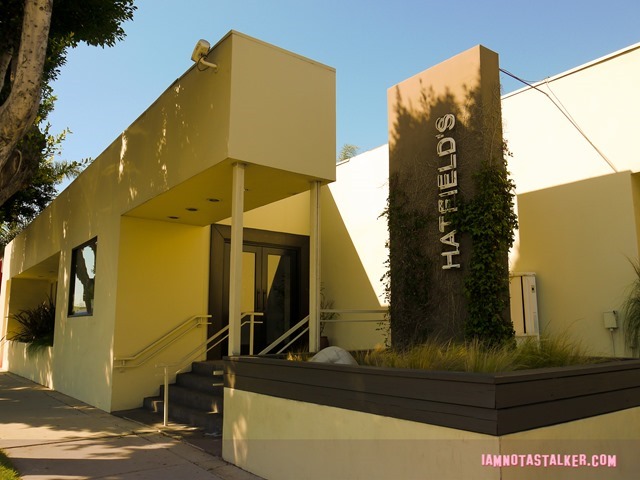 Today's location is a bit of a bummer, I'm afraid.  Ever since seeing the movie Chef (one of my favorites of 2014), I was itching to stalk Hatfield's restaurant, which appeared quite extensively throughout the flick.  So when I discovered that it had recently closed, I was devastated.  But I ventured on over to see the exterior of it in person, nonetheless, while I was in L.A. a few weeks ago.
Hatfield's restaurant was established by Karen and Quinn Hatfield in 2006.  The fine dining eatery was originally located in a small space on Beverly Boulevard, but moved to 6703 Melrose Avenue in Hollywood in 2010.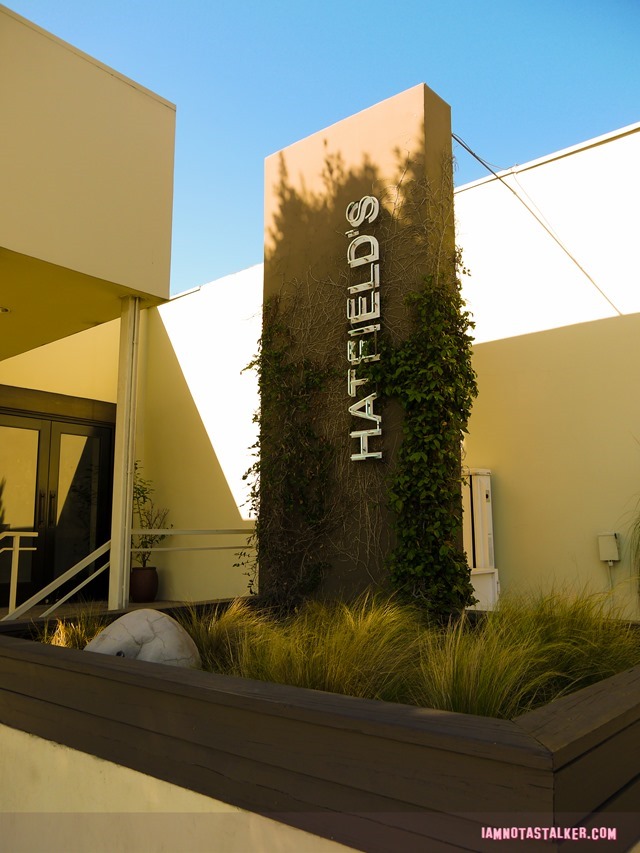 The Melrose Avenue space had housed a restaurant named Citrus until 2001 and then went through a succession of different occupants, including Alex, Meson G, and Red Pearl Kitchen.  When the Hatfields leased the site, they remodeled the interior, creating an open space filled with bright white accents.  While I was hoping to get a peek of that interior via the front windows, due to the way the restaurant is set up, not much was visible, unfortunately.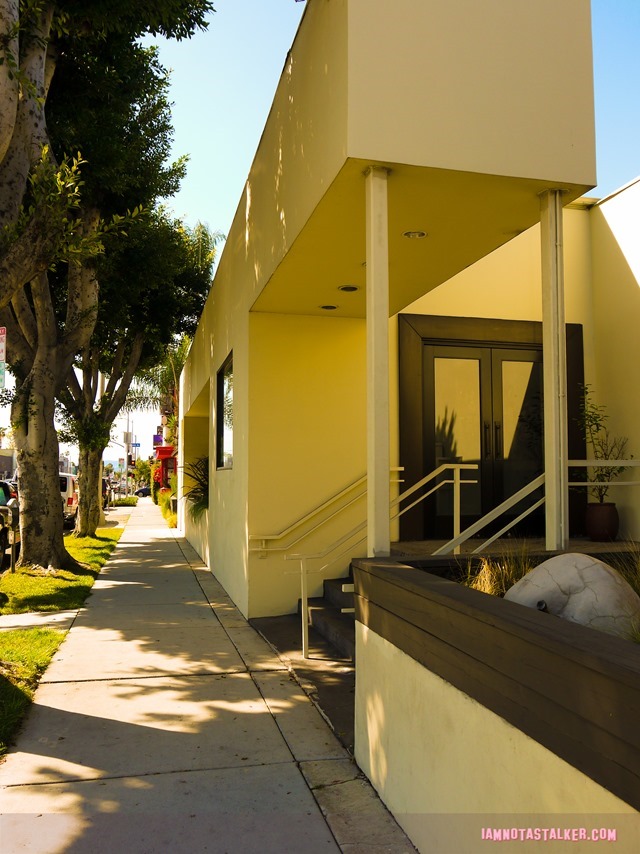 For reasons that were not specified, Hatfield's closed its doors in December 2014 and the property that once housed it currently sits vacant.  Karen and Quinn have since opened Odys & Penelope Churrasco and Grill in the Fairfax district and they still operate The Sycamore Kitchen in that same neighborhood, as well.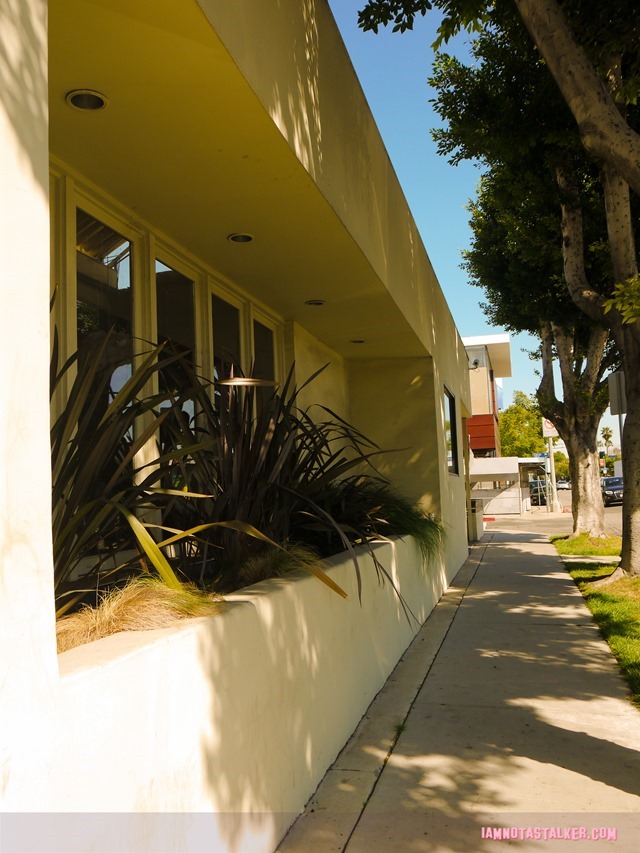 In Chef, Hatfield's masked as the Gaellic-style Brentwood eatery named Gauloises where Carl Casper (Jon Favreau) worked.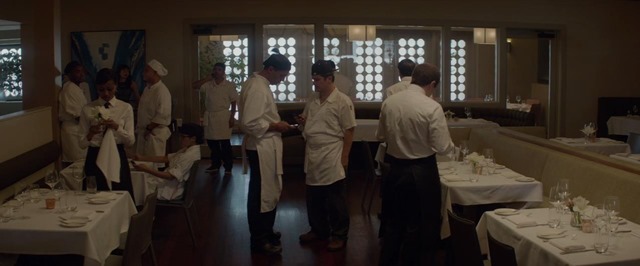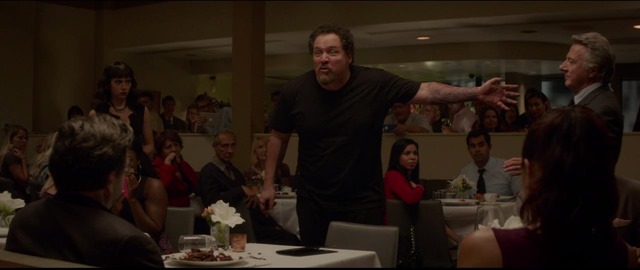 I fell in love with the restaurant's open kitchen while watching Chef and was dying to stalk – and photograph – it.  A place like that is just screaming to be photographed!  I sincerely hope that whoever takes over the space leaves its design intact.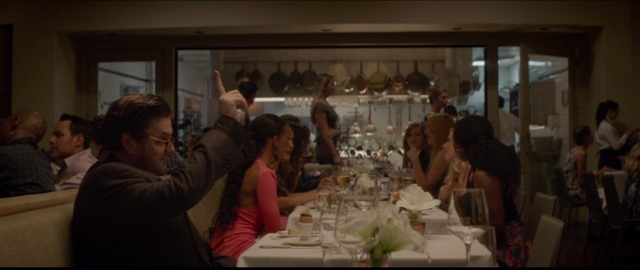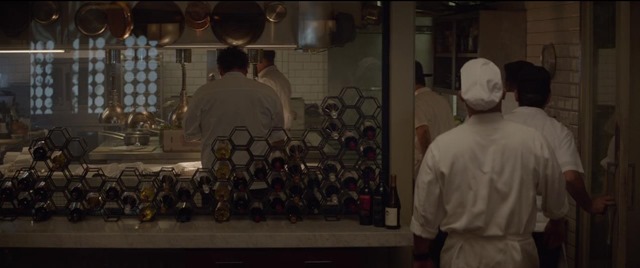 According to a May 2014 Eater LA interview with Favreau, who wrote, produced, directed and starred in Chef, the kitchen is what made him choose the site for filming.  He says, "Cinematically it was wonderful.  When you build a restaurant on a stage for a Hollywood film it looks so perfect.  This one had a beauty to it and was very well laid out.  I loved how the front and back of the house you could see the open kitchen – you could see in – that was fun for the cameraman.  Kitchens aren't usually aesthetically pleasing places in reality; they're generally hot and crowded.  The visual aspect of it isn't a priority.  This one is."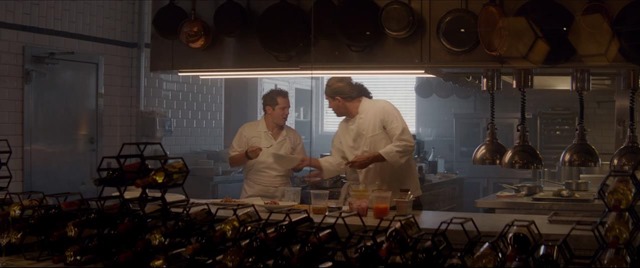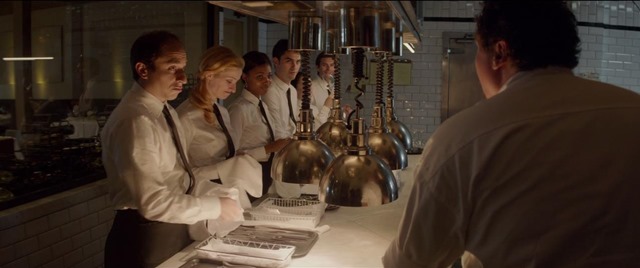 The culinary scenes in Chef are absolutely beautiful – and not just because of the design of Hatfield's kitchen.  Eater LA characterizes the sequences as "food porn" and that's a pretty accurate description.  Roy Choi, the chef behind the immensely popular Korean taco food truck fleet Kogi, consulted on the movie.  According to Jon, before coming onboard Choi said, "'I'll do it but you have to get the kitchen right.  Movies always get it wrong.  I'll do everything you need.  I'll train you, do the menus, look over your scripts, help you in the editing room.  Whatever you want.  But you have to promise you'll get the details right.'  I said that's all I ever want to do.  That's the way I work.  That's exactly what I had in mind as well."  Favreau even attended a French culinary school and worked in some of Choi's restaurants prior to filming, which becomes obvious while watching the flick.  Favreau's hands move like an artist when handling his dishes.  Check out this grilled cheese-making scene and you'll see what I mean.  Just make sure you have some sliced sourdough and cheddar on hand 'cause cravings are sure to follow!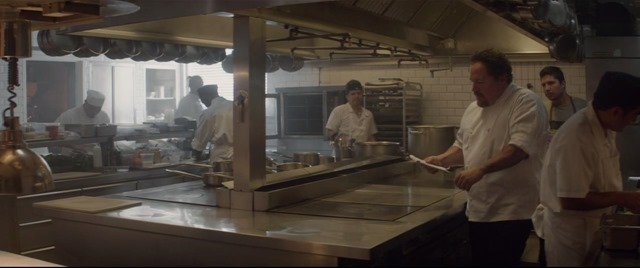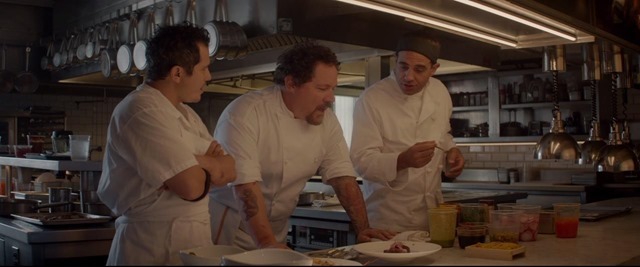 Hatfield's was also where Olivia Pope (Kerry Washington) and Mellie Grant (Bellamy Young) sat through a terse staged lunch in the Season 3 episode of Scandal titled "Ride, Sally, Ride."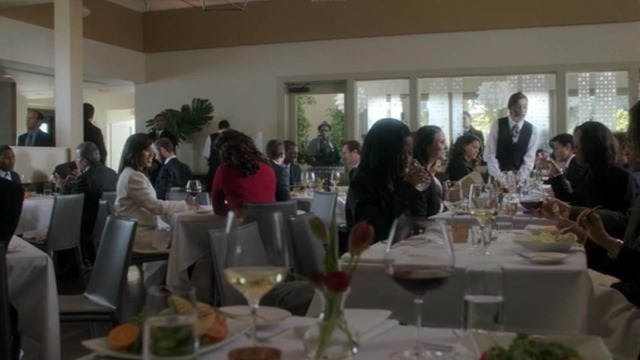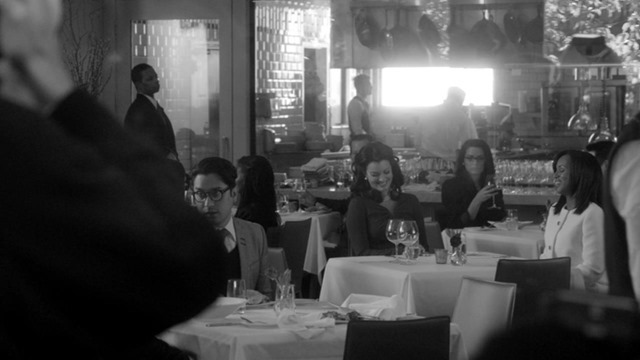 The space also masks as Jimmy's, the restaurant belonging to Jimmy Martino (John Stamos), in the new Fox series Grandfathered.  The interior of the eatery . . .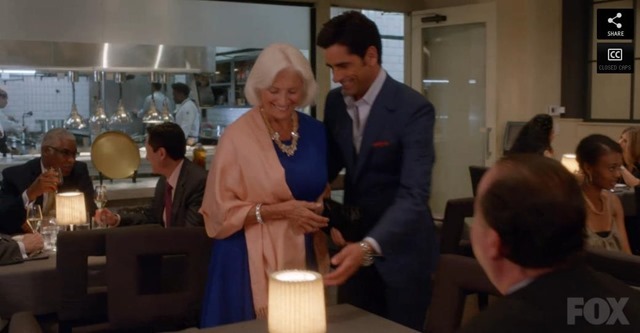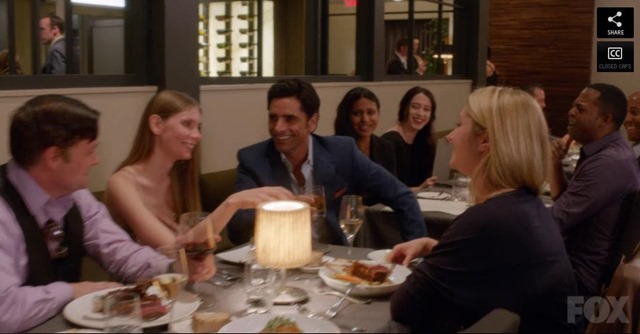 . . . and the kitchen area are featured on the show.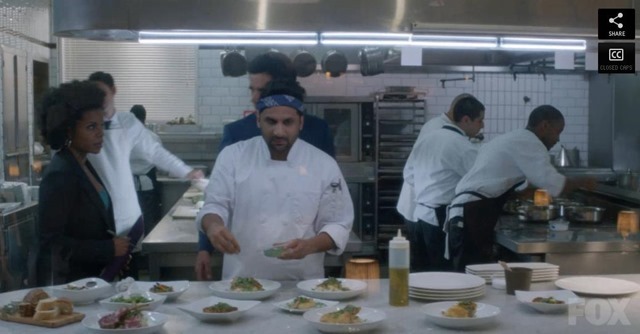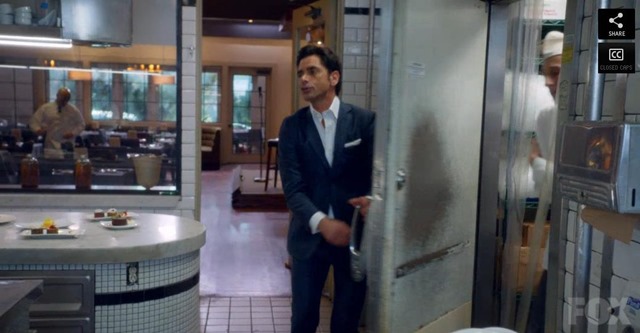 Exterior filming, though, takes place at Faith & Flower, located in The Watermarke Tower at 705 West 9th Street in downtown Los Angeles.  That same building is also where Jimmy lives on the show.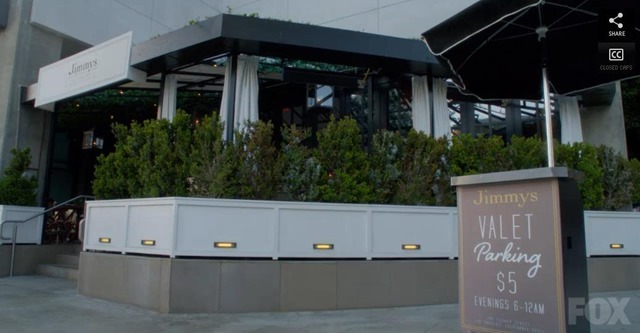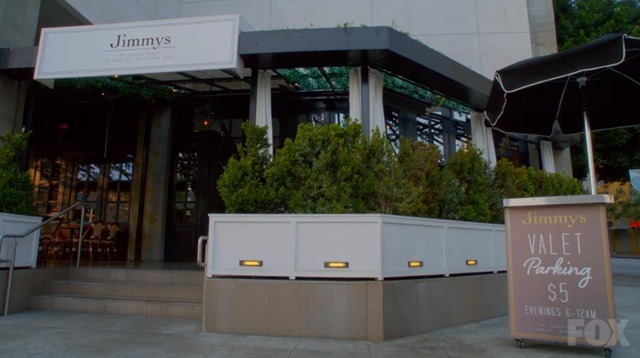 During the space's stint as Meson G (which you can check out some photographs of here), it masked as New York restaurant Nolita for the pilot episode of the 2005 television series Kitchen Confidential.  I had never heard of the show, which was created by Darren Starr and starred cuties Bradley Cooper and Owain Yeoman, prior to doing research for this post, but it looks great!  You can check it out for free on Hulu.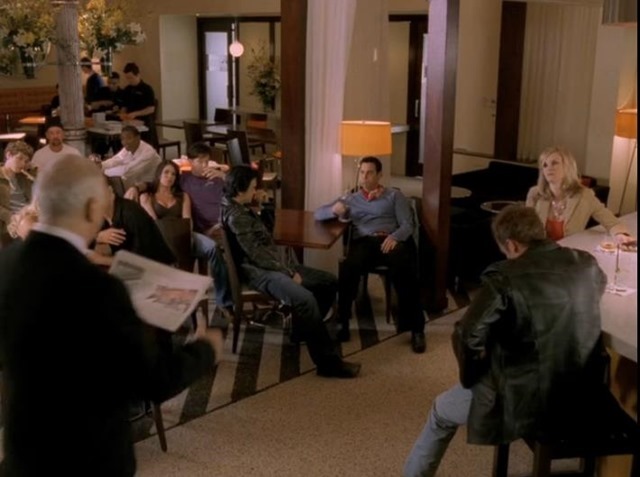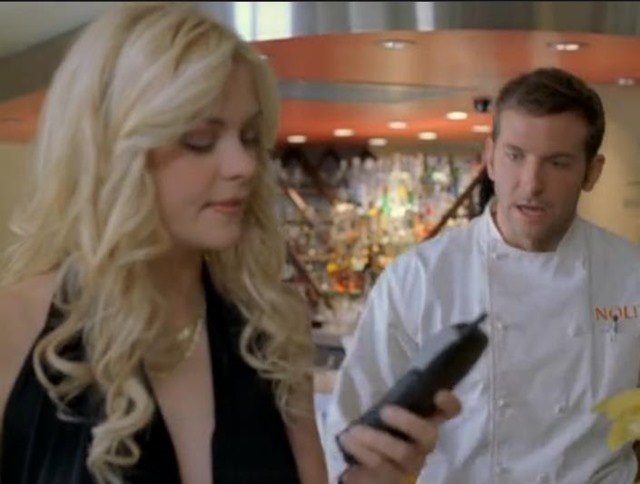 Thanks to my friend Molly, from the fabulous DIY/lifestyle website Almost Makes Perfect, I learned that David Boreanaz was punked at Meson G during Season 6 of Punk'd.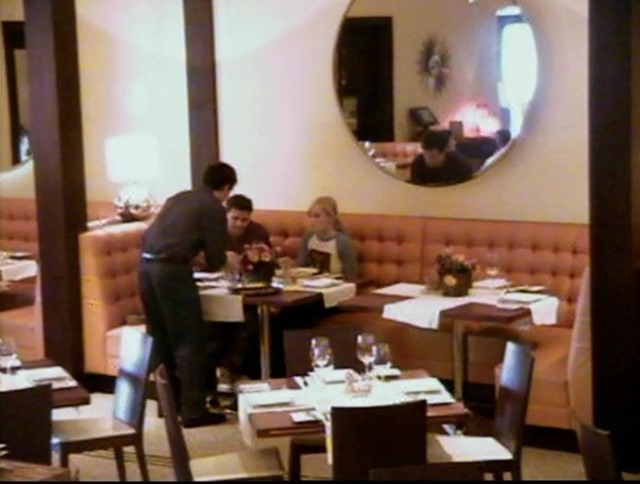 In 2008, when the site housed Red Pearl Kitchen, it appeared in the Season 4 episode of The Hills titled "We'll Never Be Friends" as the spot where Doug Reinhardt took Lauren Conrad on a date.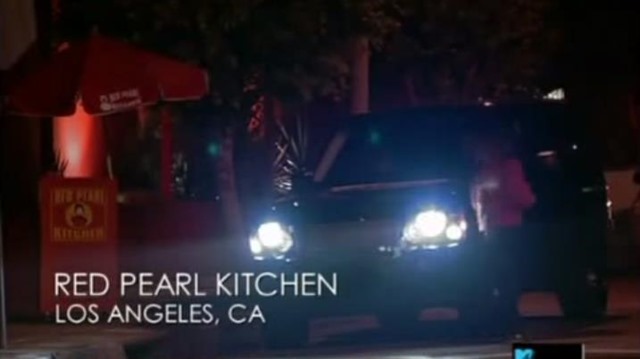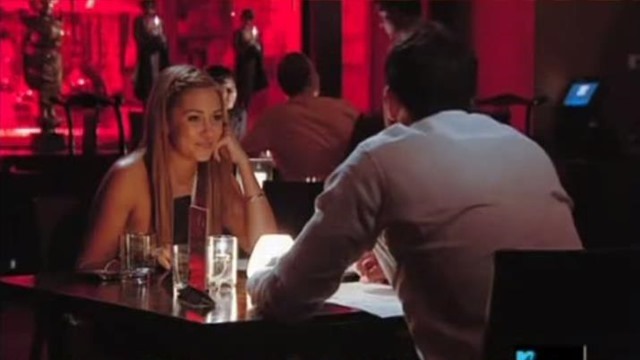 For more stalking fun, follow me on Facebook, Twitter, Instagram, Los Angeles magazine and Discover Los Angeles.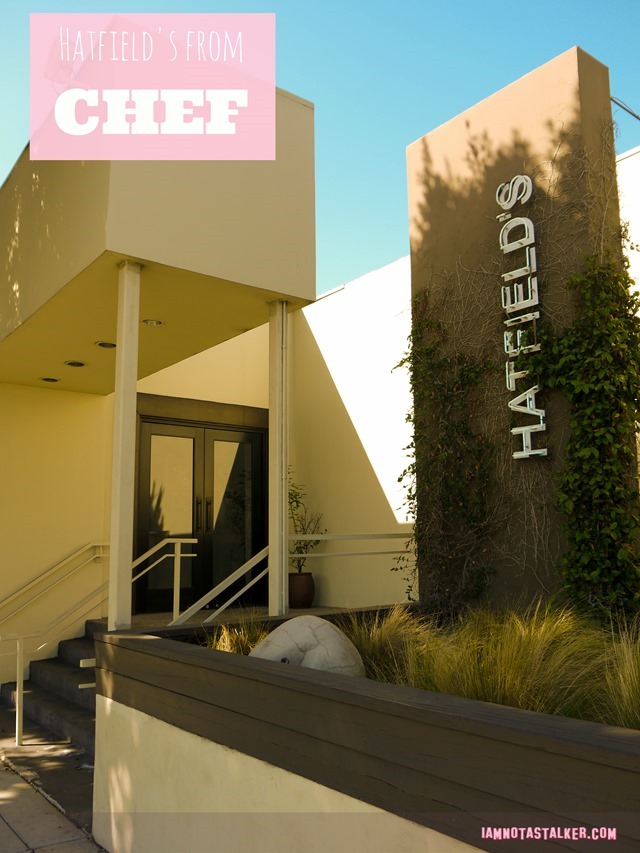 Until next time, Happy Stalking! 

Stalk It: Hatfield's restaurant, from Chef, was formerly located at 6703 Melrose Avenue in Hollywood.  The space is currently closed and awaiting a new tenant.
88934