Triada Palm Springs
Sep 18th, 2015 | By
Lindsay
| Category:
This and That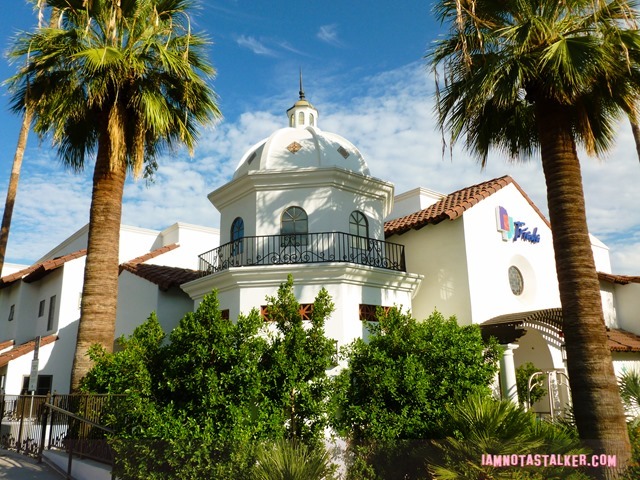 For those who are unfamiliar with the area, Palm Springs is HOT in the summer.  Well, it's hot year-round, but in the summer it's hot hot – like 115 most days.  One nice consequence of that fact is that hotels drop their prices during the inclement months.  My family loves to partake of the low rates with short staycations in various area hotels.  Last week, we had the pleasure of checking into Triada Palm Springs.  Though not a filming location, the place does have quite a few celebrity ties, so I figured it was most definitely blog-worthy.
I was unfamiliar with Triada until my mom booked our recent stay and was under the assumption that it was newly-built.  Upon checking in, I got to talking with the front desk clerk about the hotel's history (as I am always apt to do) and was shocked to discover that the place has a ton of it!  Though the property opened as Triada less than a year ago, its origins date back to the 1920s!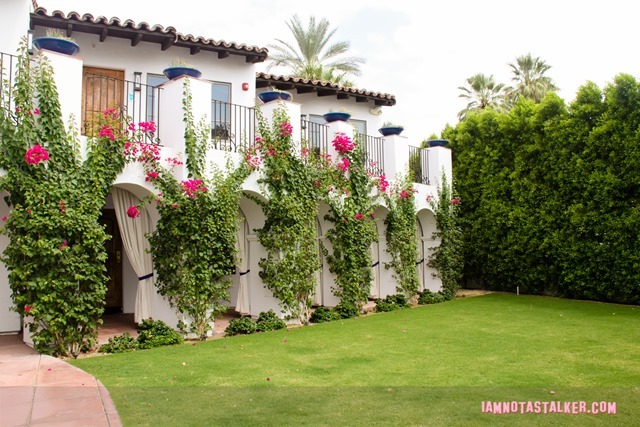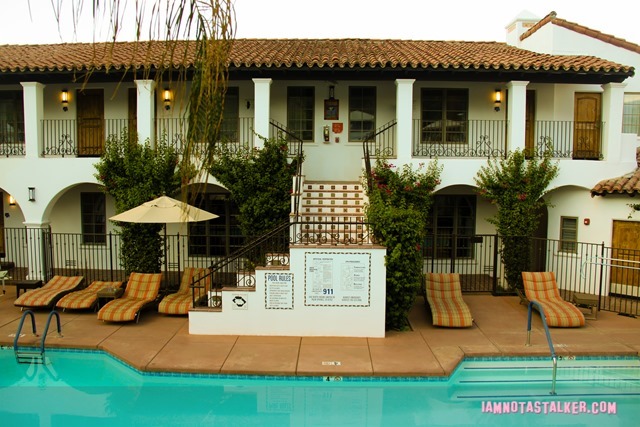 The man who checked us in turned out to be Triada's sales manager and, prior to the hotel's opening last November, he put together an extensive article on the site's past, including its ties to Tinseltown.  He lit up when I began asking for information (turns out he is just as big of a Hollywood history buff as I am) and even offered to give me a tour of the historic parts of the property.  I, of course, took him up on that offer and was thrilled with what I learned.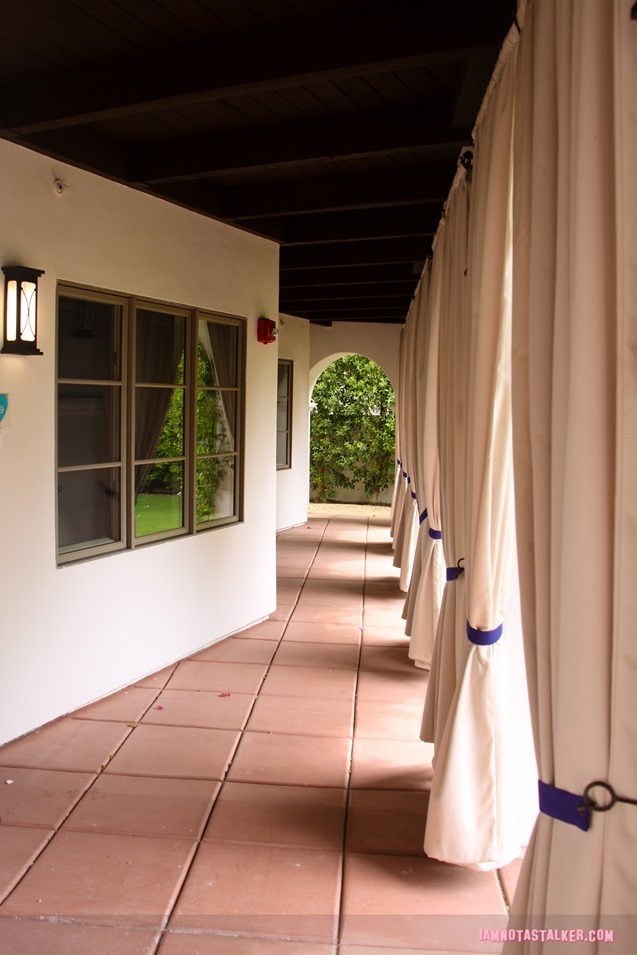 The property now known as Triada was originally a private residence built between 1927 and 1929.  Owned by a woman named Lucy Berry, it was the first home to be constructed in the Palm Springs Estates neighborhood.  The dwelling was situated on the southeast corner of East Via Altamira and North Indian Canyon Drive, in the area where Triada's Alma Building, which houses the hotel's lobby, business center and restaurant, now stands.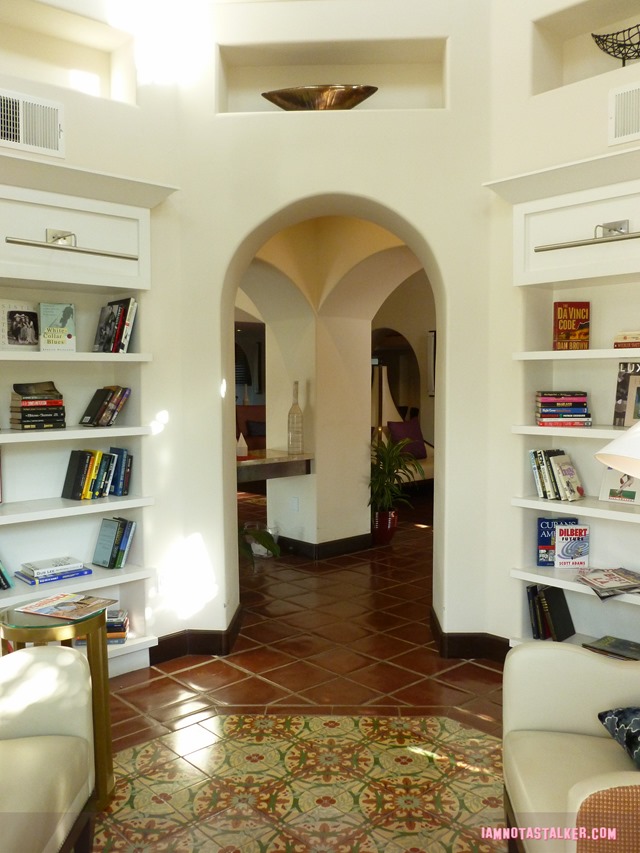 It is thought that portions of the lobby (pictured below) may be original to Lucy's house.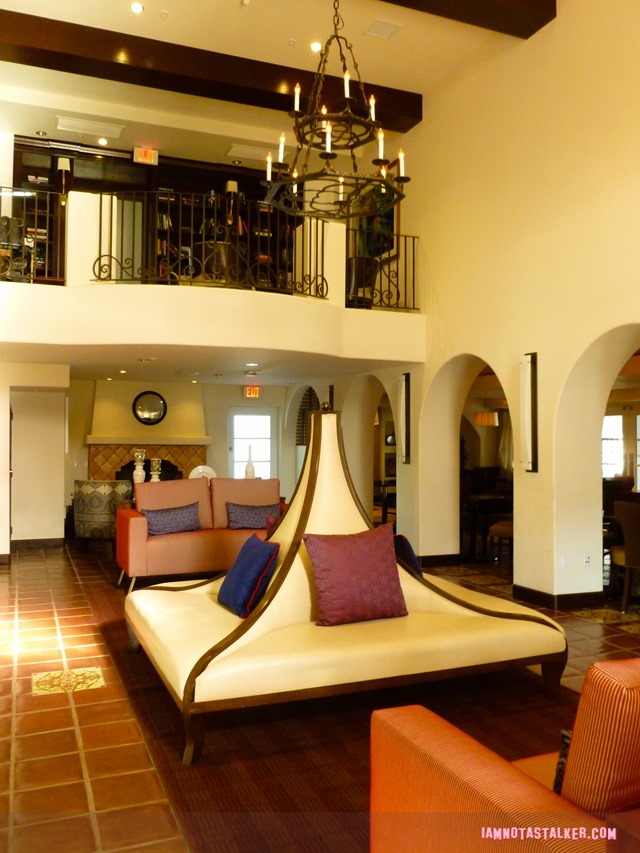 In 1934, Lucy sold her home to a venture capitalist named David Margolius, who planned to use it as a winter residence.  It was not long before he changed course, though, and decided to capitalize on Palm Spring's growing tourism industry by transforming the property into a hotel.  He converted Lucy's home into a small inn and then began purchasing the land surrounding it.  By 1938, he had acquired the neighboring 1.4 acres and that same year began constructing a building and a courtyard, the design of which was reminiscent of his favorite city, Barcelona.  Today, that building is Triada's Mente Building (pictured below).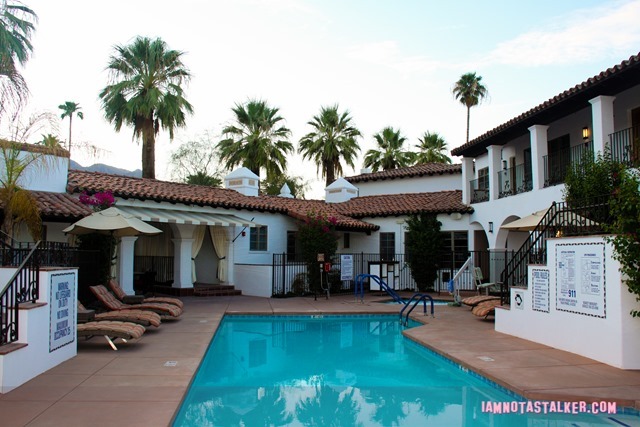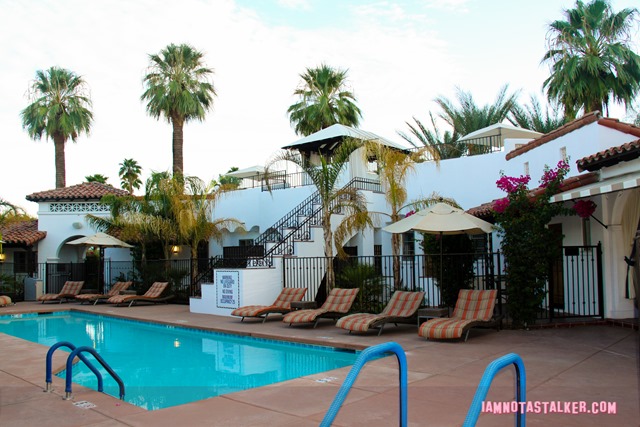 As you can see in the photograph below as compared to this picture from the book Palm Springs in Vintage Postcards, Mente looks almost exactly the same today as it did when it was originally built.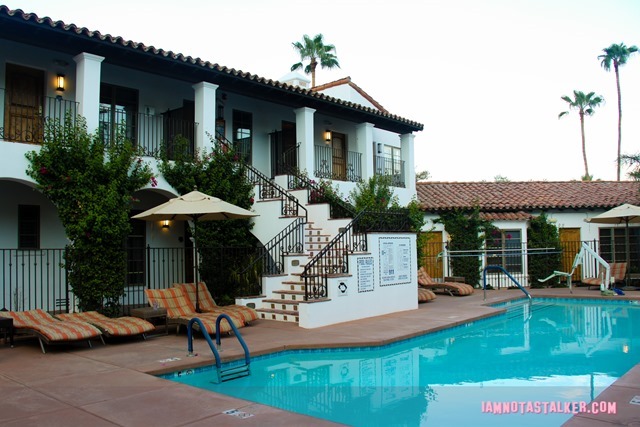 The archways pictured in this 1943 photograph are also part of the Mente Building.  The side of the arches that appears in the historic image has since been covered over with shrubbery, so I was not able to snap a matching photo.  The picture below is taken from the opposite direction, but it still shows how little of the archways has changed in the ensuing 72 years.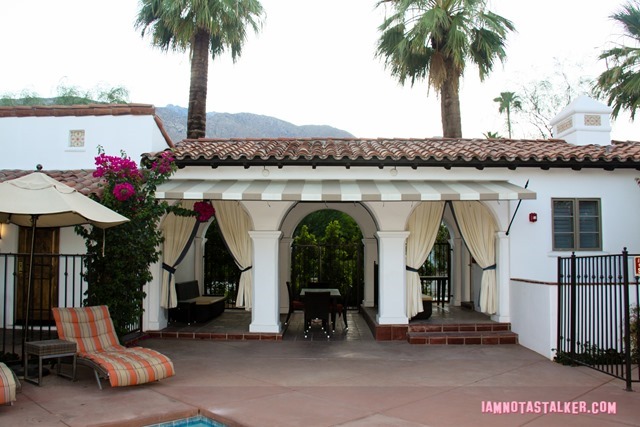 Margolius named his inn The Ambassador Apartment Hotel and it was opened to the public in 1939.  It quickly became a success.  You can check out some pictures of the place in those early days here, here and here.  In 1947, Margolius added a swimming pool to the property, which you can see a photograph of here.  Sadly, that pool has since been filled in and the Triada's Corazon Building now stands in its place.  The Corazon's central courtyard (pictured below) is situated in pretty much the exact spot where the former pool was located.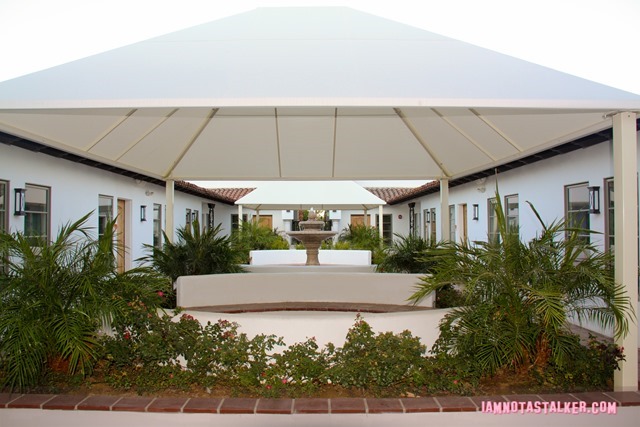 In 1948, Margolius renamed the site The Ambassador Hotel.  To accommodate his growing patronage in the years that followed, he expanded Lucy's former residence by adding two large wings with guest rooms, the first in 1951 and the second in 1956.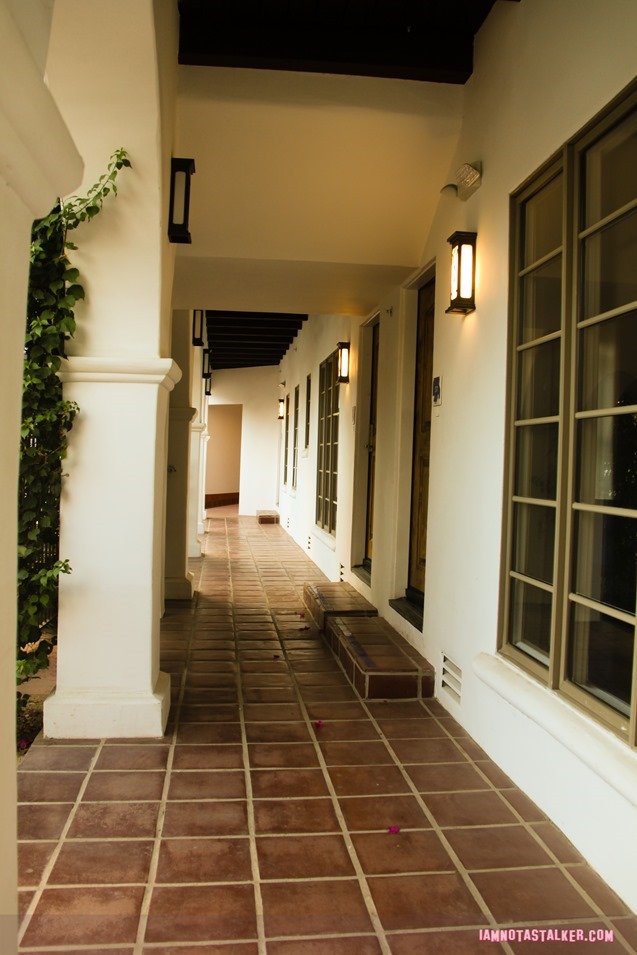 Celebrities flocked to The Ambassador.  Such luminaries as Tyrone Power, Lana Turner, Jimmy Durante, Esther Williams, and Italian opera singer Amelita Galli-Curci are all reported to have stayed there.  It is said that Elizabeth Taylor and Richard Burton trysted at the hotel on more than one occasion and typically did so in the Penthouse, aka Room 125, the entrance to which is pictured below.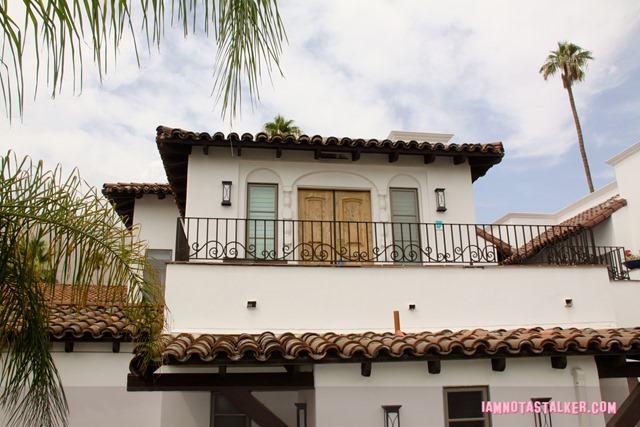 Room 125 boasts its own private stairwell and entrance, which afforded the two the ultimate in privacy during their stays.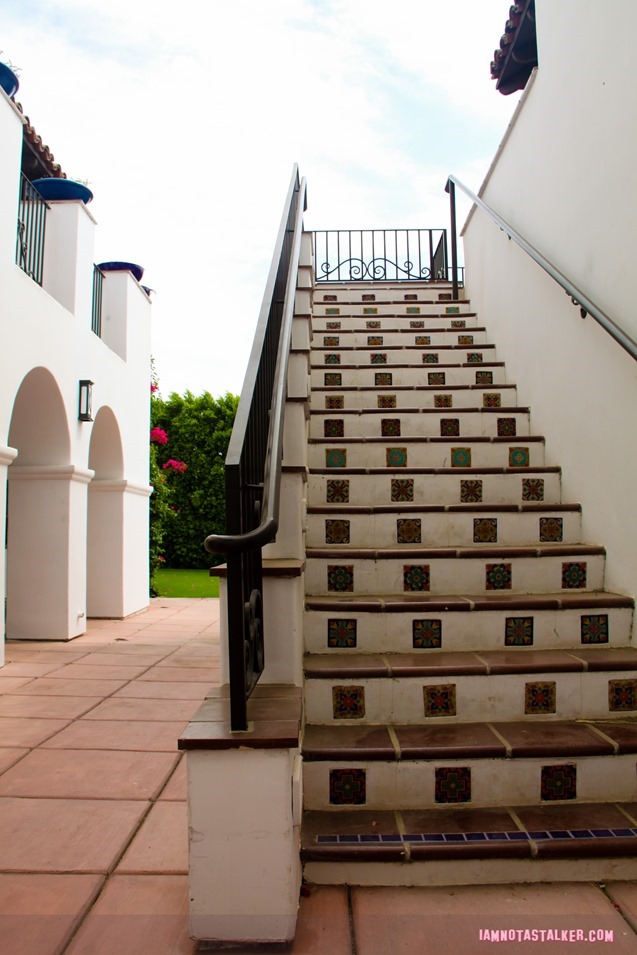 Howard Hughes preferred Room 312 in what is now the Mente Building.  Since Triada took over, more than a few strange happenings have occurred in that particular suite.  Apparently, shortly before opening, a photographer was set to snap some publicity shots of the hotel and several of the rooms, one of which was 312.  The space was dressed prior to the shoot, but when the photographer stepped inside, he found that the never-been-used sheets had been removed from the bed, balled up and stashed in a corner.  Perhaps Hughes enjoyed his time at The Ambassador so much that he chose to move in permanently in the afterlife – and bring his eccentric habits with him.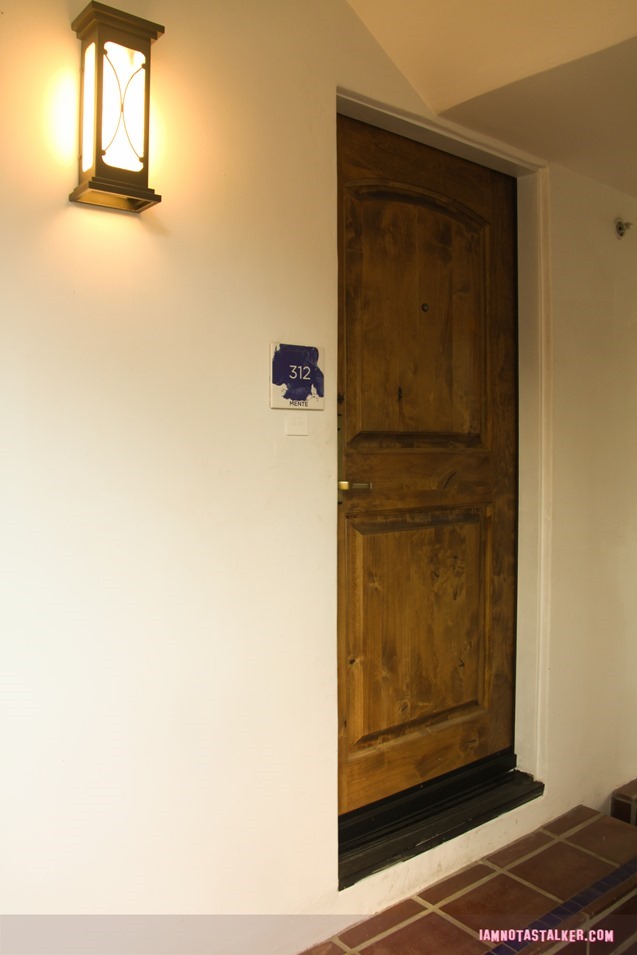 After Margolius' death in 1969, his widow sold the 34-room hotel to an Italian-American family.  They sold the property just a few years later, in 1972, to Sue Ladd, actor Alan Ladd's widow.  She renamed the site Alan Ladd's Spanish Inn and during her tenure as owner, many of Ladd's Hollywood friends and contemporaries stayed on the premises.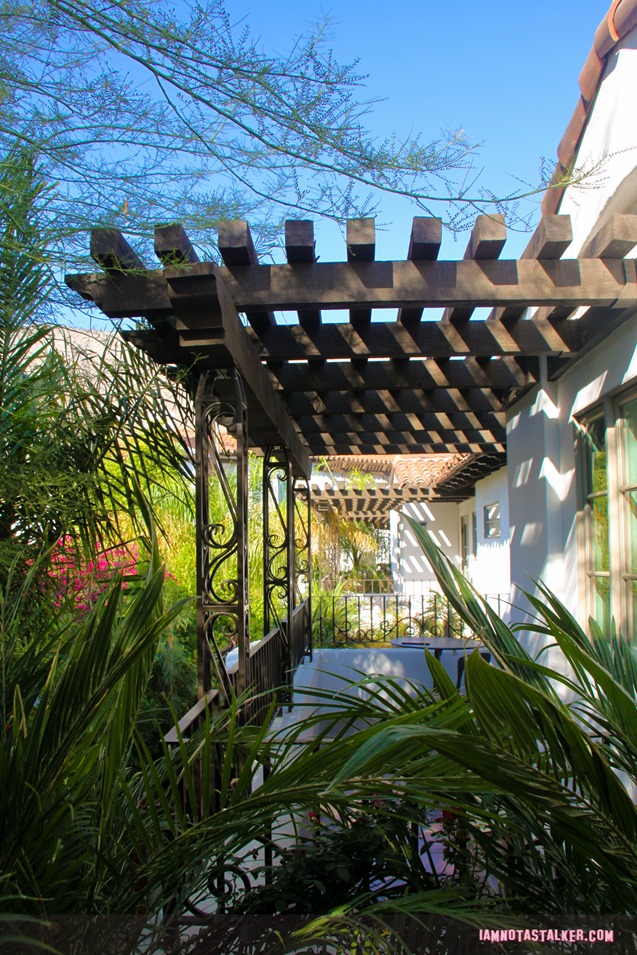 Sue passed away in 1982 and her estate sold the hotel five years later.  The new owners renamed the place The Spanish Inn and set about remodeling it, but wound up going bankrupt less than a year after acquiring the property and Ladd's estate subsequently foreclosed.  The Spanish Inn was eventually shuttered in 1994 and, outside of a few attempts at renovating it, sat abandoned for the two decades that followed.  When I found this information out, I just about fell over.  A long abandoned property in Palm Springs that I never had the chance to view?  How is that possible?  I did just discover and stalk a different abandoned hotel in the area that I will be blogging about during my Haunted Hollywood postings, though, so I guess there's that.  I am already counting down the days until those posts!  Why can't it be October yet?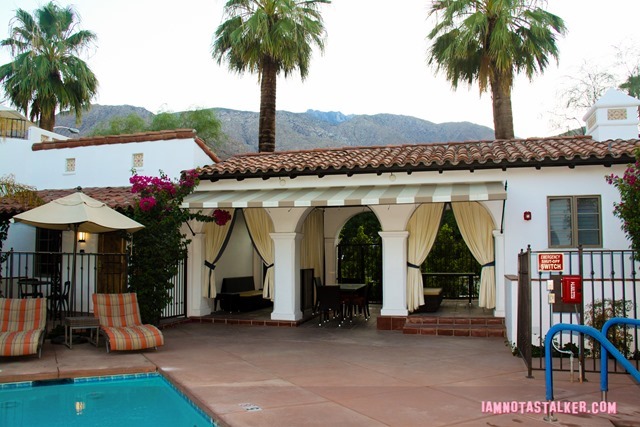 After being bought, sold and partially renovated several times, The Spanish Inn was finally purchased by Pacifica Host Hotels in 2012.  The company completed the many different renovations that had been started on the site, all the while preserving as much of its history as possible.  As you can see in the aerial images pictured below, the first of which was taken in 2000 by architect James A. McBride II, the site still looks very much the same today as it did prior to the remodels.  Notice that in the 2011 aerial view, the second pool in the courtyard of the Mente Building had yet to be built.  (Bing Maps does not currently provide a more recent aerial image, unfortunately.)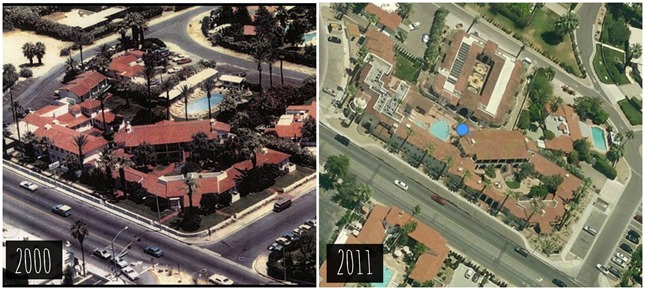 Triada, which is Spanish for "three related parts," opened its doors on November 22nd, 2014.  The Marriott Autograph Hotel boasts three wings, 56 rooms, two pools, a hot tub, a restaurant, two bars, and a gym.  Its motto is "exactly like nothing else" and my family found that absolutely to be true.  Triada is an incredibly special place and we loved our time there.  Not only is the property gorgeous and peaceful and the rooms fabulously modern and sleek (I could happily live in one of the rooms!), but the customer service is bar none.  We are already eager to return.  In fact, my dad is currently making plans to do so.  I, for one, can't wait.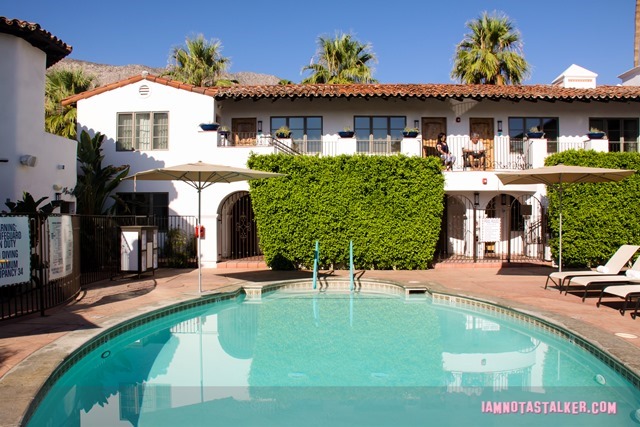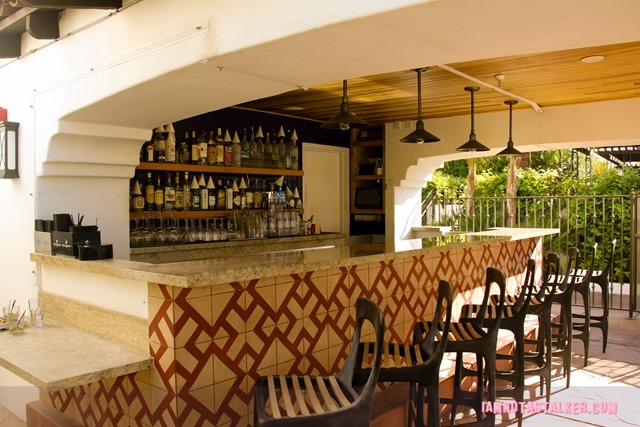 For more stalking fun, follow me on Facebook, Twitter, Instagram, Los Angeles magazine and Discover Los Angeles.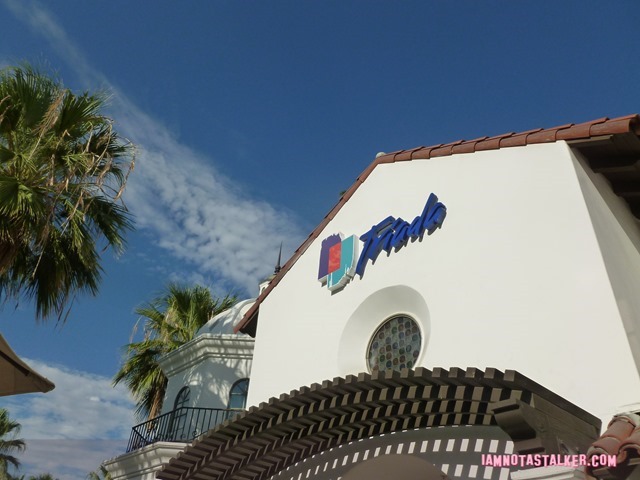 Until next time, Happy Stalking! 

Stalk It: Triada Palm Springs is located at 640 North Indian Canyon Drive in Palm Springs.  You can visit the hotel's official website here.
91745