Tracey Ross from "Beverly Hills, 90210"
Dec 15th, 2015 | By
Lindsay
| Category:
90210 & Beverly Hills, 90210 Filming Locations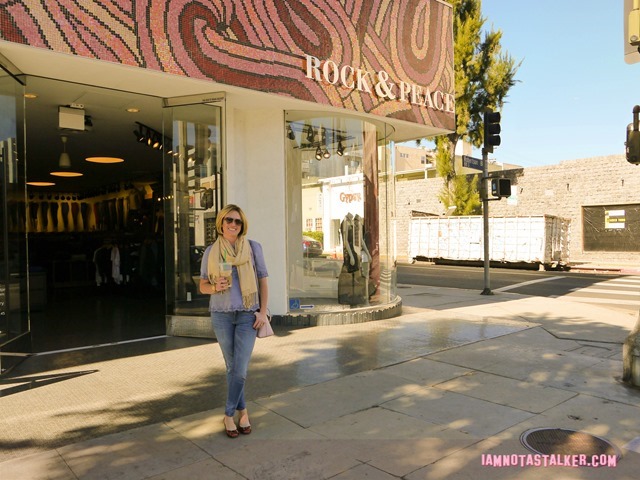 'Tis finally the season – the season for holiday-themed filming locations!  As is the case every year, because Christmas locales in the L.A. area are rather limited, I waited to start blogging about them until the end of December.  And I should mention here that my postings over the next two or three weeks will be fairly limited, as well, due to some holiday events and trips that I have planned, including a shopping visit to L.A.  (I can't wait!  There's no shopping like L.A. shopping!)  Anyway, today's locale comes from my favorite television show ever, Beverly Hills, 90210.  While scanning through the Season 2 episode titled "A Walsh Family Christmas" prior to writing my post on Lake View Medical Center in October, I spotted an establishing shot of the store where Brenda Walsh (Shannen Doherty) briefly worked and got a bit distracted.  I had not remembered an exterior of the shop ever being shown on the series and became very excited about the possibility of tracking it down, which I eventually did.  As it turns out, though, Geoff, of 90210Locations, had already found the place and listed the address on his site, which would have saved me quite a bit of time had I known.  #blondemoment
In "A Walsh Family Christmas," Brenda lands a sales job at a local Beverly Hills boutique a few days before Christmas.  The exterior of the boutique was shown several times in the episode and I was thrilled to see that both a store name, Tracey Ross, as well as a 105 address number were visible.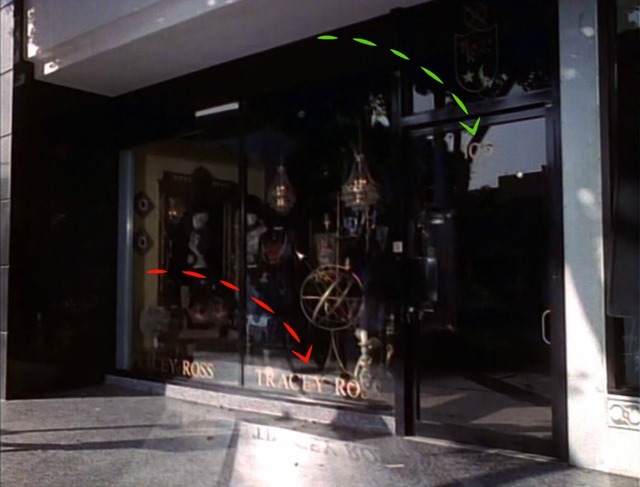 So I got to Googling and discovered that, while Tracey Ross is no longer currently in existence, there did indeed used to be a boutique by that name located at 105 South Robertson Boulevard in Beverly Grove.  Today, that location houses an outpost of Lululemon.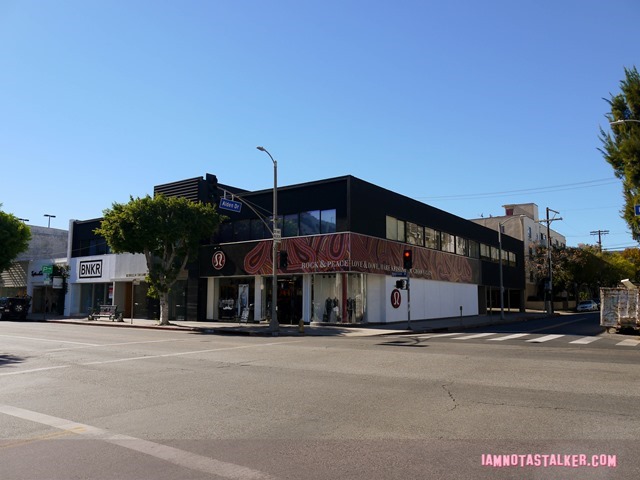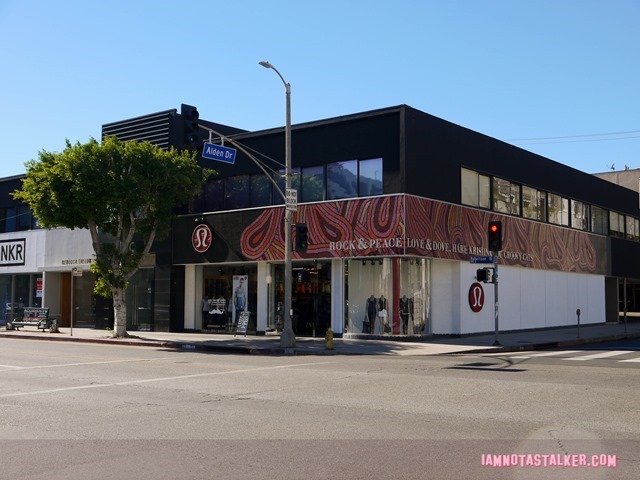 At the time that "A Walsh Family Christmas" was filmed, the building that housed Tracey Ross looked considerably different due to the fact that the bottom level was split up into five different spaces, as you can see in the Google Street View imagery below from August 2007.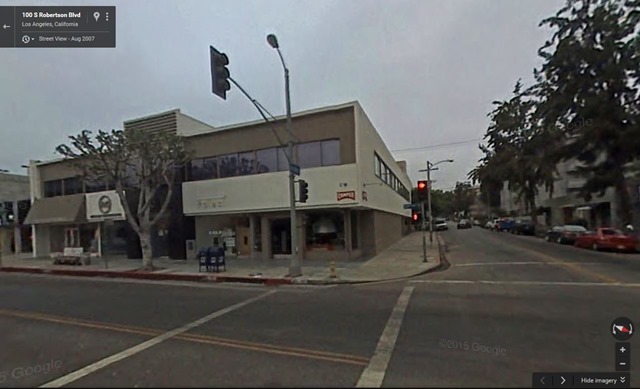 Tracey Ross was located in the northern portion of the building, two storefronts south of Alden Drive.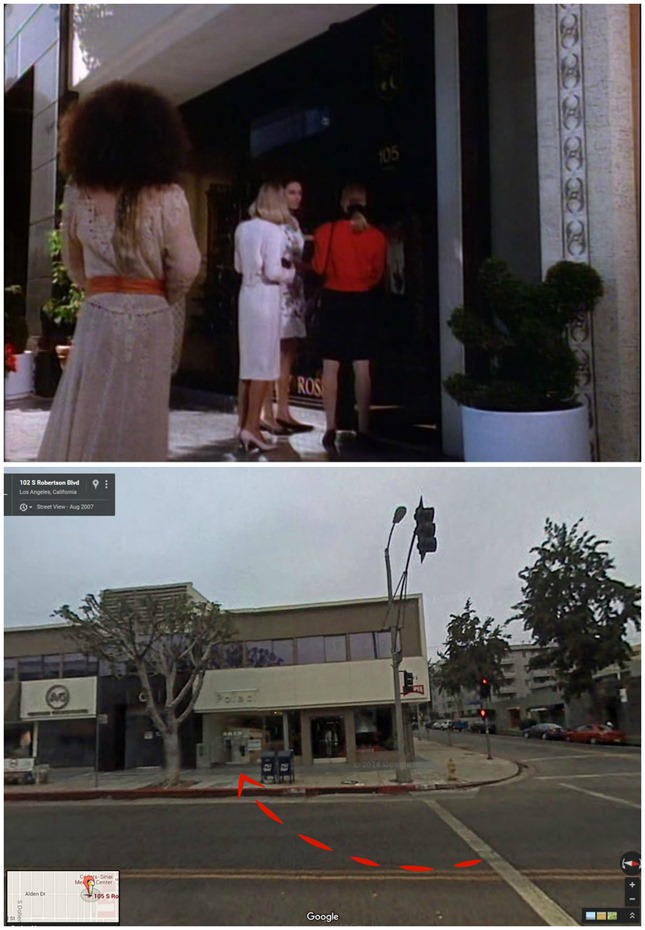 At some point in 2008, Rock & Republic opened an outpost on the premises and combined the building's two northern units (including the one formerly occupied by Tracey Ross) into one big space.  Though R&R has since moved out, that storefront has remained one unit ever since.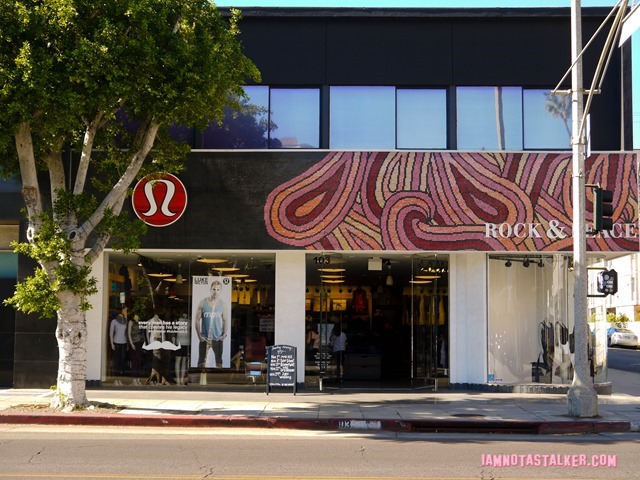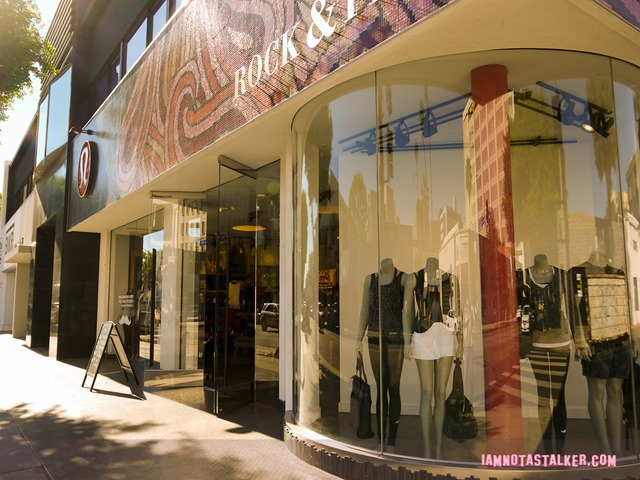 Thankfully, some recognizable elements remain despite the many changes that have taken place since 90210 was filmed.  As you can see below, the Robertson storefront is still recessed, much like it was when it was featured in "A Walsh Family Christmas."  And the black-tiled facade of the suite next door is still a direct match to what appeared onscreen.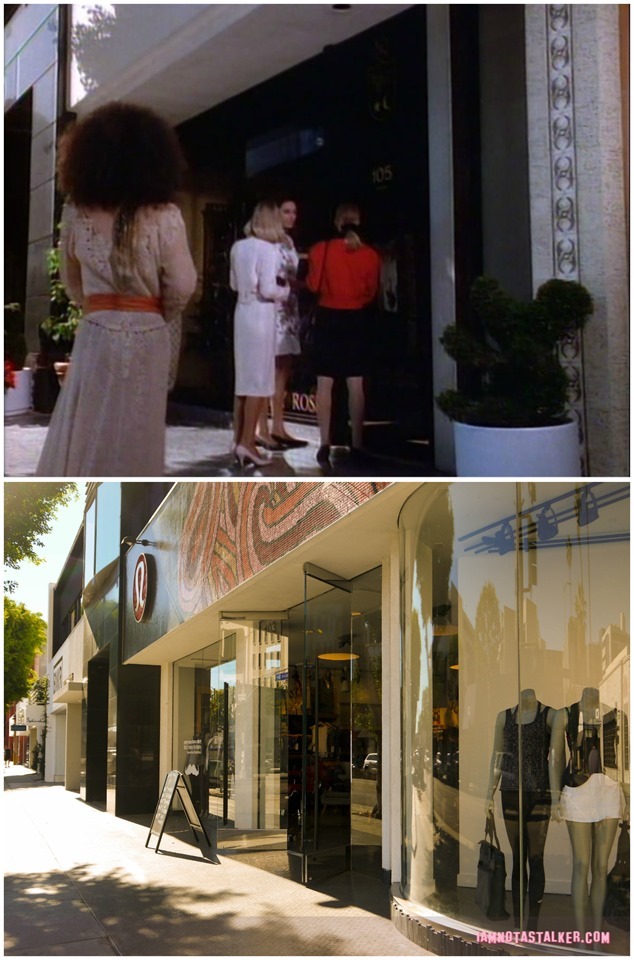 A close-up view of the storefront next door is pictured below.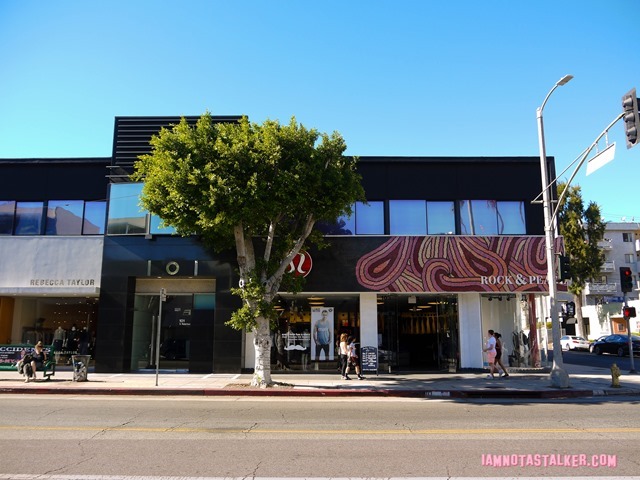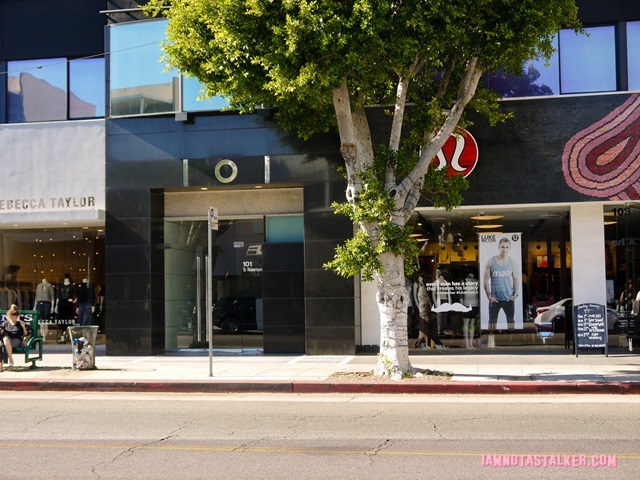 Tracey Ross' actual interior was also used in "A Walsh Family Christmas."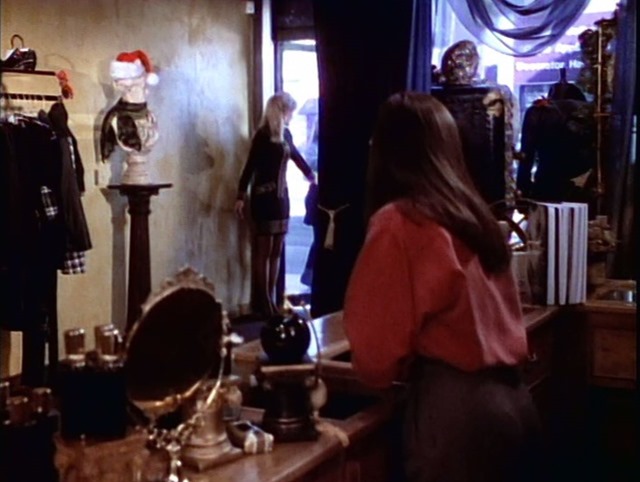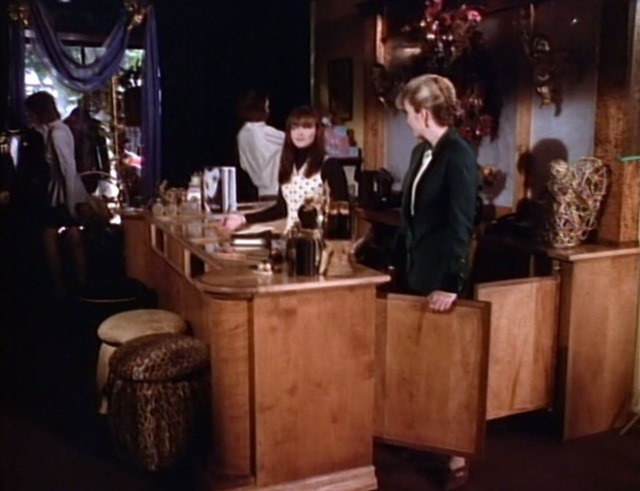 In the episode, Brenda's boss, Deirdre (Rebecca Staab), kicks a homeless man dressed as Santa Claus out of the store on Christmas Eve.  When Brenda leaves the shop later that night, she sees some police officers harassing Santa and, in classic Walsh style, winds up rescuing him and bringing him home to her house for Christmas Eve dinner.  Ironically, the shop visible across the street in the scene is Les Habitudes, the very same shop that designed the wedding dress that Tori Spelling wore in Beverly Hills, 90210's final episode, "Ode to Joy."  The only reason I know that random factoid is that I worked as an extra in the episode and overheard Tori discussing the gown with a crew member.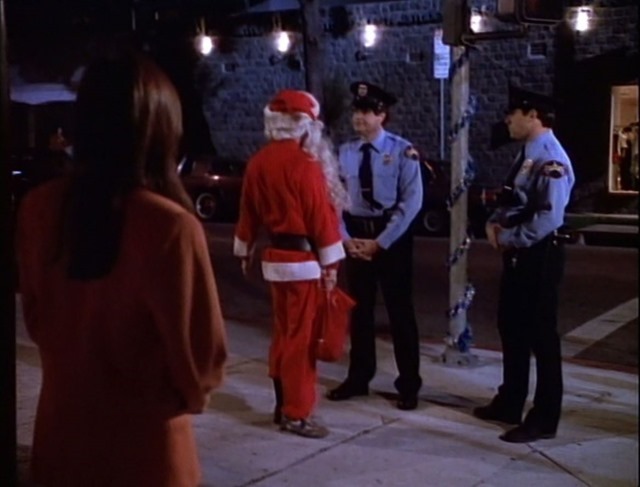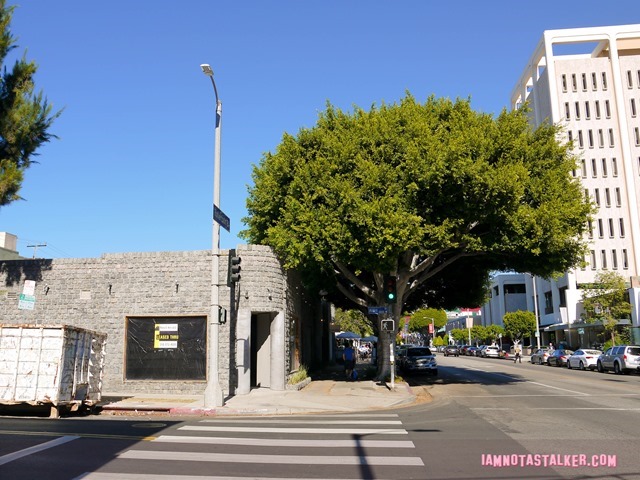 Because the name Les Habitudes is so unusual, it stuck with me.  When I happened to pass by the shop a couple of weeks later while walking on Robertson Boulevard, I recognized the moniker immediately.  The boutique has since moved a few blocks south, but whenever I pass by the stone-covered building where I originally spotted it (which is currently vacant), I am immediately flooded with warm memories of being on the set of 90210.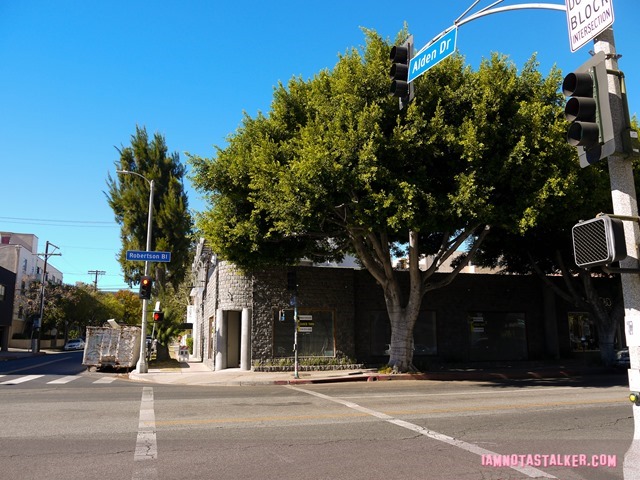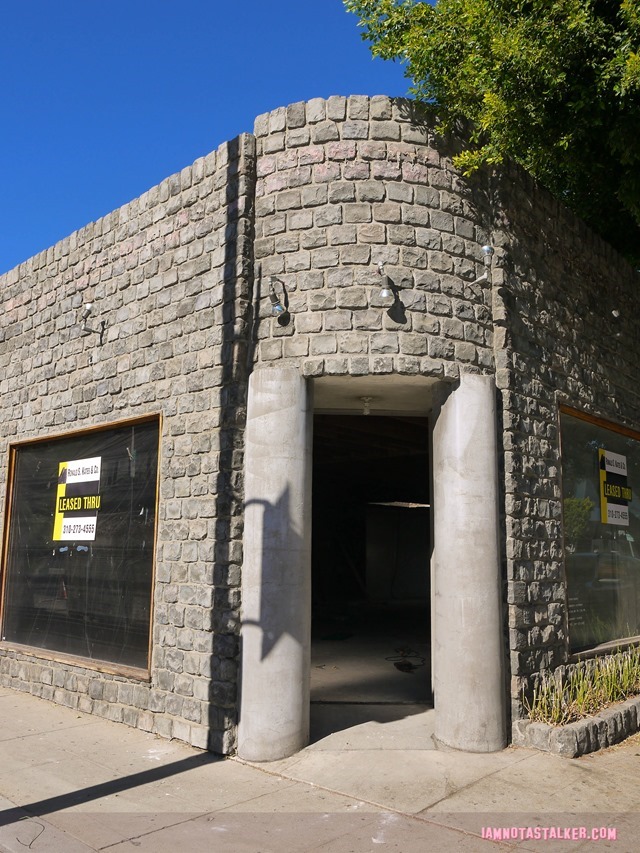 Tracey Ross also appeared in the next episode of Beverly Hills, 90210, titled "Fire and Ice" (which is one of my favorite episodes of the series ever).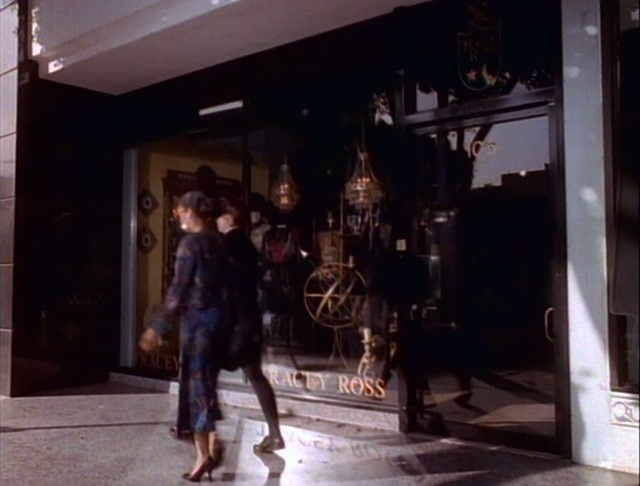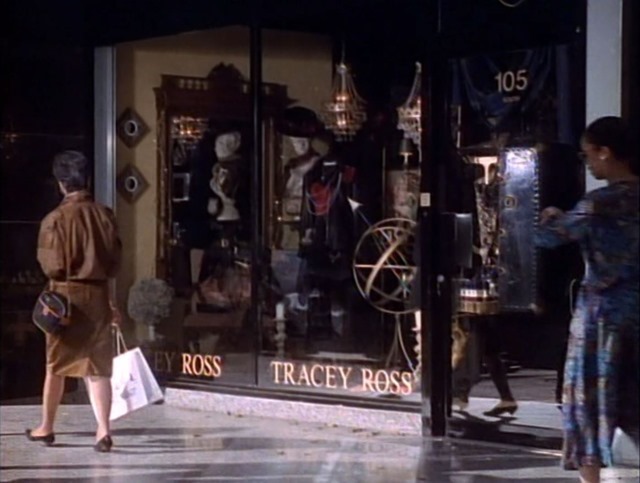 As if kicking Santa Claus out of the store on Christmas Eve wasn't bad enough, in "Fire and Ice," Deirdre steals a large commission from Brenda.  But instead of immediately quitting, Cindy Walsh (Carol Potter) helps her get even.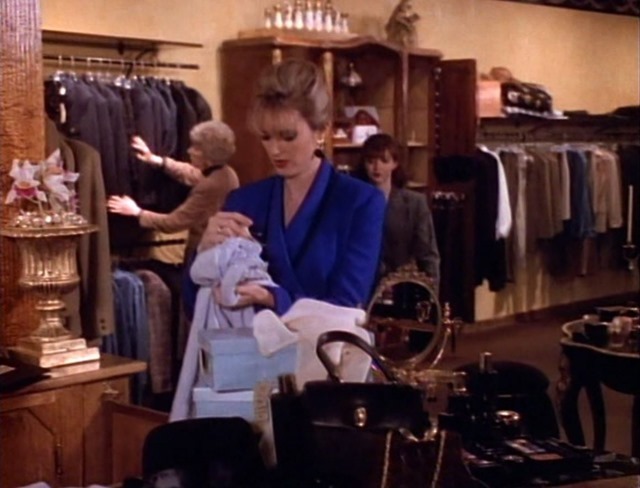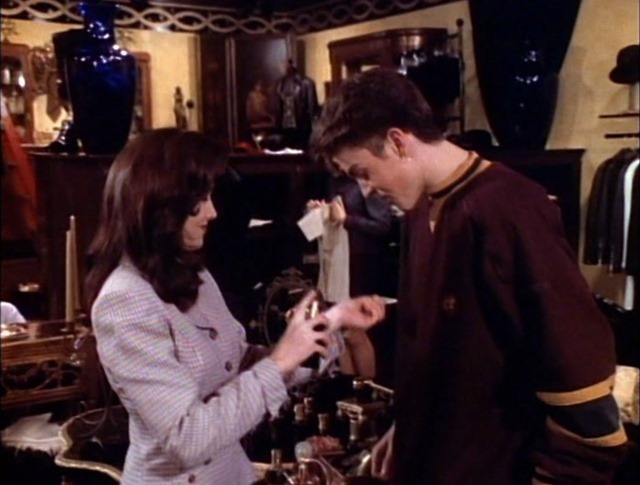 Dressed as a wealthy Beverly Hills socialite, Cindy heads to Tracey Ross and proceeds to select thousands of dollars worth of items to purchase.  When she receives receiving a parking ticket in the middle of her shopping expenditure, Deirdre offers to pay it for her, at which point Cindy announces that she doesn't actually want any of the items, nor does she care for Deirdre's attitude, but that she appreciates the ticket being taken care of.  She then turns on her heel and stomps out of the store.  Ah, snap!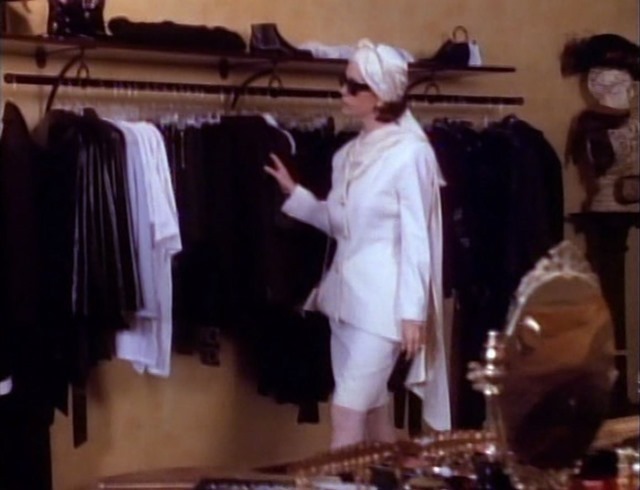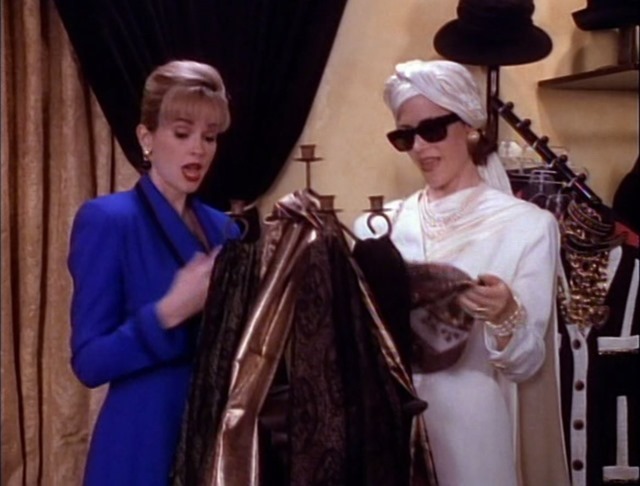 The actual Tracey Ross has a much better reputation than Deirdre.  Raised in Long Beach, the fashionista worked at several upscale Los Angeles boutiques after dropping out of UCLA in the '80s.  She was a natural at selling clothes and eventually began styling celebrity clients, which led to her opening her own store in 1990.  It was wildly successful.  In 1996, when the rent was raised at her Robertson Boulevard space, Tracey moved to a new storefront at Sunset Plaza and it was a hit, as well.  During its heyday, the boutique, which even had an onsite manicurist, became the stomping ground of such stars as Robert Downey Jr., Jennifer Aniston, Britney Spears, Natasha Henstridge, Courtney Love, Bob Dylan, Melanie Griffith, Lindsay Lohan, Ellen Pompeo, Nicole Richie, Kelly Lynch, Virginia Madsen, Linda Gray, Samantha Ronson, and Kate Hudson.  Sadly, the Sunset Plaza shop was shuttered in 2009 due to the poor economy.  You can read two great Los Angeles Times articles about Tracey here and here.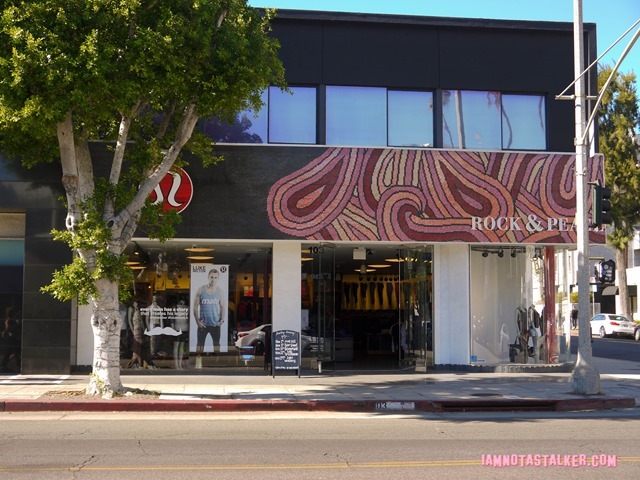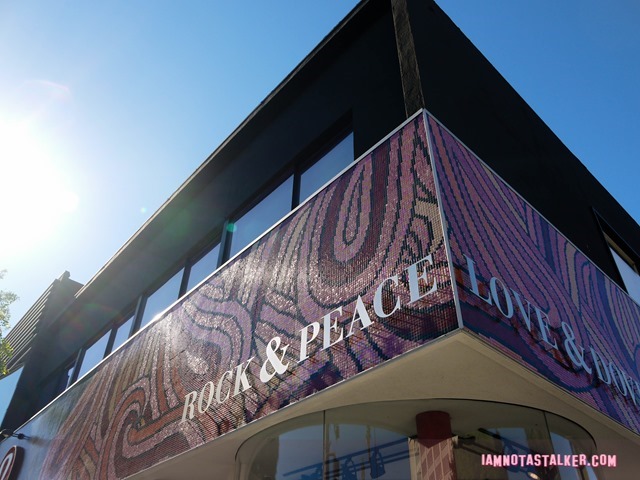 For more stalking fun, follow me on Facebook, Twitter, Instagram, Los Angeles magazine and Discover Los Angeles.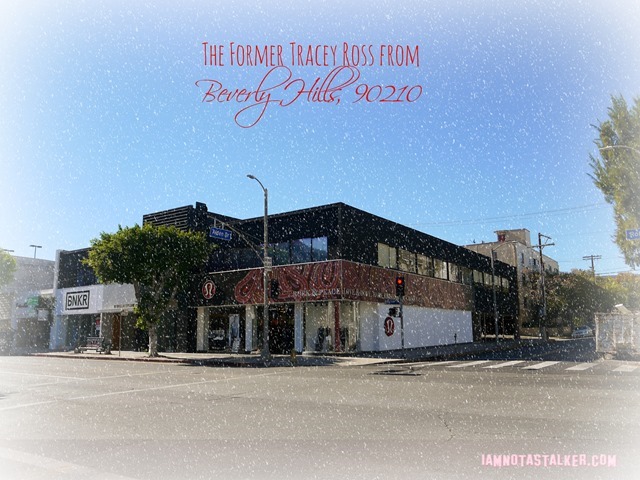 Until next time, Happy Stalking! 

Stalk It: Tracey Ross, aka the store where Brenda worked during Season 2 of Beverly Hills, 90210, was formerly located at 105 South Robertson Boulevard in Beverly Grove.  Today, that space houses a Lululemon.  In "A Walsh Family Christmas," Brenda rescued Santa on the southwest corner of Alden Drive and South Robertson Boulevard.  The former Les Habitudes storefront, which can be seen across the street in the scene, can be found at 101 North Robertson.
94061