The "Sex and the City" Starbucks
Aug 1st, 2016 | By
Lindsay
| Category:
Sex and the City Filming Locations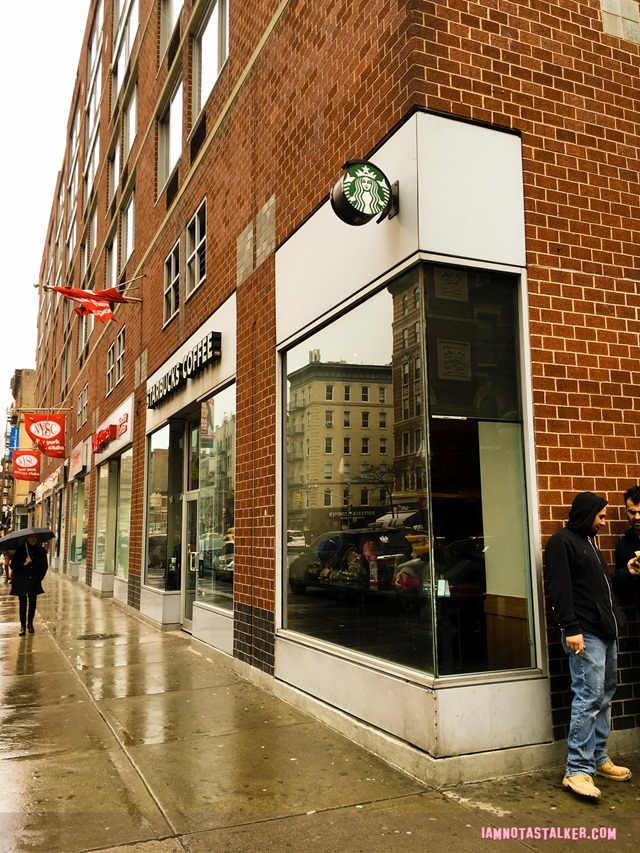 One of the best things about starting this blog is the people it has put me in contact with – a myriad of fabulous individuals who share my unique affection for filming locations.  One such fellow stalker, a New Yorker named Gary, has gifted me with countless Big Apple locales since we first started exchanging emails way back in 2010.  Most of Gary's knowledge comes from driving a cab for three years.  The job took him all over NYC, made him familiar with its nooks and crannies, and he now knows the city like the back of his hand.  He has also come across quite a few filmings during his tenure in New York and, thanks to his hawk-like memory, can recall where each took place.  One such filming was of a Sex and the City episode that Gary witnessed being shot at the Starbucks at 16th Street and Eighth Avenue.  Well believe you me, when I read the words "Sex and the City" and "Starbucks," I practically came unglued and added the locale to my NYC To-Stalk list.  And while Gary could not remember which episode the scene appeared in, it did not take me long to figure it out.
In Season 4's "The Good Fight," Carrie Bradshaw (Sarah Jessica Parker) heads to the Eighth Avenue Starbucks for some respite after getting into a huge fight with then fiancé Aidan Shaw (John Corbett) over the lack of space in their newly shared apartment.  (You can watch that fight here.)  While there, she says, "I used to think those people who sat alone at Starbucks writing on their laptops were pretentious posers.  Now I know – they're people who have recently moved in with someone.  As I looked around, I wondered how many of them were mid-fight, like myself.  The hard thing about fighting in relationships as opposed to Madison Square Garden?  No referee.  There's no one to tell you which comments are below the belt or when to go to your separate corners.  As a result, someone usually gets hurt.  And it seems the closer a couple gets and the more stuff they have between them, the harder it is to figure out exactly why they're yelling.  When it comes to relationships, I couldn't help but wonder, what are we fighting for?"  Despite the fact that I have re-watched the entire Sex and the City series a copious amount of times, I often forget how ingenious the writing is.  When the Grim Cheaper and I first moved in together, we had Aidan and Carrie's exact same fight.  In preparation for our move – and the tiny closet at our new apartment – I had thrown out countless outfits that I loved.  So when the GC showed up with six (six!) medium-sized boxes filled solely with white undershirts, I practically had a meltdown.  Thankfully, we survived our tiff (after five of those boxes of undershirts were thrown out, of course), but Carrie and Aiden did not.  They broke up just two episodes later.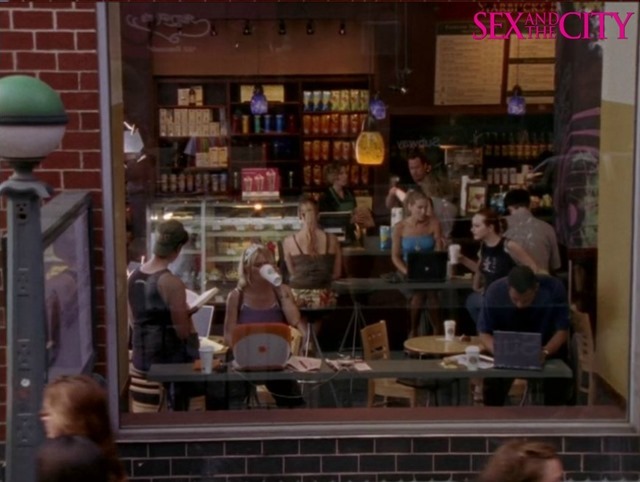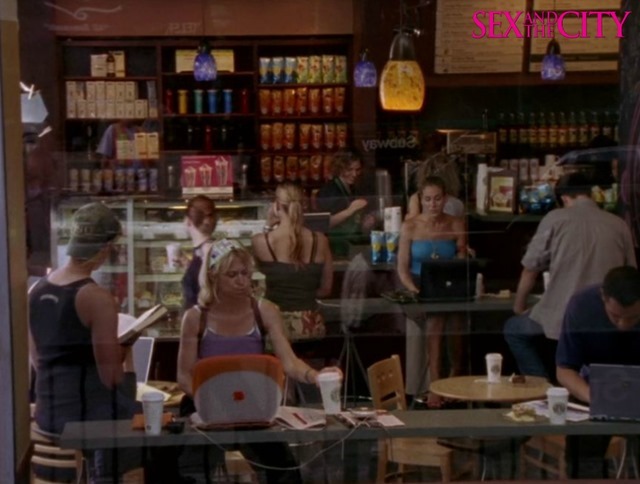 Most of the Starbucks scene was shot looking in through the property's south window.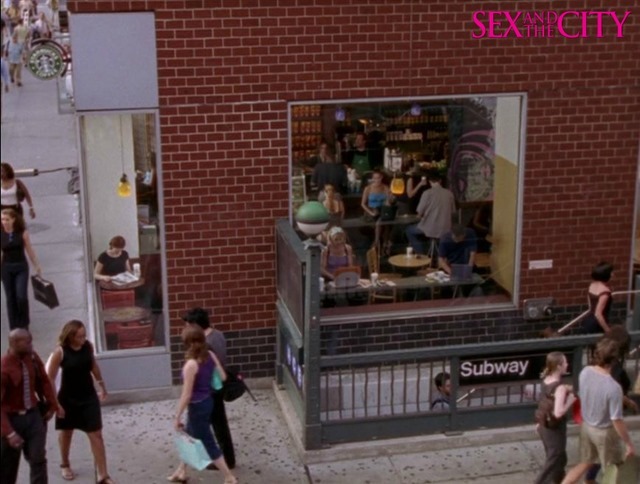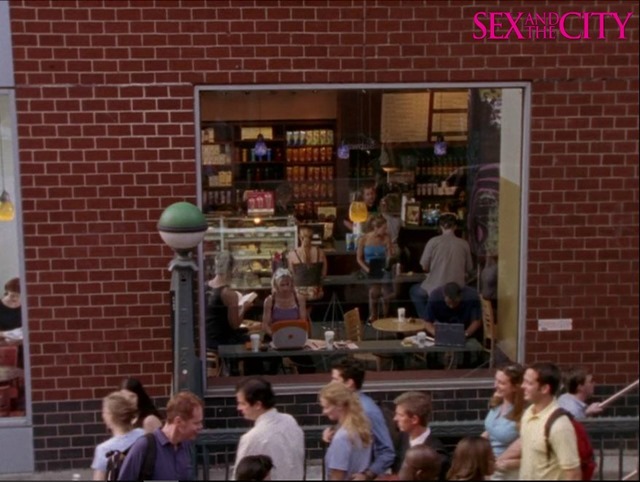 Though the café's exterior remains unchanged from its onscreen appearance in 2002, I somehow failed to snap a photograph of the correct window.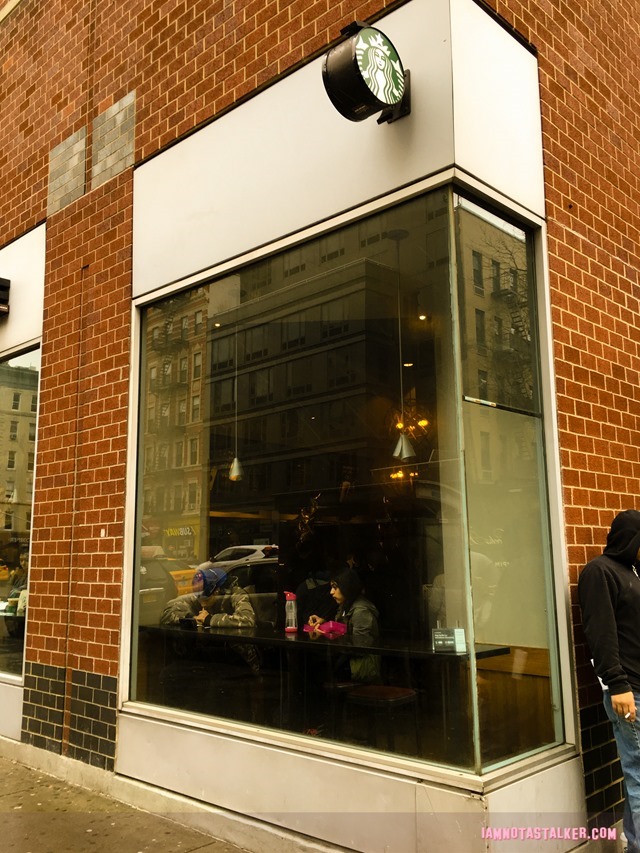 You can check out Google Street View images of it below, though.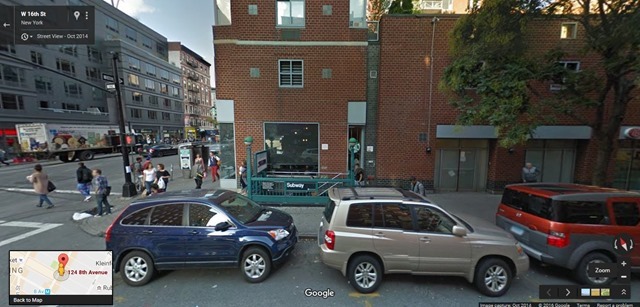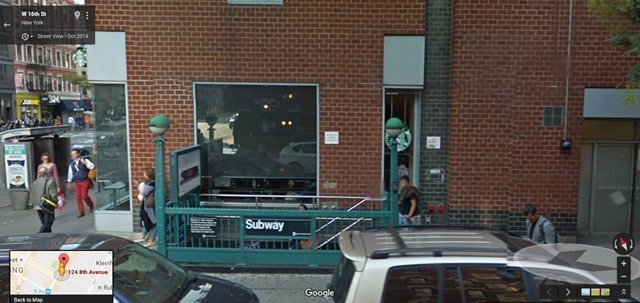 While very little of the Starbucks interior was shown in "The Good Fight," it is apparent that the space has been remodeled since filming took place and looks a bit different today.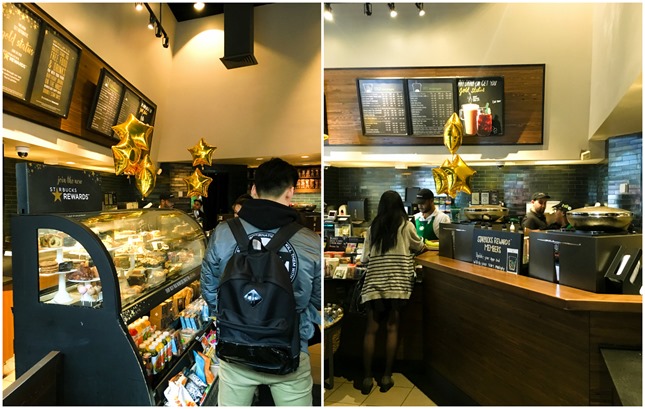 In the scene, Carrie sat at a tall shared table in the middle of the café.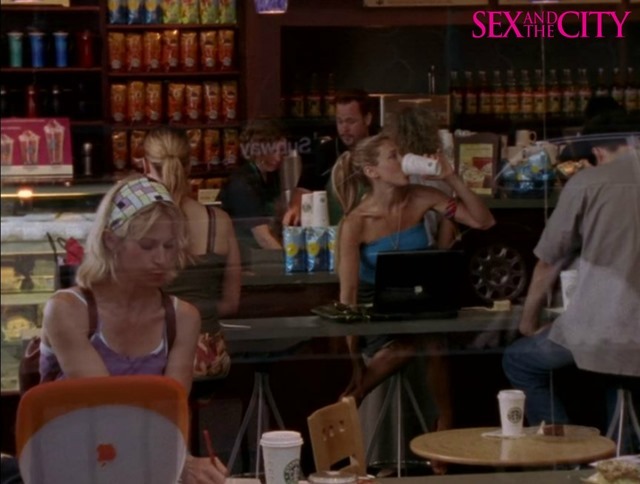 That exact table is no longer there, but a similar one currently stands in the same spot.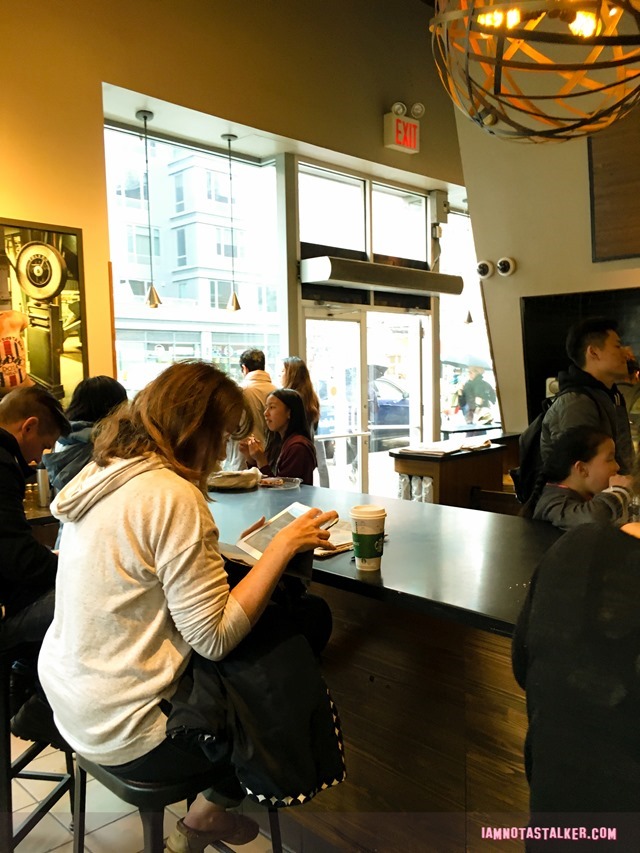 I was excited to see that the seating that runs along the south window, which was visible in the scene, remains intact.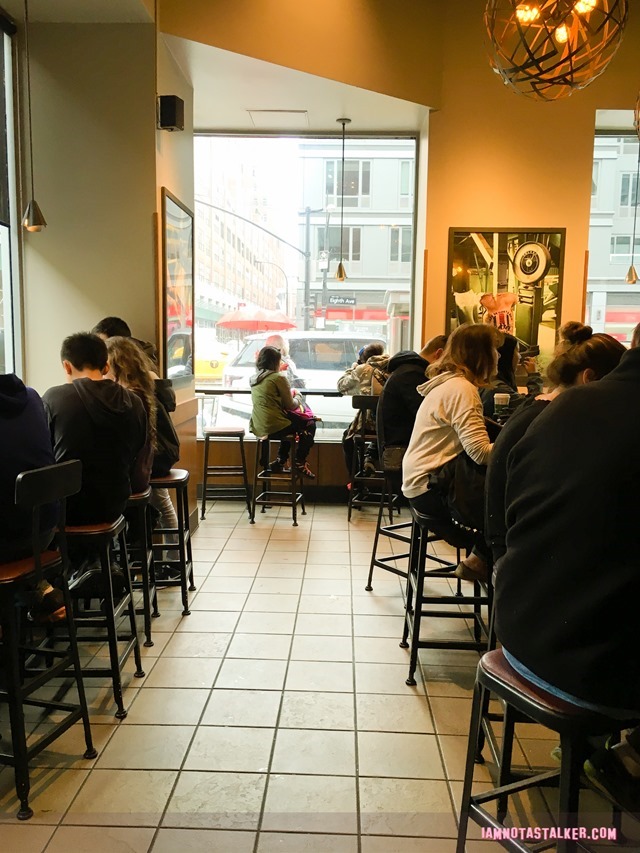 It was raining when we showed up to stalk "The Good Fight" Starbucks and, as a result, the place was exorbitantly crowded, which made it a bit difficult to snap pics.  The deluge is also the reason I did not pose for my normal photograph out in front of the locale.  And although I hate rain pretty much more than anything, as I said that day to fellow stalker Owen, of the When Write Is Wrong blog, "I'll take rain in New York over sun in Palm Springs any day!"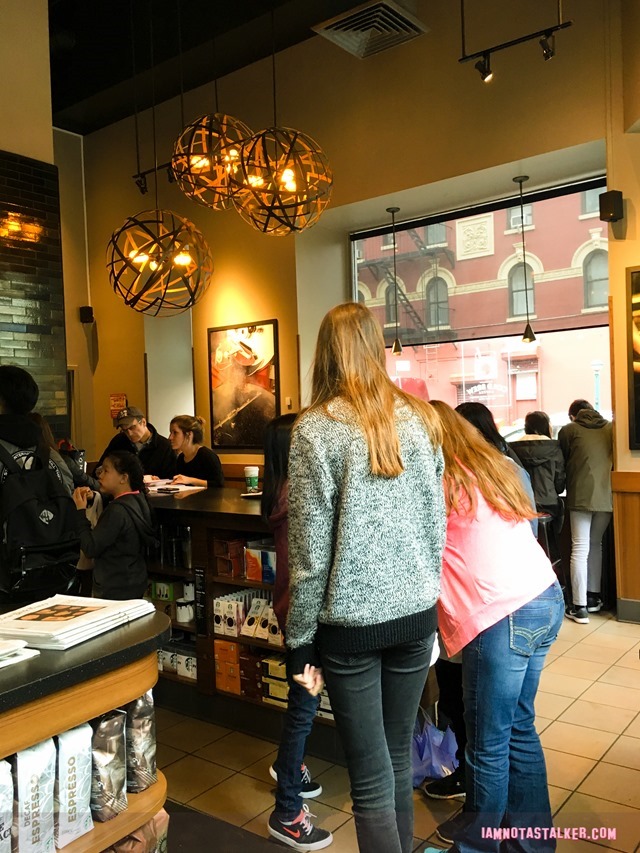 For more stalking fun, follow me on Facebook, Twitter, Instagram, Los Angeles magazine and Discover Los Angeles.
Big THANK YOU to fellow stalker Gary for telling me about this location!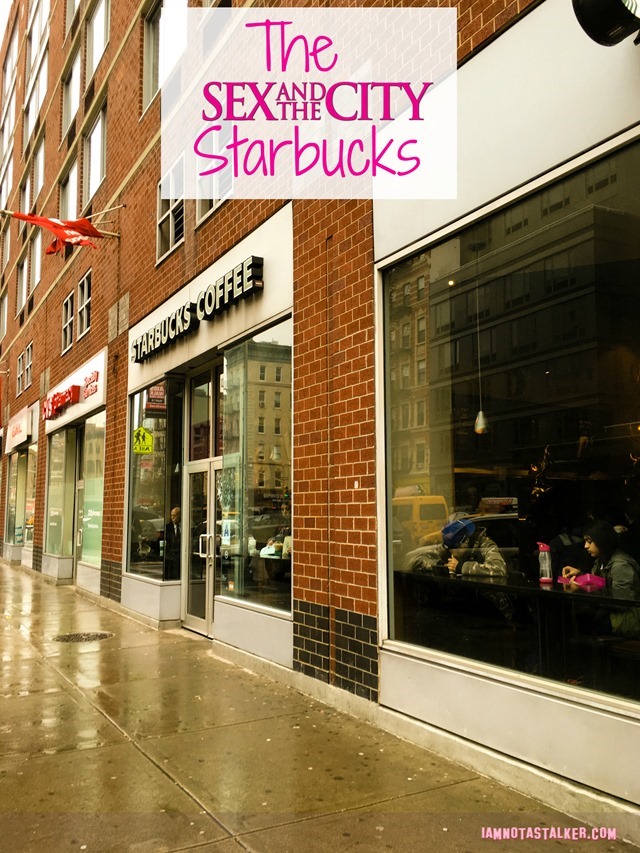 Until next time, Happy Stalking! 

Stalk It:  The Starbucks from "The Good Fight" episode of Sex and the City is located at 124 8th Avenue in New York's Chelsea neighborhood.
98254