The George Peabody Library from "Sleepless in Seattle"
Feb 15th, 2017 | By
Lindsay
| Category:
Movie Locations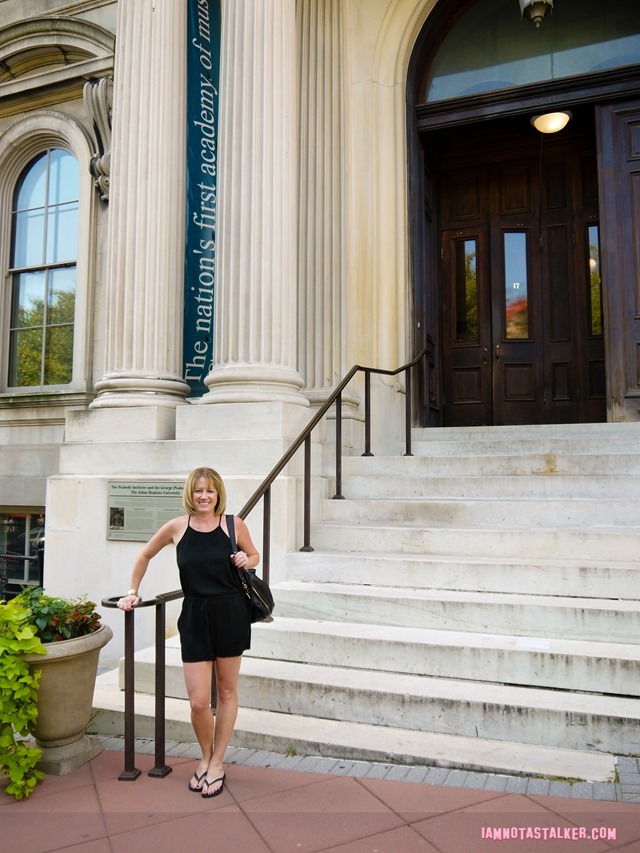 The Grim Cheaper has never been much interested in filming locations, as I've mentioned many times before.  He does love stalking them with me, though, as doing so usually involves seeing historic and unique spots.  One site that absolutely bowled him over during our trip back east last September was the George Peabody Library in Baltimore.  The locale first came on my radar way back in 1993 thanks to its appearance in fave movie Sleepless in Seattle.  Once I started researching and viewing photographs of it online prior to our trip, I became a wee bit obsessed with its staggering beauty and knew I wasn't leaving Charm City without stopping by.
In February 1857, philanthropist George Peabody announced his plans to create a cultural center for the citizens of Baltimore consisting of an art gallery, a music school, and a library – but not just any library.  As George conceived it, the place was to be an "extensive library, to be well furnished in every department of knowledge and of the most approved literature, which is to be maintained for the free use of all persons who may desire to consult it."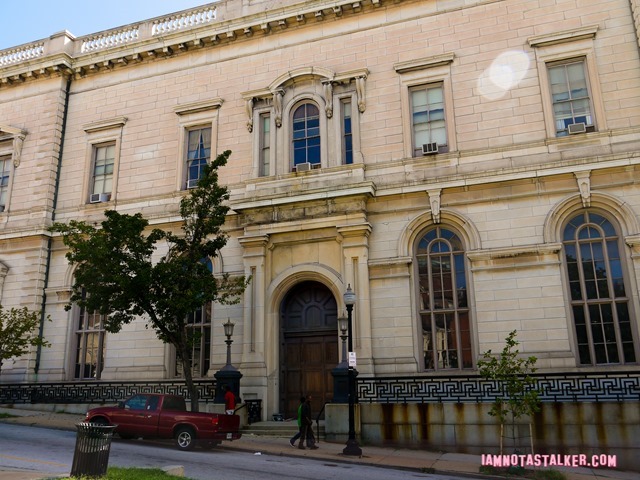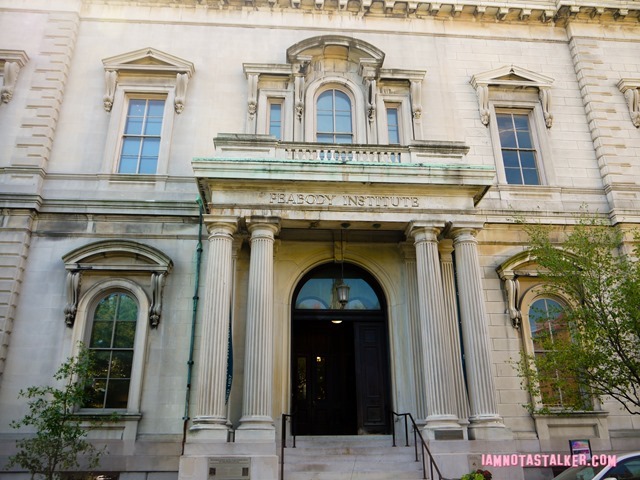 HIs vision became a reality in 1878 when the Library of the Peabody Institute of the City of Baltimore opened to the public.  Designed by local architect Edmund George Lind, the Renaissance Revival-style structure, while pretty, is rather non-descript on the outside.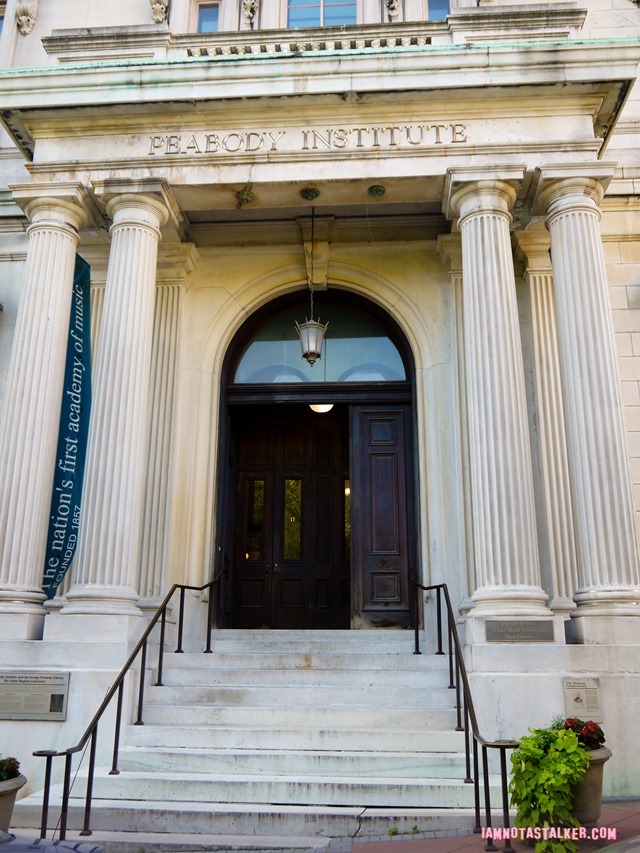 It is the interior that had my tongue wagging.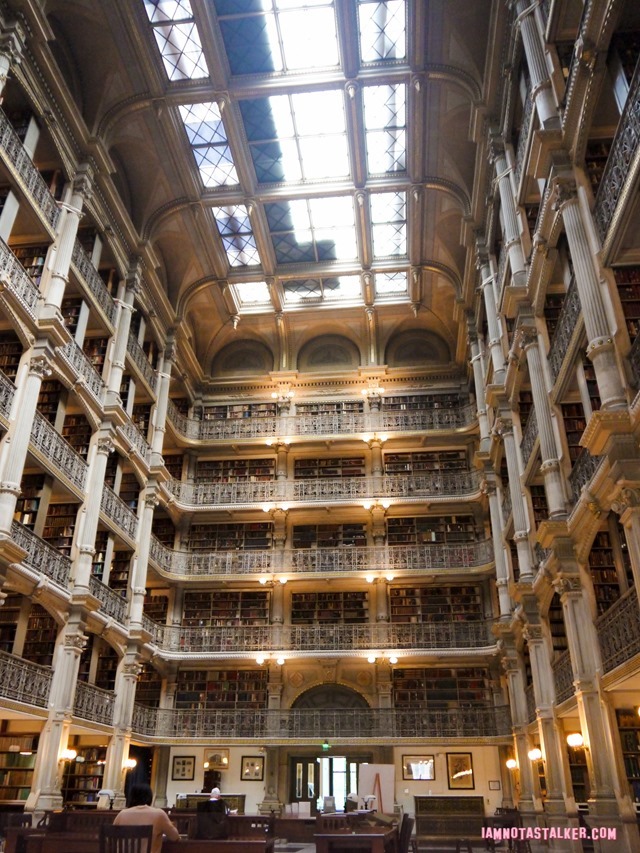 Dr. Nathaniel H. Morison, the first provost of the Peabody Institute, wasn't speaking in hyperbole when he described the library as a "cathedral of books."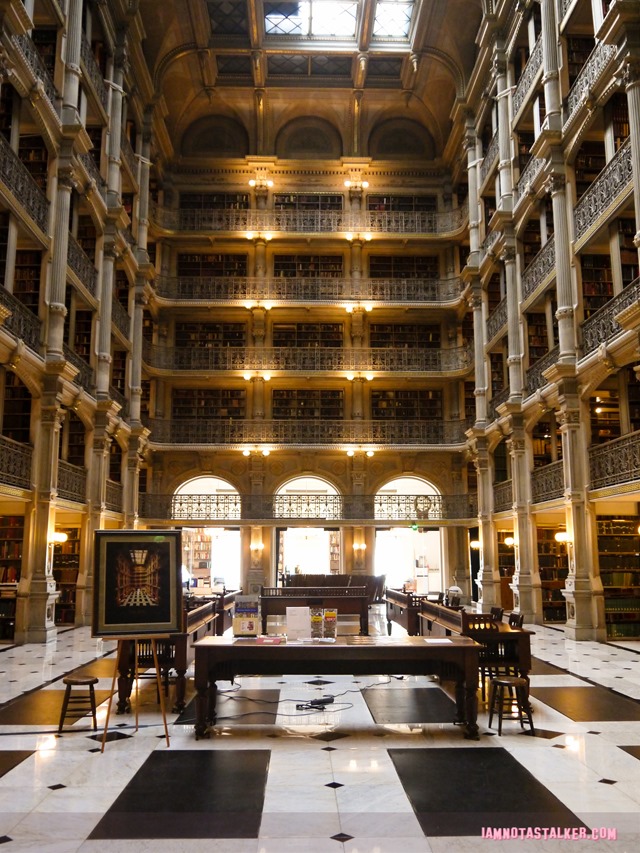 The building's atrium-like interior is a dazzling array of cast iron balconies;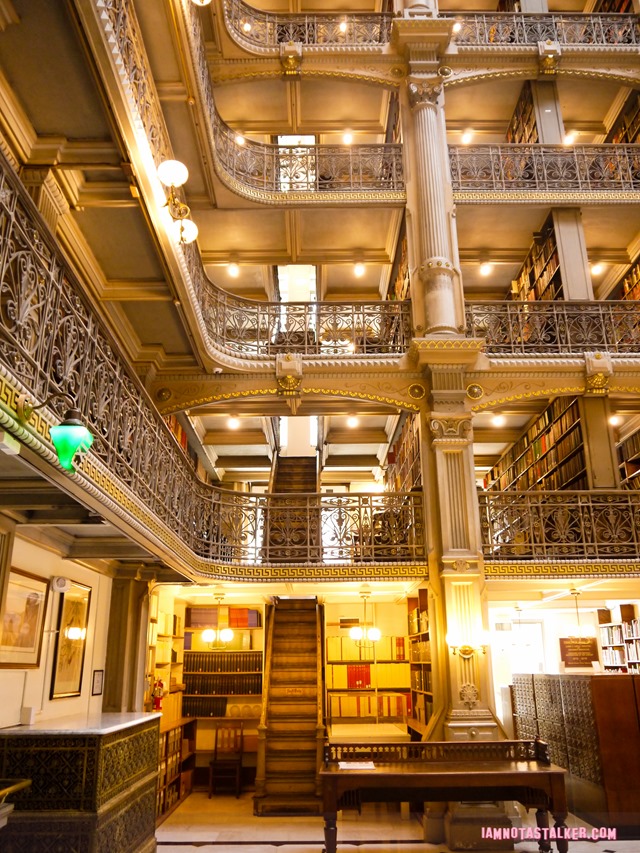 towering stacks featuring more than 300,000 volumes of books;
gold leaf columns that stretch six stories;
black and white marble flooring;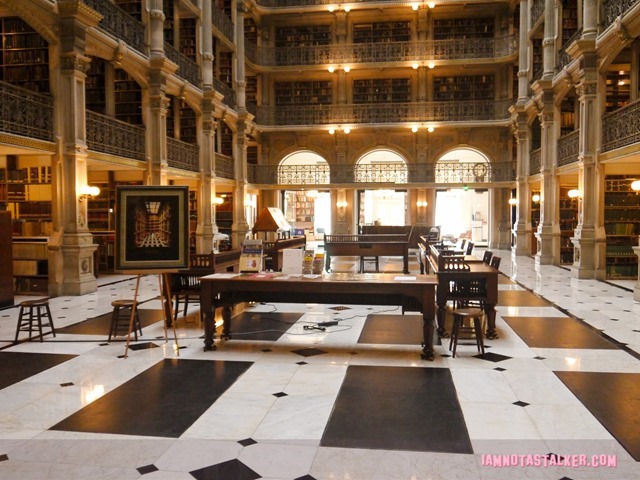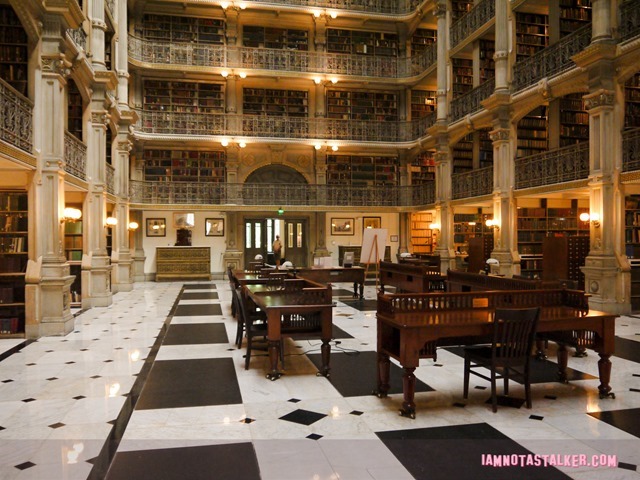 and a paned skylight that looms 61 feet above the ground, casting the space in gorgeous natural light.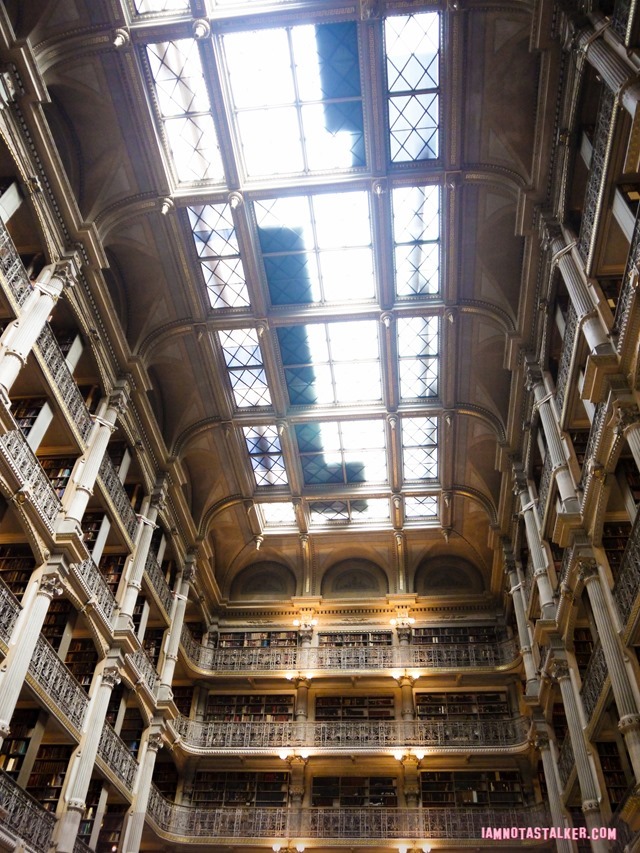 As I walked through the library's entrance doors, my jaw dropped to the floor.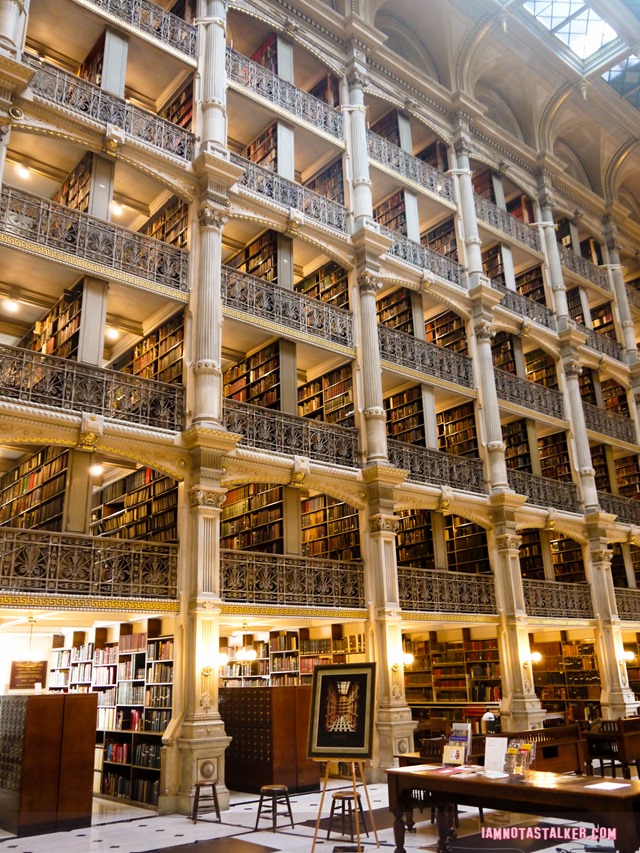 I truly felt like Belle in Beauty and the Beast.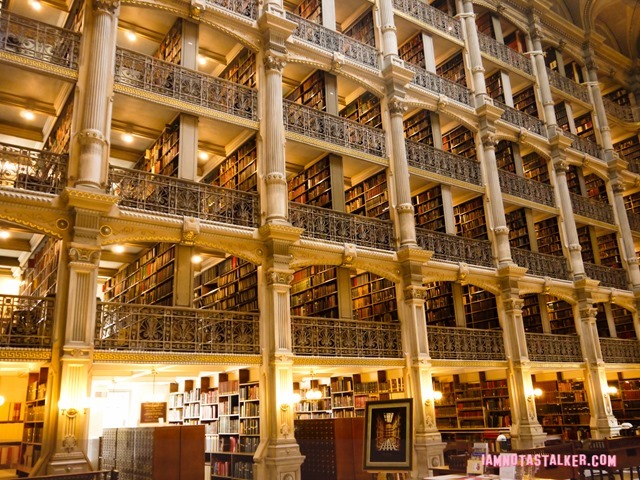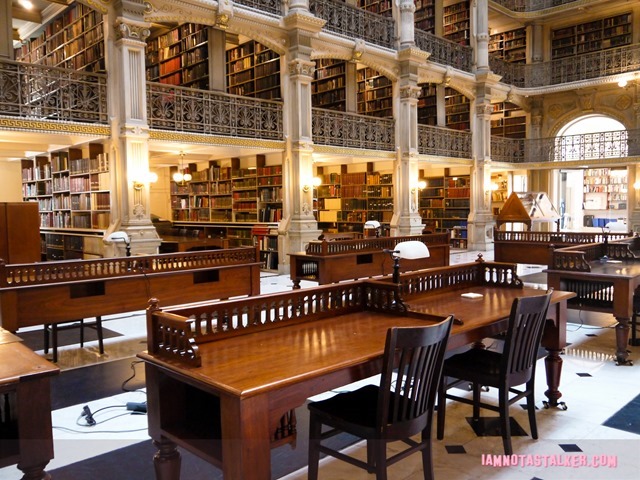 The George Peabody Library is easily one of the most beautiful places I have ever visited in my life.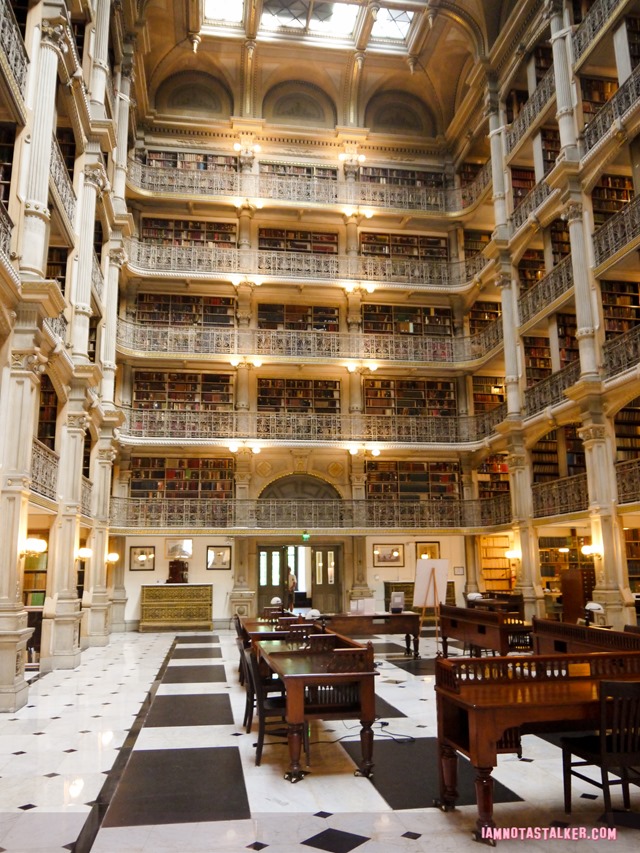 In 1967, the City of Baltimore acquired the property and it became part of the Enoch Pratt Free Library.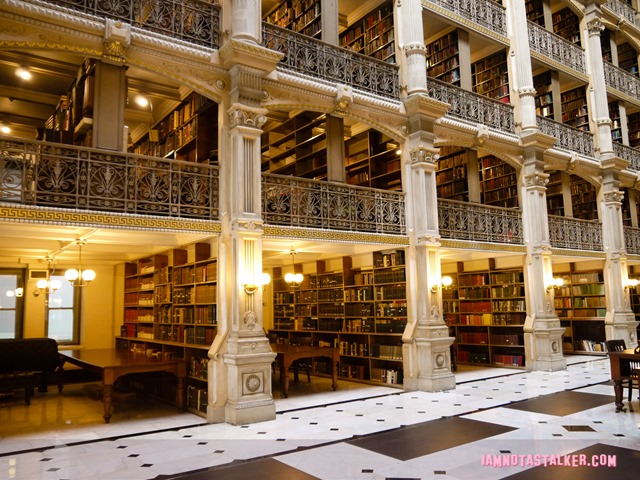 Johns Hopkins University took over the space in 1982 and continues to own it today.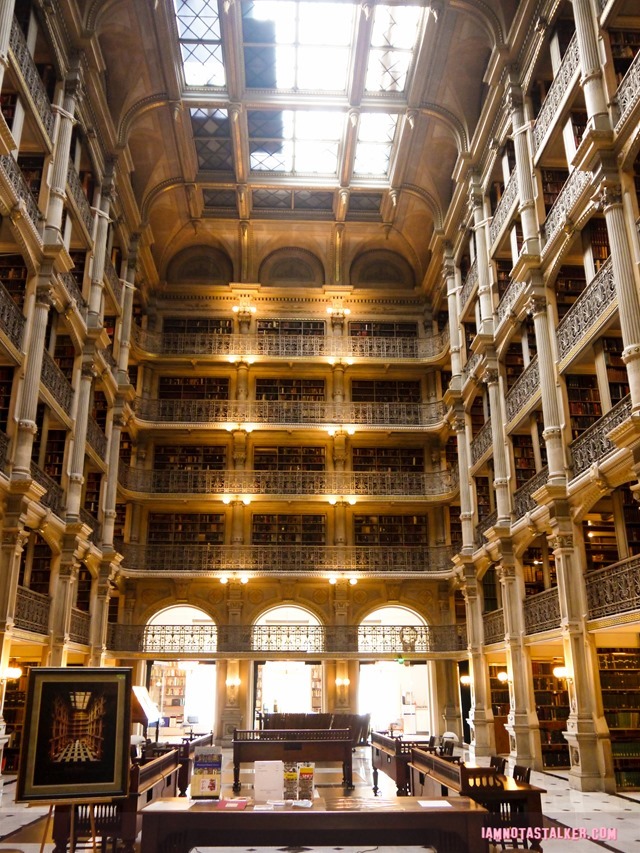 Open to students and visitors alike, the library is also used as a special events venue.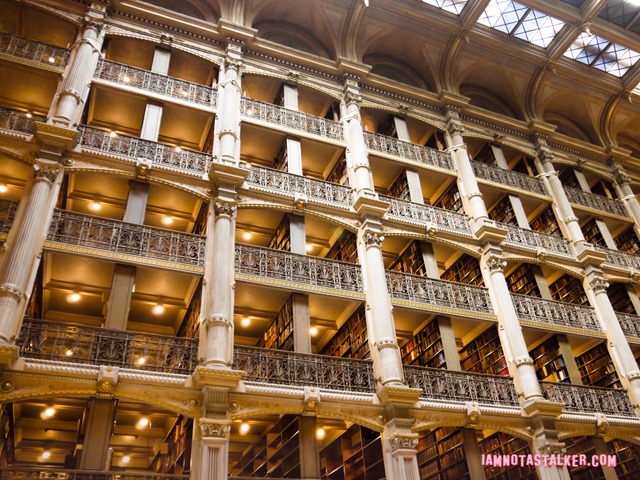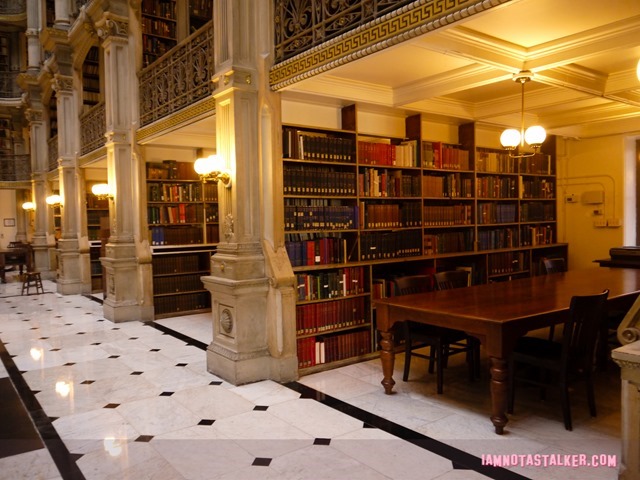 Not surprisingly, the George Peabody Library has become one of Baltimore's most popular wedding locations.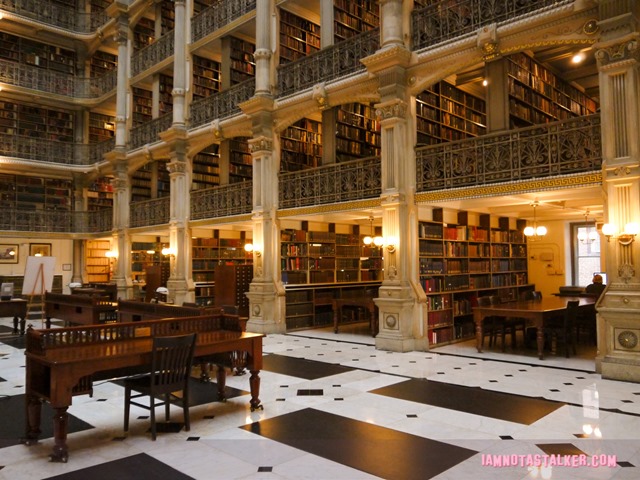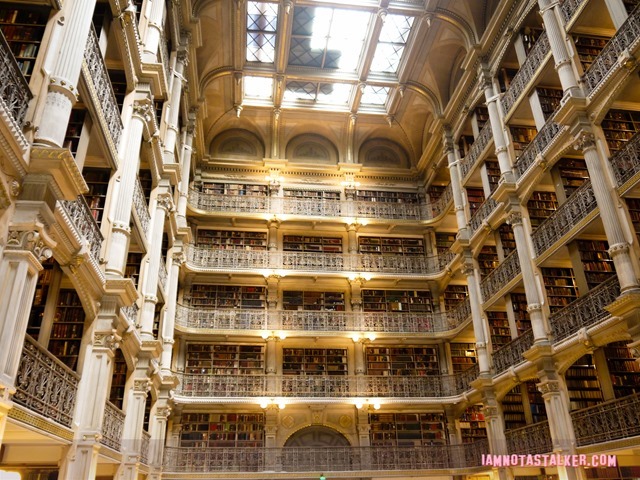 Also not surprisingly, it has popped up numerous times onscreen.
In Sleepless in Seattle, Annie Reed (Meg Ryan) heads to the Peabody Library to visit her brother, Dennis (David Hyde Pierce), who works on the premises.  While there, the two discuss Annie's recent obsession with a widower she heard on the radio who lives in Emerald City.  Dennis' advice on the matter?  "It rains nine months of the year in Seattle!"  According to a 1992 The Baltimore Sun article, Sleepless director Nora Ephron was so enamored of the grand library that she changed Dennis' profession in the script from a psychiatrist to a musicologist so that scenes could be shot there.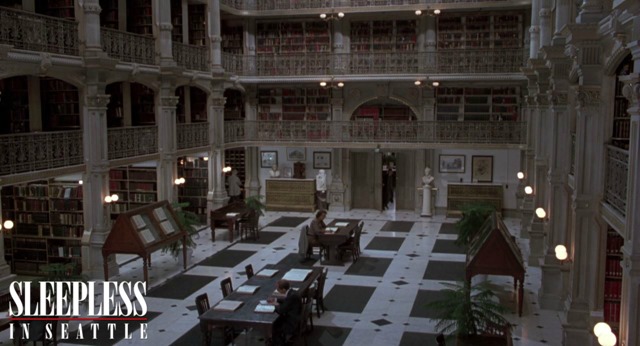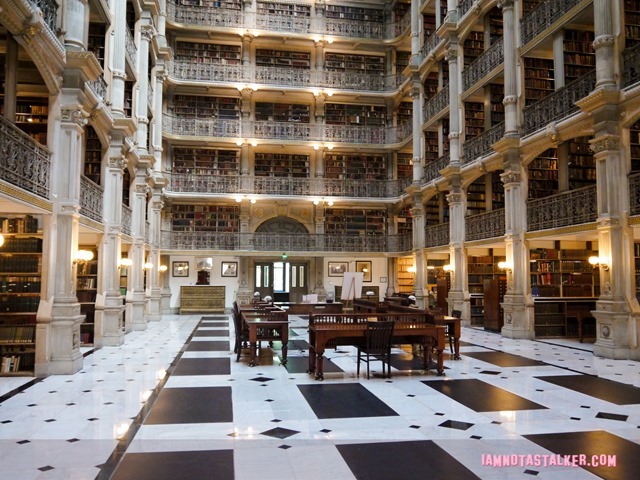 The library's exterior was used in the movie, as well.  In the scene, Annie drives west on East Mount Vernon Place and parks in front of the building.  In reality, that move wouldn't be allowed.  Mount Vernon Place is a one-way street on which cars are only permitted to drive east.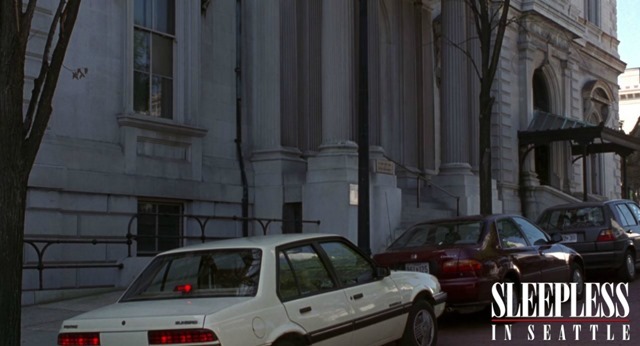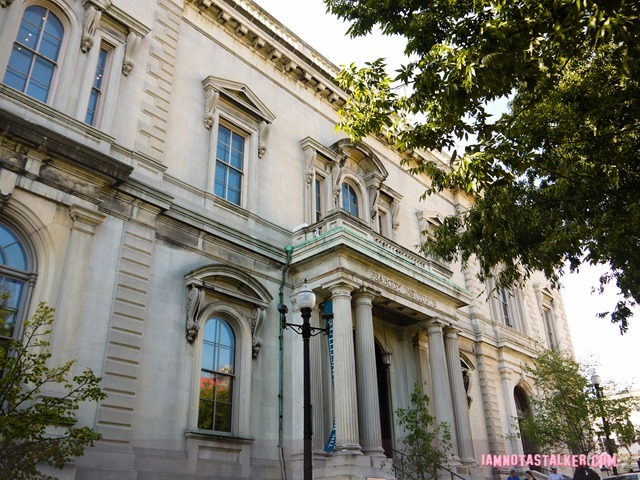 In the 1990 drama Men Don't Leave, Beth Macauley (Jessica Lange) rather loudly delivers a catered lunch from the bakery where she works to a music rehearsal taking place at the Peabody.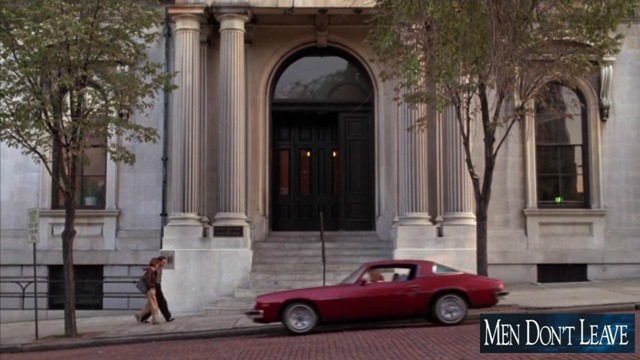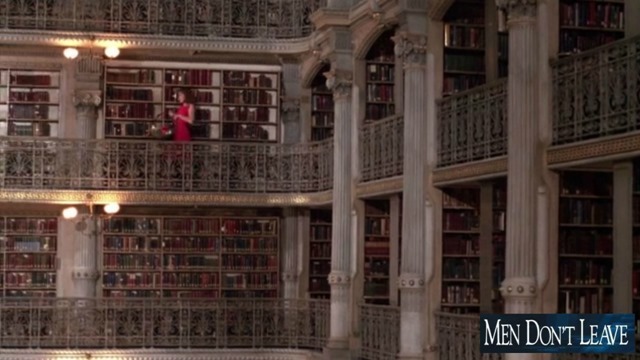 The Peabody Library very briefly appears as a Parisian music store where Catherine Sloper (Jennifer Jason Leigh) shops in the 1997 drama Washington Square.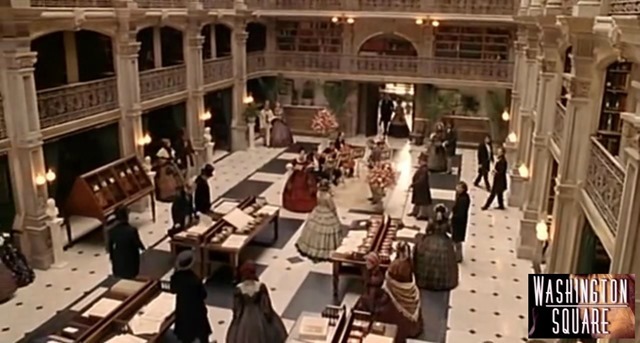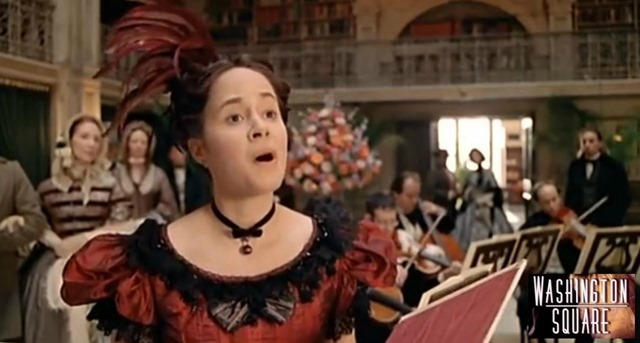 The building pops up twice as the University of Baltimore's library in 1999's Liberty Heights.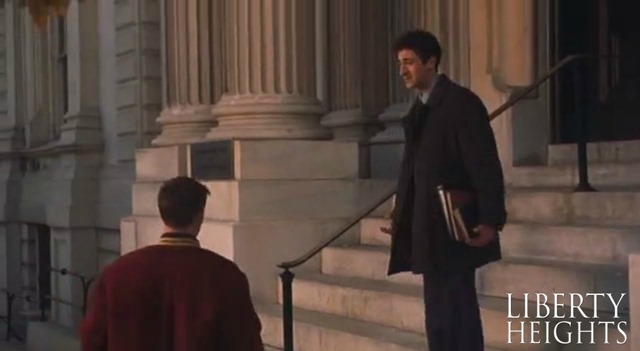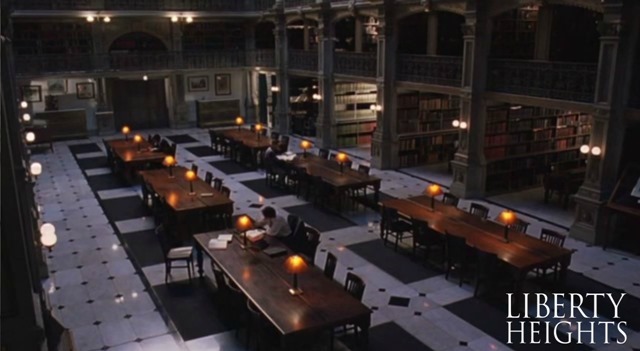 The rear side of the Peabody, which can be found on Centre Street, masks as Hotel Cotesworth, where Claire Underwood (Robin Wright) hosts a large charity gala – and outsmarts some protestors, as well as a hotel union – in the Season 1 episode of House of Cards titled "Chapter 5."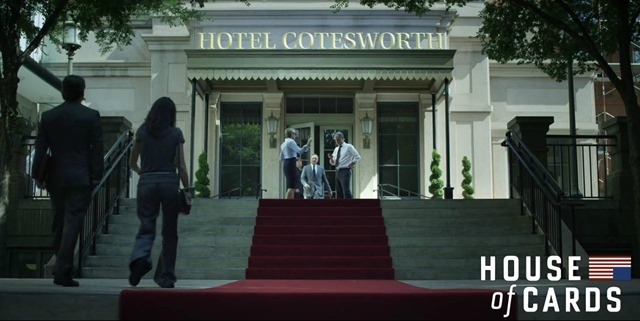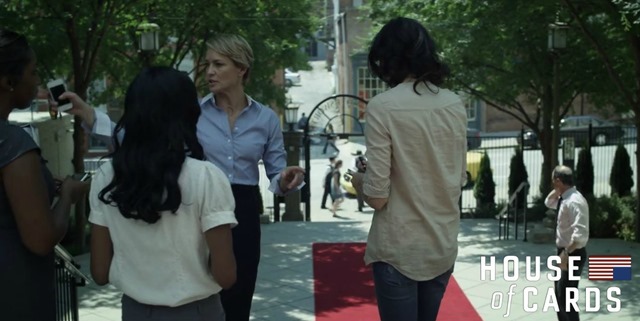 The Peabody's lobby area also appeared in the episode.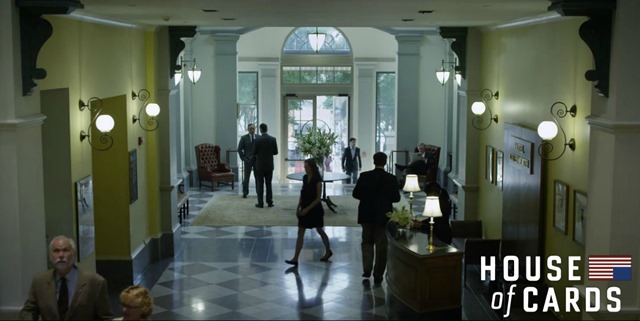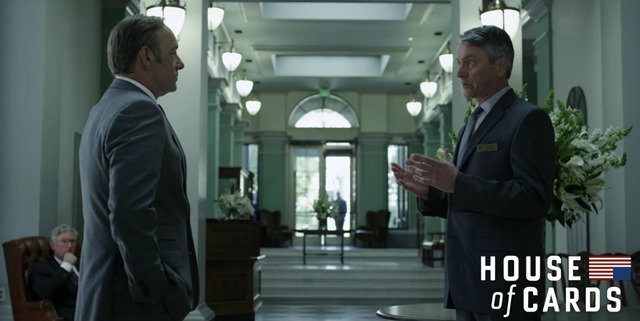 For more stalking fun, follow me on Facebook, Twitter, Instagram, Los Angeles magazine and Discover Los Angeles.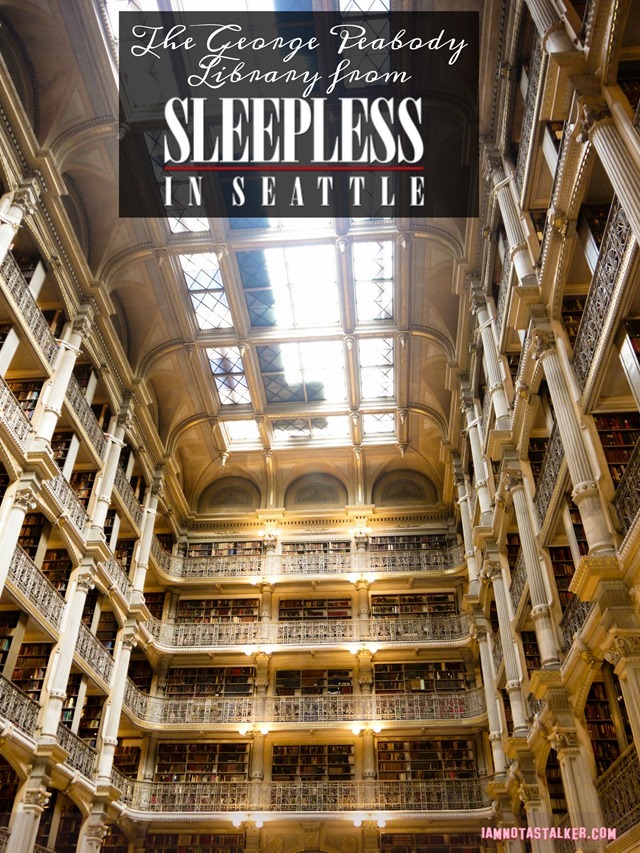 Until next time, Happy Stalking! 

Stalk It: The George Peabody Library, from Sleepless in Seattle, is located at 17 East Mount Vernon Place in Baltimore.  The site is open Tuesday through Friday and admission is free.  You can visit the library's official website here.  Terry Lambert's (Steve Guttenberg) apartment from The Bedroom Window is located right across the street at 12 East Mount Vernon Place.
102804