The Women's Exchange from "Sleepless in Seattle"
Feb 17th, 2017 | By
Lindsay
| Category:
Movie Locations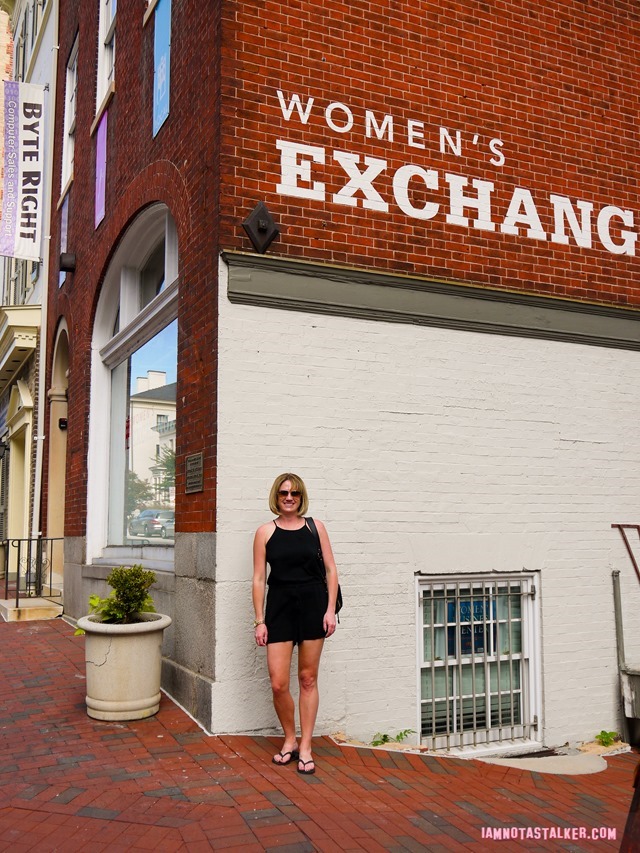 Last year, I had incredible luck getting access to filming locations typically closed to the public. While visiting New York in April, I was granted tours of three non-accessible places that I literally would have given my eye teeth to see. Thankfully, none of my friendly tour guides collected on that offer. (And yes, I will be blogging about those sites soon.) One spot I was not as fortunate with was the tea room at the Women's Exchange in Baltimore, which was featured briefly in Sleepless in Seattle. I was thrilled to come across information about the place while researching Charm City filming locales prior to my September trip back east, and was even more thrilled to discover that the space, though closed, was still in existence and used as a special events venue. While I contacted the Women's Exchange a few months prior to my visit to see if a tour might be arranged, unfortunately the staff was not able to make that happen. But I still ventured over to stalk the outside of it while in town.
The Women's Exchange was established in 1880 as a place where Civil War widows and impoverished females could make money outside of the workplace by selling handmade goods. The non-profit organization, initially called the Women's Industrial Exchange, was founded by G. Harmon Brown and originally operated out of her private residence. The program quickly proved successful, was incorporated in 1882, and moved to its current home, a five-story former boarding house on Charles Street that was constructed in 1815, five years later.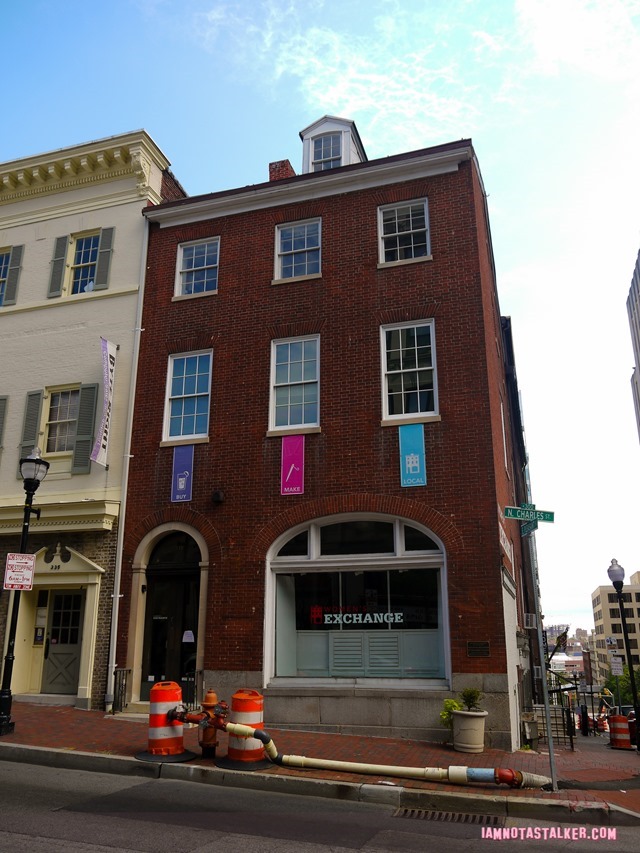 The organization purchased the picturesque property, which is on the National Register of Historic Places, in 1889.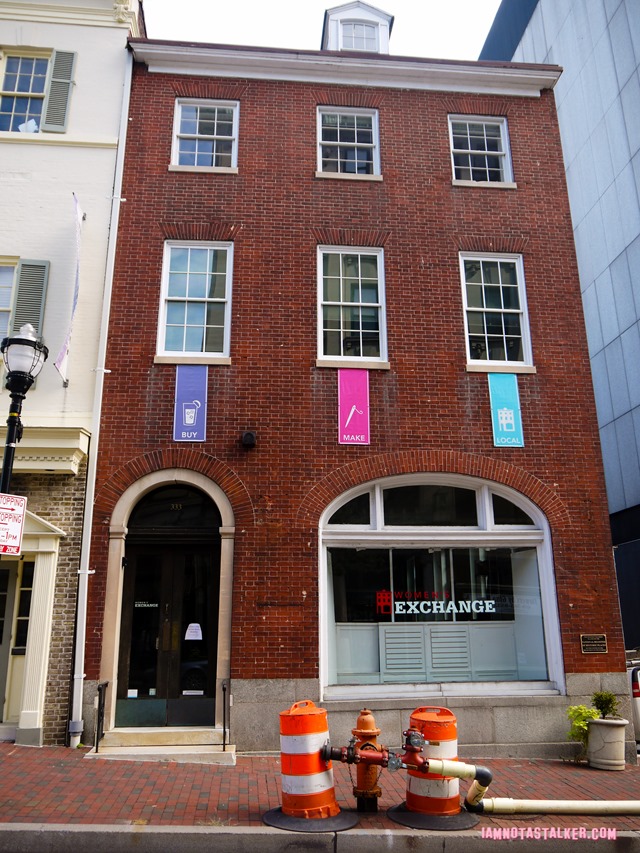 In 1900, a consignment boutique was opened on the premises and the building's stately dining hall was transformed into a tea room.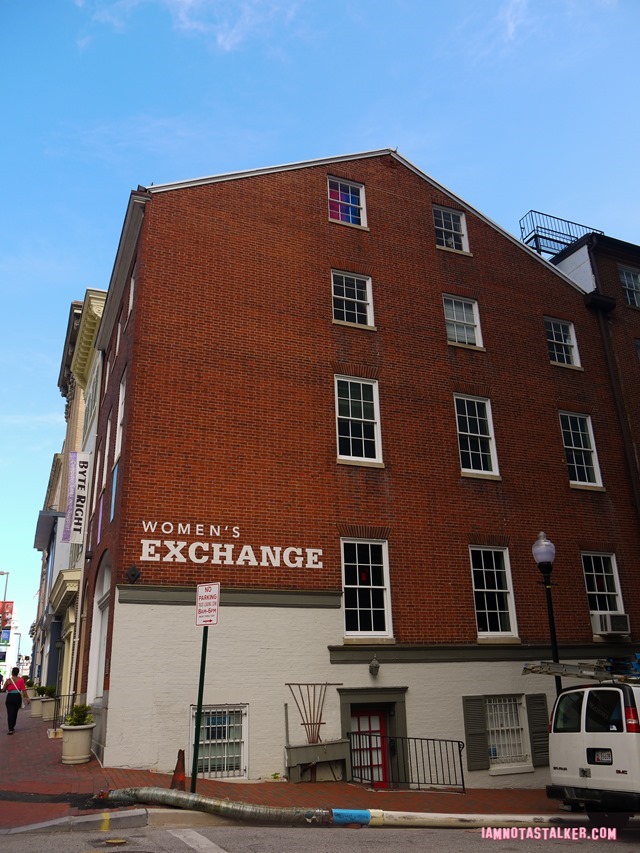 The eatery, which featured white and black checkered flooring, a tall fireplace, and red leather booths, became a popular spot for society women, as well as D.C. politicians, to "lunch." Amazingly, it remained in operation until 2002 (more than a century!), at which point it was shuttered due to a decline in patronage.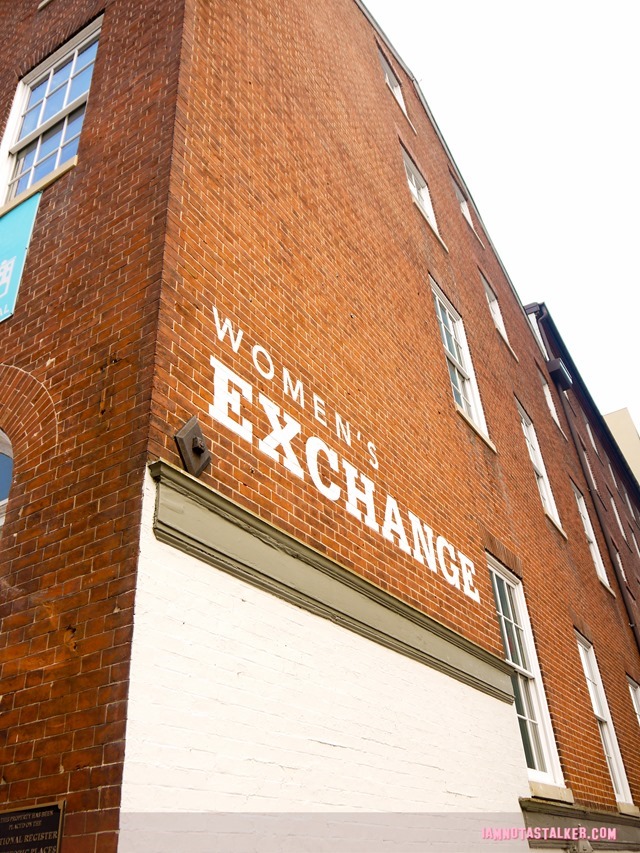 Various restaurants were opened in the tea room space by outside companies in the ensuing years, but, sadly, none took.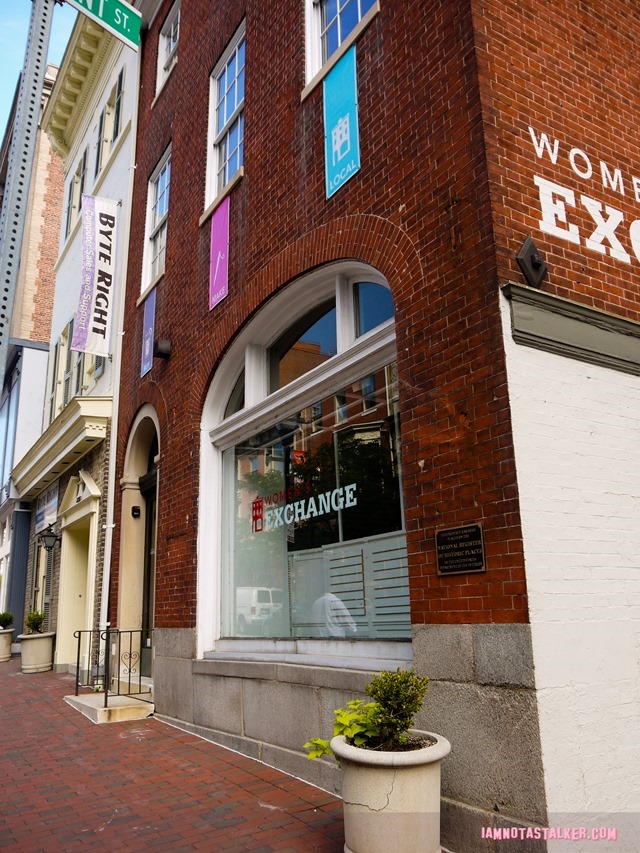 Woman's Industrial Kitchen, which debuted in 2011, was the last eatery to operate in the historic venue, but it was shuttered in 2014 and the site has remained closed, outside of hosting special events, ever since.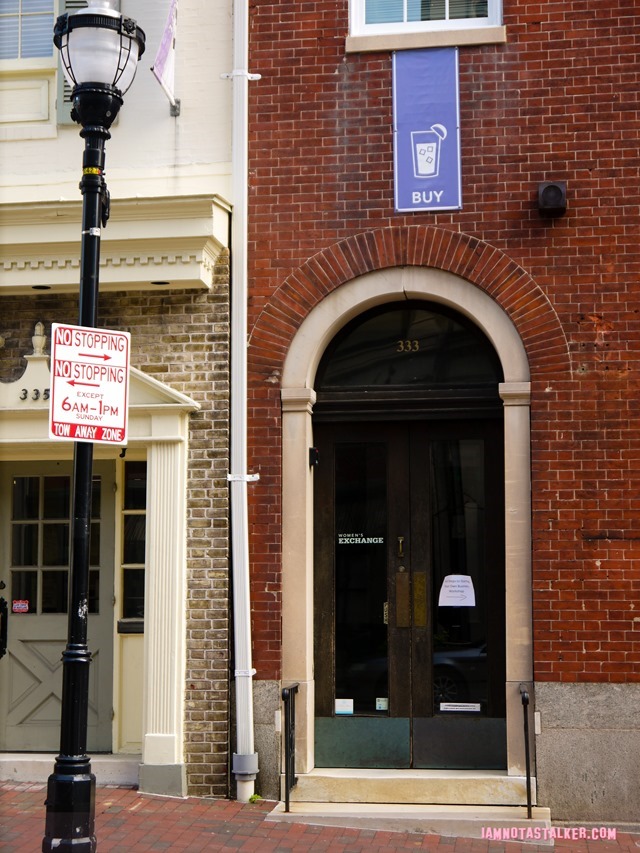 Closure of the Women's Exchange consignment and gift store occurred shortly thereafter and, although a pop-up shop was opened on the premises during the holiday season in 2015, for the most part the locale has remained dark and its future currently appears uncertain. You can see some photographs of the tea room over the years here and here.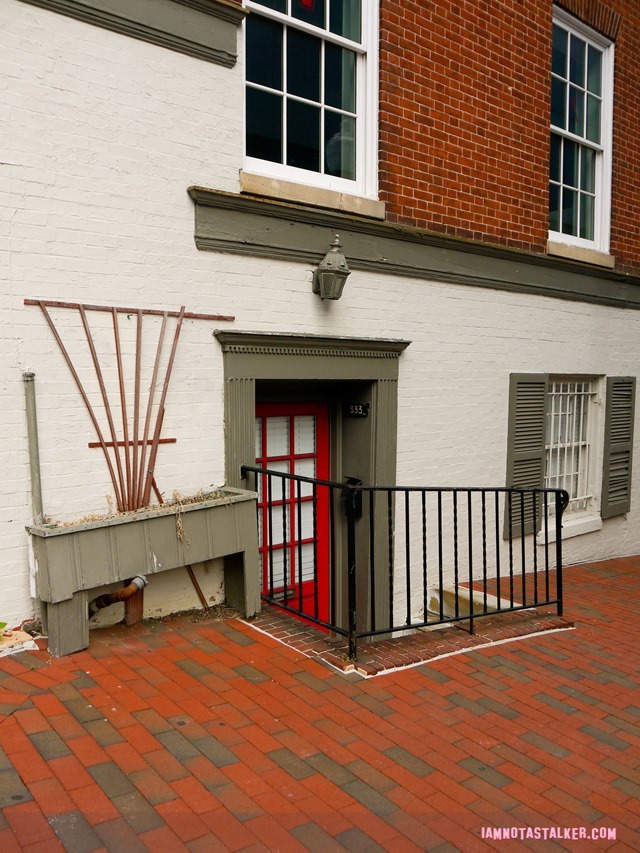 In Sleepless in Seattle, Annie Reed (Meg Ryan) and Becky (Rosie O'Donnell) grab lunch at the Women's Exchange tea room. While there, Becky calls Annie out on her crush on the "Sleepless in Seattle" radio caller.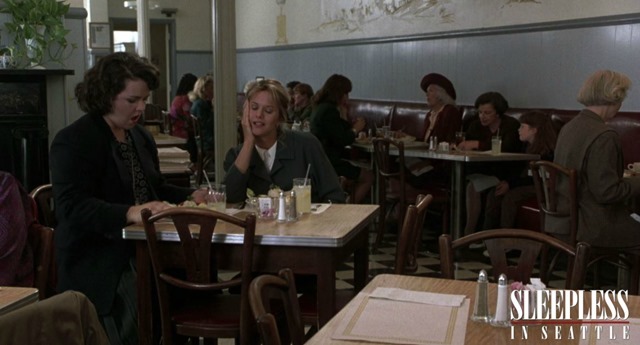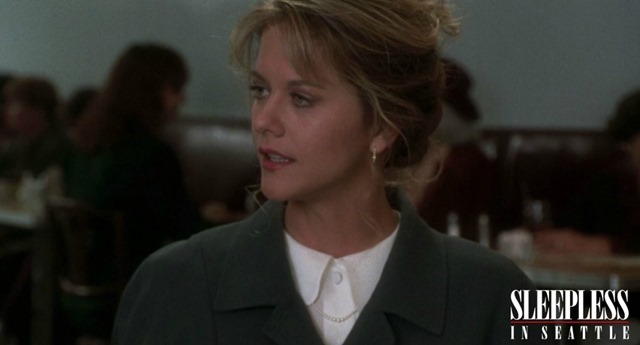 According to a 2012 The Baltimore Sun article, Sleepless director Nora Ephron became a huge fan of the Exchange after visiting it while scouting locations for the movie, so much so that she wound up eating lunch on the premises daily during the shoot. Ephron had a particular affinity for the tea room's orange cupcakes and had them delivered by the dozen to the set on a regular basis for the cast and crew to enjoy. She was most taken by the place's historic aesthetic, though, telling a reporter in 1992 that "It was out of time," which fit perfectly with her vision of creating an enduring love story. She explained, "We had to do a movie about love that was also about movies about love that I want people to watch for 20 years. I don't want them to say, 'Oh, that was made in '93.'" In my opinion, she succeeded. Sleepless in Seattle is just as touching and poignant today as it was when it first premiered 24 years ago. (Fun fact – Ephron cast longtime Exchange waitress Marguerite Schertle as Annie and Becky's server in Sleepless. When the director asked her to say a few lines and to "pat" Annie and Becky in the scene, Schertle refused, saying, "Look, just let me do it my way." She'd been an employee of the tea room for 45 years by that time, after all, and knew how to play the part. That's her below in the blue uniform, which was her actual work attire.)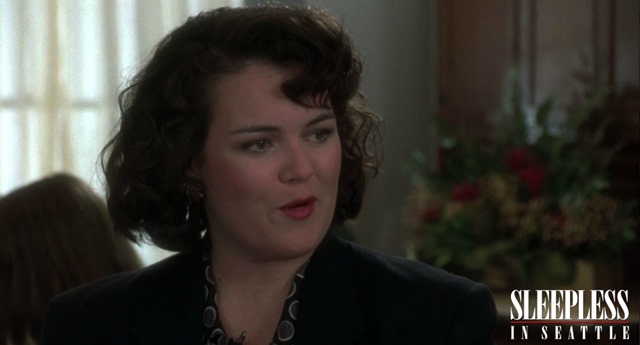 For more stalking fun, follow me on Facebook, Twitter, Instagram, Los Angeles magazine and Discover Los Angeles.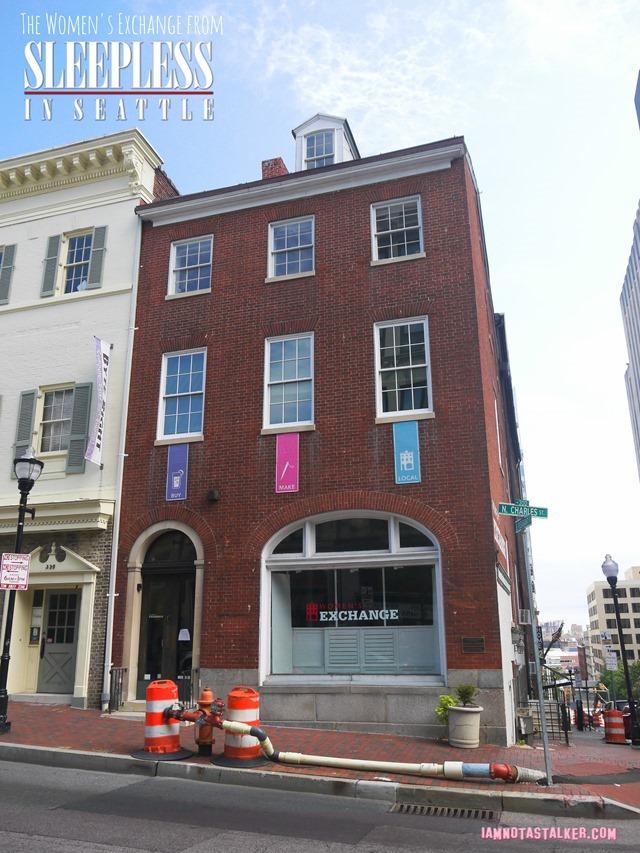 Until next time, Happy Stalking!

Stalk It: The Women's Exchange, from Sleepless in Seattle, is located at 333 North Charles Street in Baltimore. You can visit the exchange's official website here. The property, including the tea room and the store, is currently closed to the public.
102843