The "Why Him?" Gate House
Apr 17th, 2017 | By
Lindsay
| Category:
Movie Locations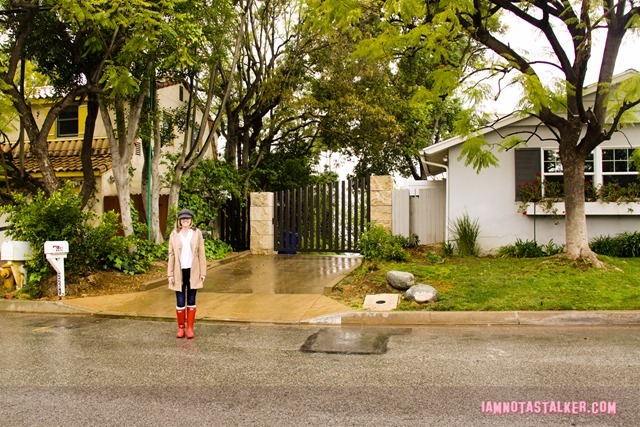 Location managers can be such tricksters!  And there's pretty much nothing I love more than uncovering the various fabrications that go into a particular locale.  Such was the case with the gate house supposedly situated at the entrance to the massive manse belonging to millionaire video game creator Laird Mayhew (James Franco) in Why Him?  The Grim Cheaper and I recently watched – and thoroughly enjoyed – the 2016 comedy and I went on an immediate quest to track down some of its filming sites.  Thanks to the Global Film Locations website, I quickly homed in on Laird's sprawling estate, which is known as the Summit House in real life.  One look at the place on Google Street View, though, told me that Laird's quaint ranch-style gate house could not be found anywhere on the premises.  Ah, the magic of Hollywood!  So I set out to find it.  And find it, I did.
Thankfully, an address number of 2253 was visible outside of the gate house on the mailbox containing Laird's facial recognition security device.  I figured that the mailbox and address number were real and began searching for homes with 2253 addresses, first in Beverly Hills near the Summit House and then slowly working my way outward.  I eventually found the right spot about seven miles away at 2253 Linda Flora Drive in Bel Air.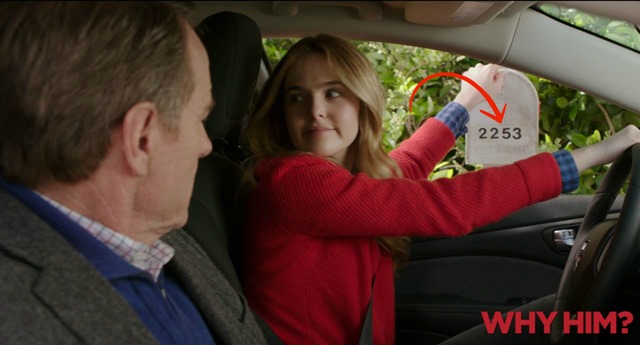 As I plopped down into Street View, I was shocked to discover that the mailbox that had facilitated my search was not there in real life!  Turns out it was a prop that had been inexplicably fashioned with the home's real life address for the shoot!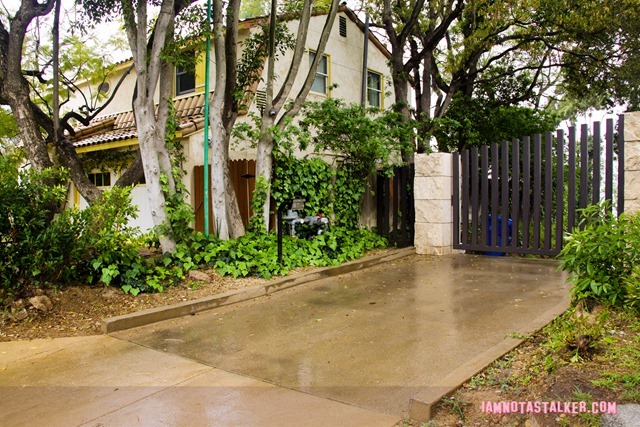 I was further surprised to see that the driveway where the mailbox was placed as well as the gate situated beyond it belong to the neighboring property located at 2251 Linda Flora Drive.  So two residences were used to represent Laird's gate house in Why Him?  The trickery was strong with this locale!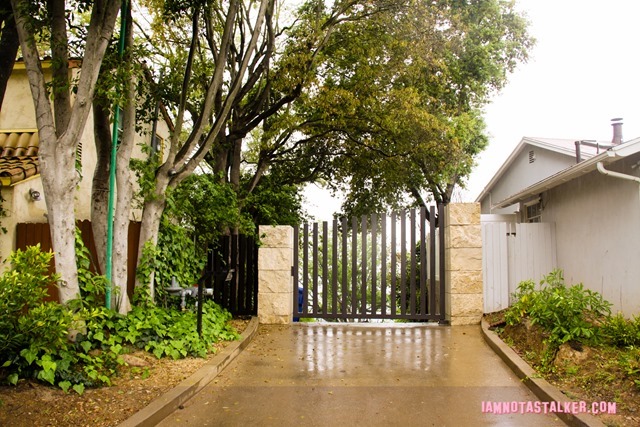 The gate house only pops up briefly in Why Him?, in a beginning scene in which Stephanie Fleming (Zoey Deutch) brings her parents, Ned (Bryan Cranston) and Barb (Megan Mullally), and brother, Scotty (Griffin Gluck), to her boyfriend Laird's home for the first time.  As they arrive, Barb, mistakenly thinking that the charming dwelling they pull up to is Laird's residence, says, "Oh, this is cute."  To which Stephanie explains, "Actually, this is the gate house."  As you can see, the gate house was changed a bit for the shoot.  A fence was added to the perimeter of the front yard, a window was installed on the side of the pad, and quite a few trees, shrubs and plants, as well as a garden gnome, were brought in.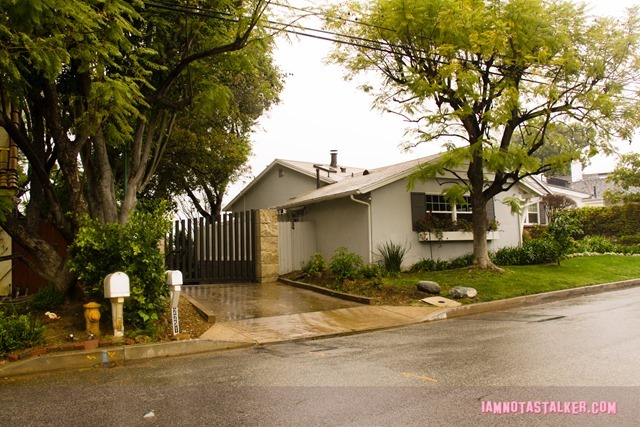 Producers also had the gate itself altered for the shoot, completely covering it over with foliage, which nearly obscured it from view.  As Barb says when the gate opens upon the Fleming family's arrival, "The hedge is moving!"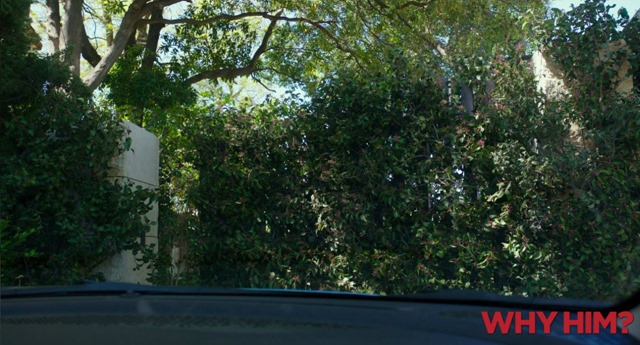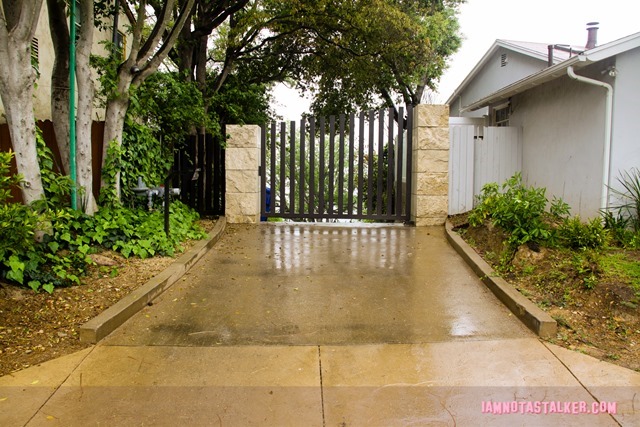 In real life, Laird's gate house is a regular single family home that boasts 2 bedrooms, 2 baths, and 1,560 square feet.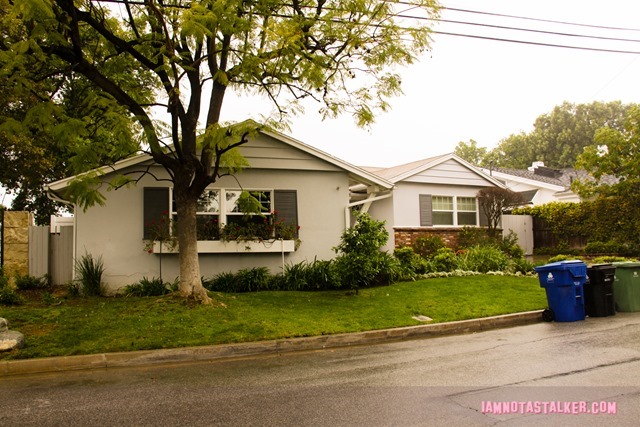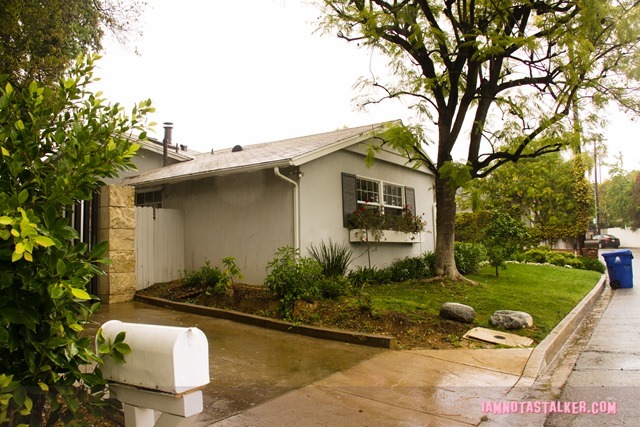 The driveway and gate next door lead to a newly-built modern residence that boasts 4 bedrooms, 4 baths, 9,300 square feet, a 3.2-acre plot of land, travertine stonework, disappearing glass doors, two separate lawn areas, a detached guest house, a 3-car garage, a reflecting pool surrounded by a pool deck, 14-foot high ceilings, a massive skylight, a chef's kitchen with Miele and Wolf appliances and electrically-controlled drawers, a library with a glass floor, a wine room, several fireplaces, and a 1,000-foot-long driveway.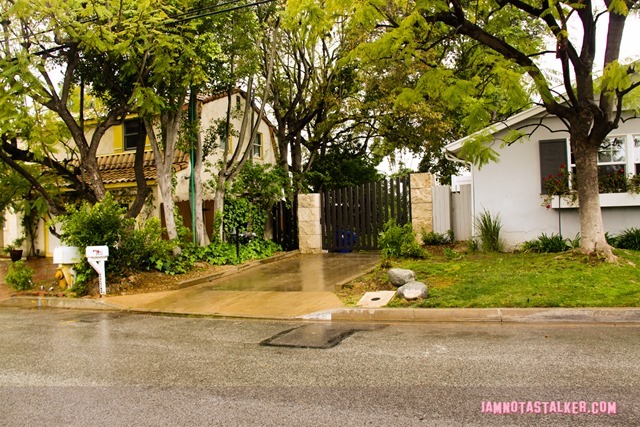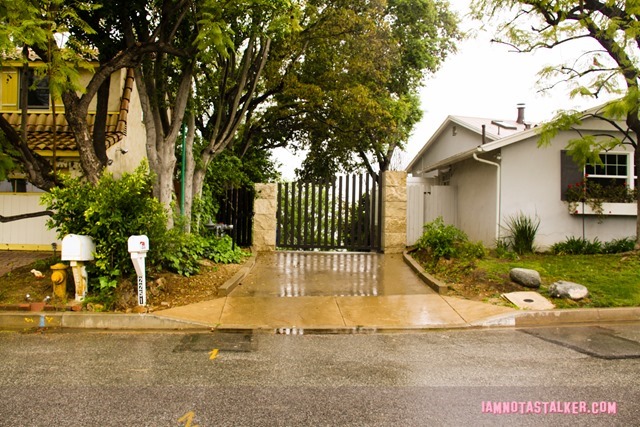 You can see photographs of that property here.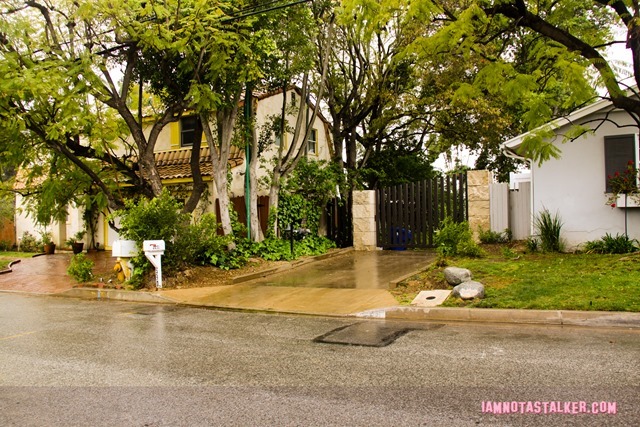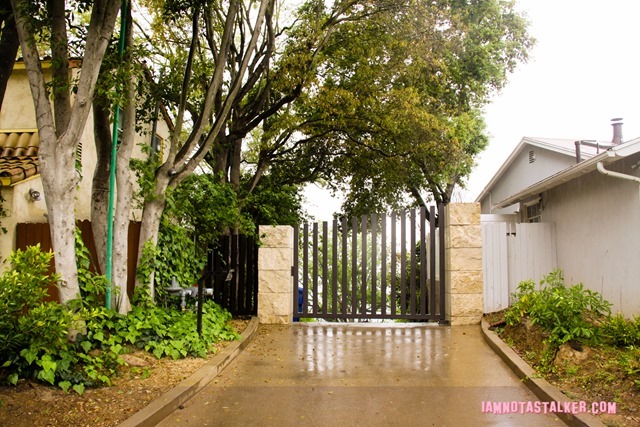 For more stalking fun, follow me on Facebook, Twitter, Instagram, Los Angeles magazine and Discover Los Angeles.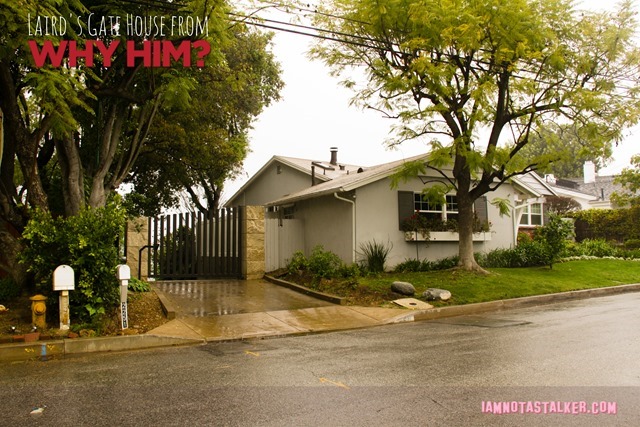 Until next time, Happy Stalking! 

Stalk It: Laird Mayhew's gate house from Why Him? is located at 2253 Linda Flora Drive in Bel Air.  The actual gate to his home can be found next door at 2251 Linda Flora Drive.  And Laird's mansion is located at 1159 Summit Drive in Beverly Hills.
104004