Madeline and Ernest's Mansion from "Death Becomes Her"
Oct 13th, 2017 | By
Lindsay
| Category:
Haunted Hollywood
,
Movie Locations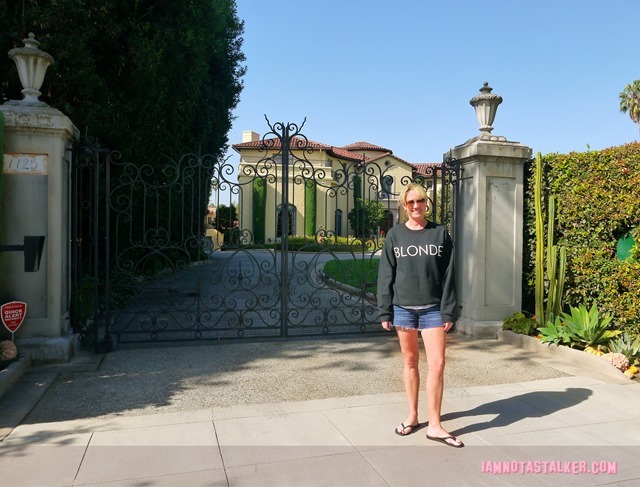 It's Friday the 13th!  Friday, October 13th!  Could anything be better?  This Haunted Hollywood season, the universe has really been pushing me to watch Death Becomes Her.  I had never seen the 1992 flick and, while I knew it was about two longtime female rivals obsessed with aging, always assumed it fell into the comedy genre and, for whatever reason, never had much interest.  But while researching Lacy Park recently in preparation for this post, I came across a 2016 Outlook Newspapers article that chronicled filming in San Marino.  One of the area locales featured in the blurb was a mansion at 1125 Oak Grove Avenue, which author John Gregory mentioned had a cameo in Death Becomes Her.  I jotted the address in my stalking notebook and didn't give it much more thought.  A short time later, while perusing Instagram, I happened to glimpse one of Hello Gorgeous blogger Angela Lanter's stories and just about fell over when she stated that she and husband, Matt Lanter (my fave actor), had been engaging in a scary movie marathon to get into the Halloween spirit and that they were planning to watch Death Becomes Her, one of Matt's favorites, that night.  I was thrilled to learn the flick would fit in with my Haunted Hollywood theme, moved the mansion straight to the top of my To-Stalk List, and sat down with the Grim Cheaper for a Death Becomes Her viewing. The film did, indeed, turn out to be more funny than spooky (although, truth be told, what's more frightening than getting old?!?), but I figured the estate was still worthy of a post.
The mansion mentioned in the Outlook Newspapers article was actually the main home featured in Death Becomes Her.  In the film, the massive Mediterranean-style estate masked as the supposed Beverly Hills residence of actress Madeline Ashton (Meryl Streep) and her plastic-surgeon-turned-reconstructive-mortician husband, Ernest Menville (Bruce Willis).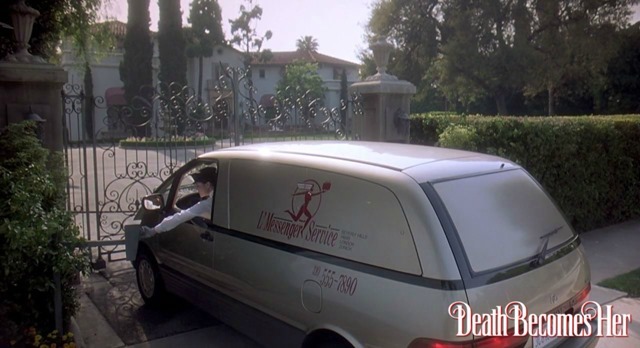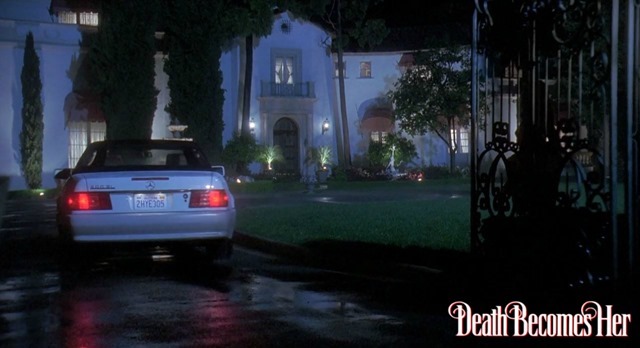 The palatial pad was featured numerous times throughout the movie.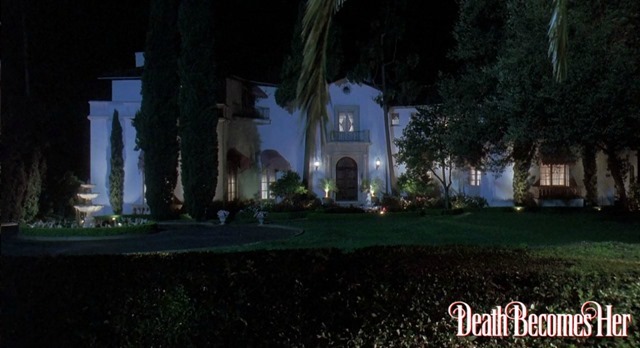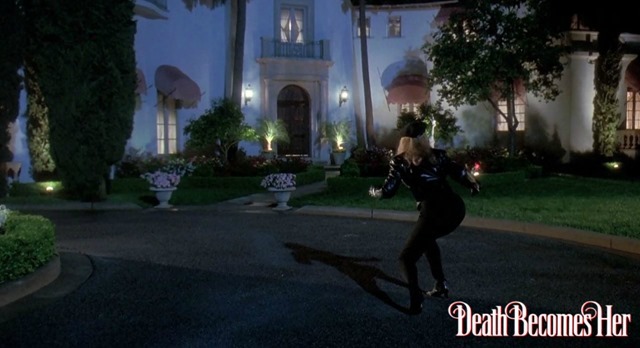 Despite the passage of 25 years and aside from a change in paint color, the sprawling estate looks much the same today as it did onscreen.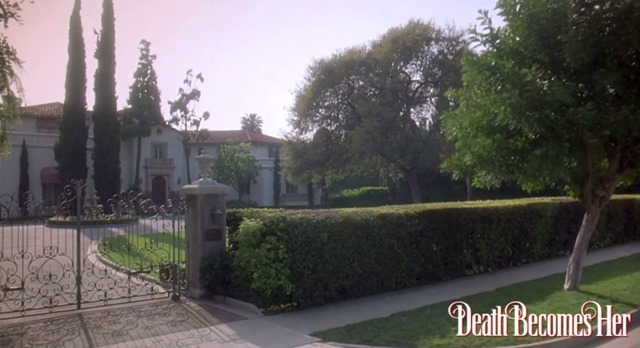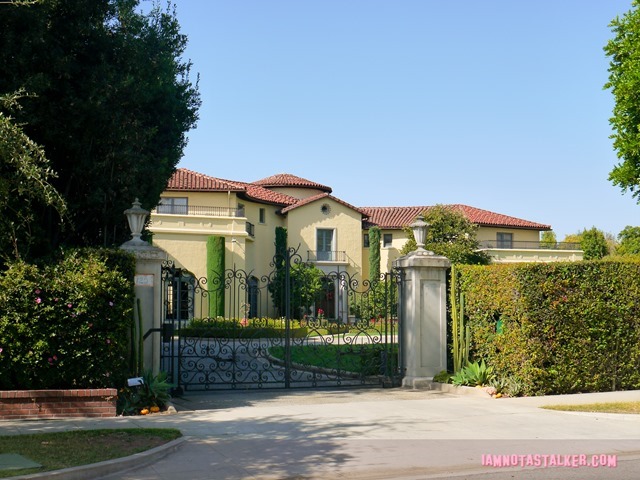 While watching, I had a hunch that only the mansion's exterior was utilized in Death Becomes Her and that the ornate interior of Madeline and Ernest's home was a set.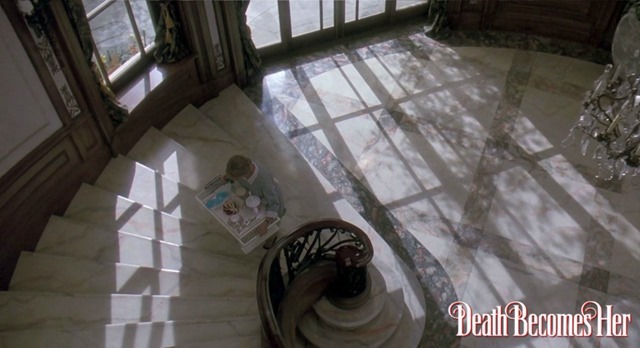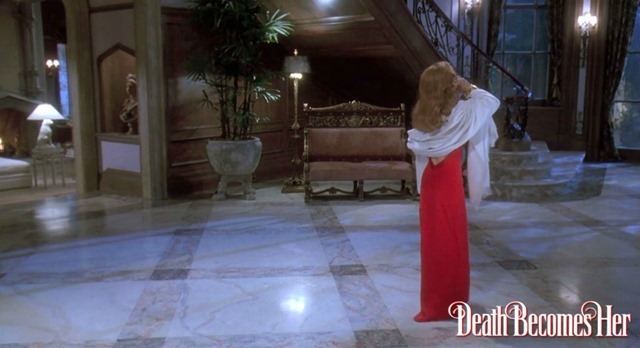 With its towering staircase, colossally tall ceilings, and massive fireplaces, the interior just seemed a bit too grand to be real.  Then I came across this Entertainment Tonight interview with Death Becomes Her production designer Rick Carter which confirmed my hunch.  In it, Carter talks about his creations for the movie and his initial fear that the sets he designed might be too large and monumental for the shoot.  He says, "I remember the first day Meryl Streep shot on that set and her first lines were 'Ernest!' and the whole place just filled with her ego.  And there she was!  The set had come alive.  'Cause I was a little bit concerned, had I made it all too big?  Could any personality fill that?  And within the first nanosecond of the performance by Meryl Streep, there it was, filled."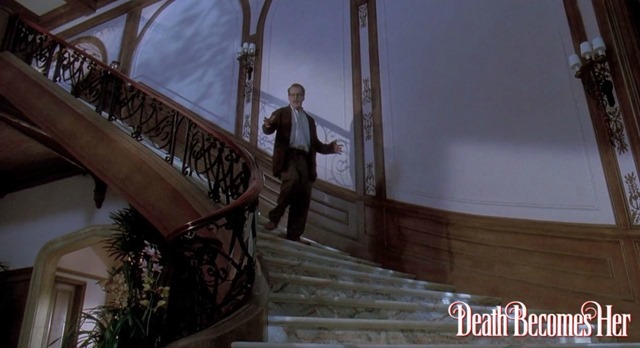 I would love to see what the inside of the San Marino mansion looks like in real life (I imagine it's far more modest), but unfortunately, I could not find any interior images of it online.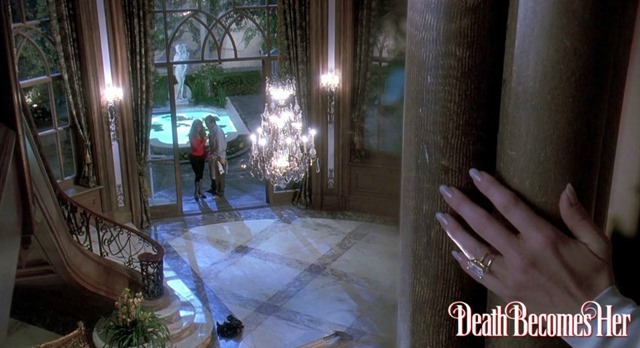 Madeline and Ernest's backyard was also just a set.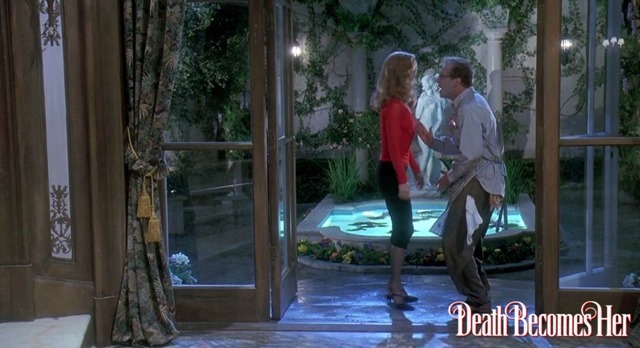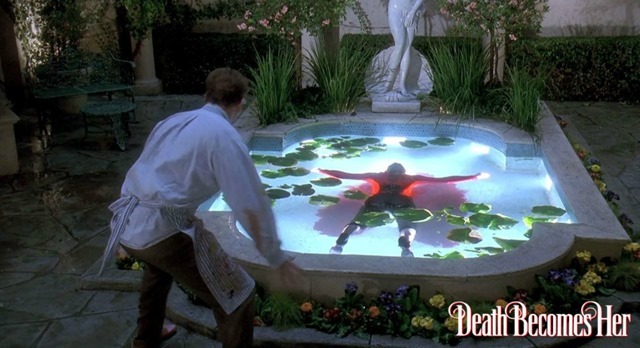 The home's actual backyard, which you can see in the aerial views below, is quite a bit larger than its onscreen counterpart.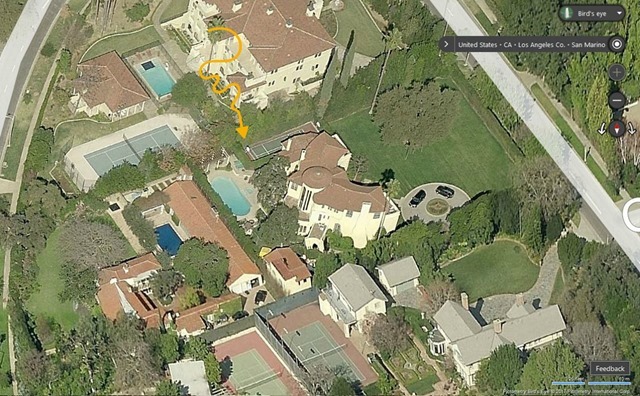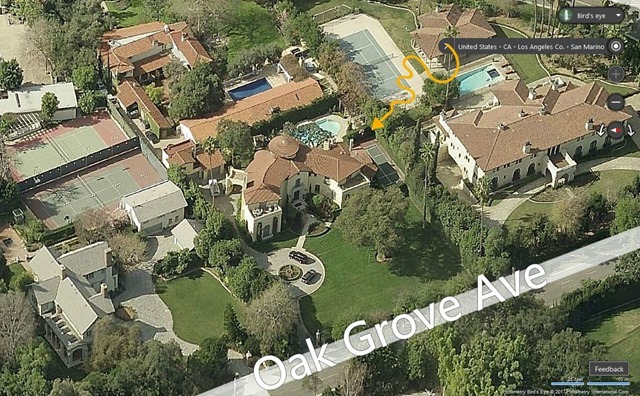 In real life, the 2-story mansion, which was built in 1921, features 9 bedrooms, 7 baths, a 0.98-acre lot, and a pool.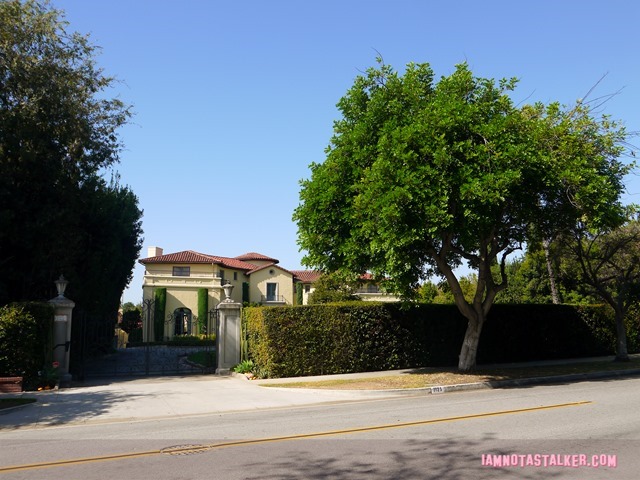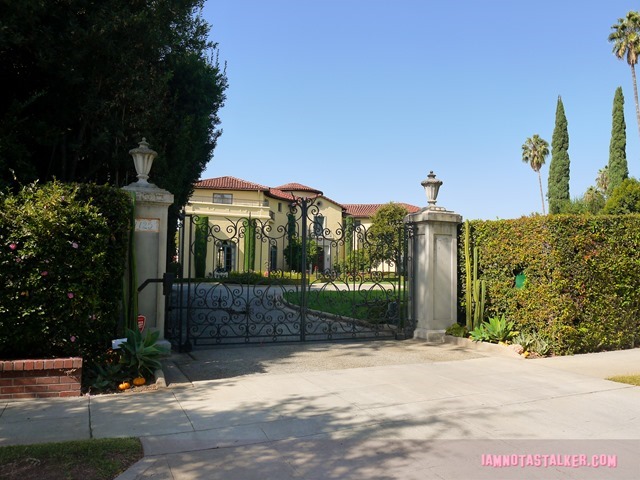 Per Zillow the pad boasts 6,334 square feet, though I would have guessed it to be much, much larger.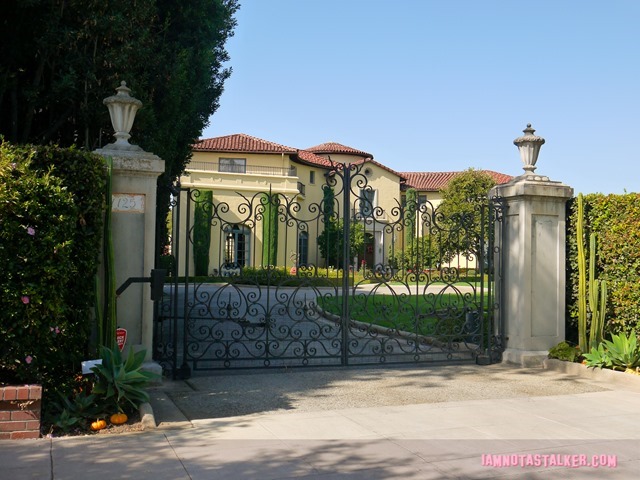 Thanks to Chas, from It's Filmed There, I learned that the estate also appeared in another Bruce Willis movie, 1992's The Last Boy Scout, in which it portrayed the residence of Sheldon Marcone (Noble Willingham).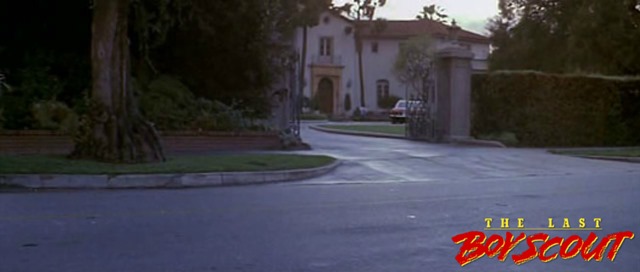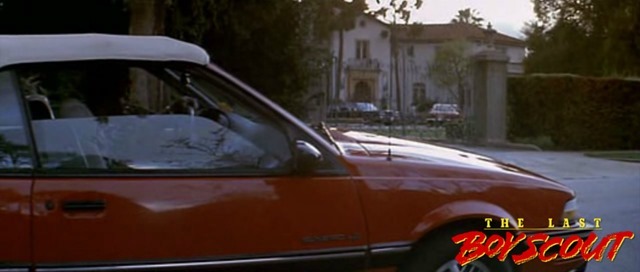 For more stalking fun, follow me on Facebook, Twitter, Instagram, Los Angeles magazine and Discover Los Angeles.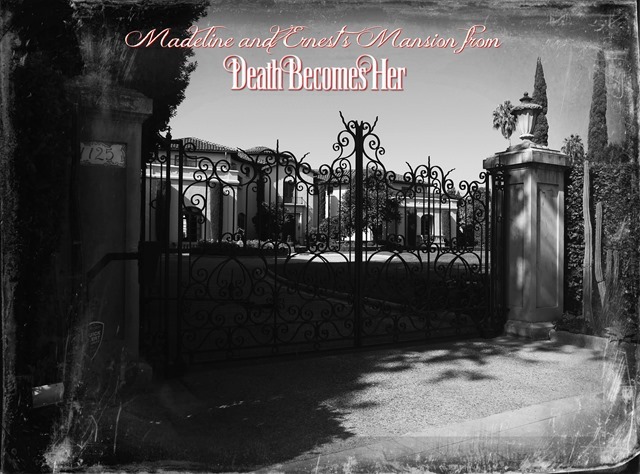 Until next time, Happy Stalking!  And Happy Friday the 13th! 

Stalk It: Madeline and Ernest's mansion from Death Becomes Her is located at 1125 Oak Grove Avenue in San Marino.
108566