The "Four Christmases" Dance Studio
Dec 15th, 2017 | By
Lindsay
| Category:
Movie Locations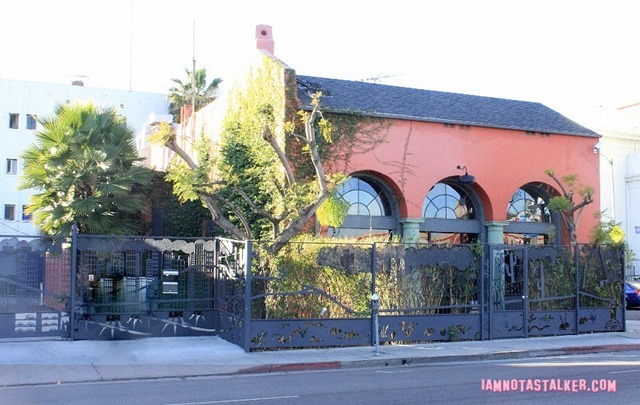 I can hardly believe it, but the Christmas season is upon us again!  It seems like just yesterday I was hanging out in a pool celebrating my 40th birthday in June!  I hate how fast time seems to pass, but I do love the holidays and am thrilled to finally be covering a Yuletide-themed locale.  Today's post comes courtesy of my good friend Mike, from MovieShotsLA, who a few years back worked for a production company with offices all over the L.A. area, including the building at 1161 Vine Street in Hollywood.  One fateful day, Mike was tasked with setting up some new film and video equipment at the Vine Street space and happened to cue up Four Christmases on his laptop to play in the background while he toiled away (slightly random, being that this was in the summer!).  He just about fell over when the dance studio scene came on because, as he looked around the room, he realized he was sitting in the exact spot where the segment had been lensed!  Talk about synchronicity!  He promptly snapped a bunch of photographs of the place and recently sent them to me, thinking the site would make for a good holiday post.  Thank you, Mike!
Situated on the corner of Lexington Avenue right in the heart of Hollywood, 1161 Vine boasts quite a Tinseltown pedigree, having served as the headquarters of not one, but two sound industry titans.  During the '40s, the handsome 1928 building acted as the main office of Altec Lansing, an audio electronics company best-known for developing horn-based loudspeaker systems for movie theatres, concert venues, and home entertainment centers.  You can see a photograph of what the property looked like during the Altec Lansing days here.  Amazingly, aside from the addition of quite a bit of foliage, not much of its exterior has changed since that time.  In 1951, Ryder Sound Services moved into the 5,758-square-foot site, utilizing it as a recording and post production studio.  The company, which pioneered magnetic audio recording for the motion picture industry, was founded by Loren L. Ryder, a 5-time-Academy-Award-winning sound engineer.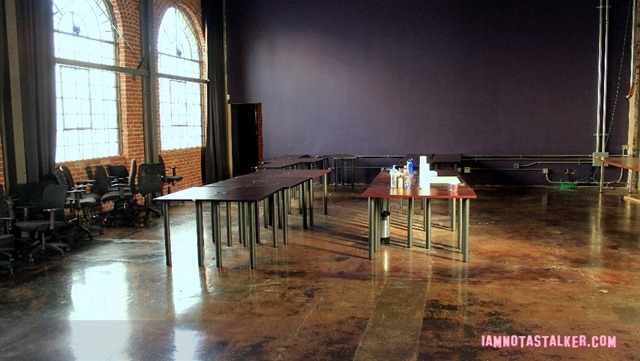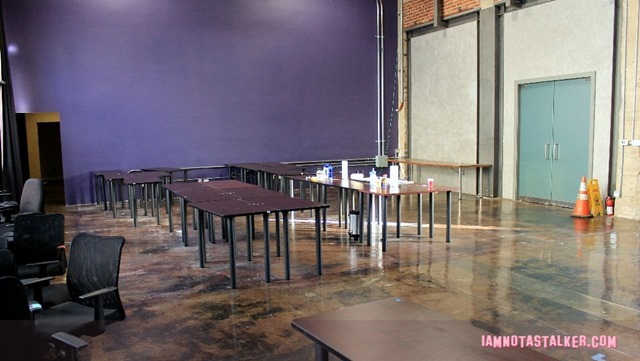 At the time that Four Christmases was filmed in 2008, the modern office space, which boasts exposed brickwork, a 24-foot-high bow truss ceiling, concrete and wood floors, a fireplace, a full kitchen, and a large loft area, served as a photography studio.  Today it is home to digital media firm Beautycon.  I wonder if the people who work there have any idea of the place's cinematic history.  I am guessing most don't and can totally picture a not-in-the-know employee putting on the flick during the holiday season and, upon seeing the dance scene and realization dawning, screaming out, "Oh my God!  I work there!"  No?  That's just me?  And Mike?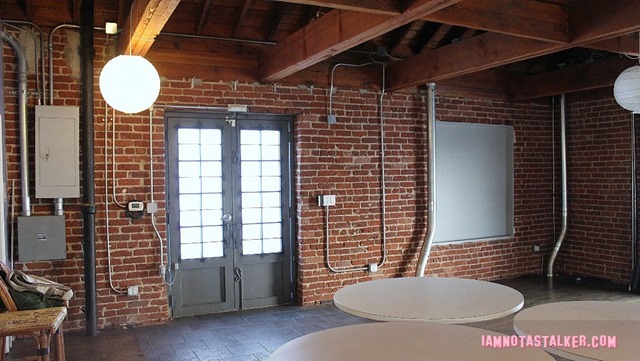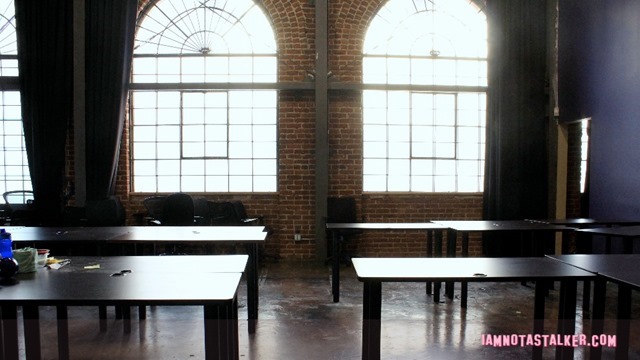 You can check out some additional interior photographs of the property here.
Toward the beginning of Four Christmases, Kate (Reese Witherspoon) and Brad (Vince Vaughn) attend a ballroom dance class at 1161 Vine.  While there, they get into a rather humorous exchange with two newly-engaged couples who are taking dance lessons for their upcoming weddings, about why they have no desire to get married or have kids.  After denouncing expressions like "tying the knot" and "ball and chain," Brad tells the betrotheds, "I mean I'd rather be, like, stuck on an island with some weird millionaire hunting me trying to kill me and me trying to escape than to be involved in something with those kind of slogans, 'cause that's like a time bomb waiting to explode."  Upon seeing their rather shell-shocked reactions to his diatribe, he closes off with, "But anyway, congratulations on getting married.  That sounds like a really cool thing.  And to each their own.  Merry Christmas."  You can watch the hilarious scene here.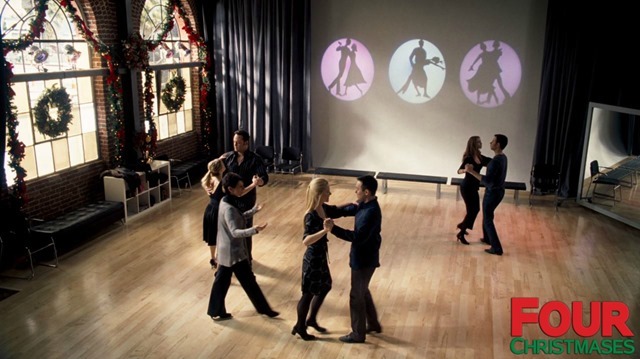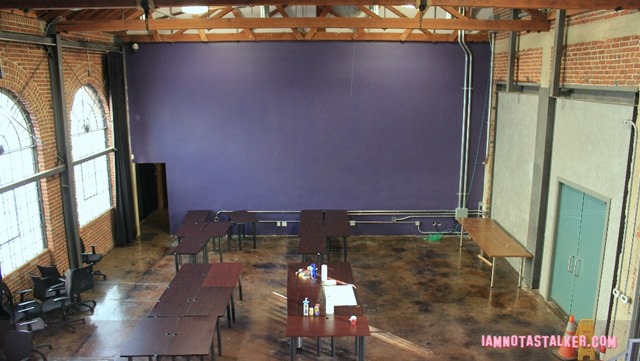 The segment is one of my favorite bits of the whole movie, mainly because Kate and Brad dance to "Baby, It's Cold Outside," a holiday song I adore.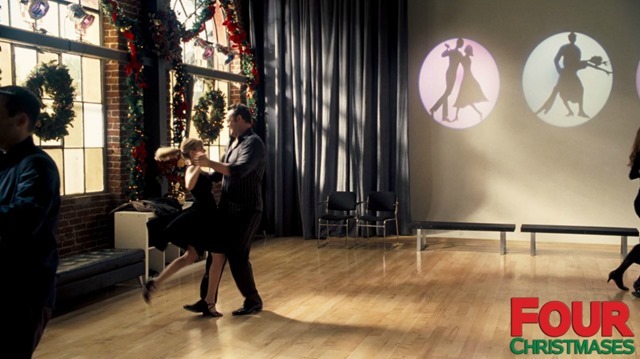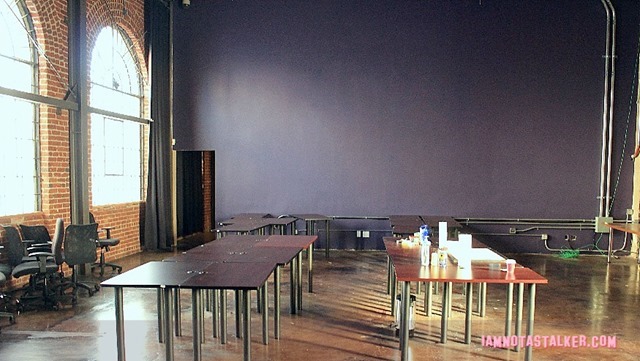 As you can see in the photos and screen captures above and below, 1161 Vine looks much the same in person as it does onscreen, minus the slew of festive Christmas decorations.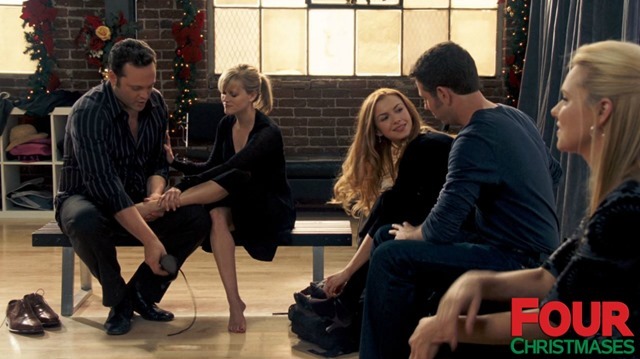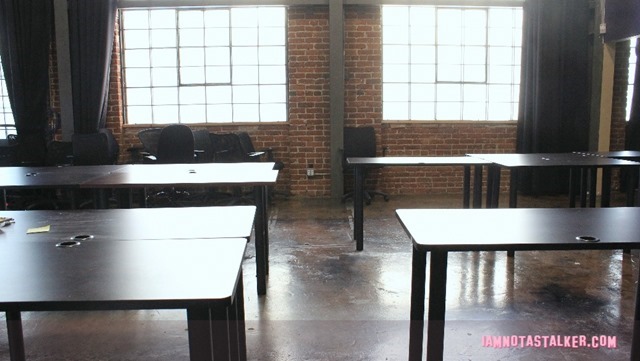 The property's loft area was utilized for another Four Christmases scene in which Kate and Brad are shown calling their respective parents to inform them that they won't be making it home for the holiday.  Though the segment wound up on the cutting room floor, eagle-eyed viewers might remember a portion of it popping up in the movie's trailer.  As I mentioned in this 2012 post, I originally thought the phone call bit was supposed to have occurred at Kate and Brad's house, which confused me to no end as the space looks nothing like the residence that appeared in the other scenes set at the couple's home.  But I was lucky enough to get in touch with production designer Shepherd Frankel who set me straight.  He explained that Kate and Brad were purportedly phoning their parents from a break area of the dance studio.  Why the two would be making such personal calls from a public place, I have no idea, but perhaps that is why the scene, which you can watch in its entirety here, was scrapped.
While researching this post, I was absolutely bowled over to discover that 1161 Vine boasts another holiday movie connection!   According to the Mister Magoo's Christmas Carol blog, all of the dialogue for the 1962 film, which was the first ever animated Christmas special, was recorded at the building!  At the time, the property was home to Ryder Sound Services.
For more stalking fun, follow me on Facebook, Twitter, Instagram, Los Angeles magazine and Discover Los Angeles.
Big THANK YOU to Mike, from MovieShotsLA, for not only stalking this location, but also providing all of the photos that appear in the post!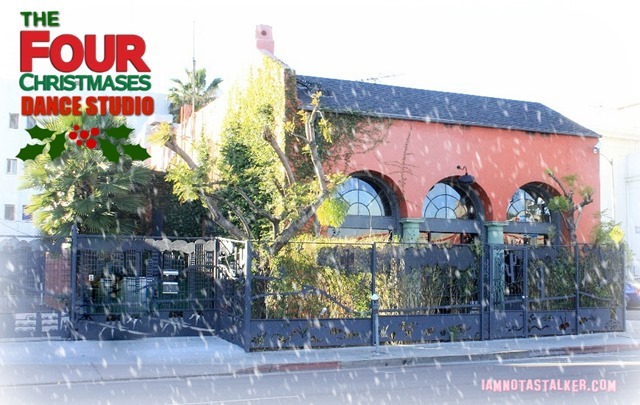 Until next time, Happy Stalking! 

Stalk It: The Four Christmases dance studio is located at 1161 Vine Street in Hollywood.
110095