The SmokeHouse Restaurant from "Lucifer"
Jan 19th, 2018 | By
Lindsay
| Category:
TV Locations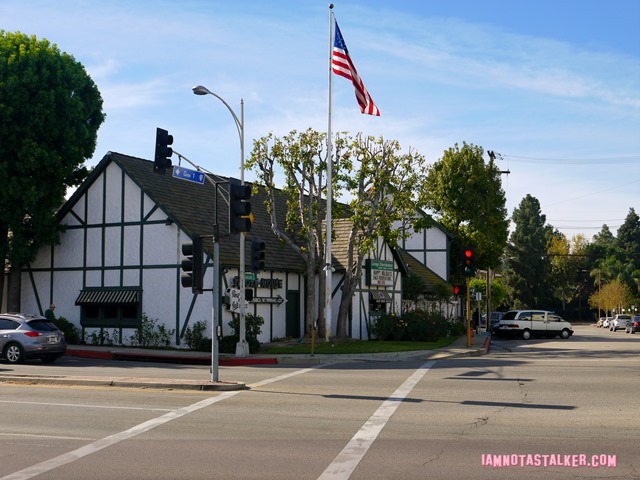 Hollywood loves a redux.  So do I, apparently, because here I am yet again with yet another location re-do!  (For those who missed it, I penned a second post on the Simpson family home from She's Out of Control last week.)  Today's blog is actually my third go-around with this particular spot (you can read my first two blurbs on it here and here), but when I saw the legendary SmokeHouse restaurant pop up in a rather lengthy segment of the Season 3 episode of Lucifer titled "The Sinnerman" early last December, I knew I had to revisit the place once again.  So here goes.
Originally established in 1946, the SmokeHouse (which is also referred to as the "Smoke House") is about as Old Hollywood as it gets!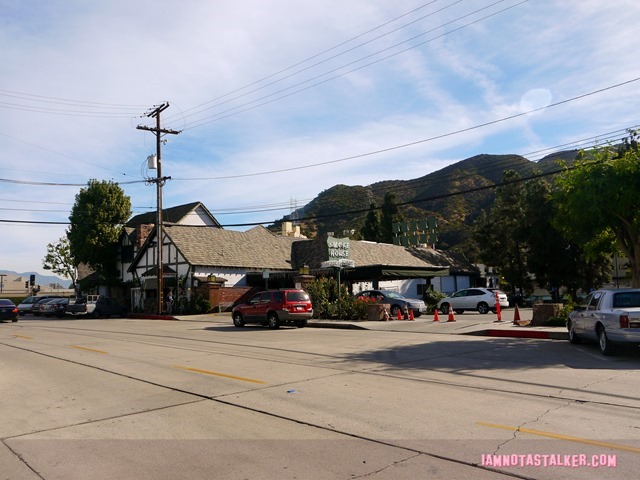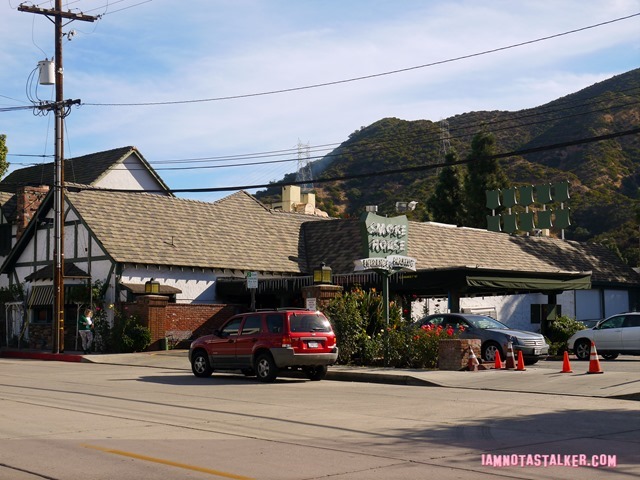 The eatery, founded by Lockheed engineers Jim Stockton and Jack Monroe, was initially situated at the corner of North Pass Avenue and West Riverside Drive in Burbank.  That location, a small 46-seat space, is pictured below via a still from a video made about the restaurant called Tales from the Smoke House.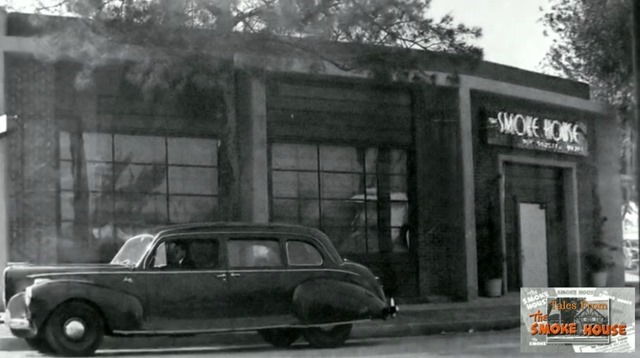 The site, which became known for serving "fine food at a fair price," proved so popular right out of the gate that a mere two years later Stockton and Monroe started looking for a larger venue.  They found one just a half a mile south in the form of the Red Coach Inn, a 6,000-square-foot Tudor-style eatery that actor Danny Kaye had built in 1947, but never opened.  The partners purchased the building in 1948 and it still serves as the home of the Smoke House today.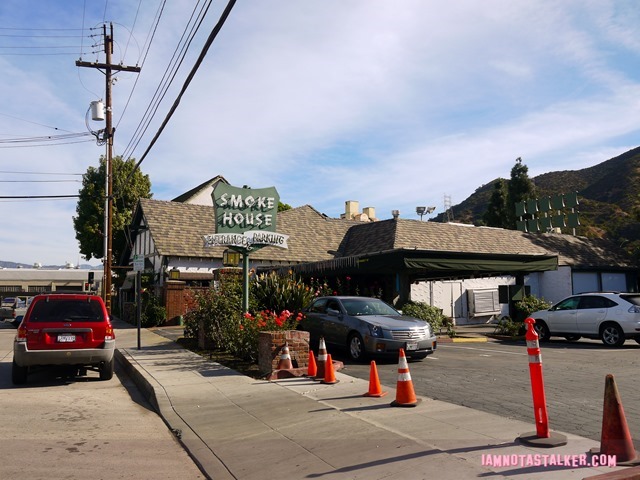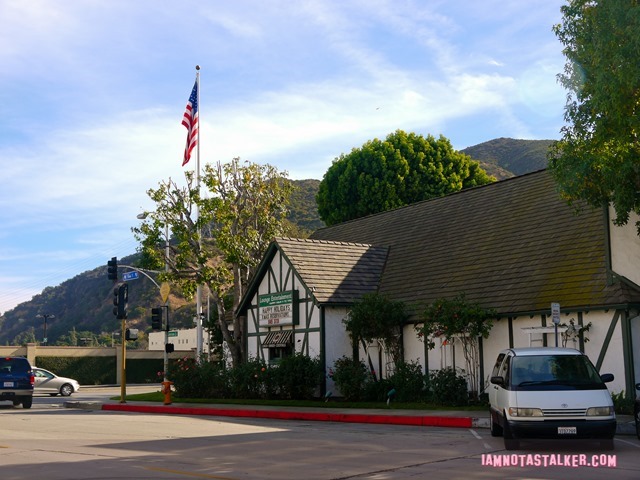 By 1955, the restaurant once again found itself bursting at the seams, so architect Wayne McAllister (of Bob's Big Boy and George's 50's Diner fame) was hired to create a 12,000-square-foot expansion.  Since that time, very little of the place has been altered.  Stepping inside is like entering a portal that leads straight back to the heydays of Hollywood.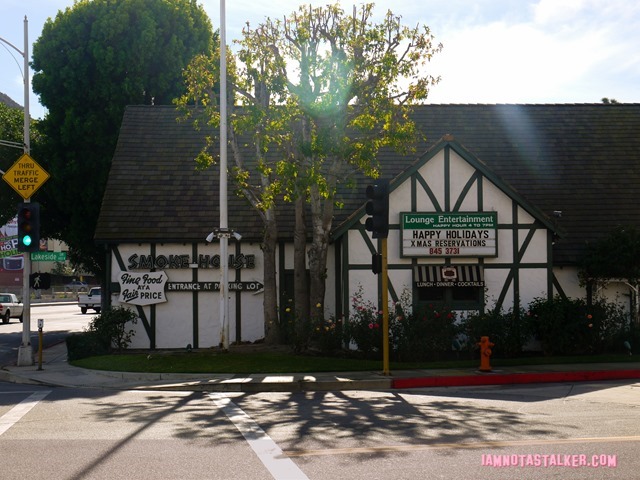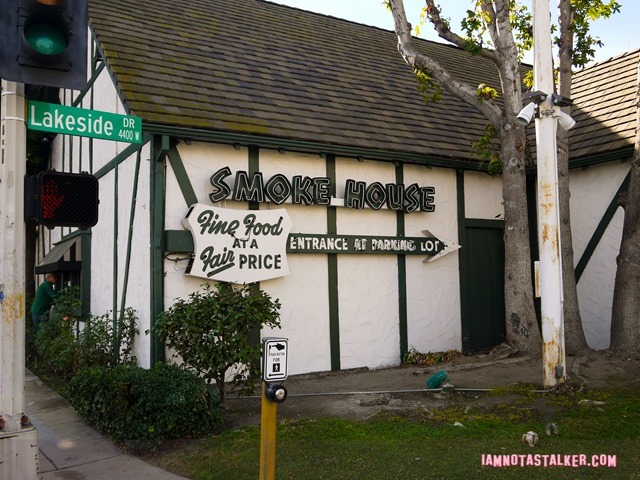 Inside, dark wood paneling, exposed brickwork, red leather booths, and dimly-lit sconces stretch as far as the eye can see.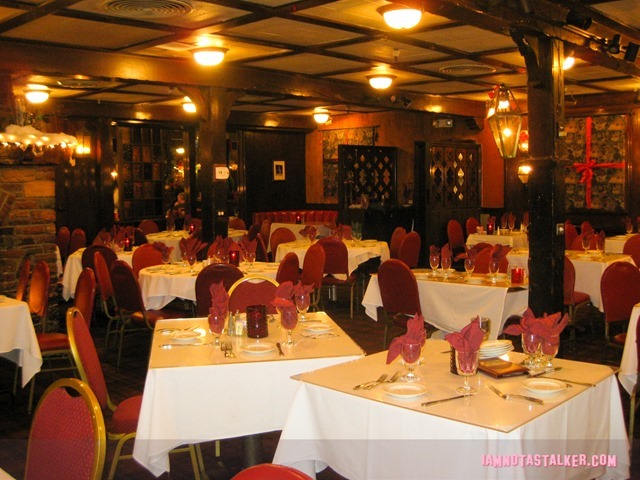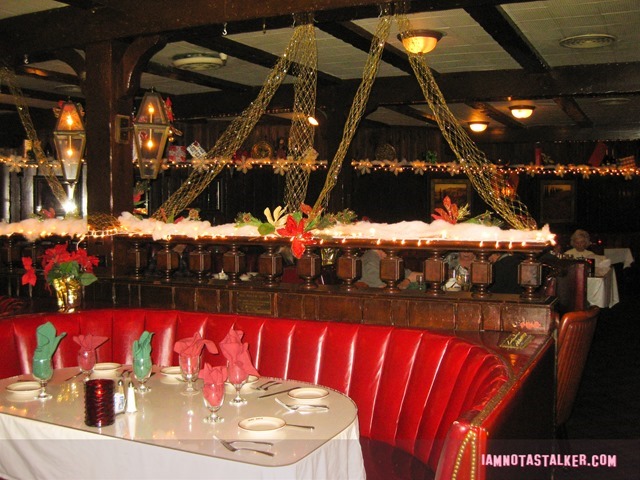 As I said earlier, the SmokeHouse couldn't be more Old Hollywood if it tried.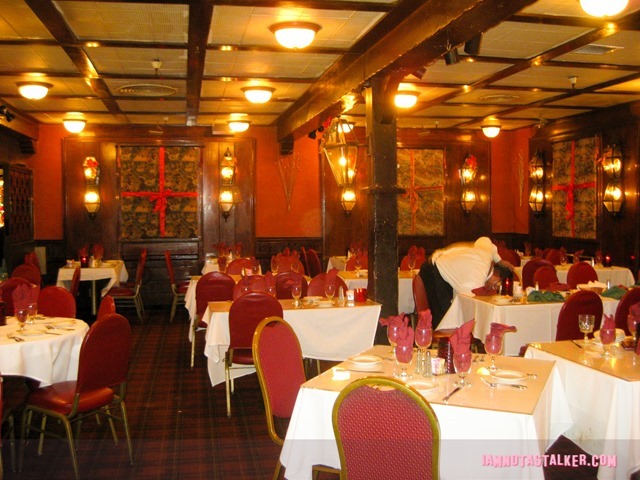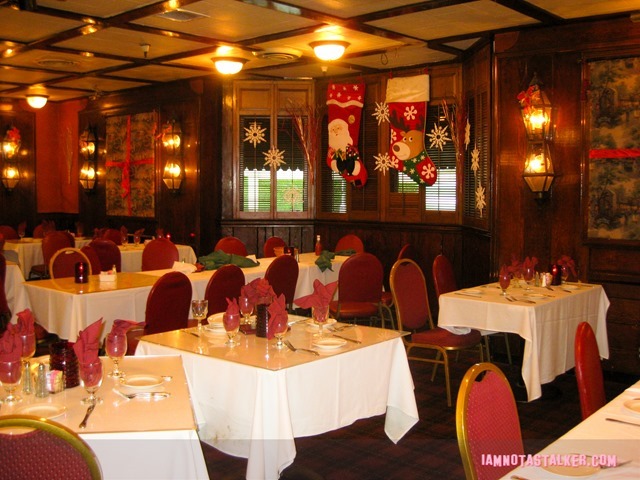 It is just the sort of spot I imagine Frank Sinatra dropping by for a martini after playing a set at the Hollywood Bowl – which isn't actually a stretch.  Old Blue Eyes was such a fan of the place that the restaurant named a dish after him!  (If you would like to partake, Steak Sinatra features tender cuts of filet mignon sautéed with bell peppers, shallots, garlic, mushrooms, tomatoes and red wine, served over linguini.)  Frank is hardly the SmokeHouse's only celebrity patron, though.  Thanks to its fabulous food and proximity to several studios, it quickly became a stomping ground for the Tinseltown elite.  In Hollywood: The Movie Lover's Guide, author Richard Alleman dubs the eatery the "unofficial commissary" of Warner Bros., which is situated right across the street.  In its early days, luminaries such as Bob Hope, Lana Turner, Bing Crosby, Judy Garland, Humphrey Bogart, Cary Grant, Errol Flynn, Milton Berle, Jack Paar, Walt Disney, James Dean, Burt Ives, Robert Redford, and Garry Marshall regularly stopped by.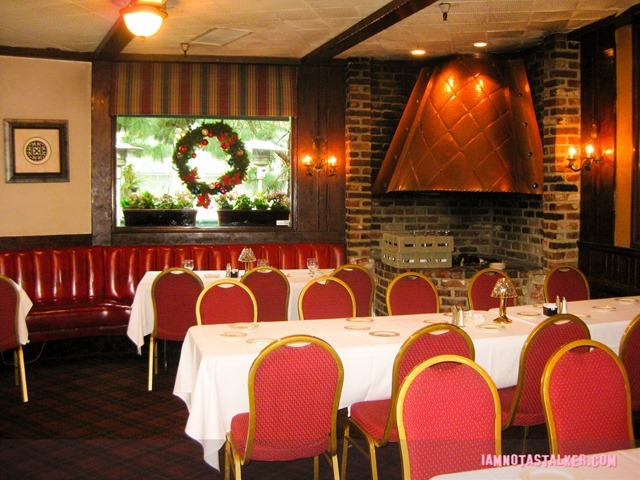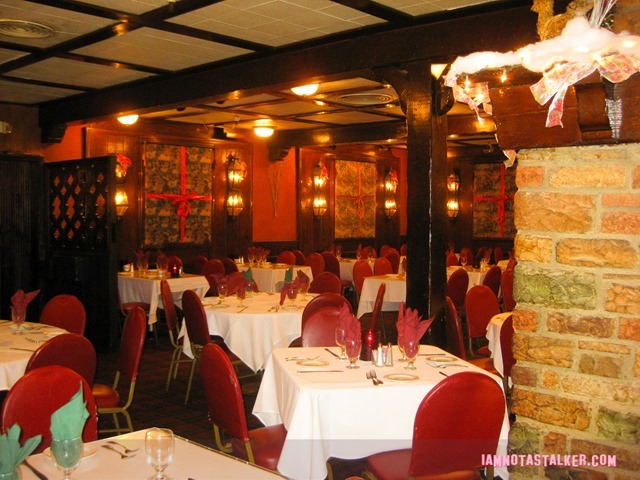 In more recent years, such celebs as Britney Spears, Kevin Costner, Andy Garcia, Brad Pitt, Madonna, Taylor Swift, and Evan Handler have all been spotted at the SmokeHouse.  During the '90s, the cast of Friends regularly dined on the premises on taping days.  And George Clooney became such a fan of the place while shooting ER at the WB that he named his production company Smoke House Pictures in homage to the restaurant.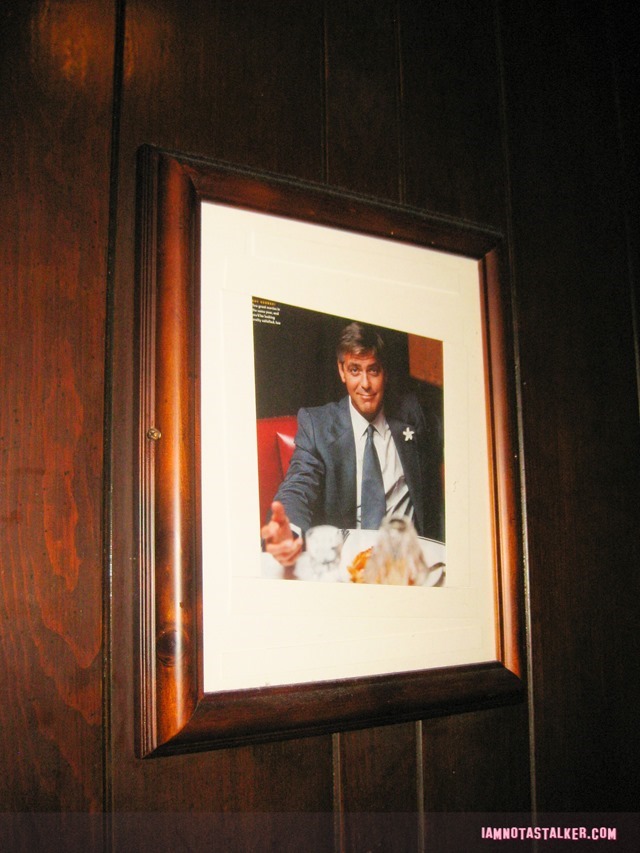 It is not just stars who love the place.  Thanks to its old school aesthetic and Anywhere, U.S.A-appeal, location managers have flocked to the SmokeHouse over the years.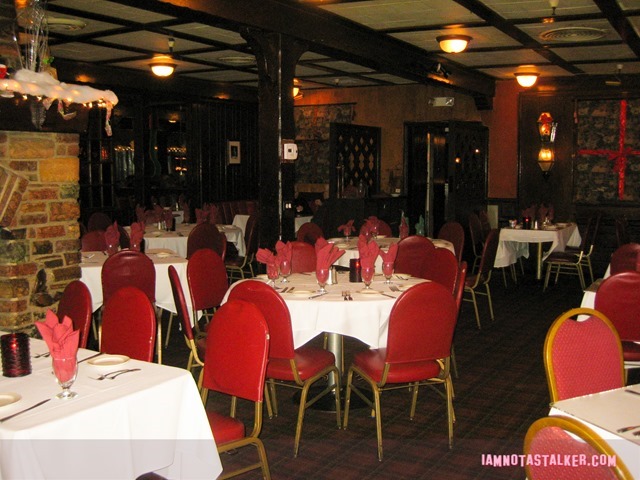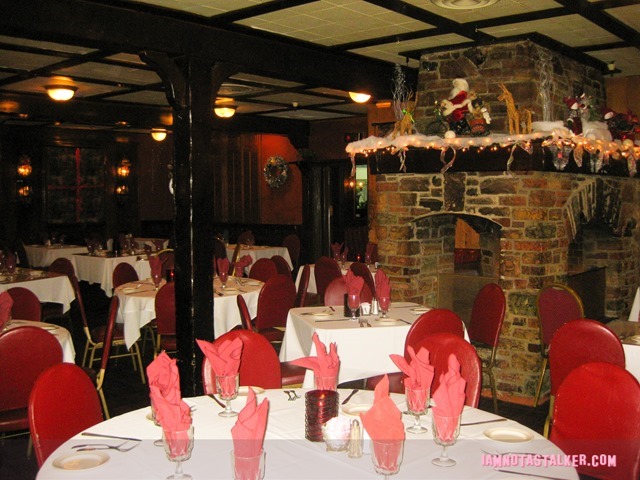 In the Season 1 episode of Desperate Housewives titled "Move On," which aired in 2005, the SmokeHouse masks as the karaoke restaurant where Julie Mayer's (Andrew Bowen) birthday party is held.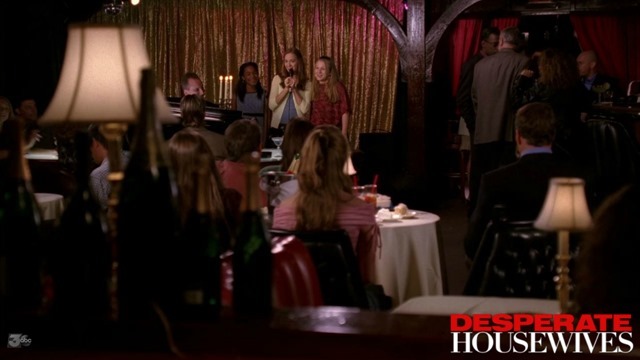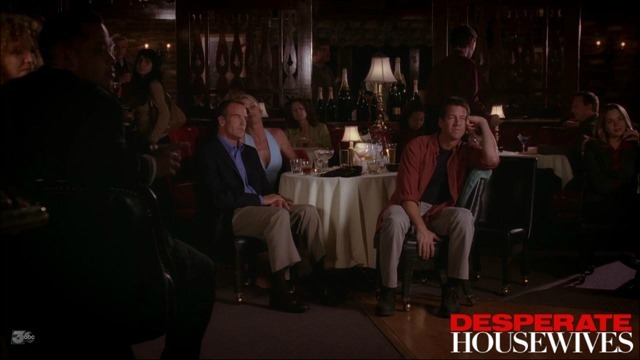 Gil Grissom (William Peterson) and Jim Brass (Paul Guilfoyle) interrogate Lois O'Neill (Faye Dunaway) at the SmokeHouse in the Season 6 episode of CSI: Crime Scene Investigation titled "Kiss Kiss, Bye Bye," which aired in 2006.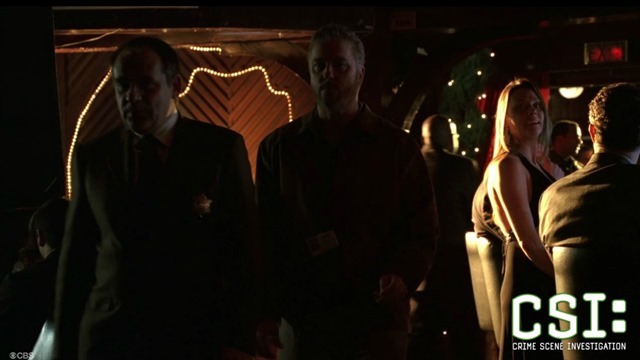 In the Season 5, 2008 episode of Entourage titled "Pie," Ari Gold (Jeremy Piven) meets his old friend Andrew Klein (Gary Cole) for lunch at the restaurant.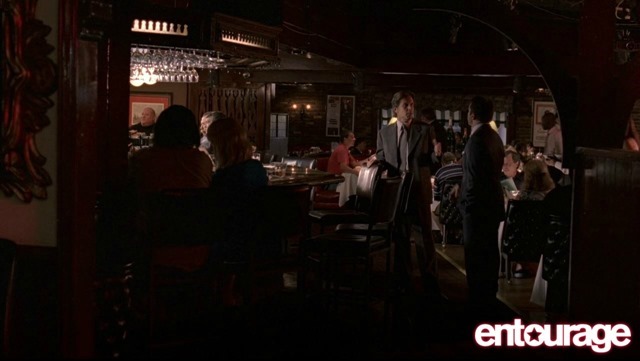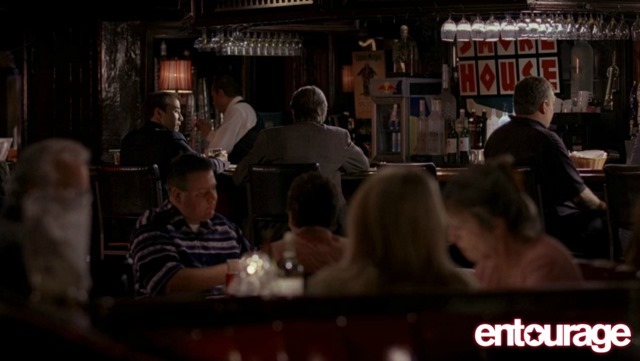 In one of its most notable roles, the SmokeHouse portrays the Niagara Falls hotel restaurant/bar where the Dunder Mifflin gang hangs out while in town for Jim Halpert (John Krasinksi) and Pam Beesly's (Jenna Fischer) wedding in the Season 6 episodes of The Office titled "Niagara: Part 1" and "Niagara: Part 2," which aired in 2009.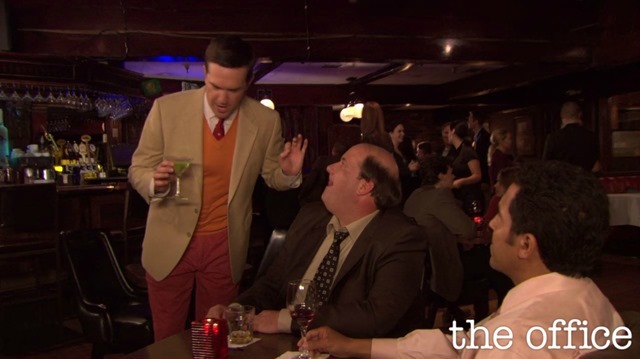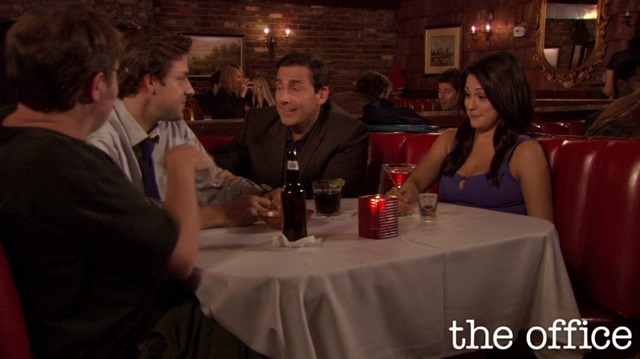 In "Niagara: Part 1," the couple's rehearsal dinner takes place in the SmokeHouse's back room.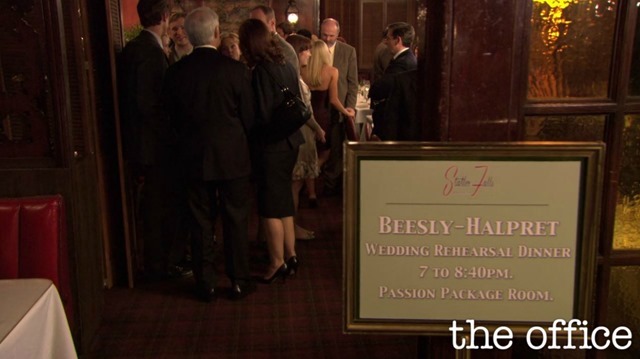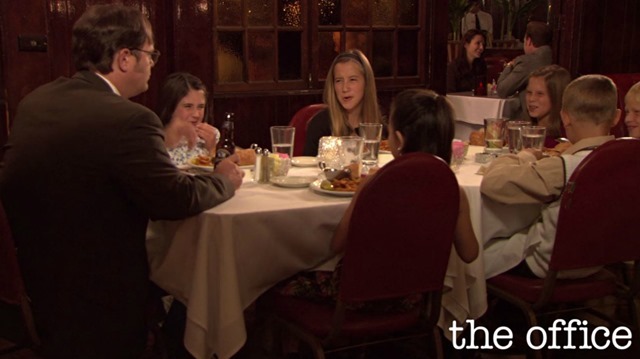 Tony Mendez (Ben Affleck) and John Chambers (John Goodman) discuss making their fake movie over a meal at the SmokeHouse in the 2012 drama Argo.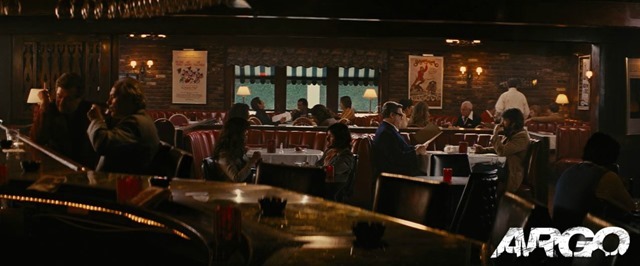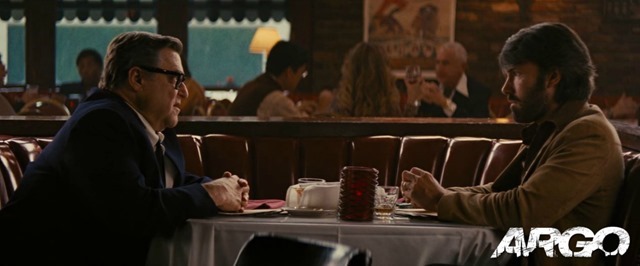 The SmokeHouse's interior appears as the inside of Lipton's, the restaurant where Sebastian (Ryan Gosling) plays the piano at the beginning of 2016's La La Land.  (The exterior of Lipton's can be found about four miles away in Hollywood – at 1648 Wilcox Avenue, to be exact.)


Most recently, Chloe Decker (Lauren German) and Marcus Pierce (Tom Welling) finally capture the supposed Sinnerman killer during a sting operation at the SmokeHouse in the Season 3 episode of Lucifer titled "The Sinnerman."  For those who are unfamiliar with the series, I highly recommend a watch.  The Grim Cheaper and I got majorly hooked on it from the start.  Besides fabulous stories, witty writing and a stand-up cast, the police procedural boasts a highly unique lead character – the devil.  Like the actual devil – Lucifer Morningstar (played perfectly by Tom Ellis), who, weary of his long banishment in hell, decides to head to L.A. for a little reprieve.  He takes to the City of Angels and all of its hedonistic tendencies quite quickly and it isn't long before he makes his stay permanent.  Through a twist of fate, he begins helping the LAPD solve crimes, eventually taking a day job as a sort of police consultant.  It is hilarious, completely irreverent, and hands-down one of the best shows on television right now.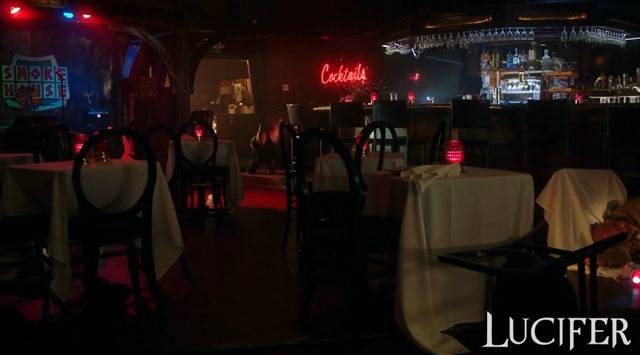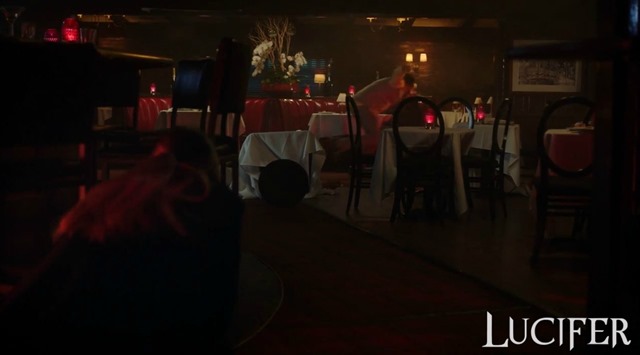 Though a few websites claim that the SmokeHouse portrays Joey's Slammer, the Italian joint belonging to Joseph DiMinna (Michael Ansara), in the Season 2 episode of The Rockford Files titled "Joey Blue Eyes," that information is incorrect.  As a commenter named Brian clarified on the Rockford Files Filming Locations blog, the restaurant scenes were actually shot at Martoni Marquis, formerly located at 8240 Sunset Boulevard in West Hollywood.  You can check out some great photos of the place when it was still in operation here.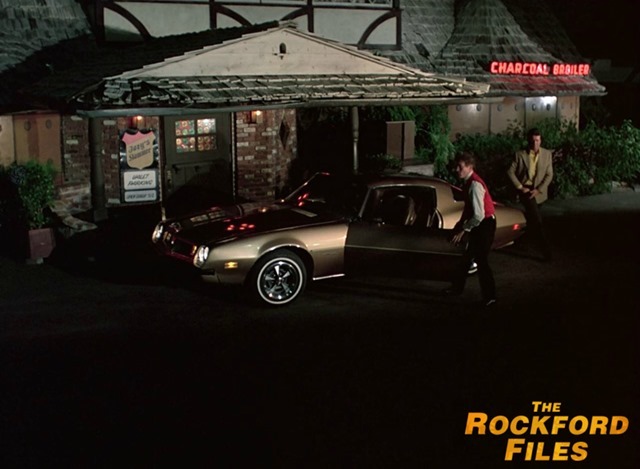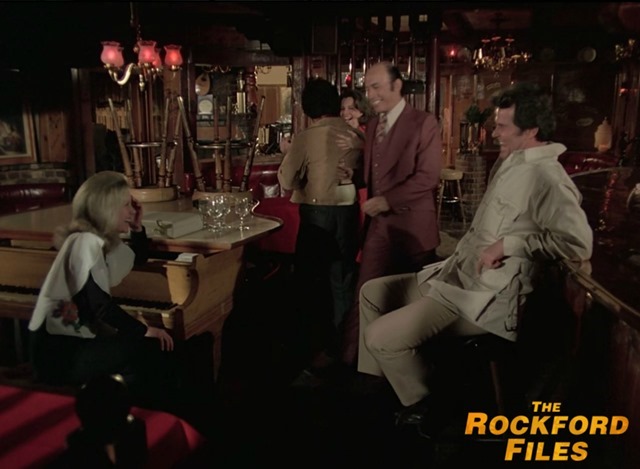 For more stalking fun, follow me on Facebook, Twitter, Instagram, Los Angeles magazine and Discover Los Angeles.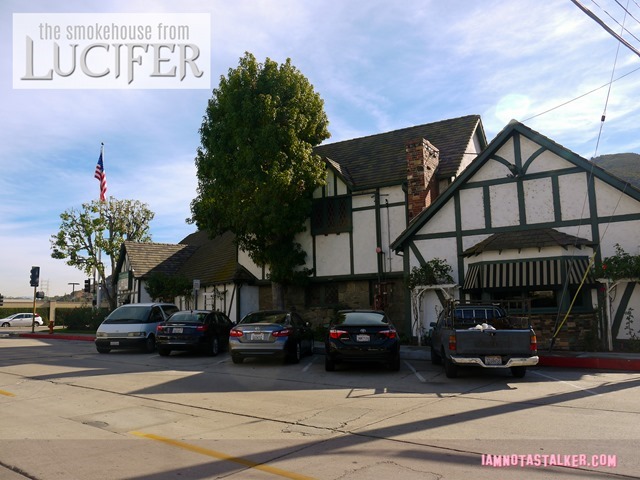 Until next time, Happy Stalking! 

Stalk It: The SmokeHouse, from "The Sinnerman" episode of Lucifer, is located at 4420 Lakeside Drive in Burbank.  You can visit the restaurant's official website here.
110834