Hilton Checkers Hotel
Mar 27th, 2009 | By
Lindsay
| Category:
TV Locations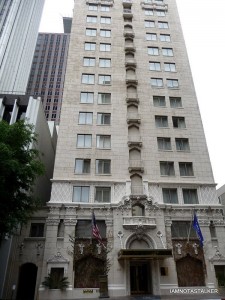 A few months ago, Mike, from MovieShotsLA,  scored the two of us invites to a party and silent auction being held by the Location Managers Guild of America.  We had a fab time at the party and got to meet many location scouts, none of whom had any idea that there were people like us out there obsessed with movie and television locations.  LOL  Anyway, the highlight of that evening was when I placed the winning bid on a one night stay in the Penthouse Suite of the Hilton Checkers Hotel in Downtown Los Angeles for the bargain price of $160!  I'm not kidding!  So this past weekend my boyfriend and I cashed in on our big win and spent a night in luxury at the historic boutique hotel. 
On its website the Hilton Checkers Hotel touts itself as being Downtown Los Angeles' only four diamond boutique hotel – and, let me tell you, it didn't disappoint!  Checkers was originally built in the 1920s and was called "The Mayflower".   The boutique hotel, which stands at twelve stories high, was built at a time when the City of Los Angeles did not allow any buildings in the Downtown area to have more than twelve floors.  In 1984, the hotel was completely renovated and remodeled and given it's current moniker. For a time it was owned privately and then was sold to Wyndham Hotels & Resorts.  When it was purchased by the Hilton Hotel chain in 2002, it took on the name Hilton Checkers.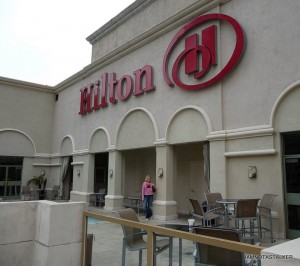 Checkers Hotel has two Penthouse Suites – one each on its 11th and 12th floors – and I can't tell you how excited I was to be staying in one of them!  Besides soon-to-be-famous actress Lindsay Blake :), numerous other celebs have stayed in the hotel's Penthouse Suites over the years, including Jim Carrey (who lived in one while he was filming the movie Man on the Moon), Carol Burnett (who also resided in one for a few months during her stint at the Ahmanson Theatre performing in Putting It Together), Ray Charles, Will and Jada Pinkett Smith (who were recent guests), and Cher (who books a Penthouse each year when she's in town for the Grammys).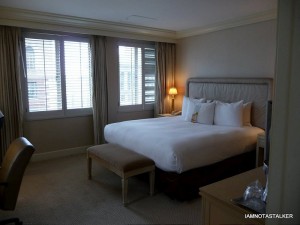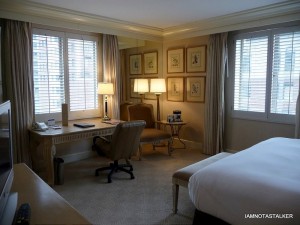 Both of the Checkers' Penthouse Suites are identical in size and decor.  Each boasts two bathrooms, a separate bedroom with a desk and reading chair,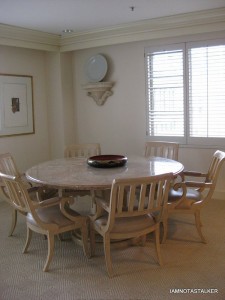 a separate dining room with a marble table that seats eight,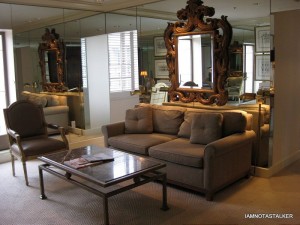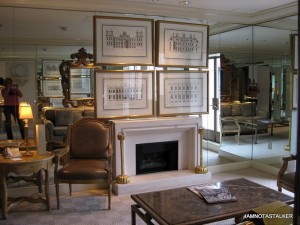 and a large living room complete with a fireplace and big screen plasma TV.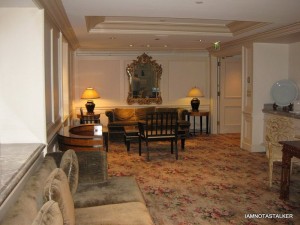 Besides celebs, dignitaries have also been known to visit the hotel.  According to the book Hollywood & the Best of Los Angeles Alive!, in 1992 President Richard Nixon and Soviet Prime Minister Mikhail Gorbachev had a meeting in the Checkers' Library (pictured above).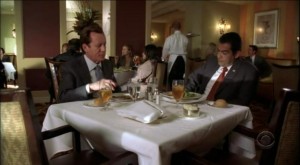 And, of course, Checkers is also a popular filming location!  The hotel was featured twice in a Season One episode of fave television show Shark.  In the episode, entitled "Fashion Police", Sebastian Stark dines at the hotel's award winning restaurant, named Checkers Downtown, with the mayor.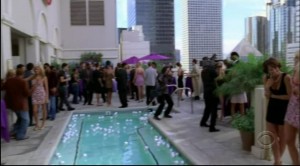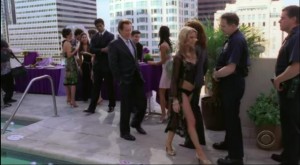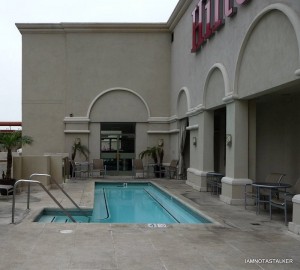 Later on in the episode, Stark arrests fashion designer Z Pruitt (played by Diedrich Bader) at a lingerie party being held at Checker's rooftop pool.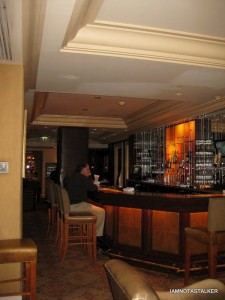 Other productions filmed at the hotel include  Heroes, which used Checker's front entrance, and the now-canceled What About Brian, which  filmed in the lobby area.  In 2003's A View From The Top, Checkers stood in for the Paris hotel where Gwyneth Paltrow stays on a layover.  Paula Abdul and a few of this season's Idols   just recently filmed a segment by the hotel's pool.   And Dancing With The Stars has also shot numerous segments at the hotel.    Just last week Carson Daily filmed a television interview about the birth of his son in the Checkers Lounge (pictured above).  And Stefanie Powers, of Hart to Hart  fame, has filmed numerous PBS specials onsite. 
I HIGHLY recommend stalking Checkers!  It's a really beautiful hotel and I wouldn't hesitate to stay there again.  And if you can swing it, I'd definitely recommend booking a Penthouse room!  🙂
Until next time, Happy Stalking!  🙂
Stalk It: Hilton Checkers Hotel is located at 535 South Grand Avenue in Downtown Los Angeles.  You can visit their website here.
6276