Dirty Dancing – The Classic Story On Stage!
Jun 8th, 2009 | By
Lindsay
| Category:
This and That
Don't miss your chance to catch Dirty Dancing – The Classic Story on Stage live! Dirty Dancing Pantages Theater Tickets are available at Barry's Tickets now!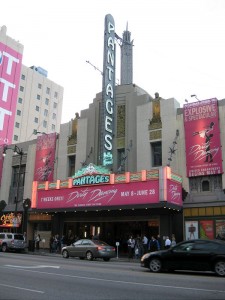 As I have mentioned several times before, Dirty Dancing is one of my absolute favorite movies of all time.   The coming of age flick had such a profound effect on me, in fact, that I can still remember exactly where I was when I saw it for the first time.  That was the summer of 1988 :), I was eleven years old and was on a plane by myself flying to visit some family friends.  Dirty Dancing had been released in movie theatres the previous summer and, to my chagrin, my mom had banned me from seeing it, saying I was far too young.   So, imagine my excitement, when I got on the airplane and opened up my in-flight magazine to see that the movie being shown was none other than Dirty Dancing!  Ha, ha, my mother had been outsmarted yet again!!!  🙂  I can still remember sitting there on that airplane, over 21 years ago, being absolutely mesmerized by the movie and the dancing.  Since that time, I've probably watched Dirty Dancing over one hundred times.  I'm pretty sure I could easily recite the entire movie, word for word, from start to finish, from memory.  So, a few weeks ago, when I saw a flyer on a bulletin board at my acting school advertising the new Dirty Dancing stage show, I just about had a heart attack!  HOW HAD I NOT KNOWN ABOUT THIS????  LOL  I immediately drove home and purchased tickets to the show for the night of June 2nd, which honestly could not have come soon enough!  Finally, last Tuesday night, my fiance and I got to see Dirty Dancing – The Classic Story On Stage!  And let me tell you, I could not have been more excited!!!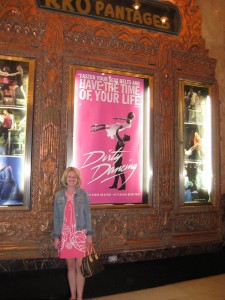 The show was being held at the Pantages Theatre in Hollywood, an absolutely beautiful Art Deco venue and oft-used filming location which I will have to devote an entire blog post to in the near future.  🙂  When we arrived at the Pantages, you could literally feel the excitement in the air!  In the lobby girls were singing "Hungry Eyes", fans waiting in line for the bathroom were comparing their favorite scenes from the movie, and everywhere I turned I kept hearing people say "I am SO excited to see this show!"  I can't tell you how much fun it was to be in a theatre full of people who loved the movie as much as I did and who had so much excitement to see a live performance of it over twenty-two years after its original release!  It was incredible!!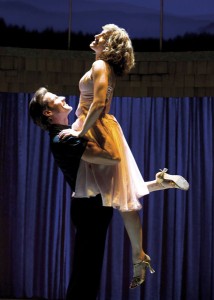 Before seeing the show, I honestly had no idea what to expect.   I was actually a little worried that some aspects of the movie might be changed or modernized for the stage production, but I really needn't have fretted.  Dirty Dancing – The Classic Story On Stage is exactly what its title professes it to be – a real life stage show of the movie.  It is pretty much an EXACT, word for word, replication of the movie performed on-stage right before your very eyes!  Every single aspect of the movie was re-created for the stage show – right down to Baby's many costumes!!!!  It made me want to run right out and buy some white Keds and denim cut-off shorts!  🙂
Quite possibly, the most incredible part of the production – besides the dancing, of course! – was the use of the stage.  I was absolutely AMAZED that they were able to re-create the scenery from the movie in the way that they did for a live stage production.  In the show, scenes take place in Kellerman's Lodge, outside during the big rain storm, driving in Johnny's Chevrolet, and on the fallen log in the forest where Baby and Johnny dance.    Even the "practicing the lift in the water" scene was included in the show!!!!!!!!!!!!!!  I don't want to give too much away here, but to see Johnny and Baby onstage in the water practicing the lift was incredible!!!!!  Through the unique set design – which includes hydraulic lifting panels and a huge LCD projection screen – it was as if the movie came to life right before my very eyes.  The Dirty Dancing set is actually so big that – for the first time in history – the Pantages had to remove the first three rows of seats in the audience to accommodate it AND the orchestra had to be moved from the pitt area to a room underneath the stage!!!!  It truly is incredible to see!!!!!  I was on a huge high throughout the entire performance and once again became that eleven year old girl on the airplane.  The show is A-MA-ZING andI can't recommend going to watch it enough!   If you were AT ALL a fan of the movie, you will LOVE this show!!!  You can watch a preview of Dirty Dancing  by clicking in the box above.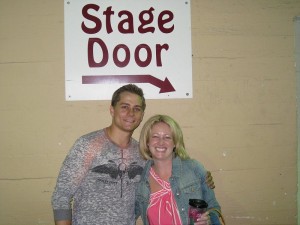 And, just when I thought my night couldn't possibly get any better, I also go to go BACKSTAGE!  Yes, you read that right!  I GOT TO GO BACKSTAGE at Dirty Dancing – The Classic Story On Stage !!!   In a very lucky twist of fate, while planning my surprise engagement party, my mom just happened to meet the mother of one of Dirty Dancing's ensemble cast members, Jamie Bayard.   So, I just had to ask to be put in contact with him in the hopes that he could possibly take me on a backstage tour after the show.  And, sure enough, he did!!!  Besides starring as a dancer in Dirty Dancing, Jamie is a United States and World West Coast Swing Champion, a Latin/Ballroom Champion, a Salsa and Musical Theatre professor at Loyola Marymount University, and he was a top twenty finalist on Season 4 of So You Think You Can Dance. 🙂  You can visit his website here.  Jamie honestly could NOT have been nicer and spent a good twenty minutes talking with us about the show and showing us around backstage.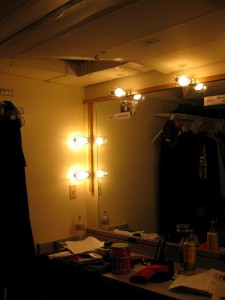 On our tour, we got to see Jamie's dressing room;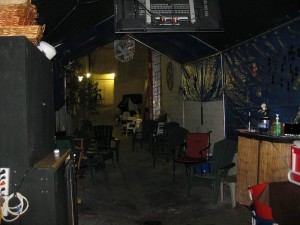 the outdoor "green room" complete with plasma TV where the actors hang out while not onstage;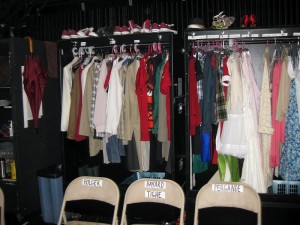 the costumes;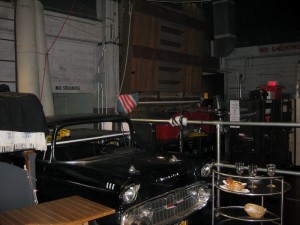 Johnny's car;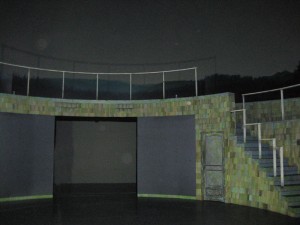 and the Dirty Dancing stage!!!!!!!!!!!!   I was absolutely freaking out over the fact that I was STANDING ON THE DIRTY DANCING STAGE!  I mean, who the heck am I to be standing on the DIRTY DANCING STAGE????  LOL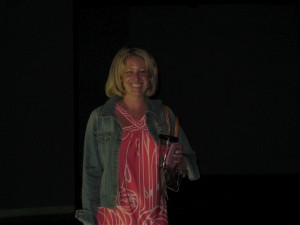 Of course, I just HAD to have my fiance take a picture of me standing on the stage, but for some incredibly odd reason, beknownst only to him, he decided to zoom in for a close up while taking the photograph!   So, basically, since no part of the Dirty Dancing stage is visible in the above photograph, I have what amounts to what might as well be a picture of me standing in my own living room!  LOL   Men, I swear!!!!
Seeing the show and going backstage was an absolutely incredible experience for me.  A big THANK YOU to Jamie for affording us the opportunity!!! 🙂   And, as I said before, if you are in the area, Dirty Dancing – The Classic Story On Stage is a MUST-see!!!!
UPDATE:
Sadly, Dirty Dancing – The Classic Story On Stage will be ending its Los Angeles run this upcoming Sunday, June 28th.  So, you know what that means!  There are only five days left to catch this phenomenal stage show before it leaves Southern California for good.  In other news, just last week, on June 17th to be exact, Dirty Dancing welcomed its 5 MILLIONTH audience member worldwide.  The award winning show first premiered in Sydney, Australia in 2004 and has since opened in thirteen different cities across the world including Hamburg, Berlin, London, Toronto, Boston, and Los Angeles.  Don't miss your opportunity to see what all the fans are raving about.  Visit Barry'sTickets.com today to book your tickets before it's too late!
Until next time, Happy Stalking!  🙂
Stalk It: Dirty Dancing – The Classic Story On Stage is playing now through June 28th at the Pantages Theatre, which is located at 6233 Hollywood Boulevard in Hollywood.  You can visit the official Dirty Dancing website here.  Tickets are available at Barry'sTickets.com.
8908