The Old School House
Jul 6th, 2009 | By
Lindsay
| Category:
Celebrity Homes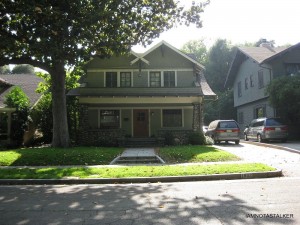 A few weeks ago, while out stalking, Mike, from MovieShotsLA, and I decided to pay a little visit to the house where Luke Wilson lived and set up his fictional Lamdba Epsilon Omega fraternity in the 2003 comedy Old School.  The house is located on a quiet, tree-lined street that has long been a favorite of location scouts.   South Pasadena's Bushnell Avenue has shown up in everything from the movies Back to the Future and  Ghost Dad  to the television series thirtysomething.  I promise to devote a future post to the other famous homes located on the oft-filmed street, but today's post will be dedicated solely to the Old School  house.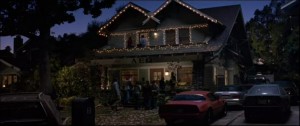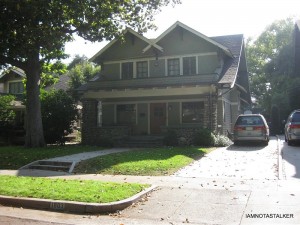 I am happy to report that aside from a few minor changes, the Old School  house looks exactly the same in person as it appeared onscreen.   Unfortunately, the sun was shining very brightly the day we stalked the house, so my pictures did not turn out very good.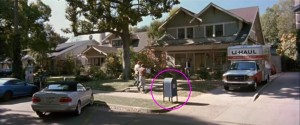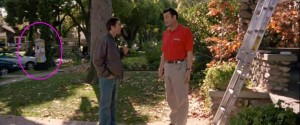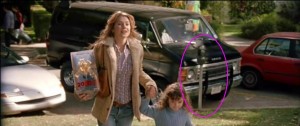 Because the Old School  house was supposed to be located very close to, or as Vince Vaughn says "practically on", a college campus, producers brought in a mailbox, a kiosk, and several parking meters to make the area look less residential.  They also created fake parking places in front of the home, much like was done at the nearby Bedtimes Stories  house.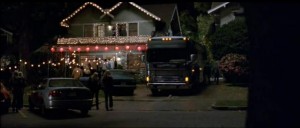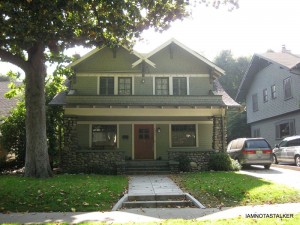 The house shows up many times throughout the movie, most notably as the site of Vince Vaughn's Mitch-A-Palooza Party, where he hires Snoop Dogg to perform.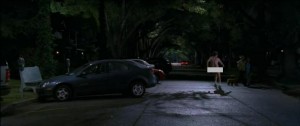 Will Ferrell's streaking expedition was also filmed in front of the Old School  house.  Before heading over to Honolulu Avenue in nearby Montrose, Frank-the-Tank tries to lead his fellow Mitch-A-Palooza partiers on a streaking trip down Bushnell Avenue.  Unbeknownst to him, he is the only one streaking.  LOL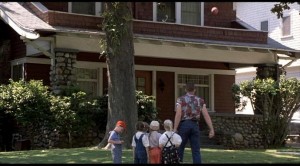 My friend and fellow stalker Owen, informed me that the Old School  house was also used in the 1989 flick Back to the Future II.  In the movie, bully Biff  steals a little kid's ball and tosses it up onto the balcony of the Old School  house.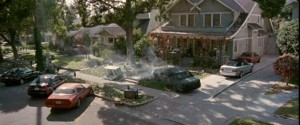 In a very random side note, the Old School  fraternity house actually belonged to Will Ferrell at the time of the filming.  In the movie's DVD commentary, Will Ferrel says, "And this was actually my house.   My little craftsman house in Pasadena.  I was cool with it, even though you guys ruined the hardwood floors with all the equipment."   Actors Vince Vaughn and Luke Wilson also took part in the DVD commentary and since there was quite a bit of joking around going on during their talk, I can't say with absolute certainty that the house ever actually belonged to Will.  He very well could have just been joking around.  But he does continally refer to the house as being his throughout the entire commentary, so I think it might actually be true.  At one point he even said that his wife was extremely upset when she saw the house set up for the post-Mitch-A-Palooza scene (pictured above).   According to property records, the home was sold to a new owner in 2006, so while I can't say for sure that Will owned it during the filming of Old School, I can say he for sure that he doesn't own it anymore.
Until next time, Happy Stalking! 

Stalk It: The Old School  house is located at 1803 Bushnell Avenue in South Pasadena.  The house located at 1727 Bushnell was used as both Lorraine's 1955 house in Back to the Future and Michael J. Fox's house in Teen Wolf.  George McFly's 1955 house is located at 1711 Bushnell, while Biff's from Back to the Future Part II is at 1809.  At 1710 Bushnell is the home that was featured as Ken Olin and Mel Harris' in  the television series thirtysomething.   Ghost Dad  was filmed at both 1615 and 1621 Bushnell.  I will write a more detailed post on all of those locations at a later date. 

9883