The "Mr. Deeds" Soda Fountain
Aug 17th, 2009 | By
Lindsay
| Category:
Movie Locations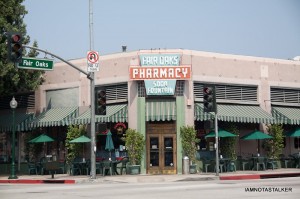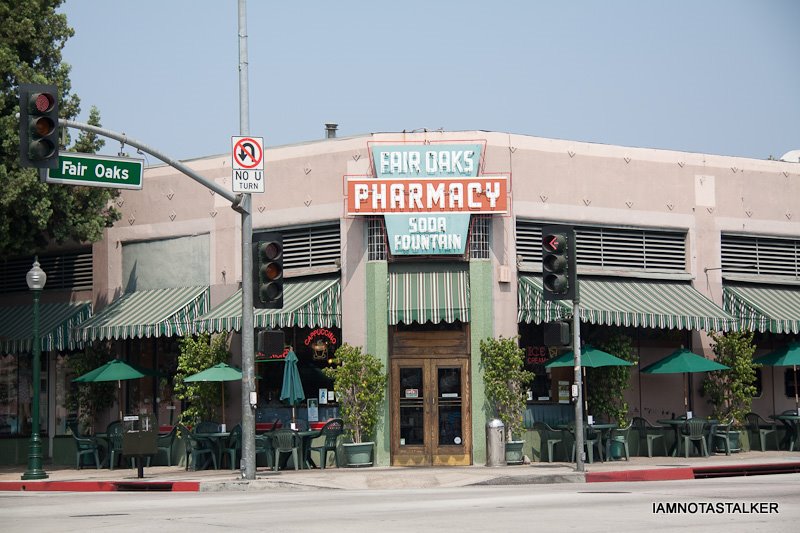 A few weeks ago, while giving my good friend Kerry and her husband a stalking tour of the Pasadena area, we happened to drive by South Pasadena's Fair Oaks Pharmacy and Soda Fountain, which was used in the 2002 Adam Sandler comedy Mr. Deeds.  When I pointed out the corner drugstore to Kerry and told her of its cinematic history, she got so excited that she just about had a heart attack right there in my car!!!!  LOL  It was then that I realized that I had yet to blog about the tiny restaurant and that I really needed to do so.  So, here goes!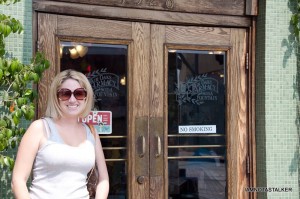 Fair Oaks Pharmacy and Soda Fountain has been a South Pasadena tradition ever since it first opened up its doors way back in 1915!  Yes, you read that right!!!  When the tiny corner drugstore originally opened almost 95 years ago it was named the South Pasadena Pharmacy and it quickly became popular with the hundreds of visitors and tourists travelling down the legendary Route 66 highway.  In the '20s, the drugstore's name was changed to the Raymond Pharmacy, but it still enjoyed the same popularity and success with highway motorists.  In the 1990's, a new set of owners took over, changed the drugstore's name to Fair Oaks Pharmacy and Soda Fountain, and restored the little soda shop to its original state, complete with vintage honeycomb tile floors, authentic pharmacy fixtures, and antique tin ceilings.  An authentic old time soda fountain was even brought in, transported all the way from the Me Gee Pharmacy in Joplin, Mississippi.  Fair Oaks Pharmacy is still as popular amoung tourists and South Pasadena residents today as it was back in 1915.  In recent years, Sunset Magazine even  named it "Best Old Fashioned Ice Cream Parlor in the West" and, according to the Los Angeles Times, it serves up the "Best Ice Cream Sundae".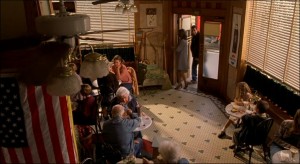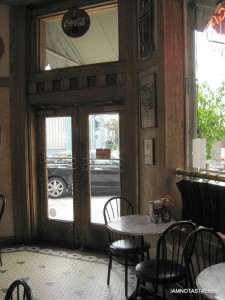 In Mr. Deeds, Fair Oaks Pharmacy and Soda Fountain stood in for the corner drugstore in Westchestertonfieldville, Iowa that Winona Ryder supposedly frequented as a child.  In an early scene in the movie, when describing her hometown, Winona says that she used to walk down to the corner drugstore to get malted milkshakes.  So, when Adam takes Winona back for a surprise visit to her supposed hometown, their first stop is the soda fountain, where the townspeople mistake her for a hunchbacked little girl they used to call "Quasimodo".    LOL   After leaving the Westchestertonfieldville corner drugstore, Adam and Winona head to her childhood home, which I blogged about on Friday.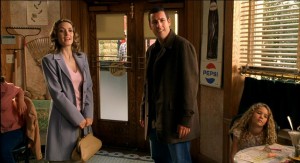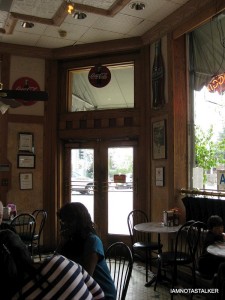 I actually saw the Mr. Deeds  corner drugstore scene being filmed back in 2001.  Well, sort of.  My mom and I used to get our nails done just down the street from the Pharmacy and we happened to drive by on the very day that filming took place.  Well, of course, I took one look at those white trucks out front and immediately made my mom pull the car over so that I could ask what was being filmed.   Sadly, though, we had arrived too late, as filming had already wrapped for the day and the production crew was just finishing its clean up.  🙁  So, unfortunately, I never got to see Adam Sandler or Winona Ryder!!!!  Such a bummer!   But I did ask the employees on duty about the stars and they said that both Adam and Winona were very nice and that Adam had actually stopped to pose for photographs and sign autographs for every single person who asked him.  SO COOL!  Oh, how I wish I had been there!!!!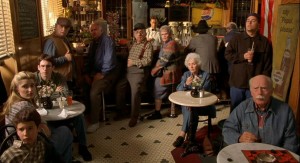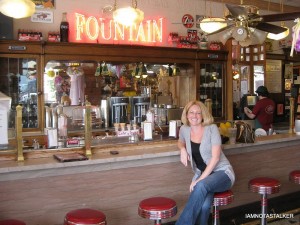 Mike, from MovieShotsLA, and I actually stopped by the Pharmacy a few weeks ago to grab a bite to eat.  Whenever we spend a stalking day together, we, of course, always try to eat lunch at a restaurant that is also a filming location.  🙂  Anyway, I am happy to report that Fair Oaks Pharmacy serves up some GREAT food!  I highly recommend stalking it – and ordering one of their homemade cherry cokes!  🙂  Besides being a real Pharmacy and a restaurant, the shop also sells a wide arrangment of tchotckes, including greeting cards, jewelry, retro memorabilia, vintage candy, make-up, home decor, and gifts.  During the holiday season, the owners really go all out with their decorations.  If you're in the area in October, November or December, I highly recommend stopping by.  🙂  It's worth a trip for the decorations alone!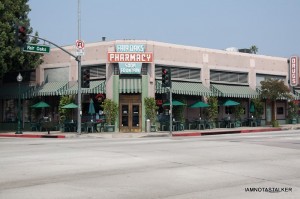 Until next time, Happy Stalking!  🙂
Stalk It: Fair Oaks Pharmacy and Soda Fountain, aka the Mr. Deeds  soda fountain, is located at 1526 Mission Street in South Pasadena.  They are open Monday through Saturday from 9 am to 9 pm, and Sundays from 10 am to 7 pm.  You can visit their website here.
11398