Pete's Tavern
Nov 12th, 2009 | By
Lindsay
| Category:
Sex and the City Filming Locations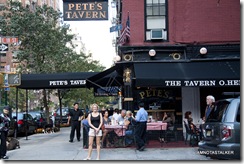 Yet another Sex and the City location that I stalked while in New York last month was a spot that touts itself as New York's oldest continuously operating bar and restaurant.  And while there are actually quite a few watering holes claiming to be New York's most long-established, Pete's distinguishes itself thanks to the fact that it first opened up in 1864 – when Abraham Lincoln was in office! – and has never closed since.  Like not ever!  Not in the 30's during Prohibition – when it was disguised as a flower shop – nor more recently during the city-wide blackout of 2003.  No, the small tavern on the corner of East 18th Street and Irving Place has been in existence as a drinking establishment of some sort or another for over 145 years!  And because it's also a frequent filming location, I just had to stalk the place!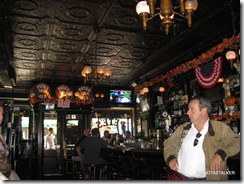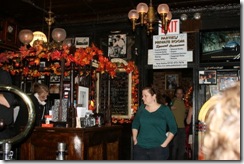 Beginning in 1852, the space which Pete's now occupies contained a small grocery store, so while it's entirely possible that liquor was sold on the premises as far back as that year, the place didn't officially become a tavern until 1864.  The original bar was named the Portman Hotel and it enjoyed a 35 year run, until 1899 when brothers Tom and John Healy purchased the establishment and re-named it Healy's Cafe.  In 1932, a man named Pete Belles came on the scene and changed the bar's name to Pete's Tavern, as it has remained to this day.  And, thankfully, despite a high rate of ownership turnover, aside from the name, little else at the establishment has been altered since 1864.  Even the decor and the original rosewood bar have been left largely untouched since the drinkery's opening almost a century and a half ago!   And I'd say chances are pretty good that a hundred and fifty years from now, Pete's will still look very much the same as it does today.  Love it!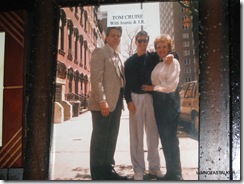 Pete's Tavern has long been something of a celebrity hotspot.  In fact, the watering hole's walls are absolutely covered in photographs of its many rich and famous clients. I so love it, by the way, when restaurants display pictures of their celebrity patrons on the walls!  🙂   Just a few of the celebs who have dined at the tavern include Ben Stiller, Mike Meyers, Bruce Willis, Natalie Portman, James Gandolfini, Zack Braff, Ed Burns, Harvey Keitel, Jeremy Sisto, Julia Stiles, Johnny Depp, and Tom Cruise (pictured above).  The Kennedy family has also long had ties to the tavern. Joe Kennedy was the one who provided the place liquor during Prohibition, JFK dined there with Jackie on more than one occasion during his presidency, and their son, JFK, Jr., also became a regular patron years later.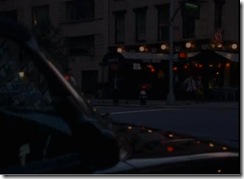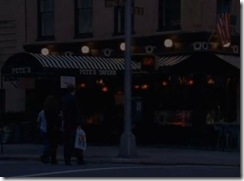 Pete's has also appeared in countless film and television productions over the years.  Robert Mitchum grabbed a drink there in the 1962 movie Two for the Seesaw and it was also at Pete's that Kramer set up a sting operation involving Jerry's nasally accountant in the Season 5 episode of Seinfeld entitled "The Sniffing Accountant" (pictured above).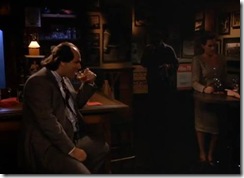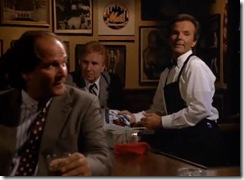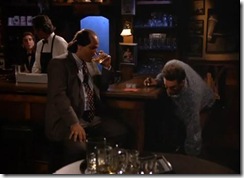 And while the real Pete's was used for the establishing shots shown in that episode, the bar's interior (pictured above) was actually a set that was built on the CBS Radford lot in Los Angeles where Seinfeld was filmed.  You can watch Seinfeld's Pete's Tavern scene here.  Pete's also popped up in the movies Ragtime, Endless Love, Across the Sea of Time, The Guru, and in an episode of Law and Order.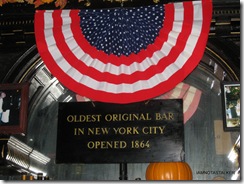 Pete's Tavern is probably most famous for its significance in literary history, though. Not only did legendary author O. Henry set his short story "The Lost Blend" at the bar, which he called "Kenealy's" in the tale, but in 1904 he wrote the "The Gift of the Magi" while sitting in one of the eatery's booths.  That very booth is still in existence to this day and even boasts a plaque commemorating the occasion.  Children's author Ludwig Bemelmans also penned the first Madeline book at Pete's – on the back of one of their menus, no less!  🙂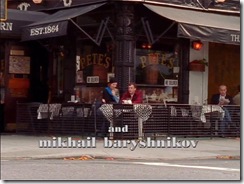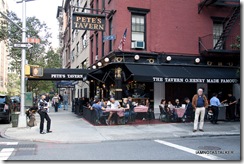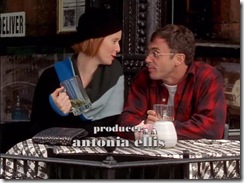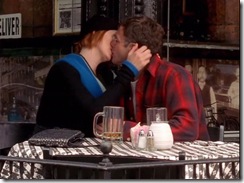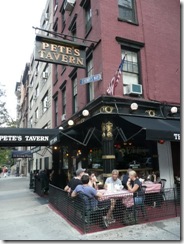 Aside from the celebrity patrons and historical significance of the place, I actually wanted to stalk Pete's Tavern for one reason and one reason alone – because it was there, on the restaurant's front patio and over $3 beers, that Miranda Hobbs proposed to longtime boyfriend Steve Brady in one of my very favorite Sex and the City  episodes of all time – the one entitled "The Ick Factor".  I honestly cannot say enough about that particular episode!  It's just simply one of the series' best!  In fact, I just got sucked into watching the entire thing AGAIN while making screen captures for this post.  LOL  Sadly, though, because Pete's front patio was absolutely jam packed while we were stalking the place, we weren't able to sit in the exact spot where Sex and the City  was filmed.  But even though I had to settle for indoor seating, I still could NOT have been more excited to finally be dining at Pete's!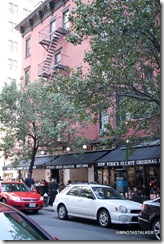 I honestly cannot recommend stalking Pete's Tavern enough!  The food was excellent, the staff was super-friendly and also quite knowledgeable about the bar's filming history, and the ambience was one hundred percent old New York!  I absolutely loved the place!  My only beef with the establishment is the fact that their chicken fingers meal is only made available to those patrons sitting at the bar, which I, unfortunately, wasn't.  🙁  Being that chicken strips are my favorite food, I was pretty bummed out that I couldn't order them from where I was seated.  So much so, in fact, that I almost made our entire group of seven move over to the bar.  LOL  Memo to Pete's staff –chicken fingers are not just a bar food.  I mean heck, I'm even serving them at my wedding, for Pete's sake (and yes that pun was intended LOL)!   So, do us all a favor and please, please, please put the chicken fingers on your regular menu for all of us lowbrow foodies to enjoy.  🙂
Until next time, Happy Stalking!  🙂
Stalk It: Pete's Tavern is located at 129 East 18th Street, near Gramercy Park, in Manhattan.  You can visit their website here.
14068