The "Beautiful Girls" Houses
May 12th, 2010 | By
Lindsay
| Category:
Movie Locations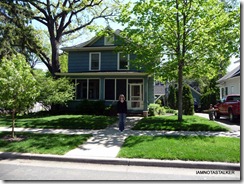 As I remarked last week, one of my very favorite films of all time is the 1996 flick Beautiful Girls.  But, being that no one that I've mentioned the movie to as of late has ever even heard of it, I'm guessing it was pretty much a sleeper hit, despite its all-star cast.  Nevertheless, I've absolutely loved the film ever since it first came out almost fifteen years ago and have probably seen it no less than thirty times.  So, when I found out that my dad had been accepted to the Mayo Clinic in Minnesota, a light bulb immediately went off in my head, as I had a somewhat vague recollection that Beautiful Girls had been filmed in the North Star State.  A quick visit to the movie's IMDB filming locations page confirmed my beliefs – the entire thing had been shot on location in the Land of 10,000 Lakes!  So, I immediately called upon "the Team" – aka fellow stalkers Owen, Chas from Itsfilmedthere, and Mike, from MovieShotsLA – to see if they could help me track down some of the locales featured in the flick, which they, sure enough, did.  Amazingly enough, just a few days later, Owen sent me an email with an attachment and, let me tell you, I just about died upon opening it.  Somehow he had gotten his hands on the master location list from the movie – a document which detailed EACH AND EVERY LOCATION WHERE BEAUTIFUL GIRLS WAS SHOT!  I'm not kidding!  I was so excited I just about had a heart attack right then and there!  I had hoped that one of the Team would be able to track down the homes belonging to Willie (aka Timothy Hutton) and Marty (aka Natalie Portman) in the flick, but never in my wildest dreams did I ever think that I'd be able to stalk pretty much every location which appeared in the movie.  THANK YOU, OWEN!  🙂
For those who have yet to see Beautiful Girls – which I am rapidly discovering is most people! – the movie centers around a young piano player named Willie Conway, who returns to his hometown, the fictional Knights Ridge, Massachusetts, in order to attend his high school reunion and to make some life-changing decisions about his future.  While home, he spends time with his old high school buddies and meets his new next-door neighbor, a precocious thirteen year old named Marty, whom he immediately befriends.  According to Wikipedia, screenwriter Scott Rosenberg came up with the idea for Beautiful Girls while spending time in his hometown of Boston while waiting for a response from Disney about a little script he had just submitted to them titled Con Air.  He said, "It was the worst winter ever in this small hometown.  Snow plows were coming by, and I was just tired of writing these movies with people getting shot and killed.  So, I said, 'There is more action going on in my hometown with my friends dealing with the fact that they can't deal with turning 30 or with commitment' – all that became Beautiful Girls."  Director Ted Demme said of the setting of the film, "[I] wanted to make it look like it's Anytown, USA, primarily East Coast.  And I also wanted it to feel like a real working-class town."  Demme found his Anytown, USA in the city of Stillwater, Minnesota, where most of the sites from the movie are located, including the two I most wanted to stalk – the homes belonging to Willie and Marty.
I am very happy to report that Willie's house, which is pictured above, looks very much the same today as it did back in 1996 when Beautiful Girls was filmed – minus the snow, of course.  As fate would have it, the owner of the property happened to be outside when we arrived to stalk the place and he truly could NOT have been nicer.  And, although he didn't purchase the home until 2005, long after Beautiful Girls had been filmed, he knew quite a bit about the movie and what areas of the house had been used in it. 
As you can see in the house's real estate listing from 2005, the interior scenes were not actually filmed on the premises.  The home's real life interior is absolutely gorgeous, while its onscreen counterpart was pretty dismal and dreary.  In the movie, Marty comments to Willie, "It's a lonely house, you don't mind me saying."  And I have to say that the set dressers and production designers did an excellent job of building a set which did, indeed, look very lonely.
According to the now-owner, the only "interior" of the house that was used in the movie was the second story window, from which Willie talks to Marty late one night in a set-up which Marty describes as "Romeo and Juliet – the dyslexic version."  😉
Marty's house is located right next-door to Willie's, and it, too, looks much the same as it did in the movie.
The only difference I noticed is that the fence which surrounded the property in the movie is not there in real life.
And, of course, I just had to re-create the scene in Beautiful Girls is which Marty is shown "mashing snow" in her side yard – even though there was no actual snow for me to mash.   🙂
And I was SUPER excited to discover that the little space under the house where Marty stored her sled in the movie was there in real life, too.  So darn cool!  I can't tell you how heartwarming it was for me to stalk these two residences, as almost all of my favorite scenes from Beautiful Girls took place there.  If you are at all a fan of the movie, I highly recommend stalking the houses as they are sure to bring back some great memories.
On a side note – my absolute favorite scene from Beautiful Girls was the ice-skating scene with Marty and Willie, which you can watch by clicking above.  And while I did not get to stalk the lake where that scene was filmed, I do know its location, thanks to Owen.  For those who are interested, Marty and Willie's ice skating lake is Lake William, which is located on Minnetonka Boulevard in Shorewood, Minnesota. 
BIG, HUGE THANK YOU to Owen for finding this – and every other Beautiful Girls – location for me!  🙂 
Until next time, Happy Stalking! 🙂
Stalk It: Willie Conway's house from Beautiful Girls is located at 1337 2nd Street South in Stillwater, Minnesota, about 25 miles east of Minneapolis.  Marty's house is located right next-door at 1341 2nd Street South.
20120