Casey's Irish Pub
Jun 22nd, 2010 | By
Lindsay
| Category:
Movie Locations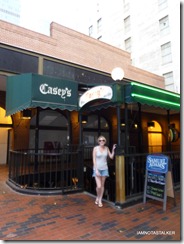 One location that I have been wanting to stalk for what seems like ages now is Casey's Irish Pub (aka Casey's Bar & Grill), a historic Downtown Los Angeles watering hole that has appeared in COUNTLESS movie and television productions throughout its more than thirty year history.  I first found out about the bar over six months ago while doing some online research on locales featured in the first X-Files movie and the place has been high up on my "To Stalk" list ever since.  But until this past weekend, I had yet to make it there.  My delay in visiting the bar was not for lack of trying, though, believe me.  For some reason, every time my fiancé and I found ourselves in the area, Casey's Irish Pub was, unfortunately, closed.  I've lost track of the amount of thwarted Casey's stalking attempts that were actually made, but, trust me, the number is higher than you can count on one hand.  Thankfully though, this past Saturday night, fate finally intervened and my fiancé and I found ourselves just a few blocks away from Casey's during a time when the bar was actually open!  YAY!  And, even though I was in a fairly bad mood at the time – unfortunately, there is still some health drama going on with my dad and I also recently found out that one of my closest friends is ill, so it's not exactly a happy time for me – we decided to stop in anyway.  And I am SO glad that we did, because my spirits were lifted almost immediately upon walking through Casey's beveled-glass doors.
The two-story building where Casey's now resides was first constructed in 1916 and originally housed a general store on its street level and a Turkish bath on its basement-level.  In 1924, the general store and bathhouse were closed and an upscale restaurant named B&M Cafeteria was opened in their place.   The former general store space was transformed into B&M's main dining room and the former Turkish bath location became the kitchen area.  In the years following, the restaurant went through numerous changes of ownership and several different restaurant incarnations, until 1969, when it took on the name of Casey's Irish Pub.  Casey's owners had the two-level property completely revamped, most notably moving the entire structure thirty feet back from the street in order to make room for an enclosed basement-level patio.  After changing hands – but not its moniker – a few more times, in 2007 Casey's was acquired by the nightlife development company 213 – the very same company that was also responsible for restoring the popular Cole's Restaurant a few years back.   (Once again I must apologize for the ultra-blurry photographs that appear in this post.  I STILL cannot figure out how to use my new camera and I am growing seriously annoyed!  UGH!)
Casey's Irish Pub is absolutely HUGE (over 10,000 square feet!) and features a gorgeous mahogany bar, hand-pressed tin ceilings, a live-music stage, a dart room, a billiards room, and several private event areas, including the "Captain's Quarters" (pictured above).  Not only is the bar's ambiance fabulous and unique, but the food is also INCREDIBLE, despite what the reviews on Yelp state.  As I've mentioned numerous times in the past, I am an INCREDIBLY picky eater, especially when it comes to chicken, and I have to say that Casey's serves up some of the best food in L.A.  My fiancé and I especially loved their famous pub fries – which are an absolute must-have while dining at Casey's – and their Cobb salad.  The staff there could also NOT have been nicer and one of the bartenders even went so far as to take me on a little mini-tour of the place, which is how I got the above-pictured photographs of the Captain's Quarters.  🙂  Love it!
The thing I was most excited about, though, was the fact that Casey's not only serves champagne – and good champagne, at that – but they serve it in old-school champagne glasses, ala the kind Marilyn Monroe was always pictured drinking out of.  So darn cool!  I honestly can't recommend stalking Casey's enough!!!!  I can pretty much guarantee its a place that stalkers and non-stalkers alike will appreciate!
Walking through the doors of Casey's Irish Pub is truly like stepping back in time and it is not very hard to see why filmmakers have returned there again and again over the years to capture the place's unique ambiance on film.   And, thanks to the bar's definite New York vibe, it is most often portrayed as being in a city other than Los Angeles.  In 2002's Mr. Deeds, Casey's stands in for the New York bar where Babe Bennett (aka Winona Ryder) went to drown her sorrows after being rejected by Longfellow Deeds (aka Adam Sandler).
In the first X-Files movie, Casey's appeared as the Washington, D.C. bar where cutie Fox Mulder (aka David Duchovny) met Dr. Alvin Kurtzweil (aka Martin Landau) for the first time.
Ironically enough, though, for the scenes which supposedly took place outside of the bar, producers filmed at a different location entirely, yet they chose to use the actual Casey's name on the exterior signage.  Casey's real-life exterior is pictured above and, as you can see, it is located below street-level and looks nothing like the exterior shown in The X-Files.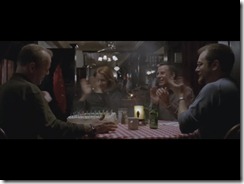 In 2006's 16 Blocks, Casey's stood in for the New York bar where Detective Jack Mosby (aka Bruce Willis) celebrated his birthday.
In Charlie Wilson's War, Casey's was featured as the Washington, D.C. watering hole where Congressman Charlie Wilson (aka Tom Hanks) took his lady friend Joanne Herring (aka Julia Roberts) for a drink before leaving on a trip to the Middle East.
In Good Night and Good Luck, Casey's pops up as the New York bar where Edward R. Murrow (aka David Strathairn), Fred Friendly (aka George Clooney), and their co-workers wait to read the reviews of their just-aired See It Now television special about Senator Joseph McCarthy.  Ironically enough, according to the movie's DVD commentary, Casey's was one of only two non-studio locations used in the filming of Good Night and Good Luck – the other being the Masonic Temple in Pasadena.
In 1998's Fallen, Casey's stands in for the Philadelphia bar where John Hobbes (aka Denzel Washington) met up with his cop friends Lou (aka James Gandolfini) and Jonesy (aka John Goodman) after the execution of a notorious serial killer.
In The Deep End of the Ocean, Casey's stood in for the Chicago, Illinois restaurant where Detective Candy Bliss (aka Whoopi Goldberg) took Beth Cappadora (aka Michelle Pfeiffer) for a bite to eat a few weeks after Sam, Beth's kidnapped son, was returned to her.  Both the interior and the exterior of Casey's were used in the flick.
Casey's has also been featured in numerous episodes of the television series Mad Men, including the Season 1 episode titled "The Hobo Code", where it stood in for P.J. Clarke's, the famed, real life 125-year old watering hole located in Manhattan. 
Casey's also popped up in the Season 2 episode of Mad Men titled "For Those Who Think Young", as the spot where Don Draper (aka Jon Hamm) is shown eating a steak and eggs breakfast after learning from his doctor that he is not in the greatest of health.  The bar was also apparently featured in an episode of CSI, although I am not sure of which particular episode.
Until next time, Happy Stalking!  🙂
Stalk It: Casey's Irish Pub is located at 613 South Grand Avenue in Downtown Los Angeles.  The restaurant is open from 11:30 a.m. to 11 p.m. each Monday through Wednesday, from 11:30 a.m. to 2 a.m. each Thursday through Saturday, and from 3 p.m. to 11 a.m. each Sunday.  You can visit the official Casey's website here.
21305