The "Forgetting Sarah Marshall" Apartment Building
Jul 5th, 2010 | By
Lindsay
| Category:
Movie Locations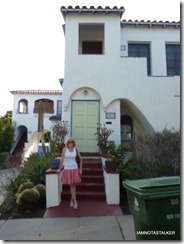 A couple of weeks ago, fellow stalker Owen set out upon a mission to try to track down the Spanish-style apartment building where Peter Bretter (aka Jason Segal) lived in the 2008 romantic comedy Forgetting Sarah Marshall.  He emailed a few screen captures of the building to me and to the rest of "the team" – aka Mike, from MovieShotsLA, and Chas, from ItsFilmedThere – and, while my first instinct was that the dwelling was located somewhere in Hollywood, most likely in the same neighborhood as Brenda Leigh Johnson's duplex from The Closer, I just couldn't seem to locate it.  Thankfully though, Owen also called upon master stalker Gary, curator of the Seeing Stars website, who ended up tracking the place down.  Thank you, Gary!  As it turns out my instincts were way off – the building was not located in Hollywood as I had originally thought, but a few miles northeast of it in the Los Feliz section of Los Angeles.  So, last weekend, after what had amounted to a more-than-month-long hiatus due to my dad's illness, I finally, finally resumed my stalking habit and dragged my fiancé out to Los Feliz to see the Forgetting Sarah Marshall apartment.  YAY!
Because the vast majority of Forgetting Sarah Marshall was filmed on location at Oahu's Turtle Bay Resort, Peter's building is actually only featured in a few scenes in the movie, most notably the scene in which Peter's step-brother Brian (aka Bill Hader) stops by the apartment after Peter's landlord reports seeing smoke coming out of his unit.
And I am very happy to report that Peter's building looks almost EXACTLY the same in person as it did onscreen in the movie.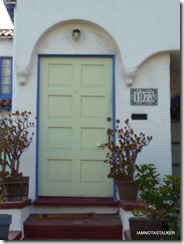 In fact, the only difference I noticed was the color of the front door, which was white in Forgetting Sarah Marshall, but is now painted a light green.  The building is SUPER cute – and super colorful – in person and is located in an adorable little neighborhood.  I highly recommend stalking it!
   On a side note – A few months ago, while my fiancé and I were trying to decide where to go for our upcoming honeymoon, I, of course, made mention of the Turtle Bay Resort, which, besides Forgetting Sarah Marshall, has also been featured in episodes of Murder, She Wrote and the reality series The Big Break and was used as the main location in the 2004 series North Shore, which starred Brenda Walsh herself, Shannen Doherty.  Sadly though, my fiancé immediately put the kibosh on that one as he had no desire to honeymoon in Oahu, which has the stigma of being known as Hawaii's most crowded island.  All was not lost, though, as we ended up booking a week at my girl Jen Aniston's favorite vacation spot – Cabo San Lucas, Mexico.  🙂  I SO wanted to stay at her favorite resort there – One&Only Palmilla, which also just so happens to be the the site of Spencer and Heidi's November 2008 elopement – but unfortunately, rooms there START at $1,000 per night.  Yes, you read that right – the lowest priced room at One&Only Palmilla is $1,000 per night!  Not kidding!  Don't worry, though, we will OF COURSE be stopping by there to grab a bite to eat at some point during the honeymoon.  Fellow stalker David asked me a few weeks ago if I would be stalking on my honeymoon.  And my answer to that question is OF COURSE!  I mean, don't you know me at all by now?  😉
Big THANK YOU to Gary from Seeing Stars for finding this location!
Until next time, Happy Stalking!  🙂
Stalk It: The Forgetting Sarah Marshall apartment building is located at 1973 Palmerston Place in Los Feliz.
21570