The Walt Disney Family Museum in San Francisco
Aug 9th, 2010 | By
Lindsay
| Category:
This and That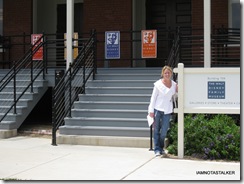 Last Sunday morning, after checking out of the spectacular San Francisco loft where my bachelorette party was held, my friend Nat and I headed over to the historic former Presidio Army Base to stalk the recently-opened Walt Disney Family Museum.  Knowing what a Disney freak I am, Nat figured that the museum would be right up my alley, which it, of course, was!  The Walt Disney Family Museum, which was founded by Walt's heirs through the Walt Disney Family Foundation, first opened a little under two years ago on October 1, 2009.  After the Presidio Army Base closed down in 1989 and the property was taken over by the US National Parks Service five years later, the Walt Disney Foundation set about renovating three of the former bases' main buildings to house their new museum.  And while it might seem a bit random to open a gallery about the world's most famous animator on a former Army Base, I must say that the place's setting is nothing short of spectacular!
As you can see in the above-pictured photographs, the museum boasts absolutely gorgeous – albeit majorly fog-filled – views of the Golden Gate Bridge.  Amazingly enough, I had never actually heard of the museum before this past weekend and was shocked to discover that the legendary imagineer had a museum dedicated to him in the City by the Bay, because, as far as I knew, he had no connection to the area.  As it turns out, though, Walt's eldest daughter Diane Marie Disney, moved to Northern California in the early 1970's and still lives there to this day.  Because the museum focuses on the history of Walt's life and career and boasts a massive collection of memorabilia from both, it makes sense that it would be opened in the city where his closest living heir now lives.  And once you see the museum's breathtaking surroundings, it makes sense why Dianne chose to honor her father there.
The Walt Disney Family Museum consists of ten permanent galleries, each of which focuses on a different aspect of the icon's life, including his early years, his arrival in Hollywood, his animation, the historical 1937 production of Snow White and the Seven Dwarfs, his marriage to Lillian Disney, and, of course, the creation of Disneyland.  Sadly, though, no photographs of any kind were allowed in any of the galleries.  Pictures were allowed in the museum's lobby area, though, and, amazingly enough, Walt's Academy Award collection was displayed there, so I did get to snap some photographs of that.  As it turns out, Walt Disney has the distinction of holding the record for most Academy Award nominations received by a single person in the history of the Academy – he was nominated a whopping 59 times!  He won 26 of those nominations, including an honorary Oscar in 1939 for Snow White and the Seven Dwarfs, the first full-length animated feature film.  The award, whose inscription reads, "Snow White and the Seven Dwarfs, recognized as a significant screen innovation which has charmed millions and pioneered a great new entertainment field", is the only Academy Award of its kind and befittingly features one large Oscar statuette flanked by seven miniature ones.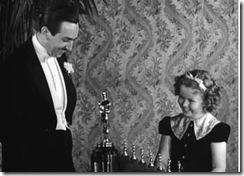 I cannot tell you how absolutely floored I was to be seeing that Oscar, which was presented to Walt at the 11th Annual Academy Awards Ceremony by a then-six-year-old Shirley Temple, in person.  I had first read about the one-of-a-kind award many, many years back and had thought it was just about the coolest thing ever!  So, when I read in the museum's brochure that some of Walt's Oscars were on display in the main lobby, my mind immediately flashed to that Snow White award, but, because it is so valuable, never in my wildest dreams did I think it would actually be there.  So, as you can imagine, I just about died upon seeing it!  So darn cool!
Also on display in the museum's main lobby is a furniture set that used to be housed inside of the Disney Family Apartment, which is located inside of the original Disneyland theme park, above the Disney Fire House on Main Street U.S.A.  I had never actually heard about the private apartment until fellow stalker Kerry pointed it out to me last summer after the two of us had eaten at Club 33.  According to Kerry, whenever Walt stayed at the apartment, the lamp in the main window was lit to alert Disney Cast Members of his presence.  Following his death on December 15, 1966, the lamp was turned on and has been left permanently lit ever since.  The Walt Disney Family Museum also boasts an absolutely GINORMOUS 3-D diorama of the "Disneyland of Walt's imagination" in one of its galleries and if you look at it closely you can see an apartment located above the Disney Fire House – and there is, of course, a lamp flickering inside of the window.  So darn cool!  You can read more about the Disney Family Apartment and see photographs of the inside of it here.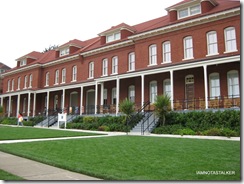 The Walt Disney Family Museum is an absolutely fascinating place and I honestly can't recommend stalking it enough.  It was such a treat to learn about the life and times of the man who created one of my favorite places in the entire world.  Walt truly was a fascinating person and I was amazed to discover how little I knew about him before visiting the museum.  More than just an innovator and an animator, Walt was a family man who loved his wife and children above all else.  It was absolutely heartwarming to learn about the incredible love that he had for them.  I also highly recommend stalking the museum's gift store as they have some FABULOUS items in there!
Big THANK YOU to Nat for taking me stalk this location!
Until next time, Happy Stalking!  🙂
Stalk It: The Walt Disney Family Museum is located at 104 Montgomery Street, on the former Presidio Army Base, in San Francisco.  You can visit the museum's official website here.   The museum is closed on Tuesdays and all major holidays.  Tickets for adults are $20, seniors and students are $15, children ages 6-17 are $12.50, and children ages 6 and under are free.
22897