The Old Zoo In Griffith Park
Oct 22nd, 2010 | By
Lindsay
| Category:
Movie Locations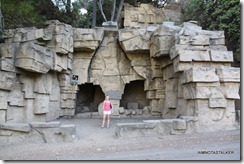 Just around the corner from the Griffith Park Merry Go Round, which I blogged about yesterday, is the location of the park's former zoo – an abandoned site  which is commonly referred to as the Old Zoo or the Old Zoo Picnic Grounds.  I first found out about this location from favorite stalking tome Hollywood Escapes: The Moviegoer's Guide to Exploring Southern California's Great Outdoors and was shocked to discover that in the almost decade that I've lived in Southern California and in all of the stalking that I have done during that time period, I had never before even heard the place mentioned.  As "Javier J." commented in his Yelp review of the Old Zoo, "It's one of the biggest in-plain-sight secrets of Old Los Angeles".  So incredibly true!  After stalking it a couple of weeks back, I couldn't help but wonder why more about the landmark location has not been written.  It is a truly AMAZING place!
The Old Zoo property was first built almost a century ago in 1912 and continued to operate until 1965, when a new zoo attraction was opened in another area of Griffith Park, about two miles north of its predecessor.  Thankfully, but for reasons I am not entirely sure of, the city had enough foresight to keep the former property intact for the future citizens of L.A. to enjoy and explore.  The Old Zoo site, which had been completely renovated and expanded in the mid-1930s, is an absolutely AMAZING piece of L.A. history and is comprised of such structures as animal enclosures;
aviaries and monkey habitats;
rows of cages of all different shapes and sizes;
and a house-like structure of some sort . . .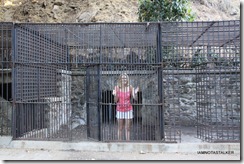 . . . all of which are (unbelievably) open and accessible to the public.
I was absolutely shocked upon our arrival to discover that there were no fences or gates barring access to the former enclosures and cages.  Guests are pretty much given a free pass to wander around and explore the entire property, including the insides and employee-access areas of the former bear habitats.  SO incredibly cool!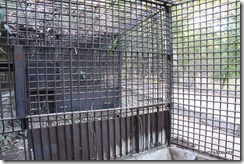 The website WebUrbanist recently named the Old Zoo one of its Seven Most Amazing American Abandonments and I have to say that I completely agree with that sentiment.  While stepping inside one of the old abandoned cages, I turned to my husband and said, "How lucky are we to live in a city that has stuff like this?"  It still boggles my mind – and I often have to pinch myself to actually believe it – that we live in such an amazing place!  Each week we get to go on these incredible stalking adventures during which we discover countless hidden and historic gems located throughout the city.  Los Angeles seems to be an unending treasure trove of unique and historically significant locations and I still can't believe that I am fortunate enough to have the opportunity to explore them all.  I've said it before and I'll say it again – I SO HEART L.A.!  🙂
And the Old Zoo is, of course, a filming location!  It stood in for the Central Park Zoo in the 1996 movie Eraser in the scene in which Lee Cullen (aka Vanessa Williams) and U.S. Marshal John Kruger (aka Arnold Schwarzenegger) face off against U.S. Marshal Robert Deguerin (aka James Caan). 
The zoo was redressed significantly for the shoot in order to make it appear as if it was an actual working zoo.  Fake entrance gates, resembling those of the real  Central Park Zoo in New York, were added to the property for the filming . . .
. . . as was a large indoor exhibit.  According to the Hollywood Escapes book, Eraser director Chuck Russell said of the site, "The whole complex is a fun bit of L.A. history.  The Old Zoo's barred cages supplied a nice retro touch.  More importantly, the area's grassy field was big enough for us to land a helicopter, fire weapons, and crash vehicles through our prop gates, activities we were not allowed to do in New York."
In the 2004 flick Anchorman: The Legend of Ron Burgundy, the Old Zoo stood in for the San Diego Zoo where Lee Wong, the Panda, gave birth.
The big bear tank that Veronica Corningstone (aka Christina Applegate) and Ron Burgundy (aka Will Ferrell) fell into is not there in real life.  It was in actuality just a set that was built solely for the filming.
The Old Zoo was also featured in the Season 2 episode of CSI: New York titled "Zoo York".  (I blogged about this same episode yesterday, as it was also filmed at the nearby Griffith Park Merry Go Round).  In the episode, the property stood in for the Central Park Zoo where a dead body is found in one of the tiger cages.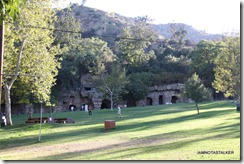 The Old Zoo also appeared in the movies Human Nature, Crazy Mama, and The Star.
Until next time, Happy Stalking!  🙂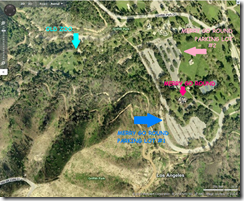 Stalk It: The Old Zoo is located inside of Griffith Park, just northwest of the Merry Go Round which I blogged about yesterday.  It is a bit tricky to find, but the best way to get there is to take Los Feliz Boulevard to Crystal Springs Drive and head north.  Make a left onto Fire Road and bypass the first parking lot that you come to (denoted with the blue arrow in the above map).  Keep driving until you reach "Merry Go Round Parking Lot #2", which is denoted with the pink arrow in the above aerial view.  Walk due west from that lot and follow the signs to the Old Zoo Picnic Grounds.
24893