Patrick Swayze's Former Apartment
Jan 12th, 2011 | By
Lindsay
| Category:
Celebrity Homes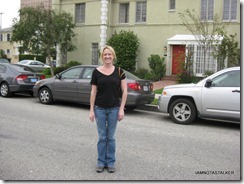 Ever since the Grim Cheaper purchased the Dirty Dancing: Limited Keepsake Edition DVD for me this past Christmas, I have become just a tad bit obsessed with finding out more behind-the-scenes information about the movie.  So, the other day I picked up Patrick Swayze and wife Lisa Niemi's autobiography which is titled The Time of My Life and, let me tell you, I've hardly been able to put it down since.  It is an absolutely FABULOUS book and Patrick Swayze was an absolutely AMAZING man!  The unbridled love that he had for his wife is riveting to read about and heartbreaking at the same time, now that he has since passed away.  Let's just say that theirs was not a typical Hollywood union.  Patrick married Lisa on June 12, 1975, when he was only 22 years old and she was only 19, and they remained together and completely devoted to one another throughout the rest of his life.  While the majority of married actors surrounding him on movie sets were conducting on-set affairs during filming, Lisa accompanied Patrick on each and every single shoot – whether he was filming in Los Angeles or in the far reaches of Africa – and I think that is part of what made their marriage so strong.  If you have any interest whatsoever in learning more about Patrick Swayze or the movie Dirty Dancing, I honestly cannot recommend The Time of My Life enough!  The book also doles out quite a few stalking addresses, including one of the couple's first Los Angeles apartments, which I ran right out to stalk yesterday!
Patrick and Lisa first moved to Southern California in 1979, after spending several years together in New York.  The two first lived in the ground-floor apartment of a home owned by two older women in the Hollywood Hills.  Of his new landlords, Patrick said, "The women upstairs were real characters, and one of them seemed always to have a tumbler of scotch in her hand."  LOL  In 1980, after living in that apartment for a little over a year, the couple moved to what Patrick describes in the book as "an apartment in West Hollywood, on La Jolla Avenue".  Well, as soon as I read those words I knew I was going to have to track down that apartment!  Thankfully though, Patrick made the job extremely easy for me by putting in the book the above photograph of himself, along with his mother and Lisa, standing outside of their apartment in which an address number of "623" was visible.  Because he had described the place as being in West Hollywood, I had assumed it would be located on North La Jolla Avenue, but when I searched for that address via Google street view, nothing matched up.  So, I then looked at the building located at 623 South La Jolla Avenue and there was his apartment, looking almost EXACTLY the same as it had back in the early 80s when the Swayzes had called the place home!. So incredibly cool!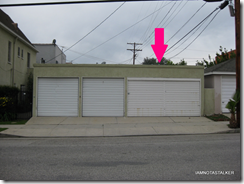 In the book, Patrick says that his apartment came with a two-car garage that he and Lisa turned into a woodworking shop as the couple ran a carpentry business on the side, which kept them afloat financially in between acting gigs.  I am guessing that their garage was the one denoted with the pink arrow in the above photograph.
But, for whatever reason, in the above photograph, which was included in the book, Patrick is shown posing with his brand new DeLorean car outside of the garage belonging to the neighboring apartment building.  That area, too, though looks very much the same today as it did back in the early 80's.
Shortly after moving into the apartment, the Swazyes found themselves broke with only $3 in their bank account.  Patrick says, "The saving grace of our new apartment was the orange tree in the backyard, which ended up feeding us for the difficult weeks we spent trying to pull our financial life together.  We managed to scrape together enough coins to buy a jar of peanut butter and a loaf of bread, and that, with the oranges, was what we ate."  Just a few weeks after going broke, fate intervened and Patrick landed the lead role of "Bandit" in the television series Renegades.  His career took off from there.  The couple continued to live in the La Jolla Avenue apartment for the next few years as Patrick's fame continued to grow.  But after the television series North and South aired in 1985, the actor became a household name and the Swayzes had to move from their beloved, but entirely-too-accessible apartment.  Patrick says, "Lisa and I also realized that we'd now have to take steps to protect our privacy.  Even in those pre-internet days, there were still paparazzi all over Hollywood, not to mention some overzealous fans who weren't above staking us out at home.  When I got the role of Orry Main, it allowed us to buy a five-acre ranch, where we could keep horses and enjoy nature without being disturbed."  That ranch, which they named "Rancho Bizarro and which Lisa still owns to this day, is located on Lemoncrest Avenue in Sylmar, about twenty miles north of Los Angeles.
Another location that Patrick talks about in The Time of My Life – one that I was absolutely DYING to stalk until I found out that it was no longer there – was the Harkness Theater at Lincoln Center in New York.  In September of 1973, Patrick, who was at the time a member of the Harkness Ballet Company, was hired to pose for artist Enrique Senis-Oliver who had been commissioned by oil heiress Rebekah Harkness to paint a large mural in her new theatre, which was then just being built.  The enormous painting, which Patrick says "stretched from the stage to the very top of the proscenium and down both sides", was titled Homage to Terpsichore and it featured hundreds of nude men dancing.  Incredibly, all of those men were Patrick!  Over a period of several weeks, Enrique had used the actor/dancer as the model for each and every single male featured in the mural!  Sadly though, that mural is no longer as the Harkness Theatre was torn down in 1977, only a few short years after it had been built.  So incredibly sad!  You can see photographs of part of Patrick's mural here and here.
Until next time, Happy Stalking!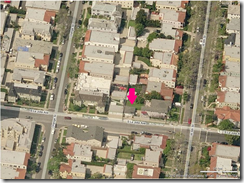 Stalk It:  Patrick Swayze's former apartment building is located at 623 South La Jolla Avenue in Los Angeles.  The garage Patrick posed in front of with his new DeLorean is located just north of his apartment building and is denoted with a pink arrow in the above aerial view.
27912