Dwight's Bar from "Burlesque"
Apr 26th, 2011 | By
Lindsay
| Category:
Movie Locations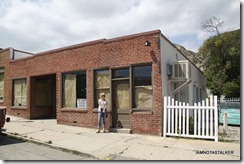 One Burlesque filming location that I had been trying to track down for what seems like forever now was Dwight's Bar, which was featured in the movie's opening scene as the supposed small-town, Iowa-area watering hole where Ali (aka Christina Aguilera) worked.  Even though the bar only appeared in one very brief, blink-and-you'll-miss-it establishing shot, I was absolutely obsessed with stalking the place.  For whatever reason, though, I just could not seem to find it.  Then, like magic, just a couple of weeks ago fellow stalker Gary, from the Seeing Stars website, added the location to his Burlesque filming locations page and I just about died of excitement.  The place was, of course, immediately added to the top of my To-Stalk list and I dragged the Grim Cheaper right on out there this past weekend. 
As it turns out, Dwight's Bar is actually a vacant storefront located in Piru, California, a small town (according to Wikipedia its population was only 1,196 as of a 2000 census!) situated about 50 miles north of Los Angeles in the Santa Clara River Valley.   Piru (pronounced Pie-Roo) was originally founded in 1887 by a wealthy religious book publisher named David C. Cook.  Thanks to its Anytown, U.S.A.-look and proximity to L.A., Piru is an oft-used filming locale and has appeared in hundreds upon hundreds of productions over the years, including Melrose Place, Charmed, Murder, She Wrote, Desert Fury, A Star is Born, Enough, The Dukes of Hazzard, The California Kid, Twilight Zone: The Movie, Torque, Van Helsing, Happy, Texas, Reno 911!, and Race to Witch Mountain.  Piru's historic downtown area, which consists of a tiny, one-and-a-half-block stretch of small brick buildings and which is the area of town most often seen onscreen, was reconstructed after being largely destroyed during the 1994 Northridge Earthquake.  Since that time, many of the downtown storefronts have remained vacant, which only adds to the appeal of the place for location scouts as the area can be dressed to fit any sort of production.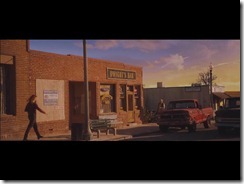 Which was exactly what happened with Burlesque.  For the opening scene of the movie, Downtown Piru was dressed to look like a small farming town in rural Iowa where Ali lives.  And even though its appearance onscreen was brief, I cannot tell you how cool it was to see this location in person!
Amazingly enough, according to the DVD commentary with Burlesque director/writer Steve Antin, the interior of Dwight's Bar, where Ali sang "Something's Got A Hold On Me", was actually a set created inside of a soundstage at Sony Studios in Culver City and was not built inside of the vacant Piru storefront as I had originally believed.
Because I had spent so many hours searching for Dwight's Bar, I immediately recognized the place when it popped up recently in the Season 7 episode of Desperate Housewives titled "Farewell Letter", in the scene in which Gaby (aka Eva Longoria) and Carlos Solis (aka Ricardo Chavira) return to Gaby's hometown of Las Colinas, Texas.  In the episode, the two pull up in a taxi directly in front of the storefront that was used in Burlesque.
Later on in that same episode, Gaby and Carlos venture out to a restaurant where Gaby is fawned over as the local girl who made good.
In real life, that restaurant is known as the Railway Café and it has appeared in quite a few movies over the years, including 1984's Rhinestone.
The actual interior of the Railway Café also appeared in the episode.
Sadly though, the place was closed when we showed up to stalk it, so I was only able to snap a few pictures of the interior through the front windows.
The Railway Café can also be seen in the background of Alicia Keys' "Un-thinkable (I'm Ready)" music video, which starred cutie actor Chad Michael Murray.
Un-thinkable (I'm Ready) video–Piru
You can watch that video by clicking above.
And, thanks to the Seeing Stars website, I learned that just across the street from Dwight's Bar is Poncho's Place, the eatery which stood in for the supposed Bon Temps, Louisiana-area Crawdad's Family Style Restaurant where Sam Merlotte (aka Sam Trammell) took Sookie Stackhouse (aka Anna Paquin) for a slice of pie in the Season 1 episode of True Blood titled "Sparks Fly Out". 
And even though I have never seen even one episode of True Blood, since we were right there I just had to stalk it.
The real life interior of Poncho's Place also appeared in the episode.
Although, as you can see in the above photographs, it was decorated rather differently for the filming.
Big THANK YOU to Gary, from the Seeing Stars website, for finding this location! 
Until next time, Happy Stalking! 

Stalk It: Dwight's Bar from Burlesque is located at 3951 East Center Street in Piru.  Poncho's Place, aka Crawdad's Restaurant from the "Sparks Fly Out" episode of True Blood, is located just across the street at 3944 Center Street in Piru.  And the Railway Café from the "Farewell Letter" episode of Desperate Housewives is located half a block down the road at 3989 Center Street in Piru.
32853