The Julien's Auctions Hollywood Legends Exhibition
May 3rd, 2011 | By
Lindsay
| Category:
This and That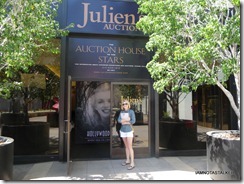 This past Saturday afternoon I dragged the Grim Cheaper out to stalk the Hollywood Legends exhibition currently being hosted by Julien's Auctions, a Beverly Hills-area auction house which specializes in entertainment memorabilia, celebrity artifacts, and high-profile estates.  Prior to each auction it hosts, Julien's opens up its exhibition hall to the public offering them a free and extremely rare opportunity to view unique and priceless Hollywood memorabilia in an exceptionally up-close-and-personal manner, which I  think is just about the coolest thing ever!  For those who have been reading my site for a few years, you will remember that back in April of 2009 my father and I attended the Michael Jackson: The Collection of the King of Pop exhibit which was put on by Julien's Auctions at the former Robinsons-May building on Santa Monica Boulevard in Beverly Hills.  To say that my dad and I both absolutely LOVED the MJ exhibit would be a gross understatement.  Seeing all of the King of Pop's Neverland Ranch effects laid out in the same exact manner in which they were once laid out in his actual home was one of the coolest experiences of my life.  So when I heard that Julien's would be hosting a Hollywood Legends exhibition featuring items once belonging to Marilyn Monroe, Lady Diana, and Lucille Ball and props and memorabilia from such productions as Terminator 2: Judgment Day, Batman & Robin, The Brady Bunch, and Heroes, I jumped at the chance to stalk it.
And I have to say that I was NOT disappointed.  The people at Julien's Auctions truly could NOT have been nicer and the GC and I were invited to wander quite freely around the exhibit hall and take all of the photographs of the place that we wanted.  Quite a bit of the auction is made up of items of clothing once owned by legendary Sunset Boulevard actress Gloria Swanson.  Most of the outfits were purchased by Swanson during the 1930's and it was absolutely amazing to me to see how stylish they still are to this day, over eight decades later!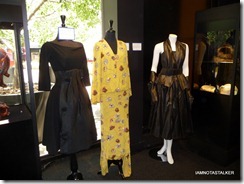 There were several ensembles I could even see myself wearing, including the black Givenchy cocktail dress pictured above and to the left.  Which just proves that some things, no matter how old, never go out of style!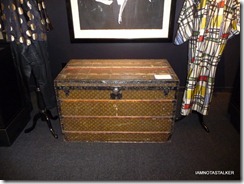 Also on display was a vintage, early-20th-century, flat-top Louis Vuitton steamer trunk that once belonged to Swanson, which I just about died upon seeing!  Oh, what I wouldn't give to own one of those trunks!!!
Two of Lady Diana's dresses are featured at the forefront of the exhibition, which I was BEYOND thrilled to see.  The gown on the left, which was designed by Diana's longtime fashion designer Catherine Walker, was worn by the Princess while on a state visit to India in 1992.  You can see a poster of Diana wearing the dress in the photograph that is pictured above and to the left. 
The gown on the right-hand side was also designed by Catherine Walker and was worn by the Princess on three occasions – first to the 1987 Cannes Film Festival, then for a 1987 portrait sitting with photographer Terrance  Donovan, and finally to a September 1989 performance of Miss Saigon at the Theatre Royal in London.  The two chairs pictured in front of the dresses were used during the 1937 coronation of King George VI (aka the man upon whom the movie The King's Speech was based).
There were also several of Prince Charles and Lady Diana's Christmas cards on display.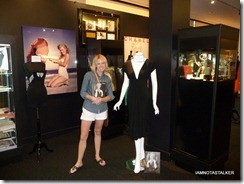 The clothing that I was most excited to see, though, was that which formerly belonged to Miss Marilyn Monroe, including the dress pictured above which the actress wore to a party at the Beverly Hills Hotel in 1958.
The dress was made famous thanks to that fact that a photograph of Marilyn wearing it was used as the cover of Michael Ventura's 1997 book Marilyn Monroe: From Beginning to End.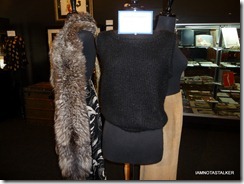 Also on display was a black mohair sweater vest once owned by the actress;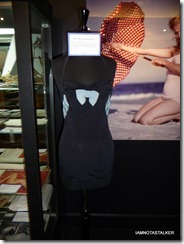 a swimsuit worn by MM in an unknown Metro-Goldwyn-Mayer production;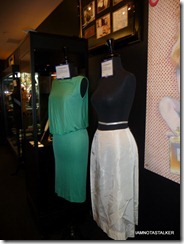 a two-piece silk jersey ensemble designed by Pucci, one of Marilyn's favorite designers, and a satin slip;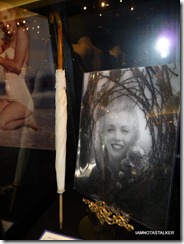 a white umbrella that the starlet used as a prop during a 1949 photoshoot with famed photographer Andre de Dienes, which you can see a picture from here;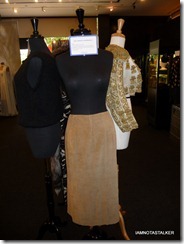 and a tan corduroy skirt.  Because Marilyn is always described as being "curvy", it was shocking for me to see how tiny her clothing actually was.  While I am a small girl, I am fairly certain that there is no way in HECK I could fit into the skirt pictured above, which means that the actress had to have been much smaller in real life than she was typically conveyed.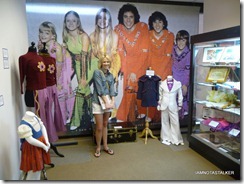 Another huge portion of the Hollywood Legends auction is made up of memorabilia from fave show The Brady Bunch, which I was absolutely floored to see!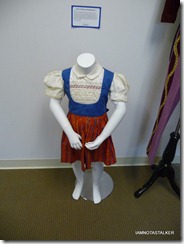 Included in the display was Cindy Brady's (aka Susan Olsen's) costume from the pilot episode of the series titled "Honeymoon";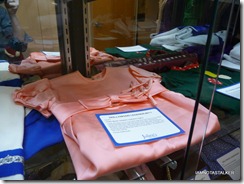 the dress Cindy wore to Mike (aka Robert Reed) and Carol's (aka Florence Henderson's) wedding;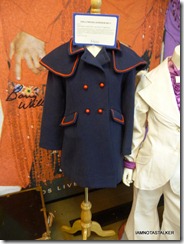 Cindy's jacket from "The Voice of Christmas" episode;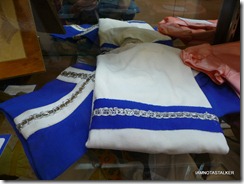 Bobby Brady's (aka Mike Lookinland's) Silver Platters costume from my FAVORITE episode of the series ever, the Season 4 episode titled "Amateur Night";
performance outfits worn by Bobby and Cindy . . .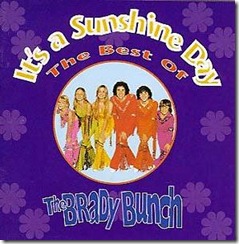 . . . which most fans will recognize from the "It's a Sunshine Day: The Best of The Brady Bunch" album cover;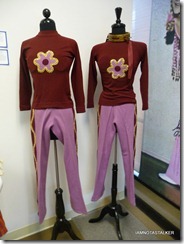 and the outfits worn by Bobby and Cindy during their American Bandstand performance in 1972.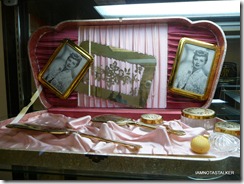 There were quite a few Lucille Ball items featured at the exhibit, as well, including a 12-piece vanity set once owned by the actress;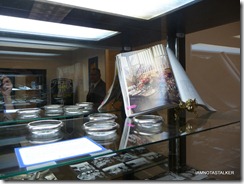 a set of four ashtrays that the actress had on display at her Manhattan apartment, which can be seen in the May 1984 Architectural Digest issue about her home;
an unfinished gown that was being made for her at the time of her death and the tartan blazer she wore in the 1949 film Sorrowful Jones.
Other movie memorabilia included the Edith-Head-designed straw hat worn by Audrey Hepburn during the "How Long Has This Been Going On?" number from the 1957 movie Funny Face;
Alicia Silverstone's Batgirl costume from Batman & Robin;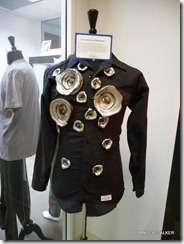 a shirt worn by the T-1000 (aka Robert Patrick) during the chase scene in Terminator 2: Judgment Day;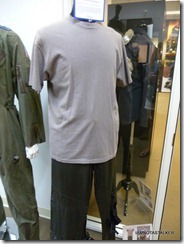 one of Arnold Schwarzenegger's costumes from Terminator 2 . . .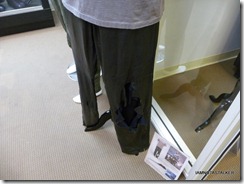 . . . which has a damaged pant leg from the Terminator's liquid nitrogen truck accident, which I thought was SO cool to see;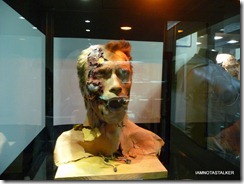 a prop head from Terminator 2, which was SO incredibly lifelike;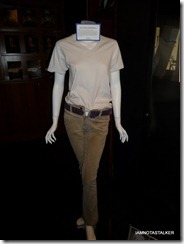 Angelina Jolie's costume from Girl, Interrupted . . .
. . . which, as you can see, is so incredibly tiny that it does not even fit the ultra-teensy mannequin on which it is displayed;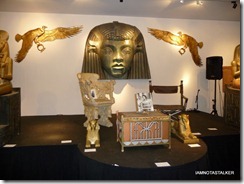 countless set pieces from Cleopatra;
Tom Cruise and John Voight's costumes from the first Mission: Impossible movie;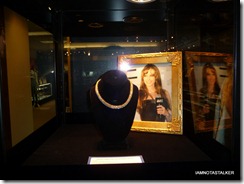 the 35-carat diamond necklace Angelina Jolie wore to the Seoul premiere of Salt in 2010;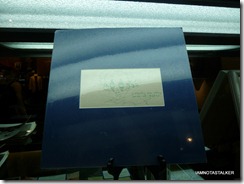 an original drawing by James Dean, which was sketched on a napkin while the actor was at his favorite restaurant, Googies Coffeeshop, which was sadly demolished in 1989; 
and an incredibly realistic-looking "frozen" prop safe which appeared in the Season 3 episode of Heroes titled "Dual". 
I honestly cannot recommend stalking the Julien's Auctions Hollywood Legends exhibition enough!  I had an absolutely FABULOUS time while there and, amazingly enough, the GC even found a few items that piqued his interest, as well.  
Until next time, Happy Stalking! 

Stalk It: The Julien's Auctions Hollywood Legends Exhibition is taking place now through Friday, May 6th at 9665 Wilshire Boulevard, Suite 150, in Beverly Hills.  It is free to attend.   The actual auction will take place on Saturday, May 7th and Sunday, May 8th.  You can learn more about the auction on the official Julien's Auctions website here.
33228