Lucky Strike Lanes in Hollywood
Jul 13th, 2011 | By
Lindsay
| Category:
The Hills Filming Locations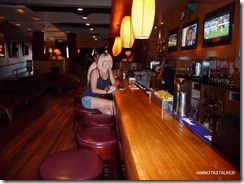 Two weekends ago, while doing some stalking in the Hollywood area, I dragged the Grim Cheaper out to the Hollywood & Highland Shopping Center to grab a quick drink at Lucky Strike Lanes, an oft-used filming location and celebrity hot-spot.  While I had first heard about the bowling alley/lounge when it originally opened eight years ago and knew of its appearance on numerous reality series, for whatever reason I did not have much interest in stalking the place.  Then, a couple of months ago, fellow stalker Lavonna happened to tell me a little bit of trivia about the alley that had me absolutely chomping at the bit to go see it.
Lavonna informed me that when the iconic Hollywood Star Lanes, which first opened in 1960 and was where the majority of the movie The Big Lebowski was filmed, was torn down back in 2003 to make way for a new elementary school, the owners of the soon-to-be opened Lucky Strike decided to purchase all of the wood that comprised Hollywood Star's Lane #7.  They then proceeded to use that wood to construct the bar at their new establishment.  How incredibly cool is that?
They also purchased the exterior neon signage from Hollywood Star Lanes to use as a wall hanging.  Love, love, love it!
As you can see above, Lucky Strike Lanes is a VERY cool little spot.  Unfortunately, I have to say that I was not all that crazy about the food.  And sadly, the GC and I did not have time to do any bowling while we were there, but fellow stalker Lavonna has plans to hit the place up when she comes to visit L.A. in November, so you know what that means – I will definitely be doing a re-stalk! 
As I mentioned above, Lucky Strike Lanes in Hollywood is an oft-used filming location.  In the Season 6 episode of The Hills titled "The Elephant in the Room", Kristin Cavallari, Brodie Jenner, Frankie Delgado, Stacie Hall (aka Stacie the Bartender), and Audrina Patridge and her new boyfriend, singer Ryan Cabrera, spent the evening bowling and flirting at Lucky Strike.
Ryan Cabrera returned to the bowling alley to film the Season 1 episode of the ULTRA-stupid reality show Pretty Wild titled "The Hearing", in which he angers series star Tess Taylor by inviting a friend to accompany them on their date.
Vinnie Chase (aka Adrian Grenier), Eric Murphy (aka Kevin Connolly), Johnny 'Drama' Chase (aka Kevin Dillon), and Turtle (aka Jerry Ferrara) took their girlfriends, one of whom was Gossip Girl's Leighton Meester, to Lucky Strike for an evening of bowling in the Season 1 episode of Entourage titled "Date Night".
In the Season 11 episode of America's Next Top Model titled "Fierce Eyes", J Alexander hosted a runway challenge at Lucky Strike in which the models had to practice walking down the super-slippery bowling lanes while wearing high heels.
In the Season 1 episode of No Ordinary Family titled "No Ordinary Sidekick", Jim Powell (aka Michael Chiklis), along with his family, Stephanie (aka Dexter's Julie Benz), Daphne (aka Kay Panabaker), and J.J. (aka Jimmy Bennett), and their friends Katie Andrews (aka The O.C.'s Autumn Reeser) and George St. Cloud (aka Romany Malco), spend the evening using their super-powers to bowl at Lucky Strike.
And while I had originally believed that the Season 1 episode of fave show 90210 titled "Lucky Strike" was filmed at the Lucky Strike Lanes in Hollywood, as it turns out filming actually took place at the chain's Torrance location, inside of the Del Amo Shopping Center.
And the Season 2 episode of Laguna Beach: The Real Orange County titled "Since You Been Gone" was filmed at the chain's Block at Orange location.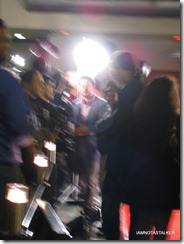 As I mentioned above, Lucky Strike Lanes is also a veritable celebrity magnet. Just a few of the stars who have been spotted there include Drew Barrymore, Liv Tyler, John Mayer, Glee's Cory Monteith, The Bachelorette's Ali Fedotowsky and Roberto Martinez, Demi Moore, Bruce Willis, Rumor Willis, Geena Davis, Robin Williams, Paris Hilton, Nick Carter, Matthew Lillard, Fergie and Taboo from the Black Eyed Peas, Mandy Moore, Judy Greer, Vanessa Hudgens, Courteney Cox, Nicole Richie, Trevor Donovan, Jessica Simpson, and even my girl Jen Aniston.  I once spotted David Arquette walking into the bowling alley for some sort of celebrity event back in December of 2008 and while I tried to take the above photograph of him, as you can see, it did not turn out very well due to the bright lights on the red carpet. You can definitely tell it is him, though.
Big THANK YOU to fellow stalker Lavonna for telling me about this location! 
Until next time, Happy Stalking! 
Stalk It: Lucky Strike Lanes is located at 6801 Hollywood Boulevard, inside of the Hollywood & Highland Shopping Center, in Hollywood.  You can visit the bowling alley's official website here.
36048