Cary Grant's Former Palm Springs Estate
Jul 27th, 2011 | By
Lindsay
| Category:
Celebrity Homes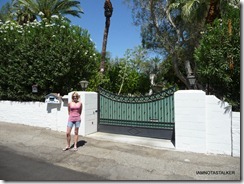 Another Cary Grant location (and I promise that this is the last of them for a while for those who are hoping for a change of pace) that the Grim Cheaper and I stalked while vacationing in the Palm Springs area two weekends ago was the "Cary Grant Estate", aka "Las Palomas", the Andalusian-style, U-shaped farmhouse that the actor called his desert home for nearly two decades.  I came across information about the property, which is currently for sale for a cool $2,995,000, when doing some cyber-stalking while trying to track down the estate belonging to Charlie Rich, which I blogged about yesterday.  And even though Cary's daughter, Jennifer, never mentioned Las Palomas in Good Stuff, her newly-penned memoir about her late father, because we were in the area and because I have recently found myself just slightly obsessed with the movie icon, I decided I just had to stalk the place.
The Cary Grant Estate was originally built in 1927 and was commissioned by Dr. Jacob John Kocher, Palm Springs' very first pharmacist.  When Cary laid eyes upon the property in 1954, along with his then-wife, actress Betsy Drake, it was love at first sight and he immediately set about purchasing the place.  He owned it for the next 18 years and, for a time at least, made the secluded sanctuary, with its large pool, sparkling fountains, trellised arbors, and towering palm trees, his primary residence.  Cary nicknamed the property "Las Palomas", Spanish for "The Doves".  Just a few of the luminaries who visited Cary during the nearly two-decades that he lived at the estate include Howard Hughes, Alfred Hitchcock, Grace Kelly, Sophia Loren, Frank Sinatra, Clark Gable, and Katharine Hepburn.  Grant, a longtime supporter of the U.S. armed forces, also made it a practice of hosting numerous events on the property for the Marine Corp soldiers stationed at the nearby Twentynine Palms military base.  Sometime after Grant sold the home in 1972, it was purchased by professional bodybuilder and three-time-Mr. Olympia-winner Frank Zane.  Upon Zane's departure, the property fell into serious disrepair due to years of neglect.  And then, in 1998, it was rescued by Jane Cowles Smith, an author/doctor who purchased the dilapidated estate and immediately set about a painstakingly-detailed and historically-accurate 11-year renovation process , during which she restored the dwelling to its original grandeur.  She also had the property designated a Class 1 Historic Site by the City of Palm Springs.  Sadly though, as you can see above, not much of the 6-bedroom, 6-bathroom, 6,000-square-foot, ultra-private abode, which sits on 1.54 lush acres of land, can be seen from the street.
Something that can be seen from the street, though, is the estate's mailbox (pictured above).  When Grant first purchased the property, he commissioned his close friend, legendary Los-Angeles-area architect Wallace Neff, to build a second-story addition, consisting of two bedrooms and two baths, above the home's garage.  It is said that at that same time Neff also designed a small-scale replica of Las Palomas to be used as the home's mailbox.  I find it so incredibly cool that that mailbox is still there, almost six full decades later!  LOVE IT!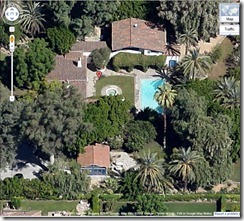 Sadly, the aerial views of the property are not that great, but you can visit the home's real estate listing and see some close-up photographs of the place here and you can read a more in-depth history of the estate here and here.
Until next time, Happy Stalking! 

Stalk It: The Cary Grant Estate, aka Las Palomas, is located at 928 North Avenida Palmas in Palm Springs.
36239