The Cree Estate in Cathedral City
Aug 2nd, 2011 | By
Lindsay
| Category:
This and That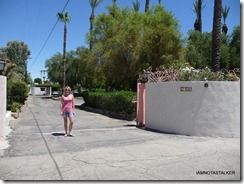 While doing research on Las-Vegas-Dunes-Hotel-owner Charlie "Kewpie" Rich's former Palm Springs home, which I blogged about last Tuesday, I came across some information about another Coachella Valley location where my girl Jen Aniston and former-husband Brad Pitt had once vacationed.  The property is known as the historic Cree Estate in Cathedral City and it is apparently a big-time celebrity hot-spot and wedding venue.  According to this FASCINATING January 2004 Palm Springs Life article, which chronicles the adventures of area location scout Sylvia Schmitt who manages rentals of the Cree Estate, Brad and Jen spent a Thanksgiving weekend at the secluded Spanish-style hacienda a few years back.  Upon their arrival in the desert, Sylvia met up with the famous couple to hand over the property's keys and walk the grounds with them.  As you can imagine, I was literally drooling upon reading those words!  Never in my life have I so badly wanted to be a location scout!  Sigh!  Anyway, at some point during their stay, Sylvia received a late-night phone call from Brad who informed her that the home's dishwasher had broken and was leaking water all over the floor.  Sylvia promptly hired a plumber to go out to the property to fix the leak.  Well, as fate would have it, after the plumber finished working, he ended up hanging out with Jen until about 2 a.m.!!!!  Drool, drool, drool!  How incredibly cool is Jen to hang out chatting with a random stranger until the wee hours of the morning!  I love her even more now after reading that story!  According to Sylvia, the plumber said the experience was "the highlight of his life".  Um, you're telling me!!!!!!  So while vacationing in Palm Springs two weekends ago, I, of course, just had to drag the Grim Cheaper right on out to stalk the estate.
Real estate developer Raymond Cree built his private, 5000-square foot, all-adobe estate, along with two stand-alone guest houses, on a sprawling two-and-a-half-acre plot of land sometime during the 1930s.  The property boasts 6 bedrooms, 6 bathrooms, a whopping 78 palm trees, a regulation-sized tennis court, three separate kitchens, wood-beamed ceilings, white-washed brick walls, a wood-burning fireplace, classical statuaries (including a replica of Michelangelo's David), two jacuzzis, a swim-up bar, a permanent dance floor, and sweeping views of the San Jacinto Mountains.  The estate also features two black-bottomed swimming pools, one of which is the largest privately owned pool in the entire Coachella Valley and was featured by Huell Howser in an episode of his television series Palm Springs.  Sadly, as you can above, though, even though the front gate was open when we showed up to stalk the place, not much of the ultra-secluded property is visible from the street.
But, as I have said before, that is why God created aerial views!  As you can see above, the property is quite magnificent and absolutely enormous.   Other stars who have spent time at the Cree Estate include Christina Applegate and now ex-husband Johnathon Schaech, who got married on the premises on October 20th, 2001, with such celebs as David Faustino, Cameron Diaz, Jared Leto, and hairstylist Ken Paves in attendance.  Apparently, in 2003 the contestants and the crew from The Bachelorette stayed at the Cree Estate for over a month during the filming of the series' first installment starring Trista Rehn, although for the life of me I do not remember that season taking place in the Palm Springs area.  CSI:Crime Scene Investigation's William Petersen also once vacationed at the property.  Being that rates start at $1,500 per night with a three-night minimum, though, this is one Jen location that I seriously doubt I will ever have the opportunity to visit.  But . . . to any of my friends reading this who might be planning a wedding in the near future, I think you should seriously consider the estate as your venue.  I will even go scout it for you, if you want! 

You can see some fabulous close-up and interior photographs of the historic Cree Estate here.
Until next time, Happy Stalking! 

Stalk It: The Cree Estate is located at 67698 Carey Road in Cathedral City.  You can visit the home's vacation rental website here and its wedding website here.
36394