Michael Jackson's Childhood Home in Gary, Indiana
Aug 31st, 2011 | By
Lindsay
| Category:
Michael Jackson Locations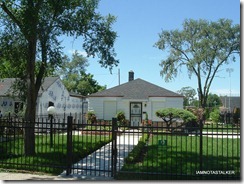 Today's blog is a major, major fail on my part as I had originally intended to write about this location on Monday, August 29th – the day that would have been legendary singer Michael Jackson's 53rd birthday.  The suggestion to write about the King of Pop's childhood home on the anniversary of his birth came from fellow stalker Chas, of the It'sFilmedThere website, who had stalked the Gary, Indiana-area property for me last August, after I had mentioned how badly I wanted to see it in person, and had then sent me photos of it as a surprise wedding gift.  As is the case with most wedding presents, this one was most definitely geared towards the bride. 
But I digress.  Anyway, for whatever reason, I completely forgot about the house when Monday rolled around and instead wrote about Vitello's Italian restaurant from The Deep End of the Ocean.  Ugh!  I am such a blonde sometimes!  So, with the thought that all things are better late than never, I decided to blog  about the location today, in belated honor of my beloved MJ.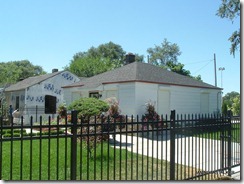 As you can see in the photograph above, Michael Jackson's childhood home, which was originally built in 1949, is miniscule.  The tiny abode, which Joseph and Katherine purchased in 1950 for $8,500, consists of only 2 bedrooms, 1 bathroom, 672 square feet of living space and measures about 100 feet deep by 50 feet wide.  When you consider that at one point in time all eleven members of the Jackson family – Joe, Katherine, Michael, Maureen (aka Rebbie), Jackie, Tito, Jermaine, LaToya, Marlon, Janet, and Randy – lived there, it is almost unbelievable.  According to J. Randy Taraborellli in his book Michael Jackson: The Magic, the Madness, the Whole Story, 1958-2009, of the house Michael once said, "You could take five steps from the front door and you'd be out the back.  It was really no bigger than a garage."  Which, ironically enough, the property lacked.  Taraborrelli explains the living arrangements as such: "Katherine and Joseph shared one bedroom with a double bed.  The boys slept in the only other bedroom in a triple bunk bed; Tito and Jermaine sharing a bed on top, Marlon and Michael in the middle, and Jackie alone on the bottom.  The three girls slept on a convertible sofa in the living room; when Randy was born, he slept on a second couch."  The whole thing is suffocating to even think about!  In August of 1969 Motown Records moved Joe, Michael, and the rest of the Jackson 5 out to Los Angeles where they were put up in various hotels.  In December of that year the rest of the family relocated to California whereupon they all settled into a Mediterranean-style house located at 1601 Queens Road in West Hollywood.  According to Taraborrelli, the living room of their new abode was twice the size of their entire former home in Gary.
Amazingly enough, very little of Michael Jackson's childhood home has changed in the 42-plus years since the family last lived there.  The only major difference is that, shortly after his death, a large marble plaque honoring the fallen icon was placed in the northeast corner of the front yard (pictured above).  Oddly enough, it seems that the Jackson family may still own or be involved with the dwelling somehow.  Property records list the owner of the house as the Anthony Otis Whitehead Trust located at 14126 East Rosecrans Avenue in Santa Fe Springs, California.  So I did some digging on Google and, as it turns out, 14126 East Rosecrans also just so happens to be the business address of Brian Oxman, one-time lawyer for MJ and current lawyer for Joe Jackson.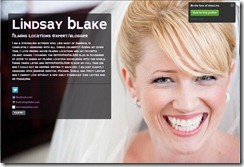 On a side-note: About Me is currently hosting a contest to find the new "face" of their company, a person who will ultimately star in an advertisement that will be featured on a large billboard in Times Square.  I would love to be that new face!  Especially because the grand prize winner will also get a free trip to New York City and we all know how much I absolutely love me some NYC. 

To vote, simply click on the "Vote for this profile!" tab in the upper right hand corner of my About Me page.  For those who have not yet heard of About Me, it is an INCREDIBLY cool company that enables one to build a page with links to all of their various social networking sites, websites, blogs, email addresses, etc., compiling all of their information in one easy-to-find place.  It is basically like a digital business card and I LOVE it.  So please vote!  Who knows, maybe this stalker will get lucky and wind up on a Times Square billboard!  Hey, a girl can dream, can't she? 
Big THANK YOU to fellow stalker Chas, from the It'sFilmedThere website, for stalking this location for me.
Until next time, Happy Stalking!

Stalk It: Michael Jackson's childhood home is located at 2300 Jackson Street, on the corner of Jackson Street and West 23rd Avenue, in Gary, Indiana.  The property is apparently not located in a very safe area, so please exercise caution when stalking it.
37357