Johnie's Coffee Shop Restaurant on Wilshire
Sep 28th, 2011 | By
Lindsay
| Category:
Movie Locations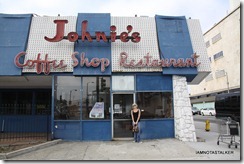 Because I encountered so much filming location misinformation while researching my post on Bob's Big Boy Broiler in Downey last week, I decided that I just had to write a blog about the place's sister eatery, the now-defunct Johnie's Coffee Shop Restaurant on Wilshire Boulevard in the Miracle Mile District of Los Angeles, which has also appeared in countless productions over the years.  So I dragged the Grim Cheaper right on out to stalk the place this past Saturday afternoon.
Johnie's Coffee Shop Restaurant, which was originally named Romeo's Time Square, was built in 1955 by Louis Armet and Eldon Davis, the Googie-style architecture firm that was once deemed the "Frank Lloyd Wright of '50s coffee shops" by author Merrill Shindler in a 2009 Daily Breeze article that is sadly no longer available online.   The Armet and Davis duo was also responsible for creating the Norm's Restaurant on La Cienega Boulevard, the iconic Schwab's Pharmacy on Sunset Boulevard, the now-demolished Holiday Bowl bowling alley on Crenshaw Boulevard, and Twain's Restaurant in Studio City, which was featured in fave movie A Lot Like Love.  The sleek, bright, space-age construction of Romeo's was designed to catch the attention of passing motorists and lure them – and their wallets – in for a bite to eat.
Romeo's Time Square went through several changes in ownership and name in the ensuing years, becoming "Ram's Restaurant" in the 1960s and then, finally, Johnie's Coffee Shop Restaurant shortly thereafter.  In 1994, the property was purchased by the Gold family, owners of the 99 Cents Only Store chain, who sadly shuttered the eatery in 2000.  The building has thankfully remained intact, though, and its parking lot is now being used by a 99 Cents Only Store located nearby.  As you can see above, the store even made use of one of the original Johnie's signs, which I think is so incredibly cool.
In 2003, the Gold family made a few restorations to the shuttered restaurant, including repainting the exterior, fixing the cantilevered roof, and repairing the many burnt-out lights on the exterior neon signage.  According to this July 15th, 2004 article which appeared in the Los Angeles Times, Eric Schiffer, president of the 99 Cents Only Stores, would like to see the place re-open as a restaurant someday.  He said, "This needs to be done in a special way.  We're open to hearing creative uses.  We just don't have time to go out and market the building."  Here's hoping that a savior steps in soon, much like Bob's Big Boy did with Johnie's Broiler in Downey, and restores the historic eatery to its former 1950's glory.  Surprisingly, despite being closed for more than a decade, the restaurant appears to be in pretty good shape.  I was able to snap the above photographs of Johnie's interior through the many windows, on which the shades were, thankfully, not drawn.
Thanks to its futuristic and streamlined design, Johnie's has long been a location scout favorite.  In a very prominent scene from 1988's Miracle Mile, the eatery was where Harry Washello (aka Anthony Edwards) learned that the world was about to end.
In 1992's Reservoir Dogs, Johnie's was where Mr. Orange (aka Tim Roth) met up with his superior.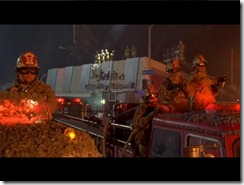 In the 1997 disaster flick Volcano, Johnie's pops up very briefly in the scene in which the firefighters of Los Angeles stand off against the lava from a nearby volcano.
In 1998's Very Bad Things, Johnie's was where Michael Berkow (aka Jeremy Piven) announced to a roomful of confused diners that he had just killed his brother.
In 1998's The Big Lebowski, Johnie's was where The Dude (aka Jeff Bridges) and Walter Sobchak (aka John Goodman) discussed severed toes, victimless crime, and First Amendment rights.
Johnie's popped up in 1998's City of Angels as the spot where Nathaniel Messinger (aka Dennis Franz) told Seth (aka Nicolas Cage) how to become a human.
The diner was featured at the end of 1998's American History X as the place where Derek Vinyard (aka Edward Norton) and his younger brother Danny Vinyard (aka Edward Furlong) stop to grab a bite to eat before heading over to Venice High School.
Johnie's also appeared in the 1999 music video for the Tom Petty and the Heartbreakers' song "Swingin'", which starred The Mentalist's Robin Tunney and which you can watch by clicking here.
And the restaurant showed up in 2004 in Reba McEntire's music video for her song "Somebody".
Reba McEntire – Somebody Video Filmed at Johnie's Coffee Shop Restaurant
You can watch that video by clicking above.
The diner was featured prominently in the 2007 music video for Sean Kingston's "Beautiful Girls", which is SUCH a great song, by the way!  I literally cannot stop listening to it!
Sean Kingston–Beautiful Girls Video filmed at Johnie's Coffee Shop Restaurant
You can watch that video by clicking above.  But be forewarned – it is HIGHLY addictive!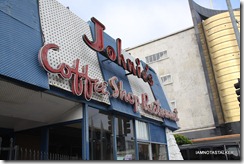 Until next time, Happy Stalking! 

Stalk It: Johnie's Coffee Shop Restaurant is located at 6101 Wilshire Boulevard in the Miracle Mile District of Los Angeles.
39512