Judge Crawford's House from "Fracture"
Dec 7th, 2011 | By
Lindsay
| Category:
Movie Locations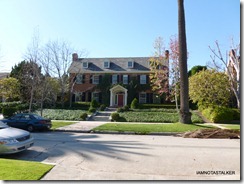 After tracking down the hilltop abode Willy Beachum (aka cutie Ryan Gosling) called home in fave movie Fracture, which I blogged about last Tuesday, I became just a wee bit obsessed with finding the large brick mansion where Judge Gardner (aka Bob Gunton) lived in the flick.  Even though the dwelling showed up only briefly in the movie, because it was pretty much the only location I had yet to track down, I was absolutely itching to find it.  The fabulously extensive Fracture production notes stated that some filming had taken place "at a private residence in Hancock Park" and I assumed that the private residence that was referred to had to be Judge Crawford's.  So I started searching aerial views of the area and after about 45 minutes stumbled upon the right property.  YAY!  And while out and about running some errands in Santa Monica yesterday, I took a little detour through Hancock Park so that I could stalk the place.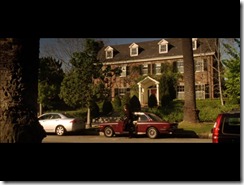 In Fracture, Willy's love interest, Nikki Gardner (aka Rosamund Pike), invites him to her parent's home on Thanksgiving to eat dinner with her family.
Later on in the flick, Willie returns to the house to ask Nikki's father, who is a judge, to sign a court order prohibiting Ted Crawford (aka Anthony Hopkins) from pulling the plug on his comatose wife, Jennifer Crawford (aka Embeth Davidtz).
In real life, the Georgian-Revival-style mansion, which was originally built in 1914, boasts 6 bedrooms, 5 baths, 6,175 square feet of living space, and almost half an acre of land.  The house was designed by Meyer & Holler, the noted Los-Angeles-based architecture firm that was responsible for the Alex Theatre in Glendale, Grauman's Chinese Theatre in Hollywood, Culver Studios in Culver City, and the Egyptian Theatre in Hollywood.  Thanks to the fabulous The Houses of Hancock Park and JCB blogs, I discovered that the property is currently owned by famed Los Angeles interior designer Suzanne Rheinstein and her husband, Fred.  The Rheinsteins purchased the dwelling over thirty years ago and immediately began an extensive redesign of the interior, a lengthy process that was reported on by several home magazines.  The residence is nothing short of GORGEOUS in person and is, ironically enough, exactly the type of spot that my mom and I refer to as a "Thanksgiving House" – an idyllic and picturesque dwelling that makes one think of coming home for the holidays.  I mean, the place could not look any more like it came out of a Folgers Coffee Christmas commercial if it tried! 

The interior of the abode, which is BEAUTIFUL, was featured prominently in Suzanne's 2010 book At Home: A Style for Today with Things from the Past.  (The pictures featured above remain the sole and private property of Suzanne Rheinstein and photographer Pieter Estersohn.)
As you can see above, the photographs featured in Suzanne's book match up to what appeared onscreen, which means that the real life interior of the home, along with some of the furniture, was also used in the filming.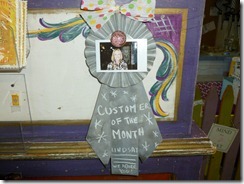 On a side-note that falls into the obscenely-cool category – yesterday I dropped by my very favorite store, Lula Mae in Old Town Pasadena, and just about died when Marci, the adorable owner who has come to be my good friend, informed me that she had just named me the shop's very first "Customer of the Month".  Um, LOVE IT!  For those who have never been there, LA Weekly recently awarded Lula "Best One-Stop Gift Shopping 2011" and in their write-up said, "You know that friend of yours who always upstages the $10 bottle of wine you pull out of your purse when she shows up at parties with the most adorable, clever little trinket wrapped perfectly in a colorful vintage bag?  Well that smug b*tch probably has been shopping at Lula Mae for years now."  LOL Couldn't have said it better myself!  The store is so insanely cute, colorful, and fun that I find myself dropping in at least five times a week.  It has become an addiction!  Lula Mae is the first place I head whenever I am depressed, have writer's block, or just need a good giggle!  So to be named their Customer of the Month was just about the best honor I could have received!  Thank you, Marci, Julia, Alison, and Lula Mae!  <3
Until next time, Happy Stalking! 
Stalk It: Judge Crawford's house from Fracture is located at 435 South Windsor Boulevard in the Windsor Square section of Hancock Park.  Lula Mae is located at 100 North Fair Oaks Avenue in Old Town Pasadena.
43243