The "Larry Crowne" Apartment Building
Jan 6th, 2012 | By
Lindsay
| Category:
Movie Locations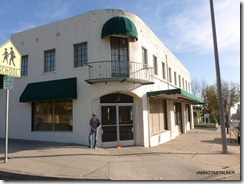 Two additional Larry Crowne filming locations that I stalked this past weekend were Talia's, the vintage clothing store owned by Talia Francesco (aka the adorable Gugu Mbatha-Raw), and the apartment building where Larry Crowne (aka Tom Hanks) lived at the very end of the flick, both of which are housed inside of the same corner edifice in Altadena.  I found this locale thanks to fellow stalker Mike, from MovieShotsLA, who, while doing some online research on the movie, came across an old listing on the Cazoodle Apartment website which not only announced that Tom Hanks' Larry Crowne apartment was then available for rent, but also provided its exact location.  Yay!  So last Saturday afternoon, while doing some New Year's Eve stalking, I dragged the Grim Cheaper right on out there to stalk the place.
The non-descript two-story building shows up several times in Larry Crowne – first in the scene in which Talia, while driving around on her scooter, notices a "For Rent" sign in a vacant storefront window and stops to take a closer look.
It next appears in the scene in which Larry stops by Talia's new store to reprimand her for dropping out of East Valley Community College.  It is while there that he informs her that her new tattoo does not in fact spell out "courageous spirit" in Japanese as she had intended, but "soy sauce".  LOL
And finally, the building is featured in the ending scene in which Larry invites his former teacher Mercedes Tainot (aka Julia Roberts) to his new apartment for some homemade French toast.  (If you'll notice in the first screenshot pictured above, the apostrophe in the signage for Talia's store is ostensibly missing.  Larry was right – Talia definitely should have stayed in school. Then perhaps she would not have made such an egregious error. 
It looks like I need to submit this one to When Write is Wrong, my good friend Owen's typos and grammatical errors blog.)
As you can see above, Talia's store (or should I say Talias store?
) was dressed heavily for the filming of Larry Crowne and does not look at all in person as it did onscreen.  The building was vacant during the time of the filming (and still is today), so producers were able to do with it what they wanted without having to disturb any operating businesses.
And although we are only given a brief view of the interior of the store through the front windows in the movie, I just had to snap some pics of it, nonetheless.
When I first watched Larry Crowne, I had assumed that the little courtyard area outside of Larry's apartment had been a set due to the fact that it was so incredibly idyllic and picturesque.  But I am very happy to report that the courtyard is, in fact, real!
Sadly though, as you can see above, the stairwell that leads to the second floor, where Larry's courtyard is located, is gated and not accessible to the public.  Boo!  If only I had known about this place back when it was available for rent, I totally would have scheduled a viewing!
You can catch a minor glimpse of the courtyard if you venture across the street, though.  According to the Cazoodle Apartment listing that Mike found, the 530-square-foot, 1-bedroom, 1-bath unit where Larry supposedly lived at the end of Larry Crowne was being offered for lease back in August of last year at a rate of $895 per month.  And no, that was not a typo – the asking price was $895 per month for 530 square feet!  Welcome to California.  LOL
Pictured above are the photographs from that real estate listing and, as you can see, Larry's apartment is pretty darn adorable.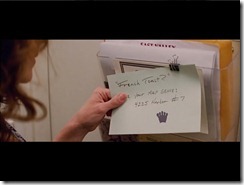 In the movie, Larry's address is noted as being 4225 Harbor #7.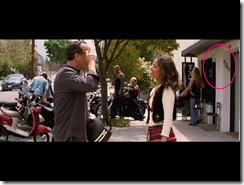 And, as you can see above, producers even went so far as to change the address number plaque for the filming, so had the real estate listing not touted the apartment's Larry Crowne connection, this would have been a very  tough find!  Nice work, Mike!
On a Larry Crowne side-note – Back in June of last year, fave website AltadenaBlog posted a fabulous story about the filming, which you can read here.  Apparently, during a break from the shoot, Tom Hanks wandered a few blocks up Lake Avenue to do some shopping at Webster's Fine Stationers and not only posed for a picture with the owners, but also told them that he loved family-owned stationary stores.  So incredibly cool!  Especially since the GC and I had our own little run-in with Tom Hanks a few years back and let's just say that he was less than friendly.  Ah, let's call a spade a spade here – the guy was a complete and total jerk and for a long while after that the GC refused to see any of his movies!  But after reading the Webster's Fine Stationers story on AltadenaBlog and after hearing how nice Tom was to Jose, the owner of Frank's Restaurant where Larry Crowne filming also took place, it would seem that the actor has since changed his ways.  One can hope, at least!
Big THANK YOU to Mike, from MovieShotsLA, for finding this location! 

Until next time, Happy Stalking! 

Stalk It: The Larry Crowne apartment building is located at 906 Boston Street in Altadena.  Thalia's store from the movie is located at 2104 North Lake Avenue in Altadena.
44479