The "L.A. Story" Gas Station
Jan 20th, 2012 | By
Lindsay
| Category:
Movie Locations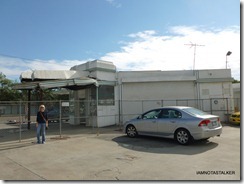 Last week, while doing research for my post on L'Orangerie, aka Chez Quis restaurant from Ferris Bueller's Day Off, I came across some information on The Worldwide Guide to Movie Locations website about the Gilmore Gasoline Service Station on Highland Avenue in Hollywood – a very cool-looking, old-time gas station that appeared in the 1991 movie L.A. Story.  Thanks to the place's unique, Art Deco architecture and historic feel, I became just a wee-bit obsessed with it and immediately added the address to my ever-growing "To-Stalk" list.
I think part of the reason that I became so enamored with the Gilmore Gasoline Service Station is that it reminded me of the circular, 50s-style drive-in restaurant that was used in Britney Spears' "For Those Who Think Young" Pepsi commercial – which was sadly just a set that was built inside of a soundstage.  For reasons that are beyond my comprehension, I have long been obsessed with all of the Pepsi ads featuring Britney.  I honestly cannot get enough of 'em.  In fact, I just watched about twelve different versions of both "The Joy of Pepsi" and "For Those Who Thing Young" videos.  But I digress.  Anyway, because he has an affinity for all things historic, I figured that the Gilmore Gasoline Service Station was one location that the Grim Cheaper would actually not mind being dragged to.  Sadly though, when we arrived, we found the structure to be in a pretty pitiful state.  Such a shame!
The Gilmore Gasoline Service Station has an absolutely fascinating backstory.  The structure was originally built for the Gilmore Oil Company, which was founded by one of the most influential and prominent families in Los Angeles history.  Arthur Freemont "A.F." Gilmore, a dairy business owner from Illinois who migrated to Southern California during the 1880s, found fortune in 1903 when he accidentally struck oil while drilling a water well on some property that he owned in the Rancho La Brea area.  In 1919, after A.F. had passed away, his son, Earl, founded the Gilmore Petroleum Company, which later became the Gilmore Oil Company.  Their Red Line service stations, which bore the motto "Someday you will own a horseless carriage.  Our gasoline will run it.", soon became common fixtures across all of Los Angeles.  The Gilmore family is most famous, though, for founding the Gilmore Bank and the world-famous Farmers Market at 3rd & Fairfax, and for building Gilmore Field – the now-defunct minor league baseball park that was once home to the Hollywood Stars baseball team.
The double-canopied Gilmore Gasoline Service Station was designed in 1935 by an engineer named R.J. Kadow.  It was one of the first Gilmore stations to be constructed and is now, sadly, one of the last remaining of its kind.  After the Gilmore Oil Company was sold in 1945, the station went through a succession of different owners and, in early 1990, after the then-tenant decided not to renew his lease, there was talk of possibly tearing the structure down.  Thankfully, the Melrose Neighborhood Association stepped in and, on March 23rd, 1992, the building was declared a Los Angeles Historic Cultural Monument.  Despite the station's historic status, though, it has somehow been allowed to fall into disarray in recent years.  According to a November 1990 Los Angeles Times article, there were once plans to restore the building and open a snack shop/gas station/classic car rental on the site, but I am not sure if those plans ever came to fruition and, as you can see above, the place is currently in dire straights.  You can check out some photographs of the station taken during better days here.
In L.A. Story, Harris K. Telemacher (Steve Martin) and Sara McDowel (Victoria Tennant) stop at the Gilmore Gasoline Service Station, where they ask for a "full service" treatment – their tank filled, car washed, and all four tires removed and exchanged LOL – before heading to a fund-raising dinner.  As you can see in the screen captures pictured above, at the time that the movie was filmed in 1991, the gas station was an incredibly cool little place.  I cannot express how disheartening it was to discover that a unique piece of Southern California's history – one with historic cultural status, no less – has been allowed to deteriorate in such a way.  As I said earlier, what a shame!
Fellow stalker Chas, of the It'sFilmedThere website, also let me know that the station was featured in the 1982 movie 48 Hours as the supposed San-Francisco-area gas station where parolee Reggie Hammond (Eddie Murphy) told detective Jack Cates (Nick Nolte) where he had hidden the stolen money.
On an L.A. Story side-note – I would so love to find the supposed-Santa-Barbara-area El Pollo del Mar (the Chicken of the Sea – LOL) motel that appeared in the flick.  I know that the interior scenes were filmed at the since-demolished Ambassador Hotel, but I am interested in tracking down the exterior.  Does anyone happen to know where it is?
Until next time, Happy Stalking! 

Stalk It: The former Gilmore Gasoline Service Station, from L.A. Story, is located at 859 North Highland Avenue in Hollywood.
45784