The Hollywood Show!
Apr 26th, 2012 | By
Lindsay
| Category:
Celebrity Sightings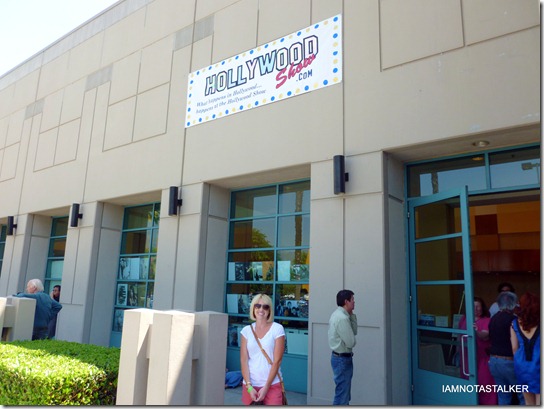 This past Saturday morning, I headed out to Burbank to attend the quarterly Hollywood Show, formerly known as the Hollywood Collectors Show. For those who have never heard of the event (like me, up until just recently), let me break it down for you. The Hollywood Show is a convention in which celebrities of yesteryear grant autographs and photo-opportunities, for a fee, to the fans who loved, and still love, them. As Chris Mann stated in his February 2010 Los Angeles Times article, "The quarterly autograph and memorabilia show — a retro nirvana for TV Land, VH1 and Turner Classic Movies fans and celebrity signature collectors — unites vintage Tinseltown idols and survivors with the people who made them as-seen-on-TV commodities." Or as my girl Miss Pinky Lovejoy, from the Thinking Pink blog, likes to say, "It's where celebrities go to die." LOL Harsh, but kinda true. The show works like this – fans pay an entrance fee (of about $20, depending on how many days you want to attend the event and how early you want to be allowed in) to gain admittance to the convention hall, where they will find row upon row of fold-up card tables behind which celebrities are waiting to be paid anywhere from $10 to $150 for an autograph and/or posed picture. It all makes for a very weird, almost depressing set of circumstances and meeting the actors turns out to be more of a business transaction than a personal experience, but nevertheless where else can you find Susan Olsen from The Brady Bunch, the Von Trapp kids from The Sound of Music, and Penny Marshall and Cindy Williams from Laverne & Shirley all under the same roof?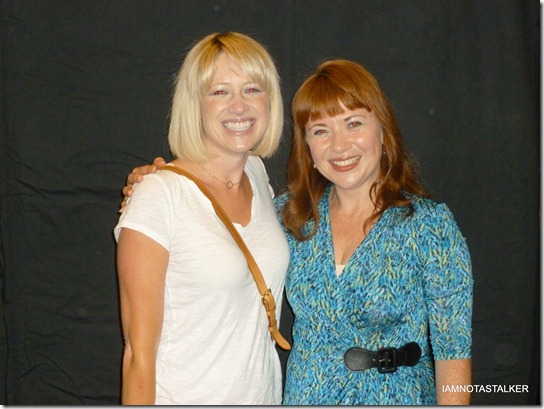 Pinky had been trying to convince me to stalk the Hollywood Show with her for months, but I was not too keen on the idea. That is until I saw that Aileen Quinn, aka "Annie" from the 1982 musical of the same name, was going to be there. Growing up, Annie was my movie! To this day, I can still quote the entire thing backwards and forwards. I watched the flick so often, in fact, that my VHS copy of it got warped and is now unwatchable. I even entered an Annie lookalike contest shortly after the movie was released and came in second place! Needless to say, you would be hard-pressed to find a more diehard Annie fan out there. So when I saw that Aileen would be attending the show I just about did a cartwheel right there in my living room and told Pinky to count me in! Joining us at the event were our friends Anushika, from the Mike the Fanboy website, and Cody. Being that my head was about to explode from excitement, the four of us hit up Aileen's table immediately upon arriving at the show and I am very happy to report that she could NOT have been nicer. She was highly amused over how excited I was to meet her and how much I loved Annie growing up.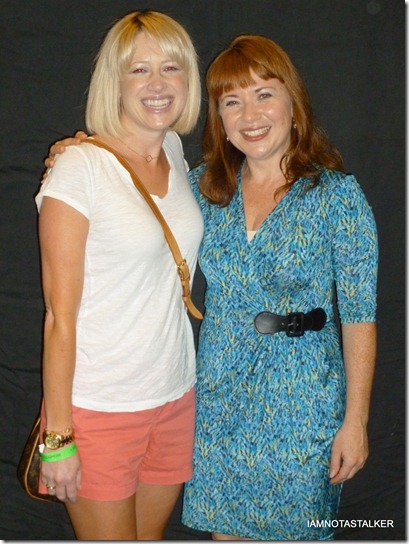 Aileen was nice enough to pose for two photographs, a close-up and a full-length shot, both of which Cody snapped for me. Thank you, Cody! I could NOT get over how recognizable Aileen still was from Annie, over three decades later!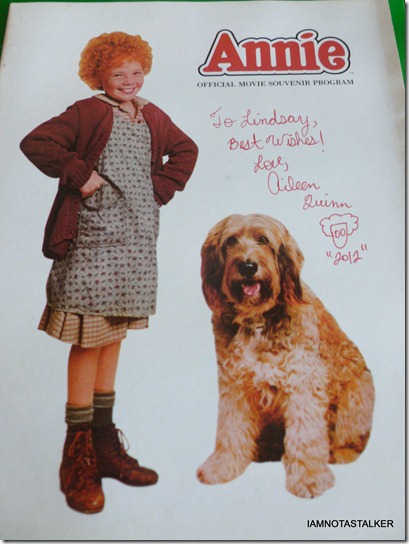 At the Hollywood Show, celebrities have a stack of various 8×10 headshots at their tables that fans can choose from to be signed. Sometimes though, the actor will also have books, programs or memorabilia that can be signed in lieu of a headshot and, let me tell you, I just about died when I saw that Aileen had the original 1982 program from Annie at her table. Not only is the program a must-have collector's item for any fan, but it also contains a plethora of behind-the-scenes information and an entire chapter on the movie's LOCATIONS! Um, yes, please! Needless to say, this stalker was in absolute heaven! Not only did I get to meet one of my childhood idols, but I scored a fabulous piece of vintage memorabilia in the process. Aileen even drew me a little cartoon Annie on the program, to boot.

LOVE IT! All in all, meeting Aileen was a FABULOUS experience for me and I really felt like I shared a personal, intimate moment with her, despite the chaos that was going on around us.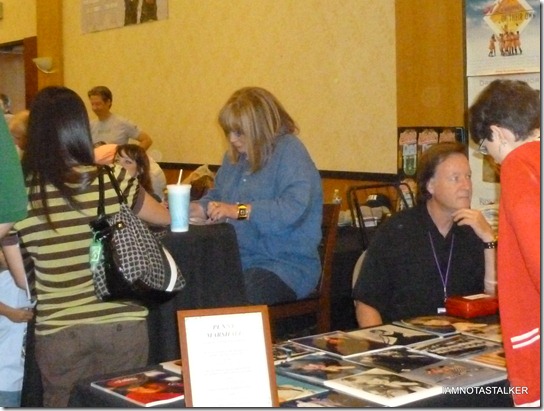 Because one could easily spend upwards of $300 at the Hollywood Show, I had made the decision prior to walking through the front doors that I was only paying for a picture with Aileen. But I had an absolute blast accompanying Pinky, Anushika and Cody to the tables of the various celebs that they had come to meet. Pinky was dying to get a photograph with Penny Marshall (pictured above) and Cindy Williams, as Laverne & Shirley was her favorite show growing up. You can read her write-up of the event and see her pictures here.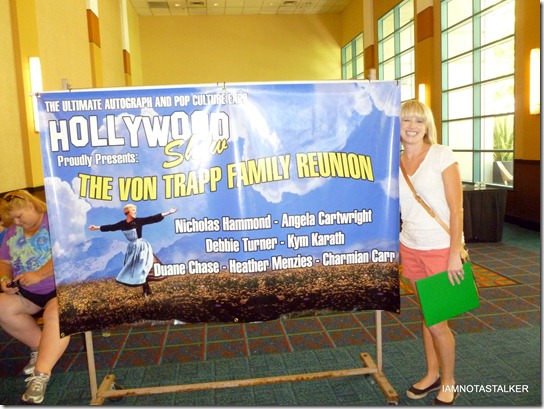 Anushika was there for the Von Trapp kids from The Sound of Music (you can read her write-up of her experience on the Mike the Fanboy website here) and Cody was dying to meet Tanya Roberts from That '70s Show. I think it is so incredibly cool that we were all there (and were all beyond excited) to meet such different celebrities!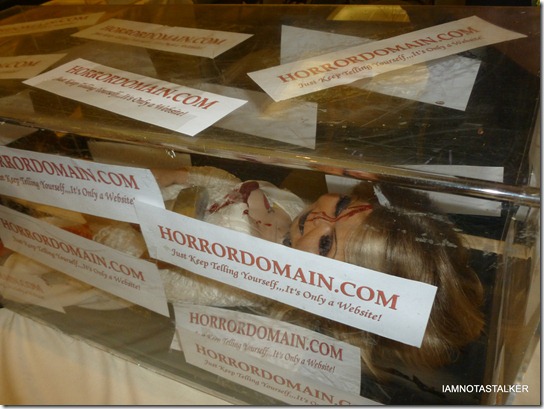 And I should mention here that while some parts of the Hollywood Show are awesome, some are most-definitely odd. There are several booths set up where one can buy movie memorabilia, props and costumes, which I loved. (That's the Bride of Chucky puppet pictured above.) My friend Mikey, from the Mike the Fanboy website, who was dragged to the show under duress by our mutual friend Duggan, showed me a very cool booth that was selling vintage magazines, some from as far back as 1983, which I also loved. But there were also some seriously random, Twilight Zone-worthy booths. Directly next to the Bride of Chucky table, a woman was selling fake Louis Vuitton purses out of a plastic crate, Canal Street-style. I kid you not! It was beyond weird, not to mention the fact that all of the purses were in really bad shape. Most had these odd red stains on them or had large tears through the fabric. I never did know quite what to make of that. All in all, though, I loved being there and am definitely signing up for the next show.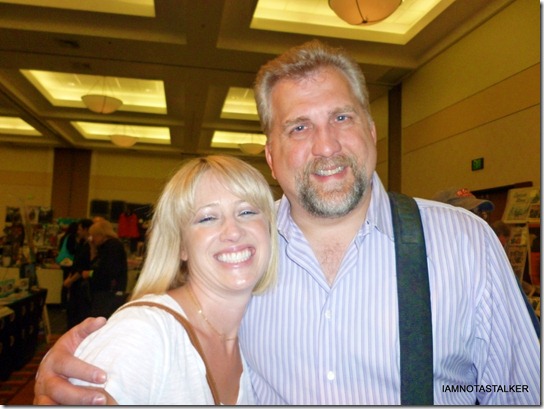 And we even spotted a few random celebrities while we were walking around, one of whom was Daniel Roebuck, from Lost, Matlock and The Fugitive, who was attending the show as a fan. Daniel was incredibly nice and happily posed for a pic with each of us.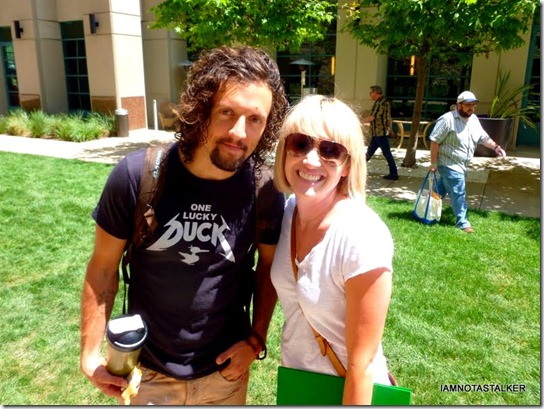 When we were leaving, we also saw singer Jason Mraz who was rehearsing in a studio nearby. Jason was also incredibly nice and posed for photographs with our entire group. I was especially excited to meet him because "I'm Yours" was my wedding song with the Grim Cheaper.

Big THANK YOU to Pinky Lovejoy, of the Thinking Pink blog, for convincing me to come to this event!

Until next time, Happy Stalking!

Stalk It: There is no stalking location for this one, but you can visit the Hollywood Show website here. The next Burbank show will take place on August 5th and 6th. If you are planning to attend, bring cash as credit cards and checks are not accepted.
52256