Sidney's House from "Scream 3"
Oct 29th, 2012 | By
Lindsay
| Category:
Haunted Hollywood
,
Movie Locations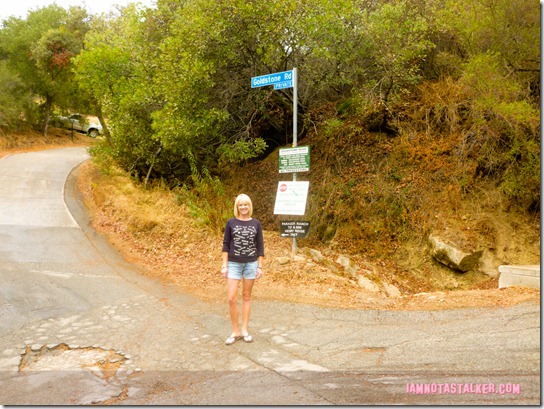 One location that I was absolutely desperate to find in time for this year's Haunted Hollywood posts was the isolated house where Sidney Prescott (Neve Campbell) lived in Scream 3.  I knew from the flick's Wikipedia page that the residence was located somewhere in the Topanga area, but other than that, I had very little to go on.  Then, last week, on a whim, I decided to peruse through Malibu Locations, my favorite filming location database, to see if the property was featured on it and, as luck would have it, it was!  From there I enlisted the help of Mike, from MovieShotsLA, who is much better at tracking down locales than I am, and, thanks to some good, old-fashioned elbow grease, he was able to find the abode in just a few short hours!  Yay!  So I dragged the Grim Cheaper right on out to stalk the place just a few days later.
Sadly though, when we arrived, we discovered that Sidney's house is located on a private road and, aside from a few signs warning that trespassers will be prosecuted and a set of five mailboxes (apparently not even mail carriers are allowed on that street!), is not at all visible to the public.  I was so hoping to at least be able to see and pose in front of the large wooden gate that was shown in the movie, but, alas, that was not to be.  Boo!  So even though this stalk was a bit of a let-down, because the location is one that many people seem to be looking for, I figured it was definitely still worthy of a blog post.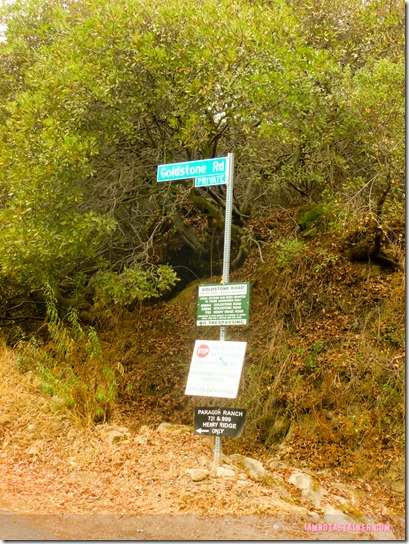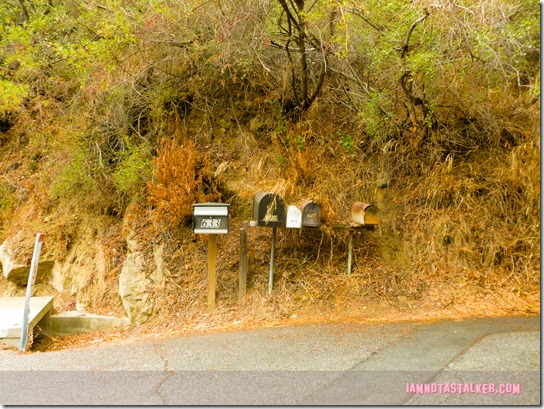 According to the Reel Scout website, in real life, Sidney's abode, which sits on three parcels of land and boasts three separate dwellings, is known as Windwalk Ranch and it consists of forty private acres, a water tank, a corral, a barn, and a ranch house (which I believe is the building that appeared in Scream 3).  And I just about fell over when I discovered, thanks to the Berg Properties website, that the residence has belonged to none other than actor Rick Schroder  – my girl Pinky Lovejoy's first Hollywood crush – since 2005.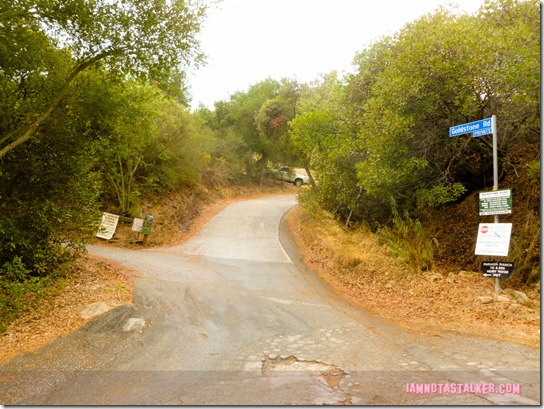 Because Windwalk Ranch contains so many different structures on such a vast piece of land, I was unable to discern from aerial views exactly which dwelling was used in Scream 3.  I am fairly certain, though, that it is the barely-visible building denoted with an orange arrow below, although the roof line appears to be a bit different than the roof line that is shown in the Malibu Locations images.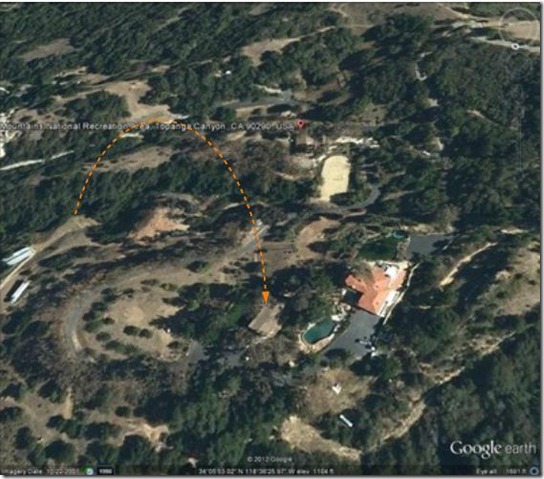 Sidney's house shows up quite a few times in Scream 3, most prominently towards the beginning of the flick.  And while I was not able to take a photograph of the residence for comparison purposes, you can check one out here.  As you can see, the structure still looks pretty much exactly the same in real life as it did onscreen over a decade ago.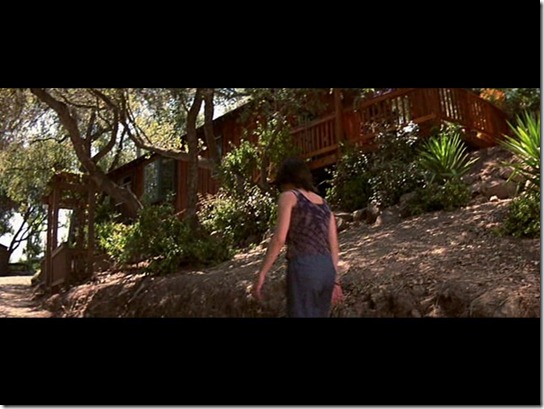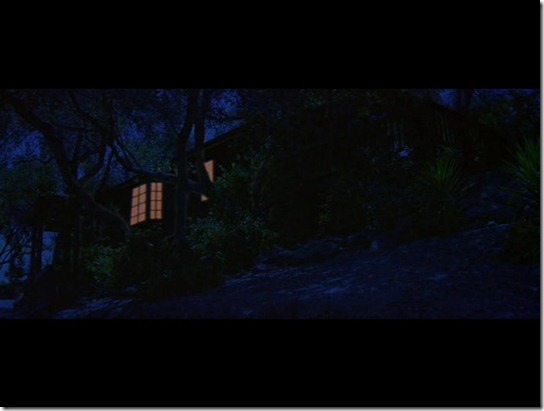 The jury is still out on whether the actual interior of the property was used in the filming, though.  While some of the interior of the real life house matches up to what appeared onscreen, some definitely does not.  Areas of the house that do match up include the barn-like interior doors (which you can see real life pictures of here and here;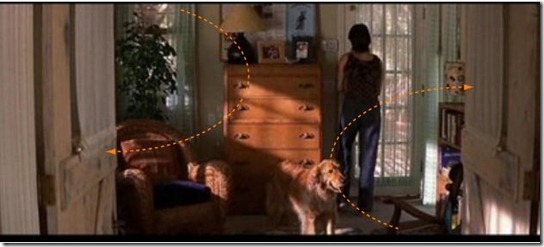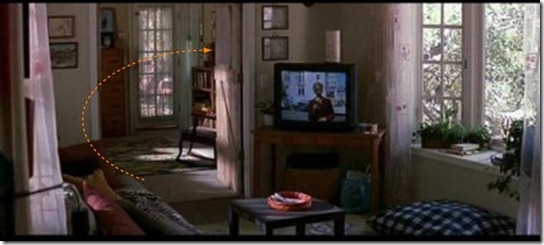 the positioning of the kitchen window (which you can see a real life photograph of here);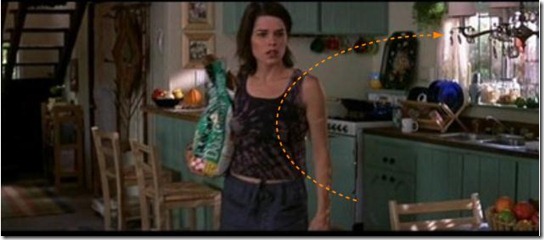 the positioning, shape and size of the living room window (which you can see a real life photograph of here);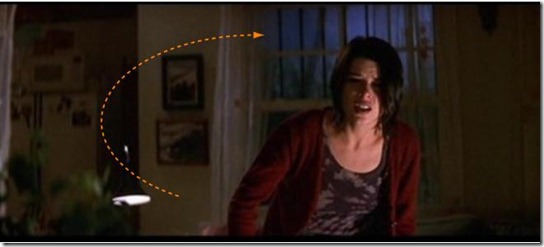 and the brick wall behind the fireplace (which, as you can see in this picture, is painted white in real life).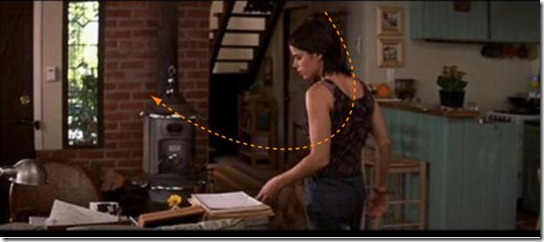 The areas that do not match up include the hallway behind the kitchen.  As you can see in the screen captures below and this real life photograph of the house, Sidney's house had a stairway and small window behind the kitchen, while the actual house features a glass-paneled door.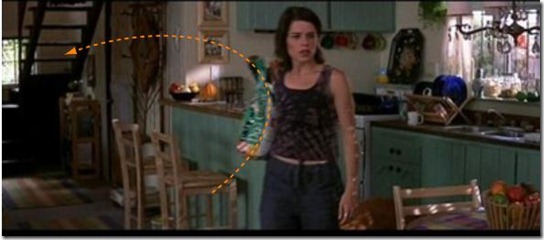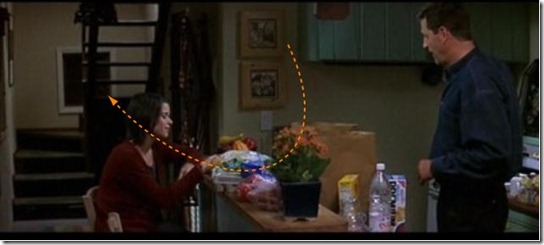 Sidney's front door is in a different place, as well, as you can see in this real life photograph of the house as compared to the screen capture below.  In the movie, the front door is flush with the wall that runs perpendicular to the kitchen, but in real life the front door is situated on the wall that faces the kitchen.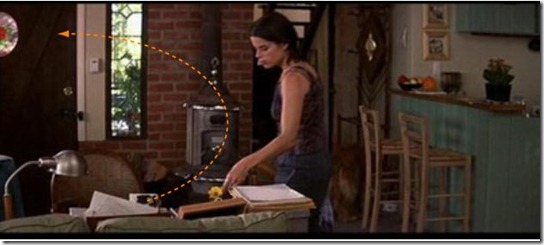 What really does not make sense, though, is that in the scene in which Dewey Riley (David Arquette) proposed to Gale Weathers (Courteney Cox), the exterior of the front door is shown and it also does not match up to the positioning of the home's real life front door, which you can see photographs of here and here.  Color me so confused!  Either a set very closely resembling the actual home was used for all interior (and, quite possibly, front porch) filming or the residence has been quite drastically remodeled since Scream 3 was filmed in 1999.  I would lean toward the set option, except for the fact that only a few scenes took place inside of Sidney's home and I cannot imagine producers building a set for so few scenes.  Not to mention that the real life interior of both Runyon Ranch (which I blogged about here) and the Canfield-Moreno Estate (which I blogged about here) were used in the flick.  So I really am torn.  What are your thoughts, my fellow stalkers?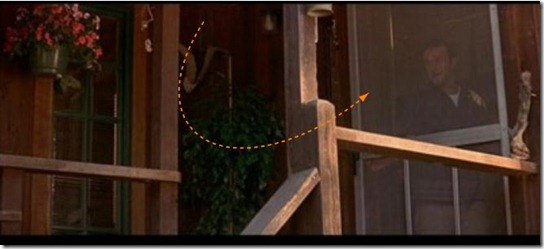 You can find me on Facebook here and on Twitter at @IAMNOTASTALKER.  And be sure to check out my other blog, The Well-Heeled Diabetic.
Big THANK YOU to Mike, from MovieShotsLA, for finding this location!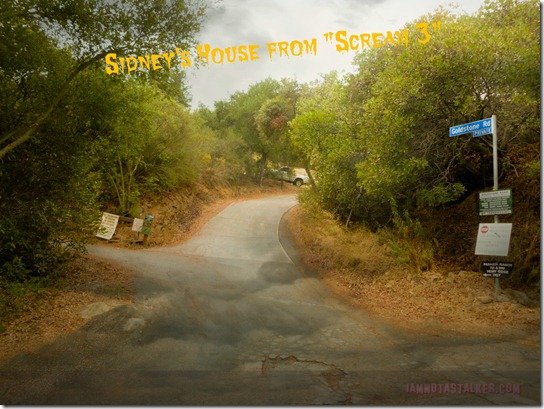 Until next time, Happy Stalking! 
Stalk It: Sidney's house from Scream 3 is located at 21914 Goldstone Road in Topanga.  The residence is located on a private street and is not at all visible or accessible to the public.
61824