Jimmie's House from "Pulp Fiction" – the Correct One!
Nov 6th, 2012 | By
Lindsay
| Category:
Movie Locations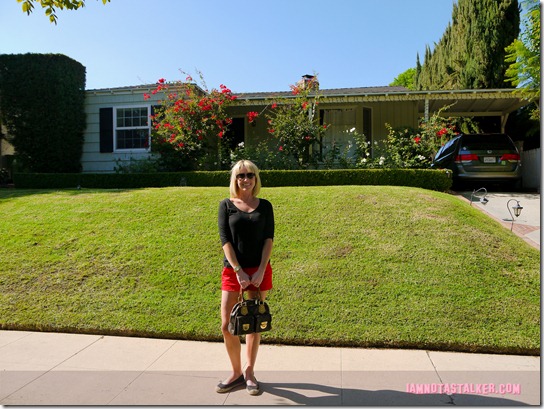 Last week, a location photographer named Cris emailed me to ask for some stalking help.  Turns out he had just scouted a house located at 4507 Kraft Avenue in Studio City and the owner (who bought the abode in 2009) had informed him that the residence had been used as Jimmie Dimmick's (Quentin Tarantino's) house in Pulp Fiction.  Cris was a bit confused, though, as the place looked nothing at all like what he remembered of Jimmie's pad in the 1994 thriller.  So he did some online digging later that day and discovered that several websites confirmed what the homeowner had told him.  Still not convinced, though, Cris contacted me to see if I might be willing to either verify or discount the rumors.  And because I quite simply HATE, HATE, HATE erroneous location information being out there, I happily obliged!  Thankfully it did not take me long to find the answer to this conundrum.
One look at the residence located at 4507 Kraft Avenue via Google Street View and I knew it was not the right place.  Jimmie's house in the movie did not have a curved front door, nor did I remember it being L-shaped.   So I popped in my Pulp Fiction DVD, scanned ahead to to the portion of the movie that took place at Jimmy's house and immediately noticed an address number of "4149" on the curb in the background of the scene.  Knowing that the simplest answer is most often the correct one, I decided to begin my hunt on Kraft Avenue, the street where most websites said the abode was located.  I did a quick Google search of "4149 Kraft Avenue" and, sure enough, the Street View of that address matched perfectly to what had appeared onscreen – which absolutely shocked me!  If the location was that easy to find, why on earth is there erroneous information about it out there??  The answer – shoddy research, which irks me to no end.  One person says that Jimmie's house is located at 4507 Kraft Avenue and everyone else just takes it at face value.  There are so many blogs out there on which locations from other sites are merely copied in their entirety with no verification or new research done – which in this stalker's never-to-be-humble opinion is both lazy and unoriginal.  As I stated recently in my post on the correct A Nightmare on Elm Street bridge, if one is going to take the time to write a blog or publish a book, then they should also take the time to make sure their information is valid.  I just finished reading O.J. Is Innocent and I Can Prove It in which author William C. Dear repeatedly states the mantra, "Never assume, always verify."  LOVE IT!  (The book is PHENOMENAL by the way!   I went in thinking Dear was a total fruitcake for believing O.J. is innocent, but am now completely convinced of that fact!  If you are interested, you can visit his website here.)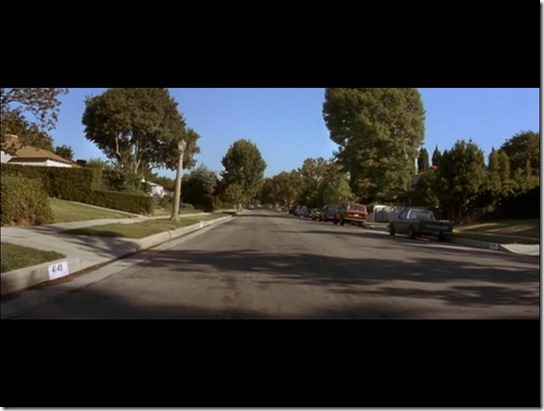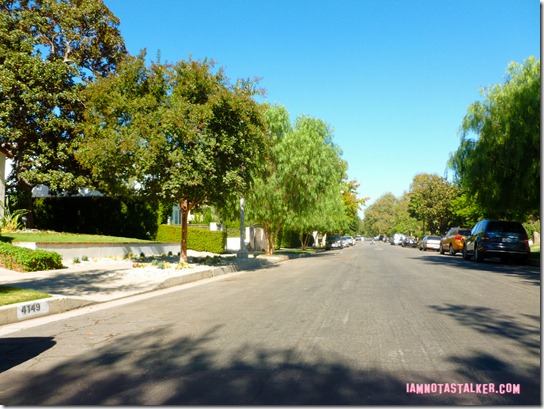 As you can see below, the two sculpted hedges and streetlight in front of 4149 Kraft Avenue match up perfectly to what appeared onscreen in Pulp Fiction in the scene in which Winston "The Wolf" Wolfe (Harvey Keitel) arrived at Jimmie's house.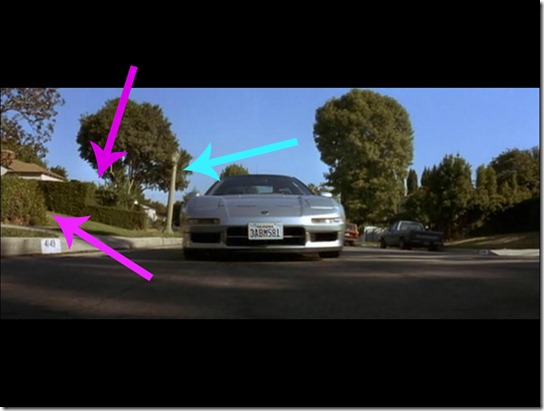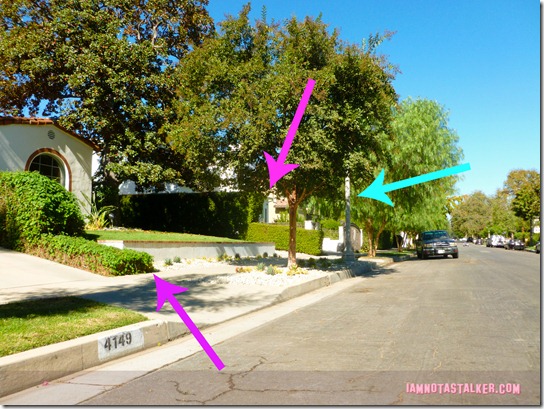 From there, finding Jimmie's house via aerial views was a snap.  As it turns out, Jimmie's pad is located at 4145 Kraft Avenue.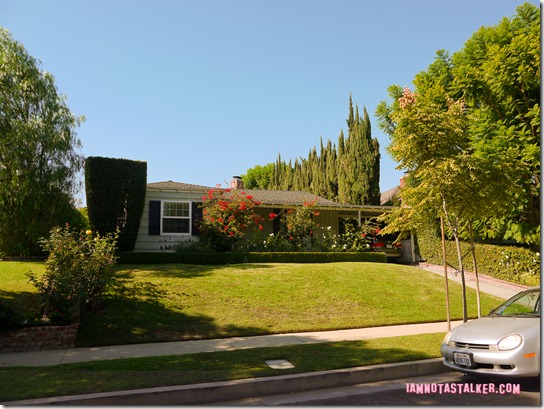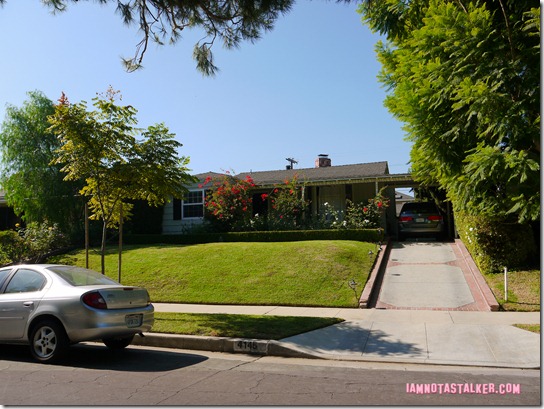 While the front exterior of the residence was never actually shown in Pulp Fiction, the backyard area was used extensively in the scene in which The Wolf hosed down Vincent Vega (John Travolta) and Jules Winnfield (Samuel L. Jackson).  As you can see in the below screen capture as compared to the aerial view, the unique roofline (blue arrow), porch overhang (pink arrow), diagonally-angled chimney (red arrow), and placement of the garage (green arrow) are exact matches.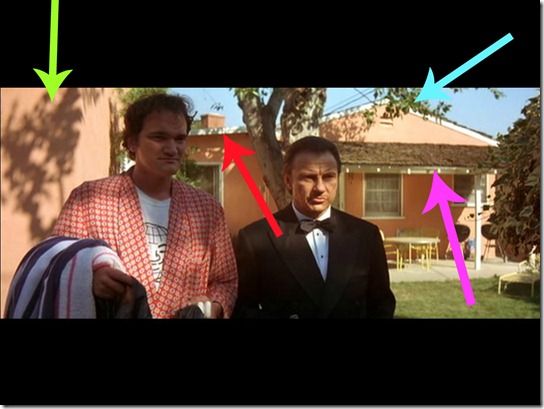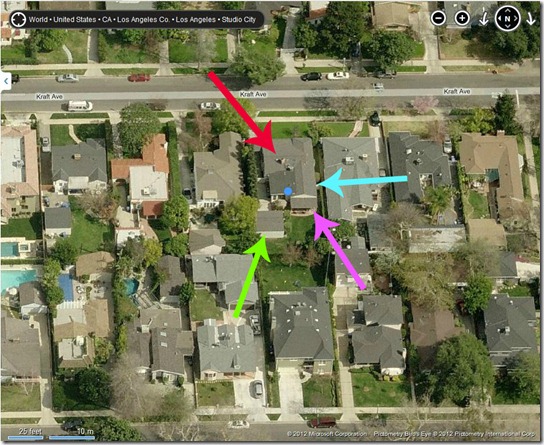 As is the wooden fence that was visible behind Jules in the scene.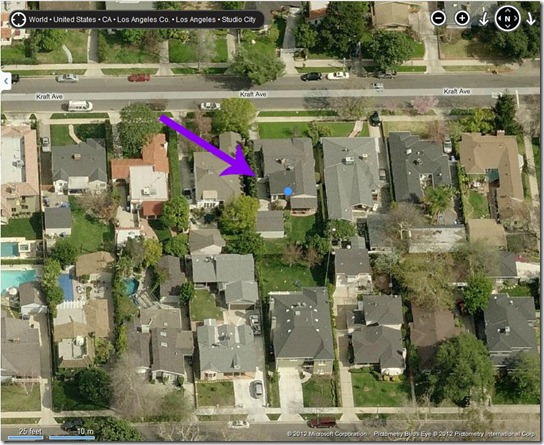 You can see a partial view of that fence in real life in the photograph below.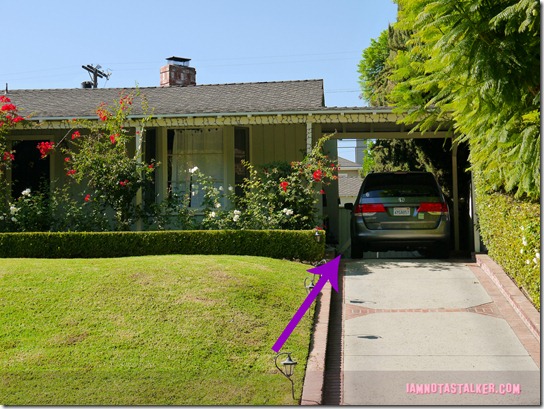 The only portion of the home's exterior that appeared in Pulp Fiction was the front door.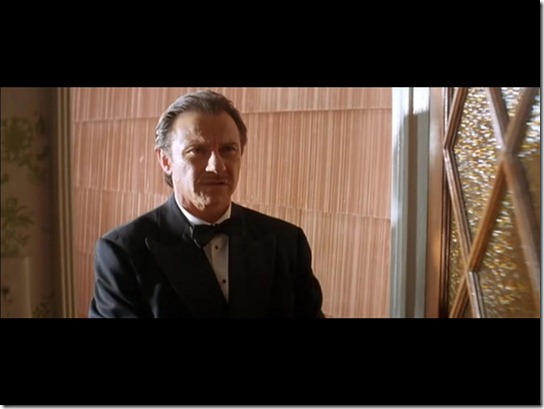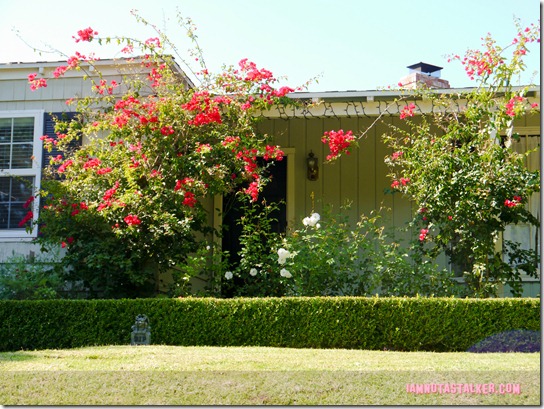 As you can see below, the placement of the front door (at the southern edge of the house, next to a room that pops out), is also a match, although the actual door, and house color, have since been changed.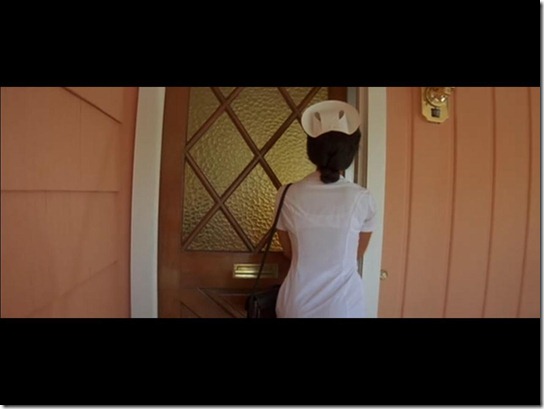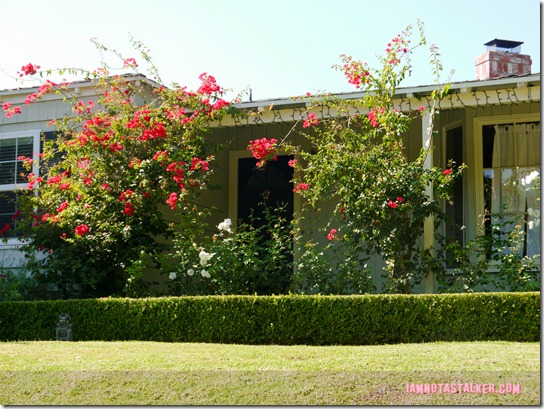 And thanks to Bing aerial views, you can also see that the house was, in fact, painted pink at one point in real life, just as it was in Pulp Fiction.
Because I also come from the "never assume, always verify" school of thought, I did a bit more research and happened to find a July 2007 Los Angeles Times article about Michael Glenn Mullen which stated that the soon-to-be Chairman of the Joint Chiefs of Staff happened to grow up in the Kraft Avenue house that was used as Jimmie's residence in Pulp Fiction.  The blurb also mentioned that Michael's brother, Kevin, still owned the place.  So I did a quick search of property records and found that 4145 Kraft Avenue is, indeed, owned by a Kevin Mullen.  Voila!  During his lifetime, Michael and Kevin's father, Jack Mullen, was a press agent for countless Hollywood stars including Dyan Cannon, Peter Graves, Ann-Margret, Anthony Quinn, Julie Andrews, Steve McQueen, and Jock Mahoney, some of whom would even stop by the residence from time to time.  So incredibly cool!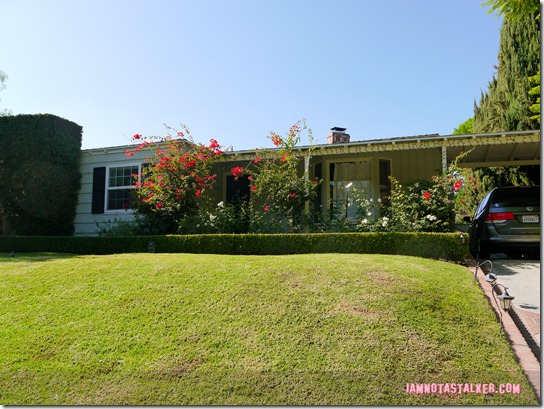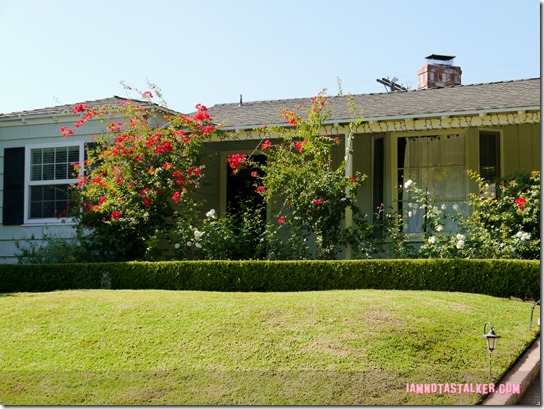 And while I am fairly certain that the real life interior of the 3-bedroom, 2-bath, 1,702-square-foot house, which was originally built in 1936, was also used in the filming, I could not find any real life photographs of the interior with which to verify that hunch.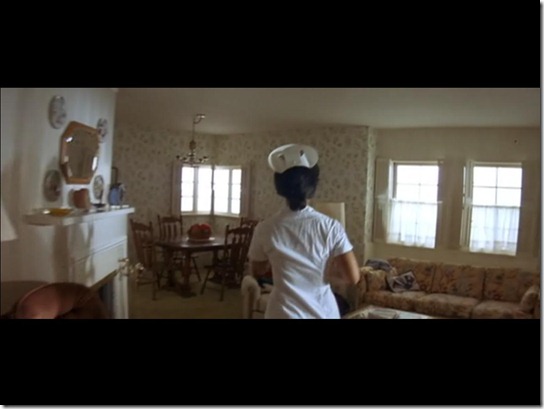 You can find me on Facebook here and on Twitter at @IAMNOTASTALKER.  And be sure to check out my other blog, The Well-Heeled Diabetic.
Big THANK YOU to Cris for asking me to find this location!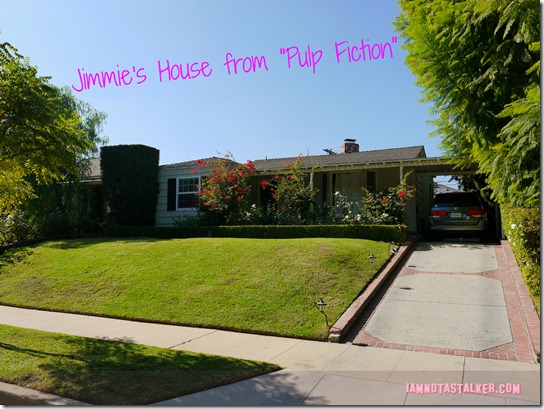 Until next time, Happy Stalking! 

Stalk It: Jimmie's house from Pulp Fiction (the correct one) is located at 4145 Kraft Avenue in Studio City.  In the movie, The Wolf pulled up in front of the house located next door, at 4149 Kraft Avenue.  The "Smallest Park" from the "Smallest Park" episode of Parks and Recreation (which I blogged about here) can be found just up the street, in the parking lot located next to 4378 Kraft Avenue.  Vitello's Italian Restaurant from The Deep End of the Ocean and Robert Blake-fame (which I blogged about here) is located just around the corner at 4349 Tujunga Avenue, as is Robert Blake's former house (which I blogged about here) at 11604 Dilling Street; The Brady Bunch house (which I blogged about here) at 11222 Dilling Street; and the house where Kevin Federline and Britney Spears got married (which I blogged about here) at 4053 Farmdale Avenue.  Henry's Tacos from People Like Us (which I have yet to blog about) is also located up the street at 11401 Moorpark Street.
62352