The "Little Miss Sunshine" Gas Station
Aug 1st, 2013 | By
Lindsay
| Category:
Movie Locations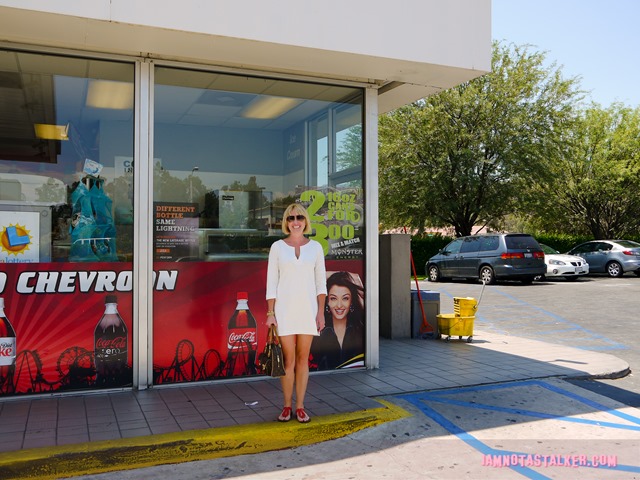 A few months back, while doing research on Wokcano from Get Shorty (which I blogged about here), I came across a Chowhound message board titled "Restaurants Seen in the Movies."  One of the eateries mentioned on the page was Pann's restaurant at 6710 La Tijera Boulevard in Ladera Heights, which a commenter named Kevin said was used in 2006's Little Miss Sunshine – a film that I absolutely LOVED.  (That information actually turned out to be incorrect – Pann's did not appear in Little Miss Sunshine, but that's a different story for a different post.)  Prior to visiting the message board, I had no idea whatsoever that LMS had done any filming in the L.A. area (outside of a very brief driving scene near Vasquez Rocks).  So that night I popped in our Little Miss Sunshine DVD to re-watch it and hopefully track down some of its locales.  And track some down, I did, the first of which was the supposed HartCo gas station that the Hoover family – Richard (Greg Kinnear), Sheryl (Toni Collette), Dwayne (Paul Dano), Olive (Abigail Breslin), Grandpa Edwin (Alan Arkin), and Frank Ginsberg (Steve Carell) – stopped at during their road trip from Albuquerque to Redondo Beach.
This location was actually quite an easy find.  While watching the movie, I spotted the back of an address number through the gas station's front window that I was fairly certain read "24518".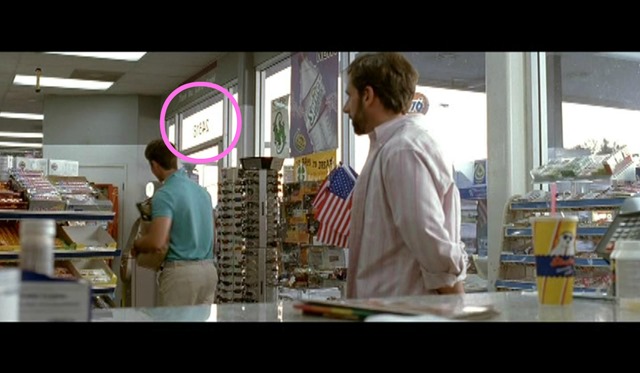 Thanks to the station's red, blue and gray color scheme (which you can see below), I was fairly certain that it was a Chevron.  So I did a Google search for "Chevron", "Los Angeles" and "24518" and, sure enough, the first result returned was for a station located at 24518 Lyons Avenue in Newhall, which turned out to be the right place.  Yay!  So I dragged the Grim Cheaper right on out there to stalk it this past weekend while we were in L.A.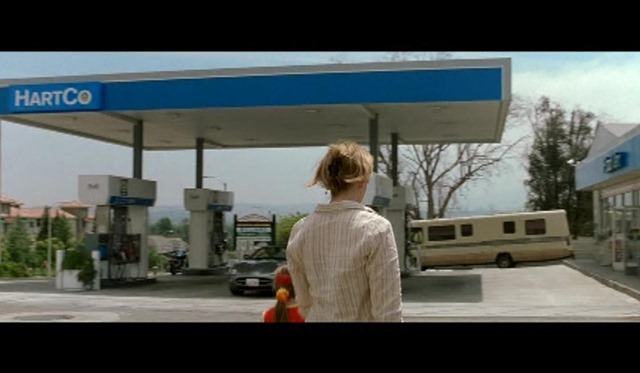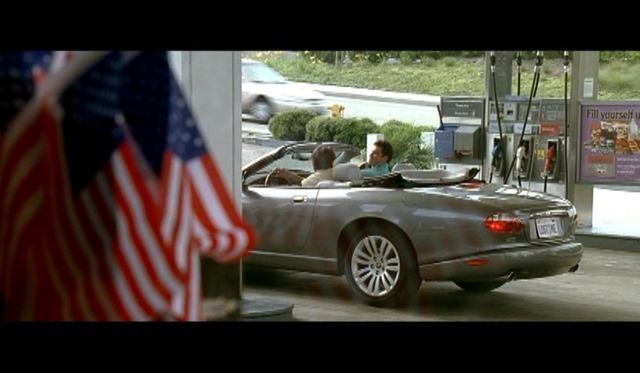 The gas station pit stop is a bad (but absolutely hilarious) experience for the Hoover family in Little Miss Sunshine.  While there, Frank, who has just recently been released from the hospital after trying to kill himself, runs into his ex-boyfriend, Josh (Justin Shilton), and Josh's new uber-successful boyfriend, Larry Sugarman (Gordon Thomson); Richard learns via a phone call that his new business venture has fallen through; and Olive, who has been practicing a dance routine on the side of the property, gets accidentally left behind when her distracted family later drives away.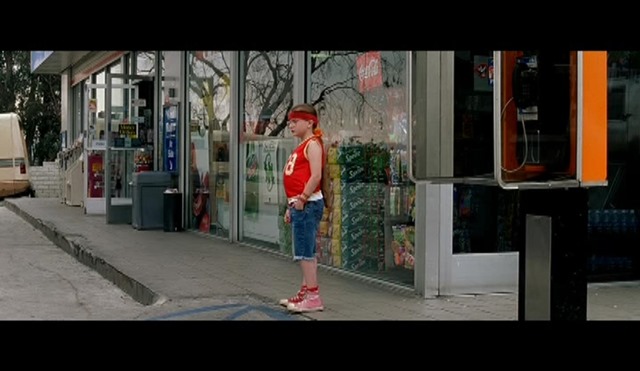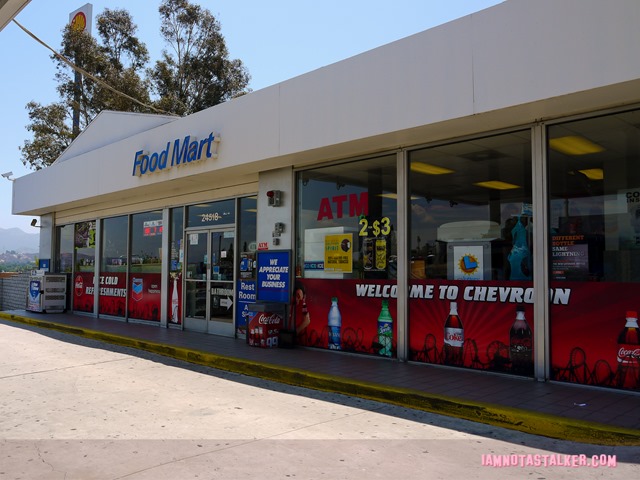 Because the clutch on the Hoover's Volkswagen bus is broken, when they return to the station to retrieve Olive a few minutes later, they are unable to stop and Olive has to run alongside the car and hop inside while it is still moving!  I swear, the scene never fails to make me laugh (like hysterically laugh!), even though I have seen it about 25 times!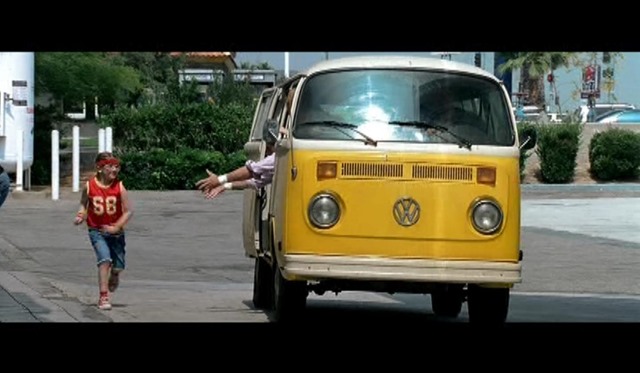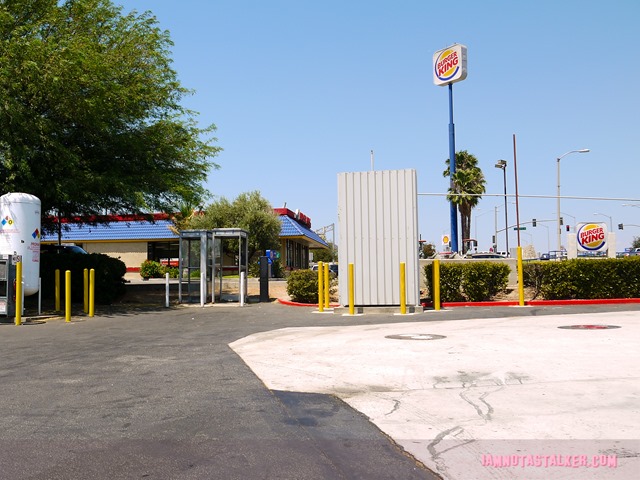 While this location is technically "just a gas station", I could NOT have been more excited to stalk it.  I was literally jumping up and down when we arrived.  Looking back, though, I really think the GC and I should have rented a yellow VW bus for the occasion.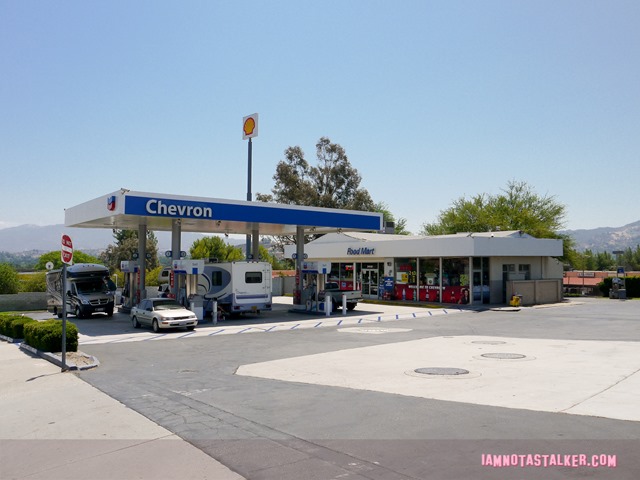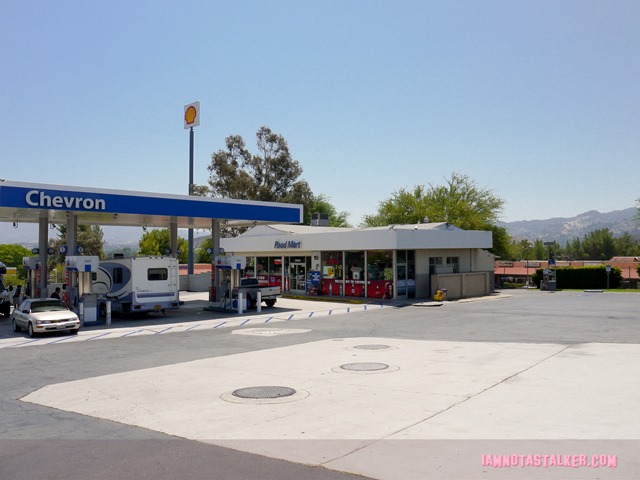 Adding to my excitement was the fact that the station looks pretty much EXACTLY the same in person as it did onscreen in Little Miss Sunshine!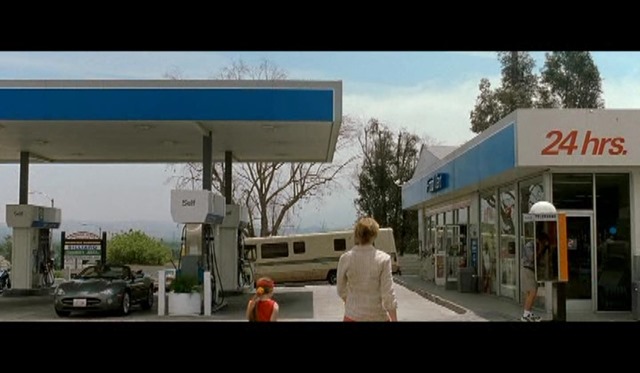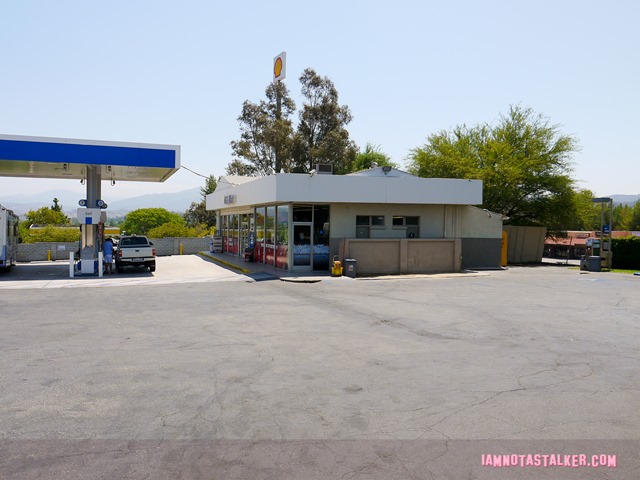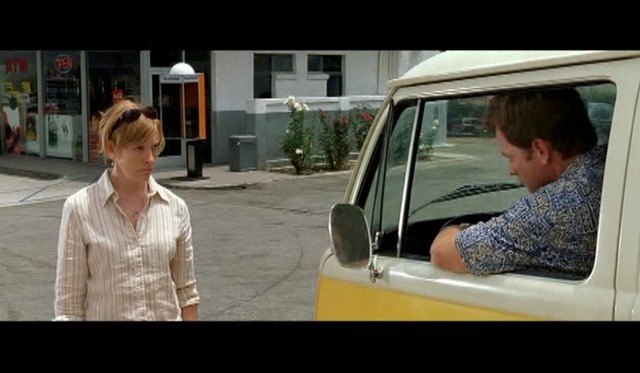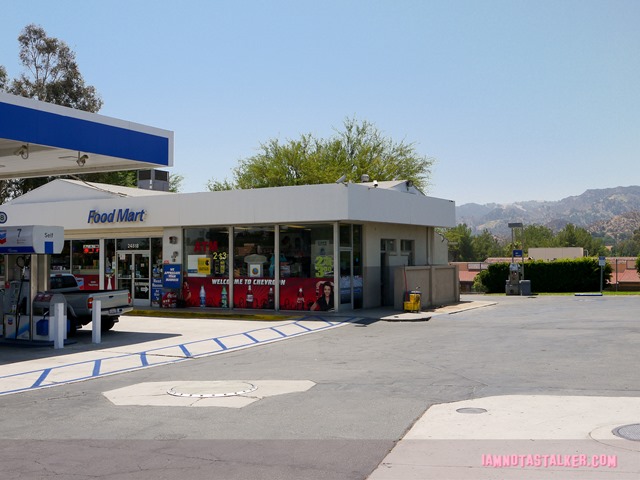 The payphone that Richard used in the scene was just a prop, though, that was brought in for the filming and is not actually there in real life.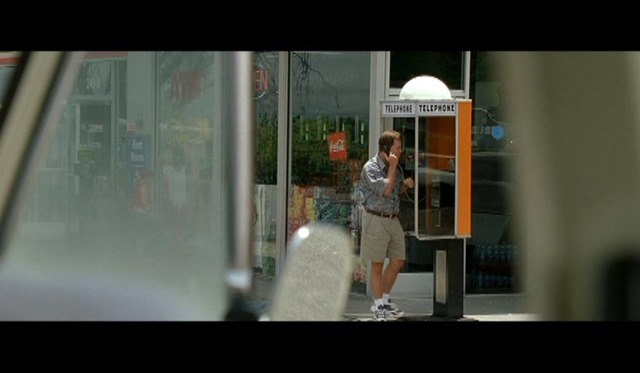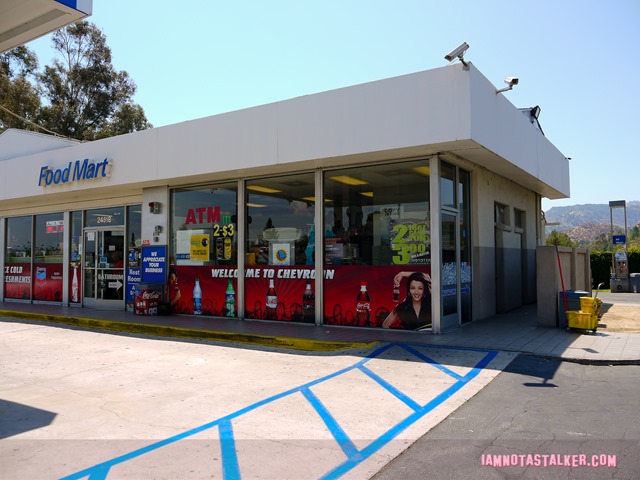 Which is odd because the property does have two working payphones that could have been utilized in the scene.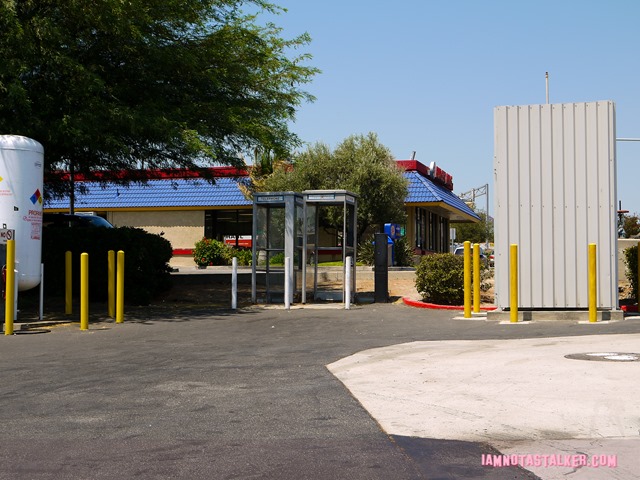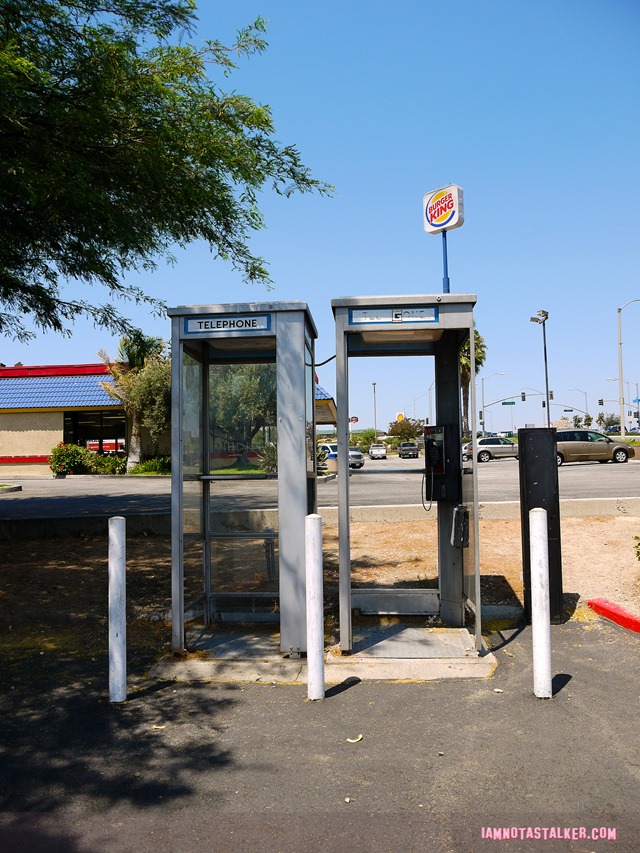 The interior of the Chevron station also appeared in the movie and the manager who was on duty when we stalked the place was nice enough to let me snap a picture of it.  As you can see, it was altered significantly for the filming, with the cigarette and chewing tobacco racks taken out to make room for the pornographic magazine display that played a significant role in the scene.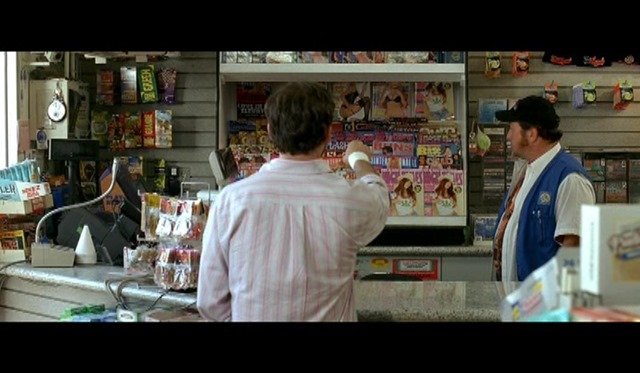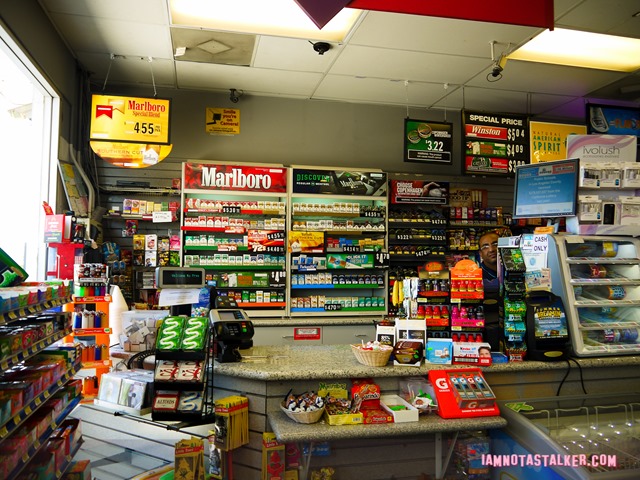 For more stalking fun, be sure to follow me on Facebook, Twitter and Instagram.  And you can check out my other blog, The Well-Heeled Diabetic, here.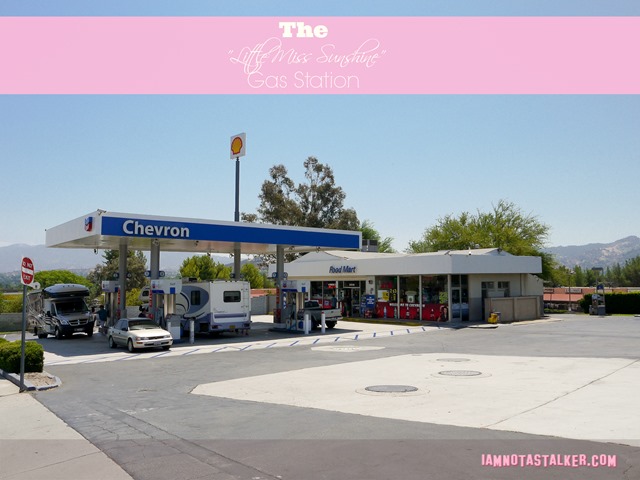 Until next time, Happy Stalking! 
Stalk It: The HartCo gas station from Little Miss Sunshine is actually the Chevron station located at 24518 Lyons Avenue in Newhall.
71823