Copley's on Palm Canyon – Cary Grant's Former Guesthouse
Aug 8th, 2013 | By
Lindsay
| Category:
Celebrity Homes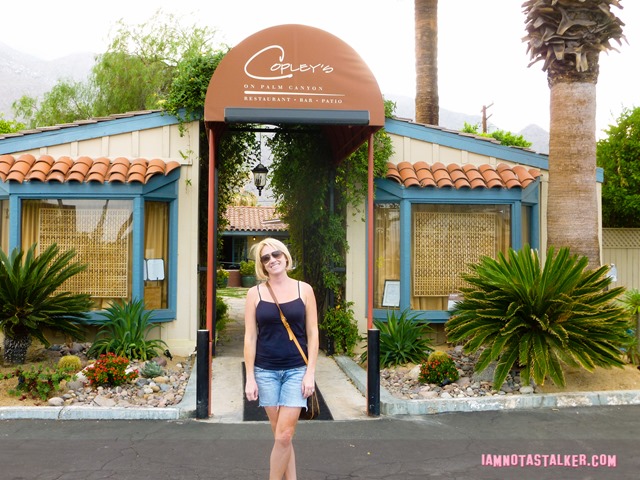 One location that I had been chomping at the bit to stalk for what seemed like ages was Copley's on Palm Canyon – a restaurant created out of what is said to be Cary Grant's former Palm Springs guest house.  Because the eatery does not open until 6 p.m. each night, though (I am nothing if not an early bird), and because it is closed during the scorchingly hot summer months of July and August, I had never had the chance.  Until this past May, that is, when the Grim Cheaper and I happened to find ourselves just down the street from Copley's on a Sunday afternoon at around 5:45 p.m.  Thankfully, it only took a little arm twisting to convince him to venture inside for a quick happy hour cocktail.  And I am so glad that we did, because the place is simply fabulous!
Copley's, which is named after its England-born executive chef, Andrew Manion Copley, first opened its doors in December 2004.  Andrew, accompanied by his wife, Juliana, landed in Palm Springs earlier that same year after culinary stints at numerous five-star sites including the Turtle Bay Resort in Oahu (where Forgetting Sarah Marshall was filmed), The Ritz-Carlton, San Francisco, The Park Lane Hotel and The Savoy in London, and The Lodge at Koele at the Four Seasons Resort Lana'i.  Upon migrating to Palm Springs, the couple, along with business partner Greg Butterfield, purchased a recently-shuttered Persian restaurant named La Shank House located at what was once supposedly the guest house of Hollywood legend Cary Grant.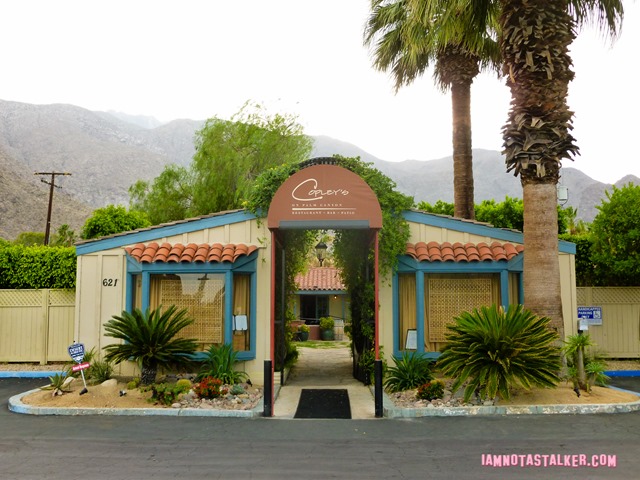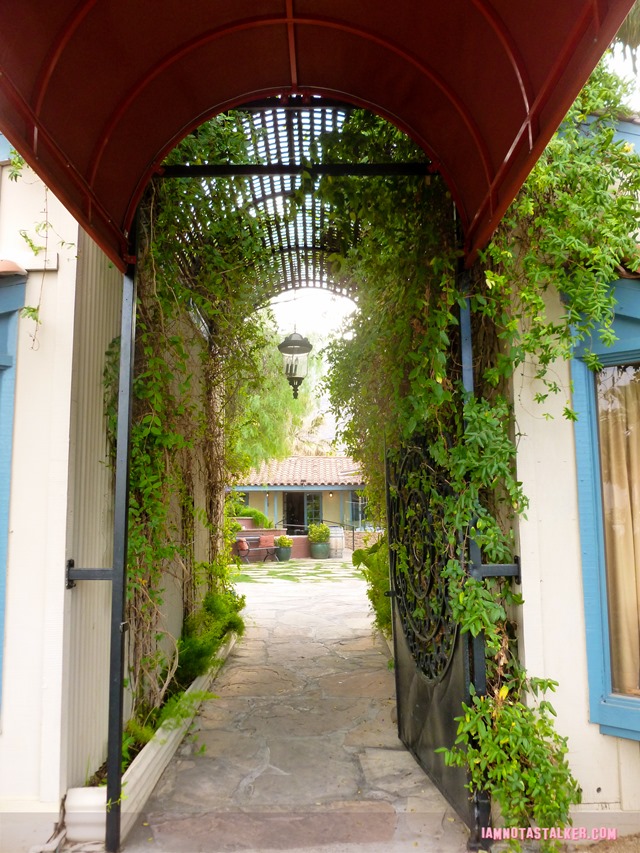 As the story goes (and I have, unfortunately, not been able to verify it), Cary purchased the property sometime during the 1940s and proceeded to use it as off-site guest quarters for visiting family and friends, many of whom were Hollywood royalty, through the 1950s.  I am not quite sure where in Palm Springs Cary lived during that time period, but I do not believe it was at the so-called "Cary Grant Estate" that I blogged about in July 2011.  (He owned that particular home from 1954 to 1972 and it had its own on-site guest quarters.)  I did find an article on the CaryGrant.net website that stated that in 1949 Cary and his third wife, Betsy Drake, "spent some time at a tiny place in Palm Springs which Cary used to refer to as 'The Dump.'"  Because the abode was described as "tiny" and therefore most likely did not have room for guests, I am guessing that might be where he lived when he purchased the Copley's site.  Unfortunately though, the website makes no mention of "The Dump's" exact location.  So you know what that means!  I've got another locale to track down!  Is my work here never done?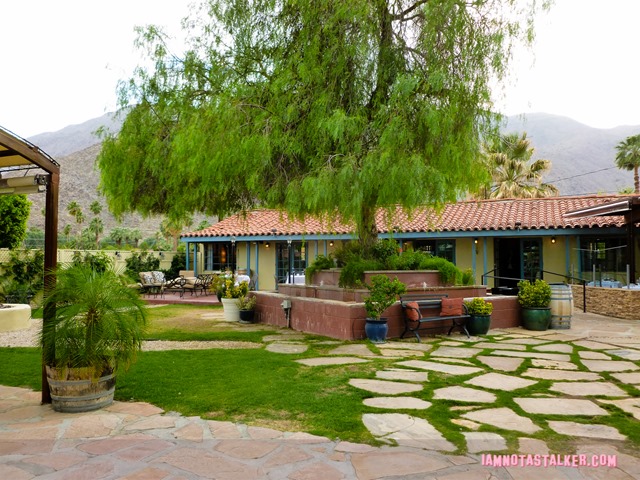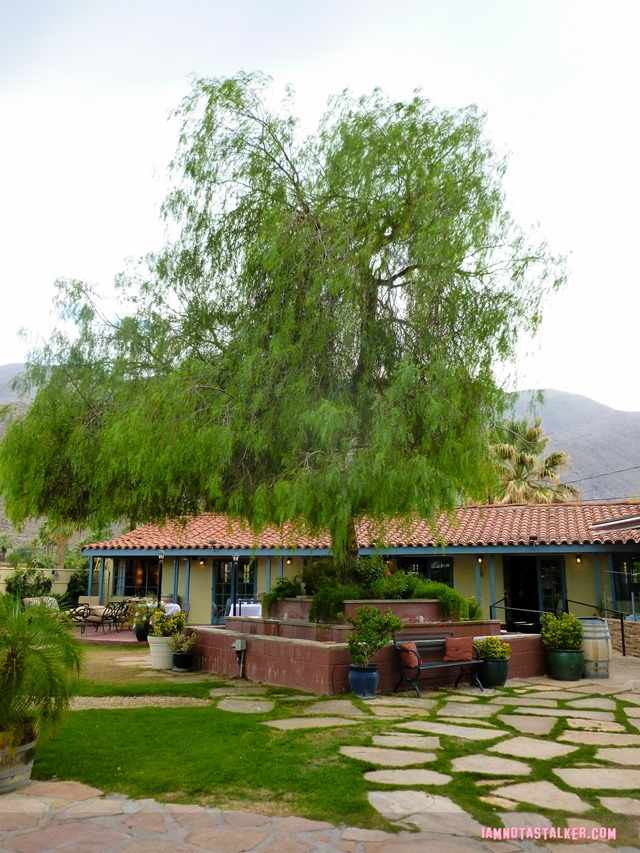 After purchasing the site, Andrew and Juliana immediately began renovating and restoring the 3,500-square-foot property, which was originally built sometime during the 1920s.  During the renovation, which took 64 days to complete, the couple refurbished the estate's original hardwood flooring, replanted every bit of foliage on the 0.50-acre grounds and transformed the former garden into an outdoor dining area.  The result is nothing short of spectacular!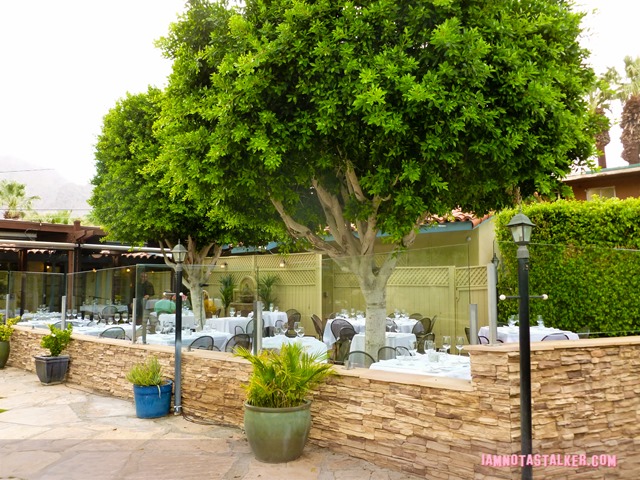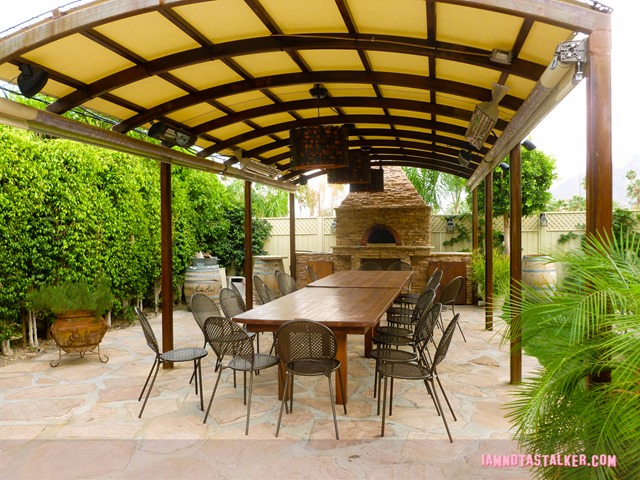 Because we showed up 15 minutes before Copley's actually opened and they were nice enough to allow us in, we had the place entirely to ourselves.  And the super-nice bartender even went so far as to take me on a little tour to explain how the structure was set up when Grant owned it.  As you can see below, the indoor dining area is divided by cut-out arched walls.  During the Cary Grant days, those walls were filled in, sectioning off the building into several neighboring suites (I think there were a total of five separate suites), all of which opened out to the garden/patio.  So the property was essentially like a private mini-hotel.  How great would it be to have a place like that to stash visiting family and friends?  Love it!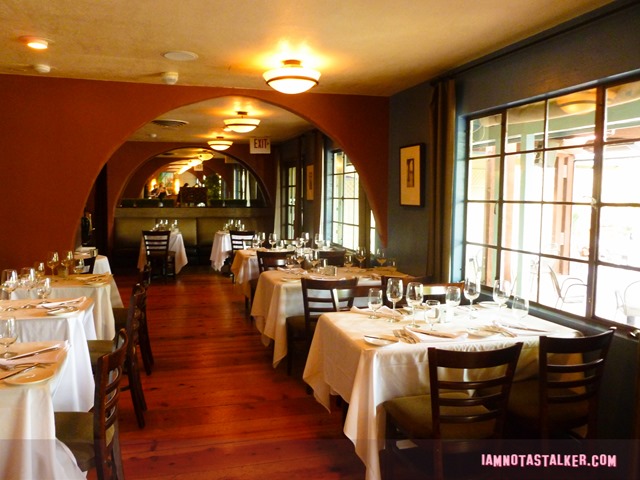 One of the former suite areas is pictured below.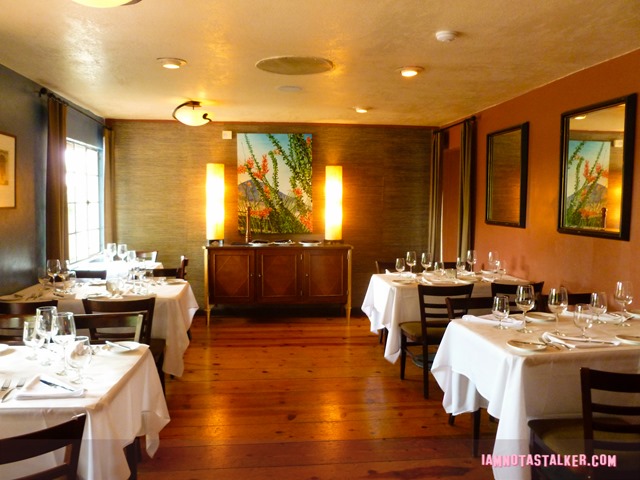 Copley's definitely does not have the typical restaurant feel to it.  Being there is like hanging out at a good friend's house – well, a rich good friend's house. 
  And whether or not Cary Grant ever actually owned the place, it was still insanely fun to sit on the patio and sip champagne while imaging that the iconic actor had once done the exact same thing in the exact same spot.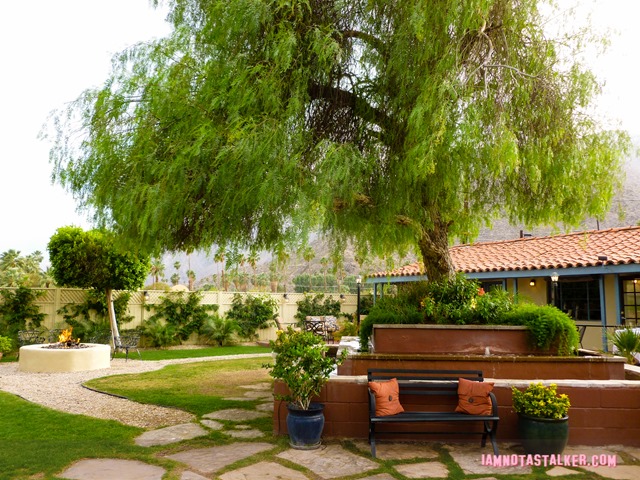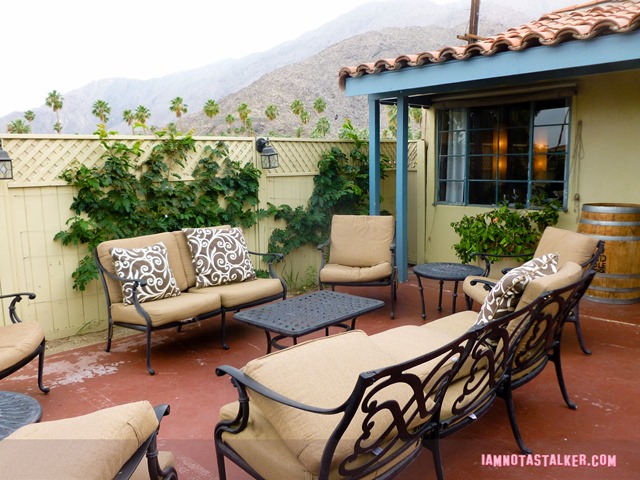 And, bonus!  The Grim Cheaper was especially excited to learn that Copley's offers $5 champagne on its happy hour menu – something that is not at all typical.  You can check out the full happy hour menu here.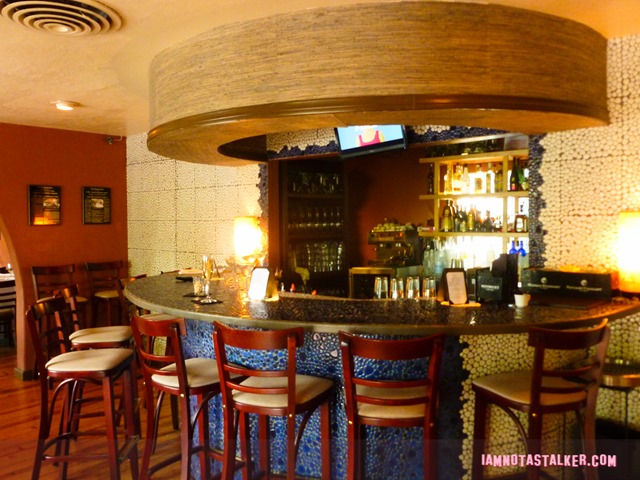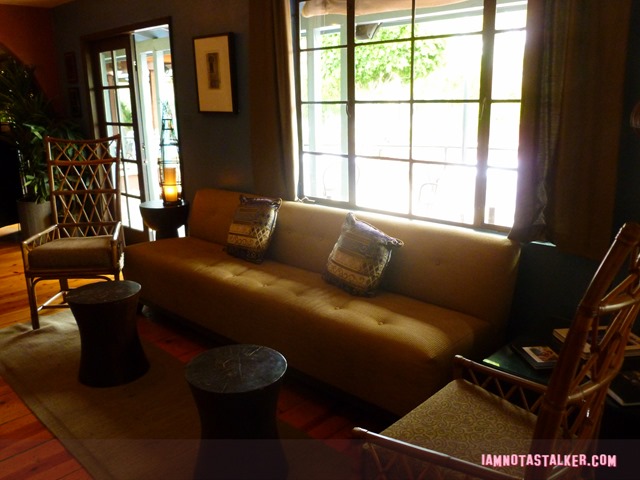 And while we did not partake of any food while we were there, the dinner menu does look pretty darn uh-ma-zing (the Sesame Seared Tofu has my name written all over it!) and we are looking forward to going back there for a special occasion meal.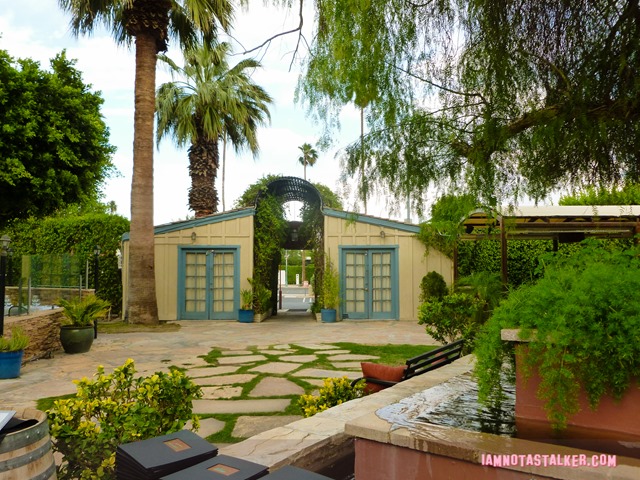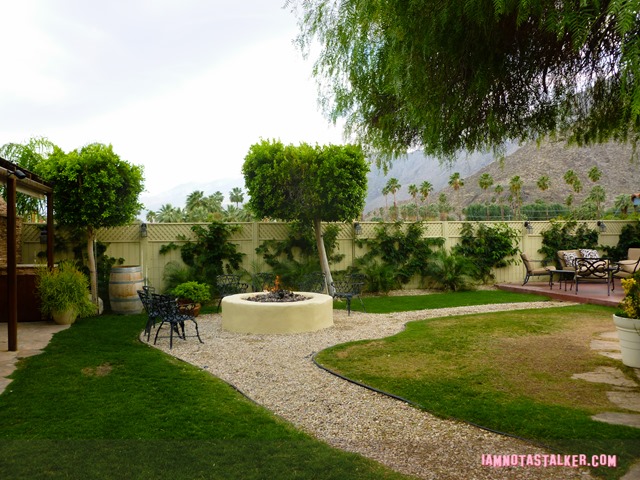 For more stalking fun, be sure to follow me on Facebook, Twitter and Instagram.  And you can check out my other blog, The Well-Heeled Diabetic, here.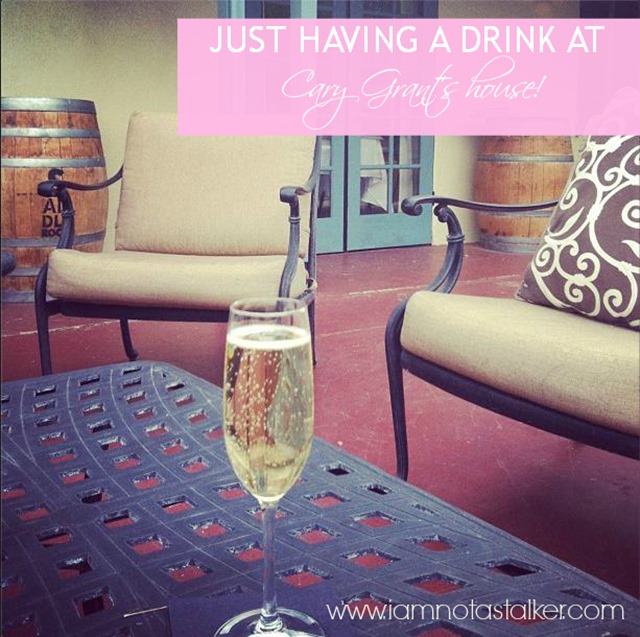 Until next time, Happy Stalking! 
Stalk It: Copley's on Palm Canyon is located at 621 North Palm Canyon Drive in Palm Springs.  You can visit the restaurant's official website here.  The eatery only serves dinner and is open each night starting at 6 p.m.  The property is closed on Mondays during the month of June and is closed completely from July through August each year.
72149