The End – Kime Buzzelli's Vintage Shop
Sep 20th, 2013 | By
Lindsay
| Category:
Celebrity Sightings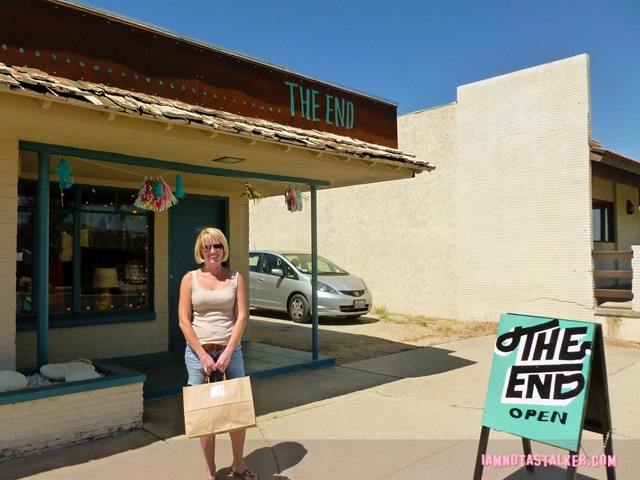 As I mentioned in my April post about the Hideaway Saloon (which you can read here), I have been a longtime follower of 90210's former costume designer Kime Buzzelli on both Twitter and Instagram.  Kime is BEYOND sweet and is always happy to answer questions from fans, whether it be about what a character wore in an episode or where a scene was shot.  She was even nice enough to share a photograph of a typo that she had taken with fellow stalker Owen for his blog, When Write Is Wrong.  Anyway, I knew from following her that she had recently opened a vintage shop named The End in Yucca Valley.  One Saturday morning back in May, the Grim Cheaper and I headed out to Starbucks for coffee and afterwards he suggested we take a drive up to Pioneertown – an Old West movie set near Joshua Tree that I had long wanted to stalk.  I should mention here that I had no makeup on at the time.  I had barely even run a comb through my hair before leaving the house that morning as I thought we were simply grabbing coffee and then going back home.  But trooper that I am, I agreed to head over to Pioneertown, makeup-less, to do some stalking.
I am severely directionally-challenged (which is ironic considering this hobby that I have chosen for myself) and at the time had no idea that Joshua Tree was near Yucca Valley.  So when I saw a sign stating "Welcome to Yucca Valley" during our drive, I just about lost it!  I immediately pulled out my iPhone to search for The End's address and informed the GC that I would not be leaving the area without visiting Kime's shop.  Needless to say, we made a little detour and, let me tell you, I just about passed out when I opened the door to the place and there was Kime herself sitting behind the counter!  Never in my wildest dreams did I think she would actually be in the store!  (I am IN LOVE with the garland hanging above The End's entrance, by the way.  I am fairly certain it is a Confetti System garland, similar to the one that Cupcakes and Cashmere's Emily Schuman has strung in her office.)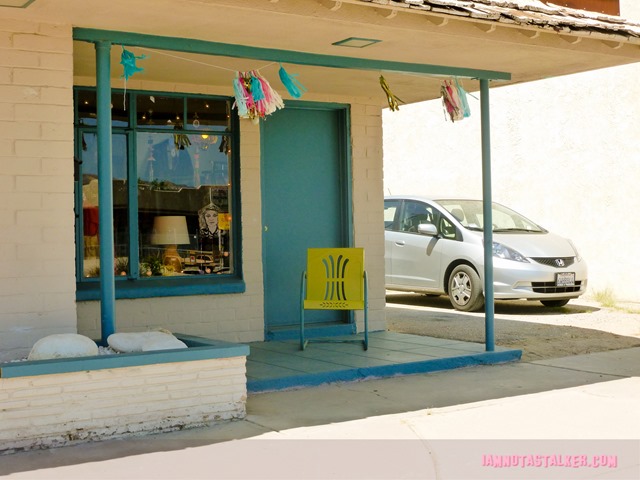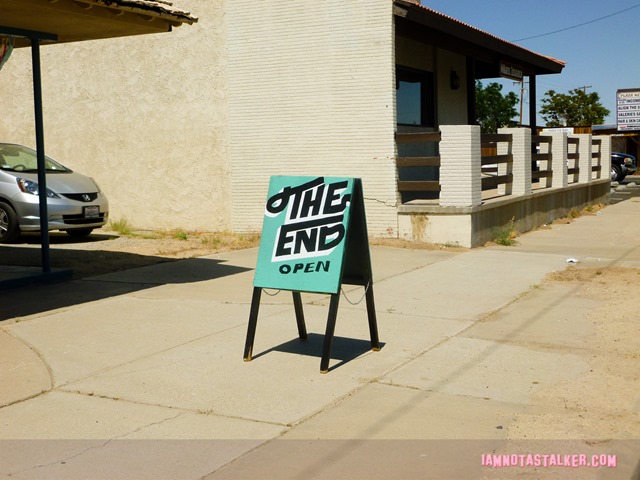 Kime was extremely gracious and we wound up hanging out in her shop for a good hour chatting about 90210.  The GC even really enjoyed talking with her and he could care less about that stuff. 

  And even though I was sans makeup, I, of course, had to ask her for a photo while I was there.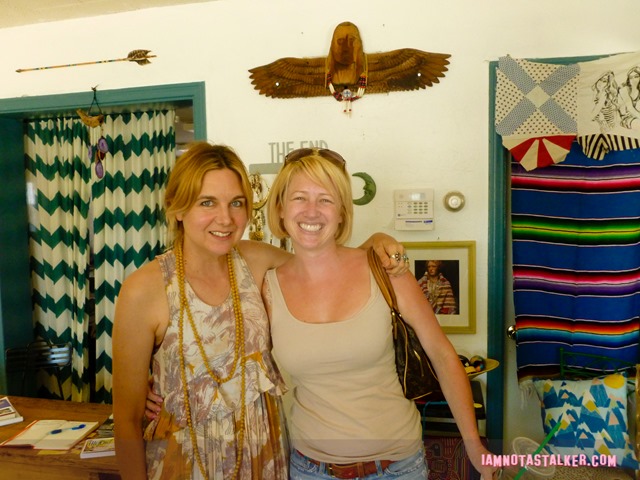 While speaking with Kime, my eyes couldn't help but dart around looking at all of the fabulous items in her adorable shop.  One piece that I kept catching sight of was the feathered skirt pictured below, the edge of which was sticking out of a rack of clothes.  Anything with glitter or feathers and this stalker is a goner!  The GC said that as soon as we walked in, he had spotted the white and blue plumes poking out of the rack and knew right away that the skirt would be accompanying us home. 

  So when I pulled it out at one point and Kime informed me that it had actually been purchased for Erin Silver (Jessica Stroup) to wear during her burlesque period on 90210, I just about died!  The skirt never actually made it into an episode, but that was pretty much all I needed to hear!  Thank God it fit, otherwise I would have been devastated!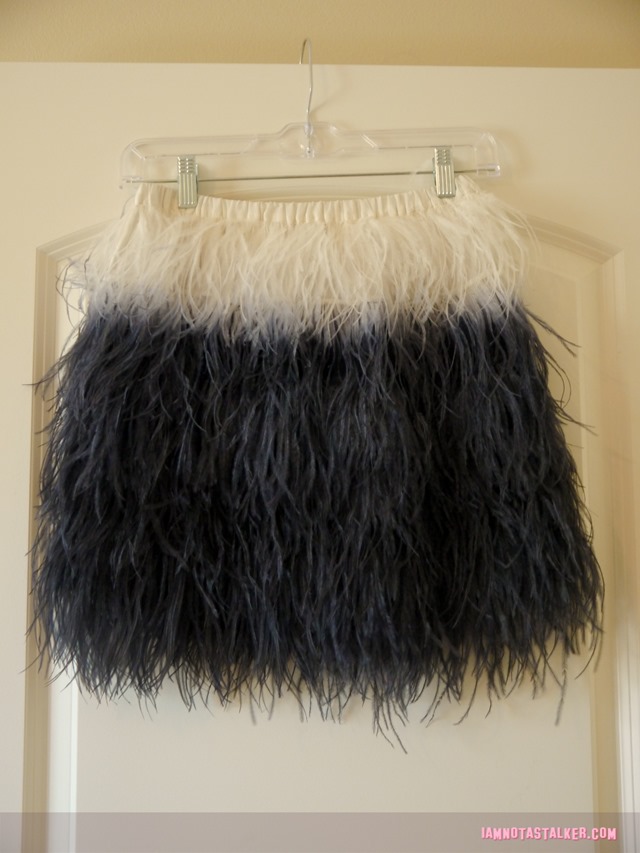 Then, a couple of weeks ago, I found out that Kime was bringing The End to the Ace Hotel in Palm Springs as a Labor Day pop-up shop, so I of course dragged the Grim Cheaper right on over there to do some more shopping.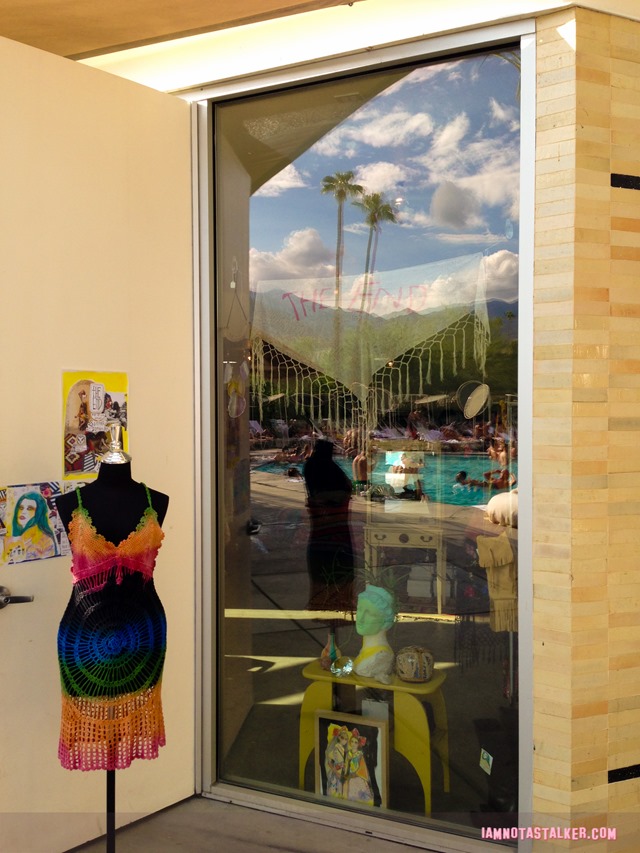 I was shocked – and delighted – upon walking in when Kime recognized me right away!  Like I said, she's an absolute doll!  And she was even nice enough to take a second picture with me.
While milling around the shop, I happened to come across the beaded piece of heaven pictured below and fell immediately in love.  Then when Kime informed me that it had been worn by Naomi Clark (AnnaLynne McCord) at her 18th birthday party on 90210, I just about had a heart attack!  It was at that point that the GC resigned himself to the fact that there was absolutely no way I was leaving the store without that dress.  Sadly, when I tried it on, though, it did not fit AT ALL.  There's nothing like trying on AnnaLynne McCord's clothes to make a person feel bad about themselves. 

  When I came out of the dressing room and informed the GC that the dress was too small, he said, "Are you just one stomach flu away from your goal weight, honey?"  LOL  Thankfully though, I thought to check the interior seam and, sure enough, there was extra material, so my mom was able to take it out for me (she's an amazing seamstress!) and the dress now fits like a glove.  And while I was thinking about donning it for the Emmys this Sunday night (SO EXCITED, by the way), Marci, the owner of my very favorite store, Lula Mae, loaned me an uh-ma-zing frock that I am going to wear instead.  I'll save Naomi's dress for next year's show.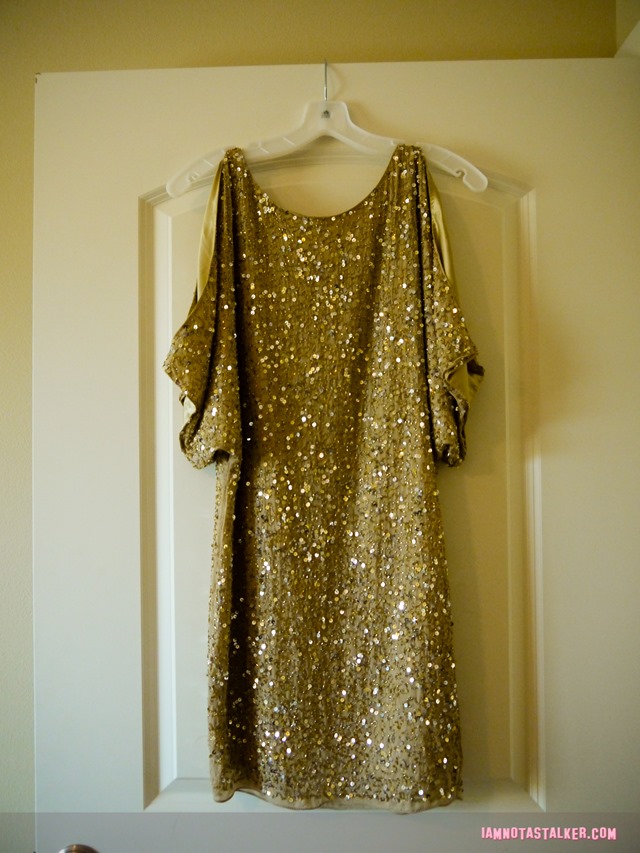 The dress was featured in the Season 3 episode of 90210 titled "Age of Inheritance."  In the episode, Naomi throws herself an extravagant birthday party after learning the news that she finally has access to her hefty trust fund.  I, of course, re-watched "Age of Inheritance" immediately upon returning home from the Ace Hotel that night and really had to pinch myself.  I canNOT believe I own Naomi's dress!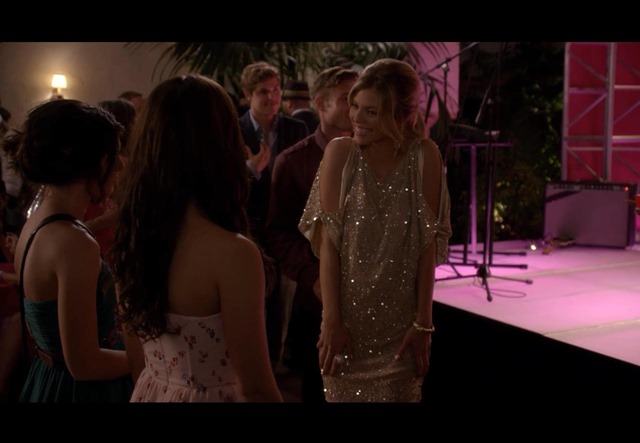 For more stalking fun, be sure to follow me on Facebook, Twitter and Instagram.  And you can check out my other blog, The Well-Heeled Diabetic, here.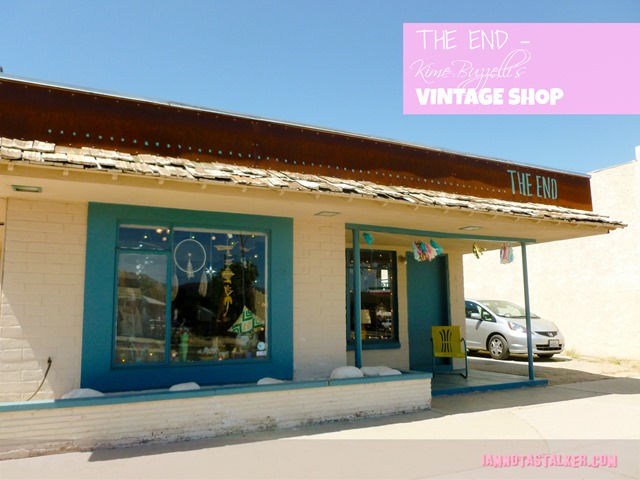 Until next time, Happy Stalking! 

Stalk It: The End, 90210 costume designer Kime Buzzelli's vintage clothing store, is located at 55872 29 Palms Highway in Yucca Valley.  You can visit The End's Facebook page here.  There are a ton of great antique shops nearby, so I definitely recommend walking around the area a bit if you visit.
73615