The "Clueless" Mall
Aug 5th, 2014 | By
Lindsay
| Category:
Movie Locations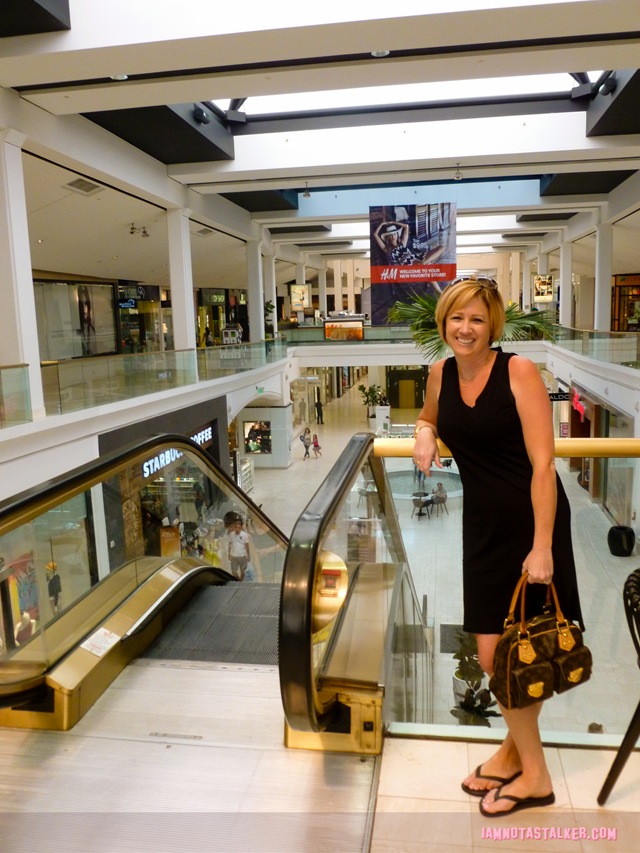 As evidenced by yesterday's post, I have been on a major Clueless filming locations kick as of late.  One spot about which much conflicting information has been reported online is the mall (or malls) that appeared in the 1995 flick.  Some sites stipulate Westside Pavilion in Rancho Park was used, some surmise the Beverly Center in Beverly Grove made a cameo and still others claim that filming took place at Westfield Fashion Square in Sherman Oaks.  So I set out to end the confusion once and for all.
Not surprisingly, Clueless featured several mall scenes.  In the first, which took place towards the beginning of the movie, Cher (Alicia Silverstone) headed to the mall with BFF Dionne (Stacey Dash) to "find sanctuary" after receiving a less-than-stellar report card.  The establishing shot shown in that particular scene was of the Westside Pavilion located at 10800 West Pico Boulevard in Rancho Park.  The locale was only used for that single exterior image, though.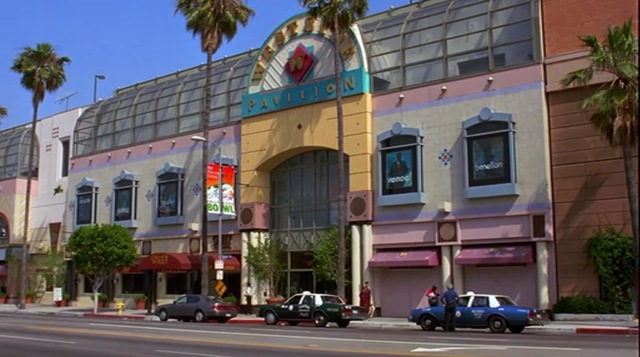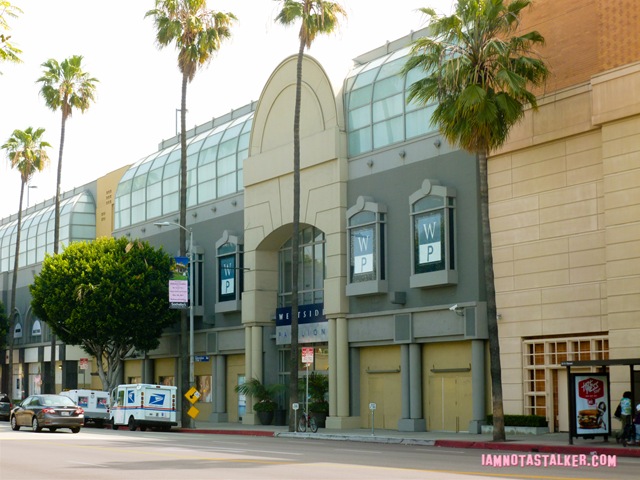 Inside the mall, the girls are shown at Contempo Casuals lamenting the crusty demeanor of their debate teacher, Mr. Hall (Wallace Shawn).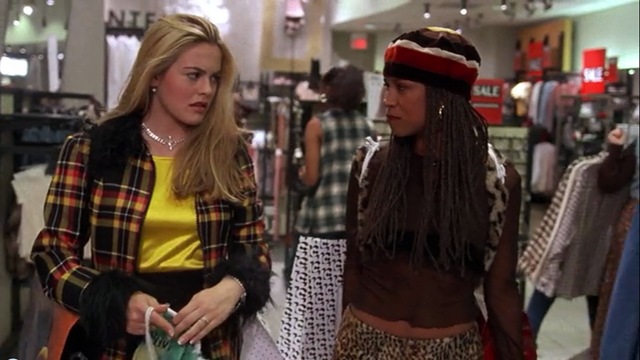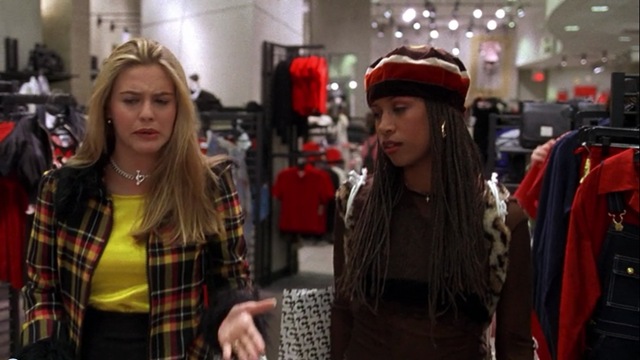 That same Contempo Casuals was also featured in the scene in which Dionne called Cher to inform her that they were going to have to make an appearance at the "Val party."  Most websites state that the C.C. used in Clueless was the one formerly located on the sixth floor of the Beverly Center.  Some recent research leads me to believe that information is incorrect, though.  But more on that in a bit.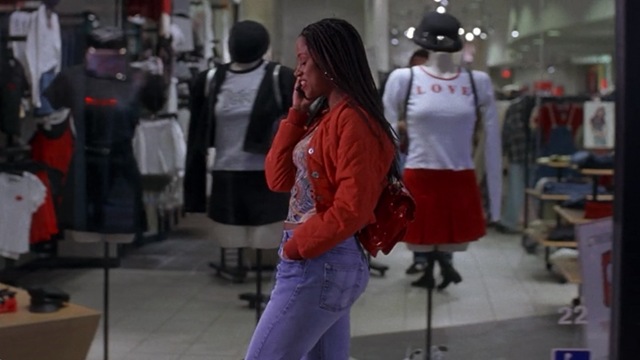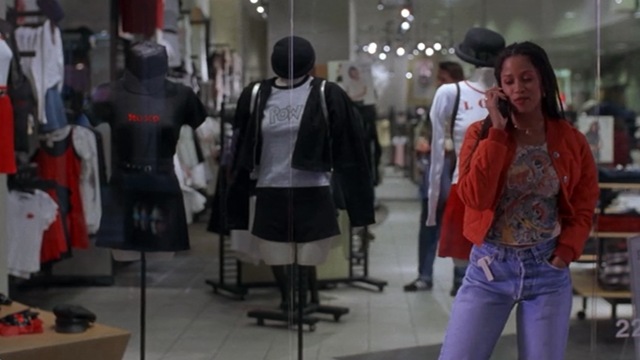 Later in the movie, Cher and Christian (Justin Walker) witness some "Barneys" trying to throw Tai (Brittany Murphy) off a railing while out shopping for a leather jacket.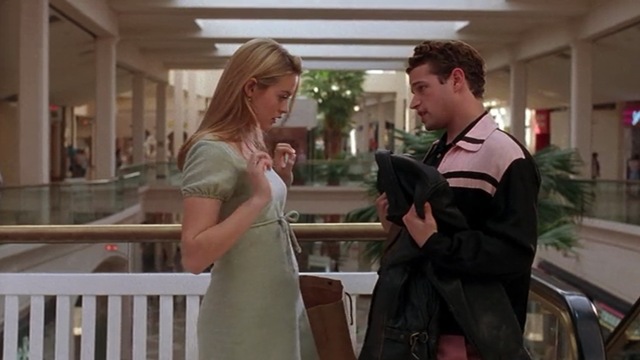 I originally thought the interior of Westside Pavilion had been used in that scene, but, as you can see below, it does not match the mall shown in Clueless.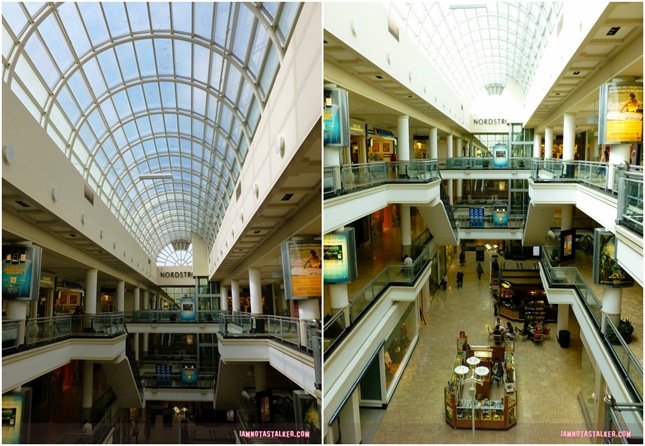 So I headed out to Westfield Fashion Square recently and was thrilled to discover that it was the right spot!  The escalator that Cher and Christian rode in the scene is located in the eastern portion of the mall (on the Macy's side of the center), directly outside of Williams-Sonoma and Zara.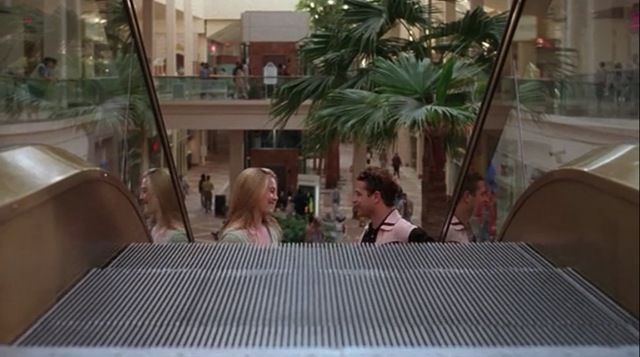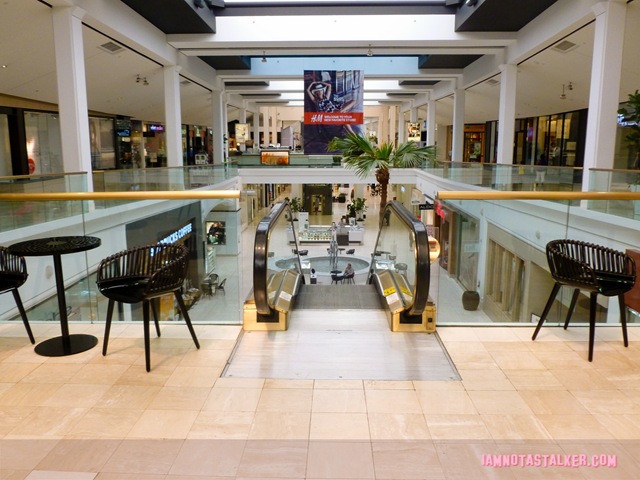 While the tile flooring has been altered and the stores have since transitioned, the area still looks much the same as it did in Clueless, which had me grinning (ridiculously so) from ear to ear.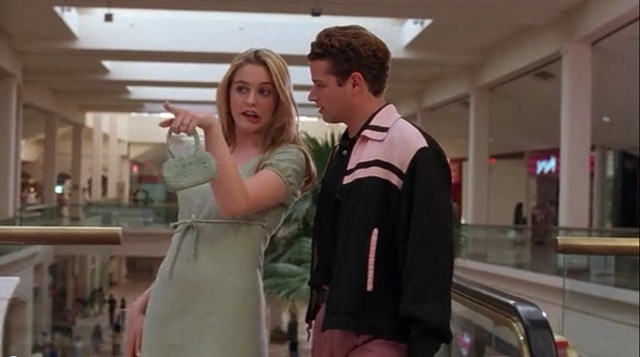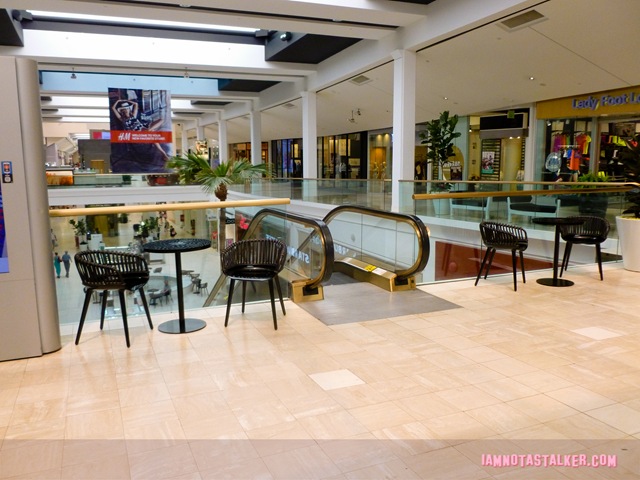 Tai's "near-death experience" took place just across from the escalator, outside of what is now Foot Locker.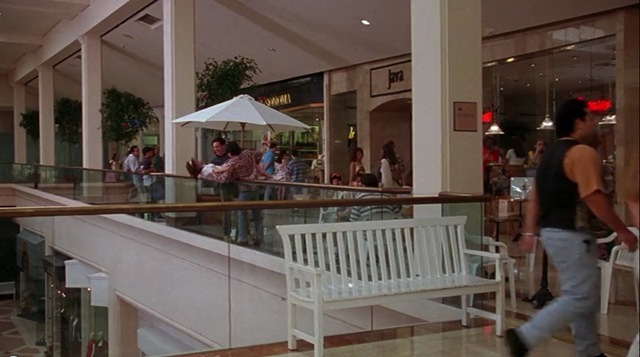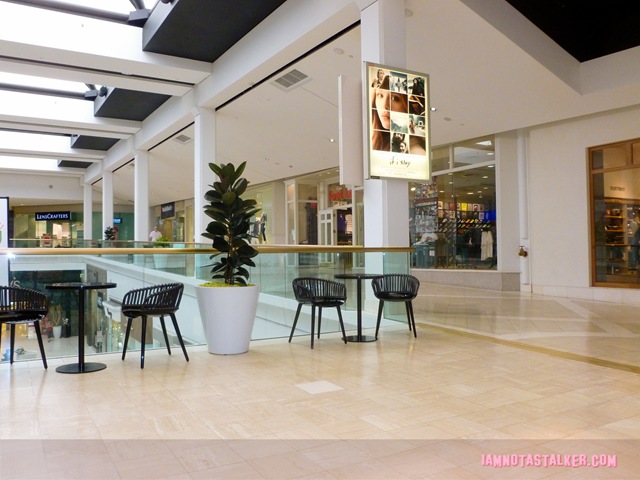 I was totally buggin' when I realized that the benches visible in the movie were no longer there (or perhaps never were).  I so wanted to stand in front of one and say, "Car-pe Di-em!"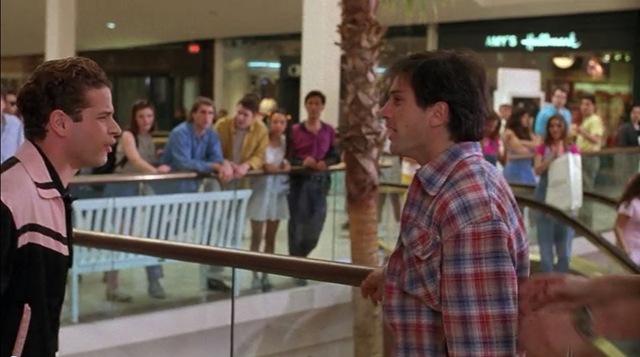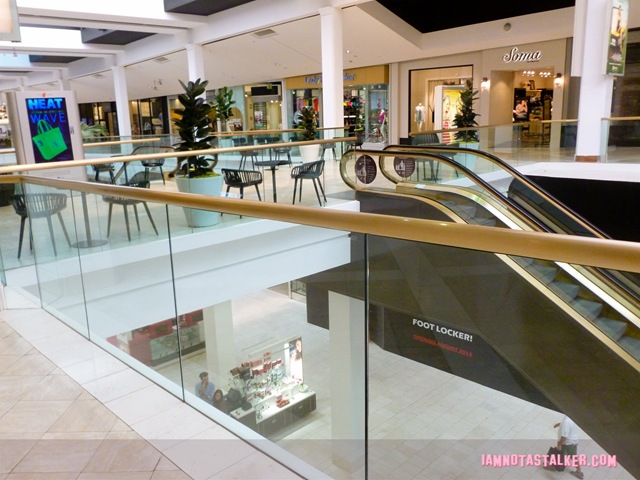 Once I realized that Tai's near-death experience had been filmed at Fashion Square, I got to thinking that the Contempo Casuals scenes were most likely shot there, as well.   It did not make sense to me that producers would go to the trouble of shooting the C.C. scenes elsewhere, especially considering that they were both extremely brief.  So I did some research and learned that there was indeed a Contempo Casuals located at Fashion Square in the mid-nineties, as you can see here and here.  I scanned through the C.C. scenes again and just about fell off my chair when I spotted the number 22 posted on the store's window.  And while I could find no such numbers in any pictures of the Beverly Center via a Google image search, I did spot a number in the same style and color on the front of Victoria's Secret in one of the photographs I had taken at Fashion Square a few years prior (pictured below).  Then I came across this listing and just about died of excitement upon discovering that the company currently located in storefront 22 of the Westfield Fashion Square is none other than Wet Seal, the very same brand that took over Contempo Casuals in 1995!  You can see a photo of the storefront in its current state here.  Based on all of that, I am 99.9% certain that the only mall interior that appeared in Clueless was Westfield Fashion Square.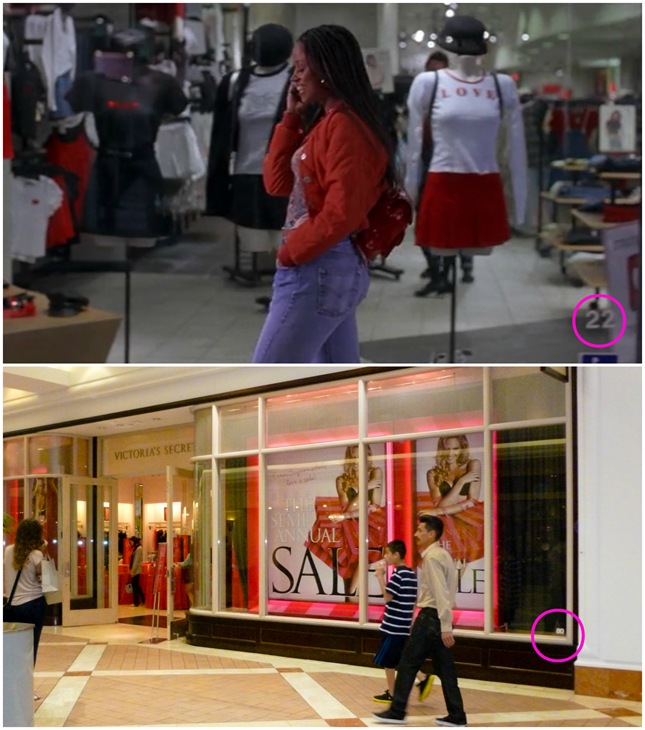 Clueless is hardly the first production to make use of Westfield Fashion Square.  As I blogged back in 2012, the mall was where Michael Scott (Steve Carrel) took Dunder Mifflin's fairer sex in the Season 3 episode of The Office titled "Women's Appreciation."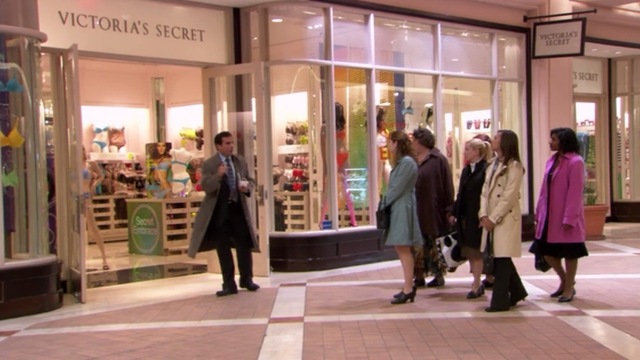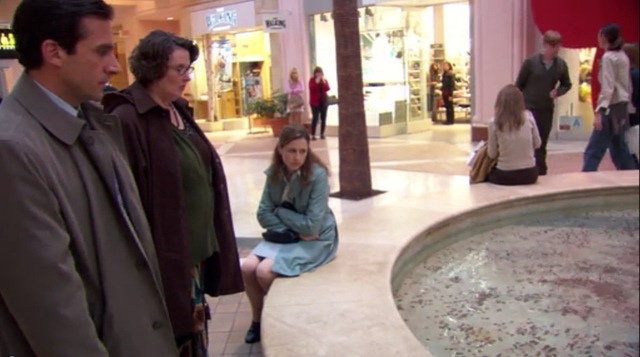 In the Season 5 episode of Beverly Hills, 90210 titled "Christmas Comes This Time Each Year," Westfield Fashion Square was both where Andrea Zuckerman-Vasquez (Gabrielle Carteris) and Jesse Vasquez (Mark Damon-Espinoza) tried to get their baby to pose for a photo with Santa . . .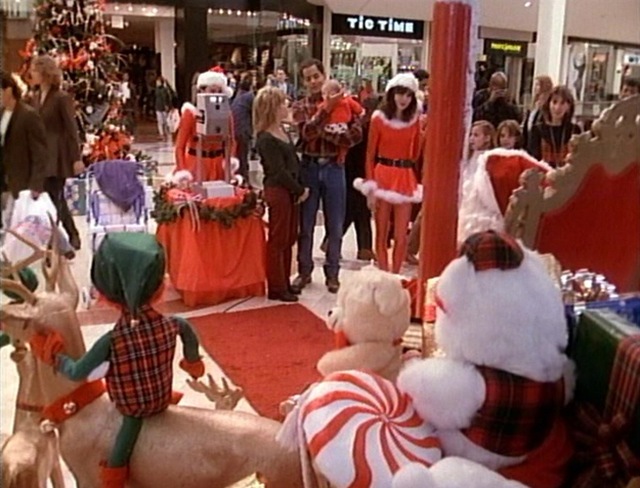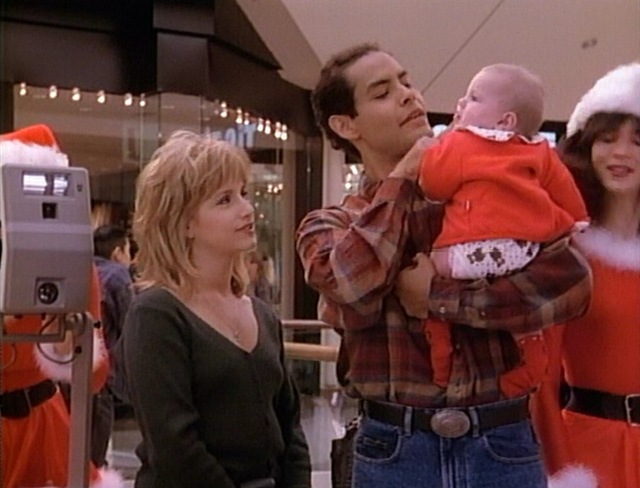 . . . and where Donna Martin (Tori Spelling) shopped with LuAnn Pruit (Caroline McWilliams).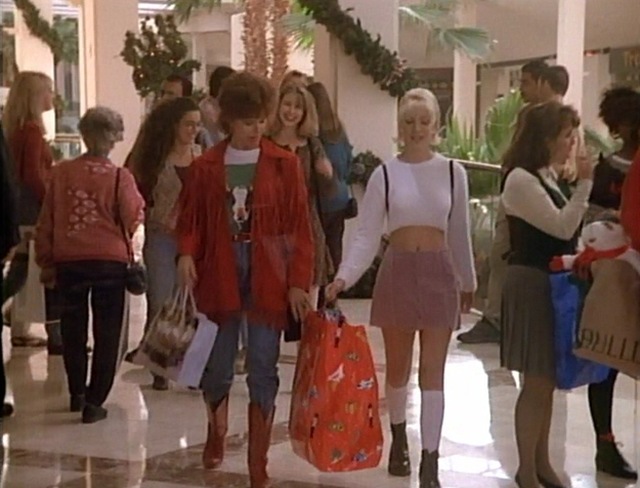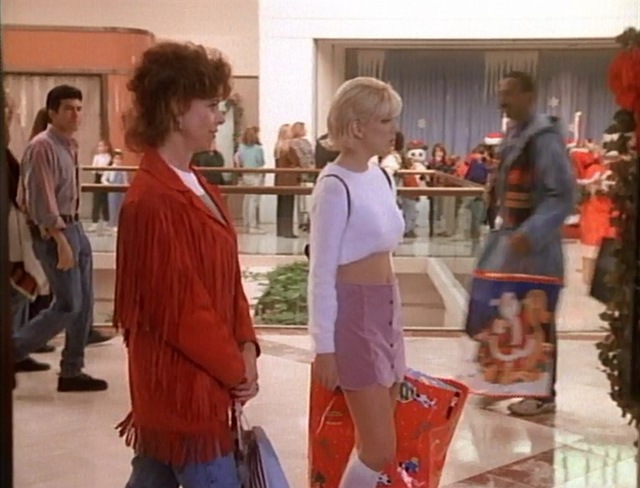 In the Season 4 episode of Malcolm in the Middle titled "If Boys Were Girls," the Nolastname family headed to Westfield Fashion Square to do some shopping.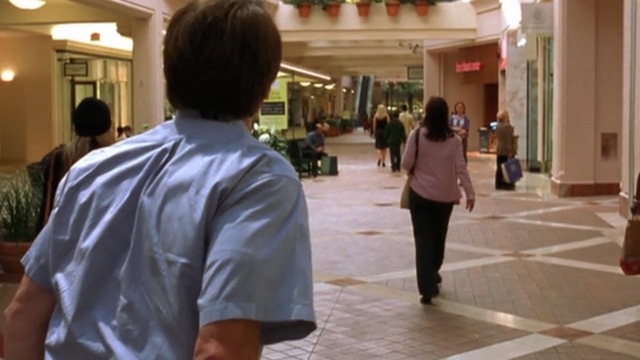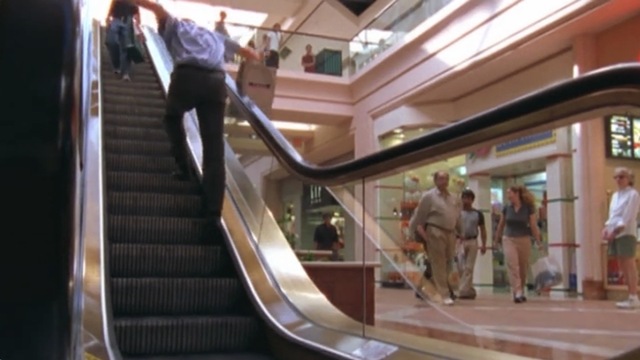 Jane Kaczmarek returned there (to the mall's southeastern parking lot) a couple of years later to film one of my favorite television scenes ever – the demolition derby scene from Season 6's "Hal's Christmas Gift."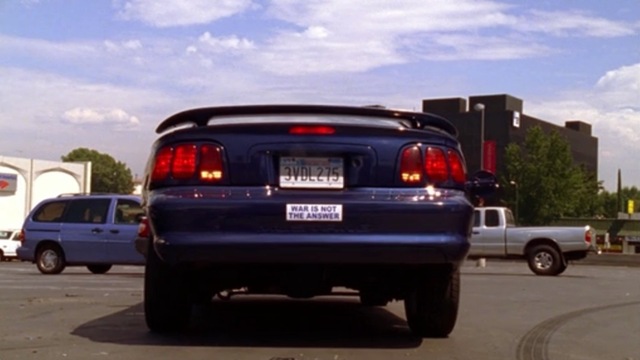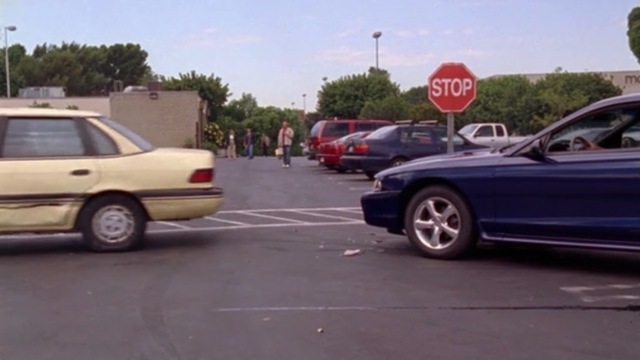 You can watch that scene by clicking below.
In the Season 1 episode of Desperate Housewives titled "Move On," Fashion Square was where Gaby took a low-budget modeling job.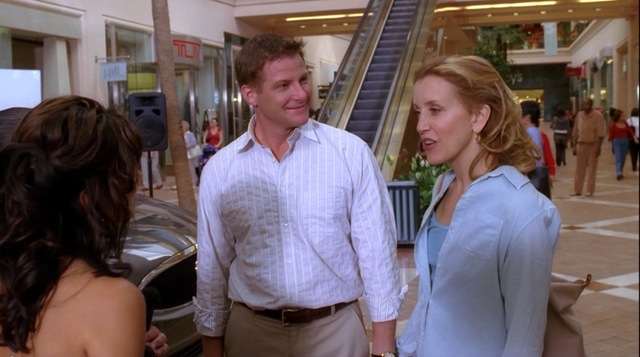 And it was at Fashion Square that Tina Cohen-Chang (Jenna Ushkowitz) fell into a fountain in the Season 3 episode of Glee titled "Props."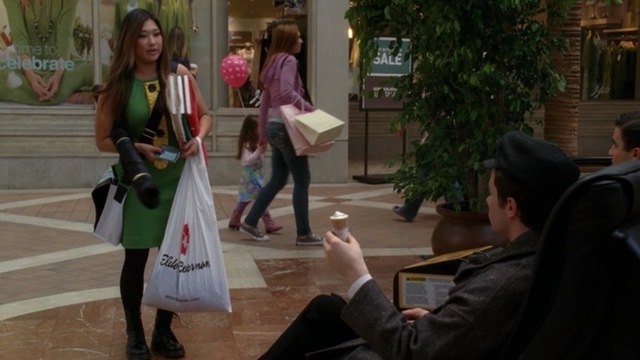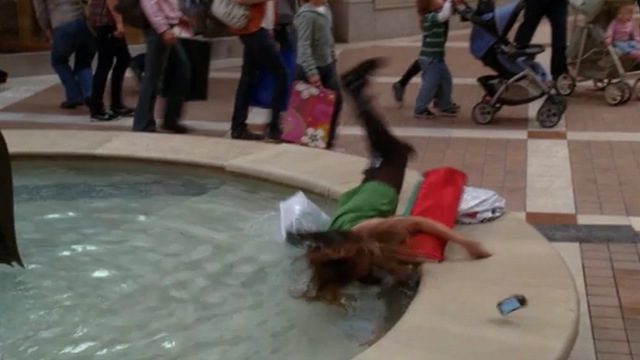 For more stalking fun, be sure to follow me on Facebook, Twitter, Instagram and Los Angeles magazine online.  And you can check out my other blog, The Well-Heeled Diabetic, here.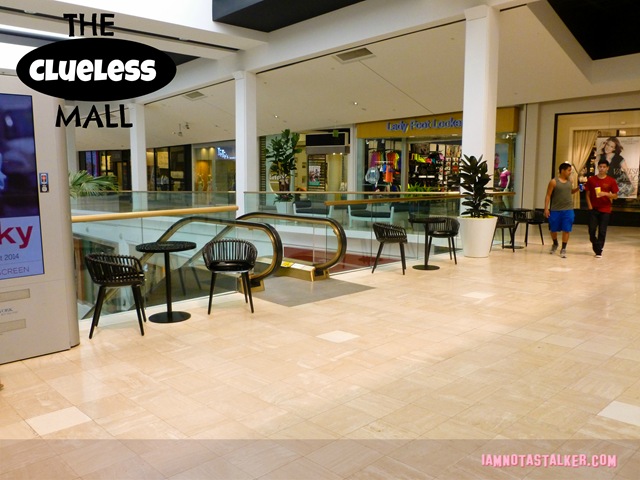 Until next time, Happy Stalking! 

Stalk It: Westside Pavilion, located at 10800 West Pico Boulevard in West L.A., was used for exterior shots of the mall in Clueless.  Interior mall scenes were shot at Westfield Fashion Square at 14006 Riverside Drive in Sherman Oaks.  The escalator that Cher and Christian rode in the movie is located on the eastern side of Fashion Square, in front of Williams-Sonoma and Zara, and Tai was almost pushed off the railing located in front of Foot Locker.
82867