The Old Towne Orange Starbucks from "That Thing You Do!"
Jan 4th, 2017 | By
Lindsay
| Category:
Movie Locations
"We met at Starbucks.  Not at the same Starbucks, but we saw each other at different Starbucks across the street from each other."  So says Meg Swan (Parker Posey) about meeting her husband, Hamilton (Michael Hitchcock), in the 2000 comedy Best in Show.  (You can watch the hilarious scene here.)  Meg might well have been describing the two outposts of the coffee giant in Old Towne Orange, which are situated across the plaza from each other.  As fate would have it, both are filming locations!  I blogged about one – the 44 Plaza Square site, which was featured in the 2004 Yuletide comedy Surviving Christmas – last December, and promised to do a post on the second –  which can be found at 101 East Chapman Avenue – but never got around to it.  So I figured now was as good a time as any.  Here goes!  The second Starbucks, which is housed alongside a Wells Fargo in a 1928 bank building, made a brief cameo in fave movie That Thing You Do!
The city's first bank, the Bank of Orange, was originally established in 1886.  The following year, the company constructed offices, a two-story brick building, on the northeast corner of Chapman Avenue and Plaza Square.  You can see what it looked like here.  The site has been home to a bank ever since.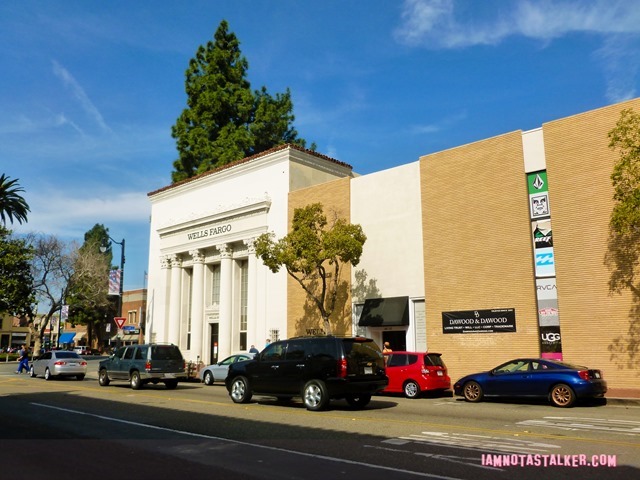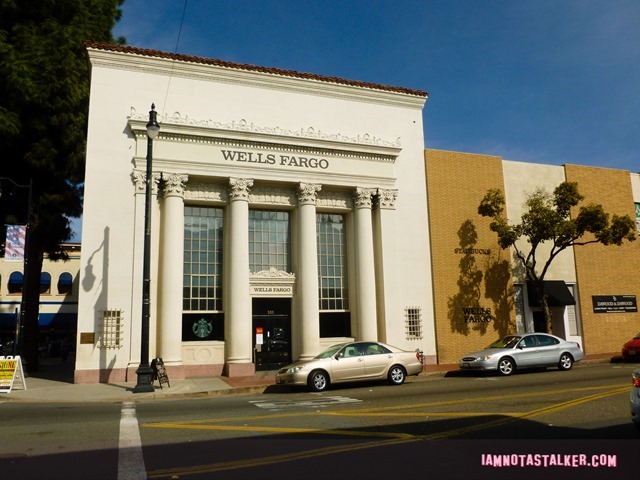 The Bank of Orange underwent an ownership change in 1905 and was eventually consolidated with another local financial institution, becoming the First National Bank of Orange in 1927.  The brick offices were torn down shortly thereafter to make way for a new headquarters building.  That property, which was designed in the classical style by architects Morgan, Walls & Clements, opened its doors in 1928.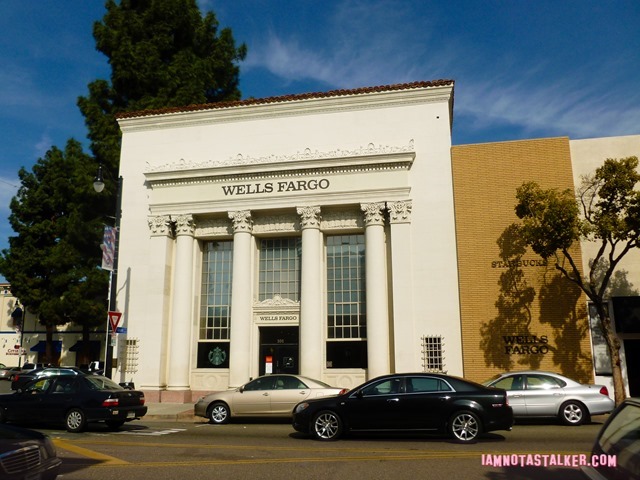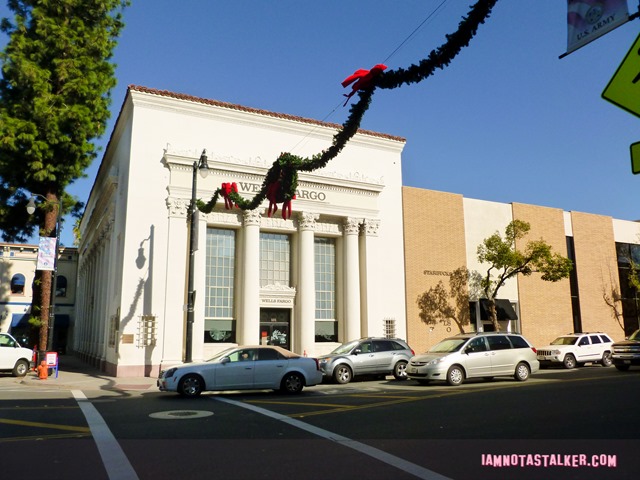 The stately site, which was expanded twice over the years (first in 1955 and then again in 1963), became a Wells Fargo in 1978.  In more recent years, a Starbucks was added to the premises.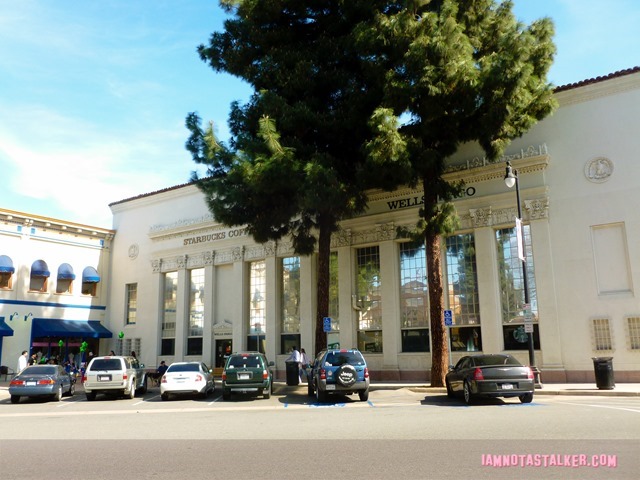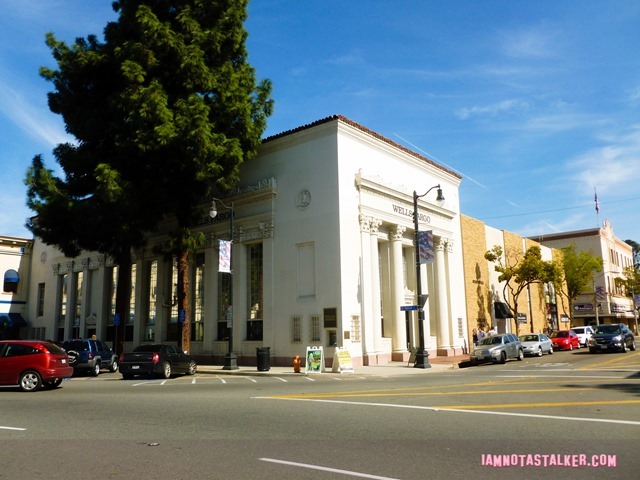 Due to the fact that the coffee shop is situated inside of the actual bank, its interior is quite unique.
And quite impressive.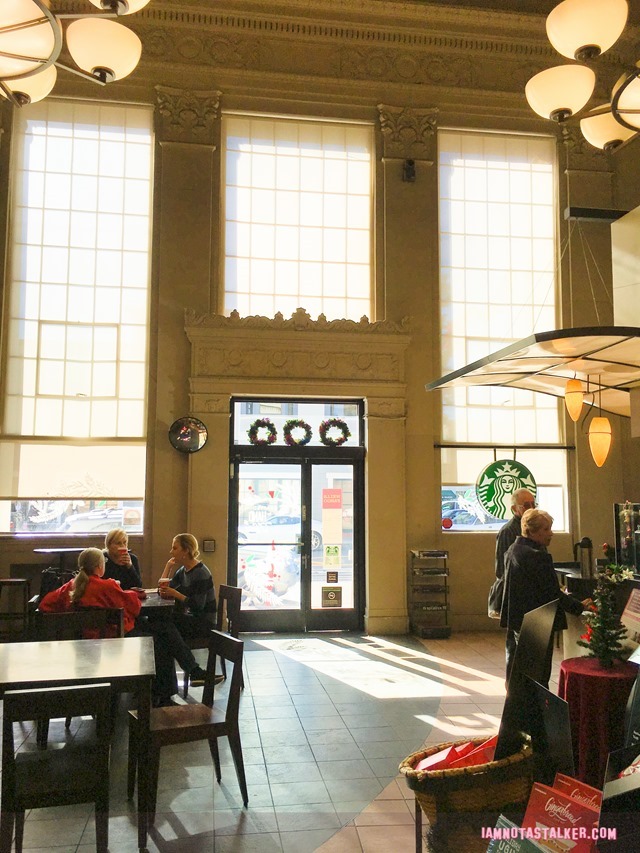 Not a bad place to grab a cup of joe, eh?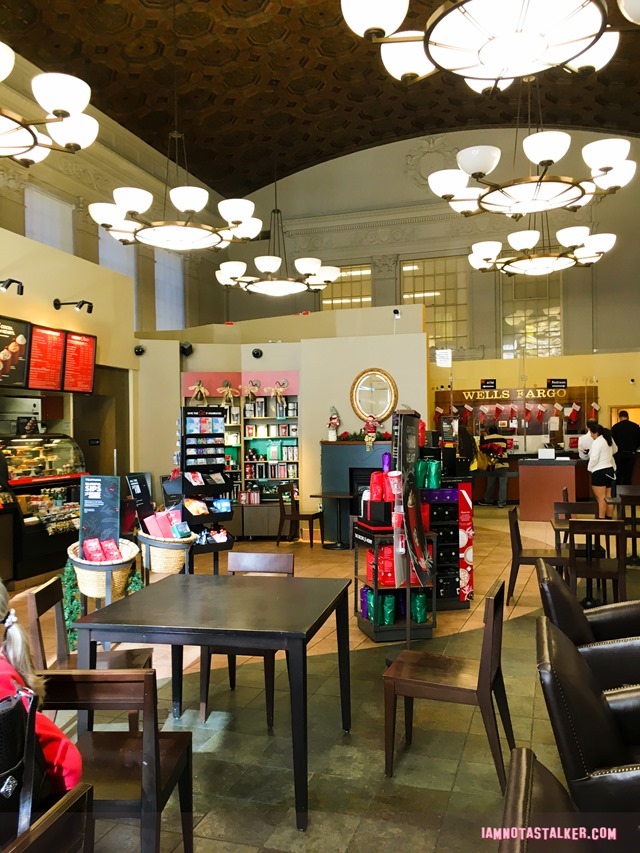 I fell in love with the site's ornate rounded inlaid ceiling.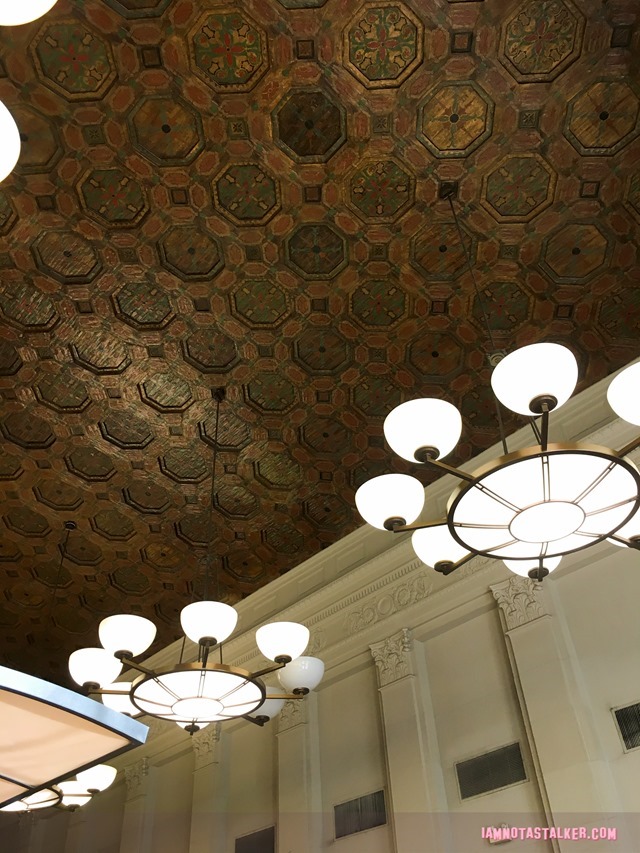 As you can see below, it's really quite something.
In That Thing You Do!, the exterior of the Starbucks/Wells Fargo building masked as the exterior of the main branch of The Erie Public Library.  You can see a photo of it dressed for the filming here.  It was there that, while Jimmy Mattingly (Johnathon Schaech) pontificated about naming his musical group "The Heardsmen," Chad (Giovanni Ribisi) broke his arm during an attempt to hop over a parking meter.  Though it was a short scene, it was significant in that it served as the catalyst for Guy Patterson (Tom Everett Scott) joining the group to replace Chad, which in turn caused them to become famous.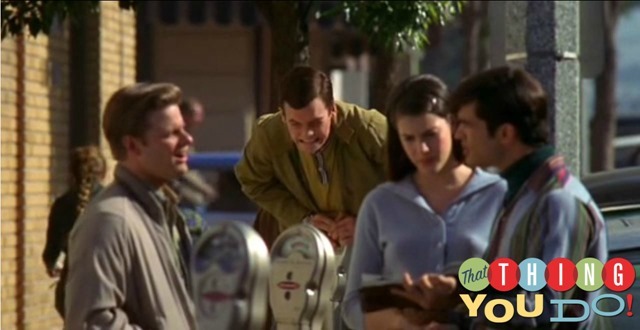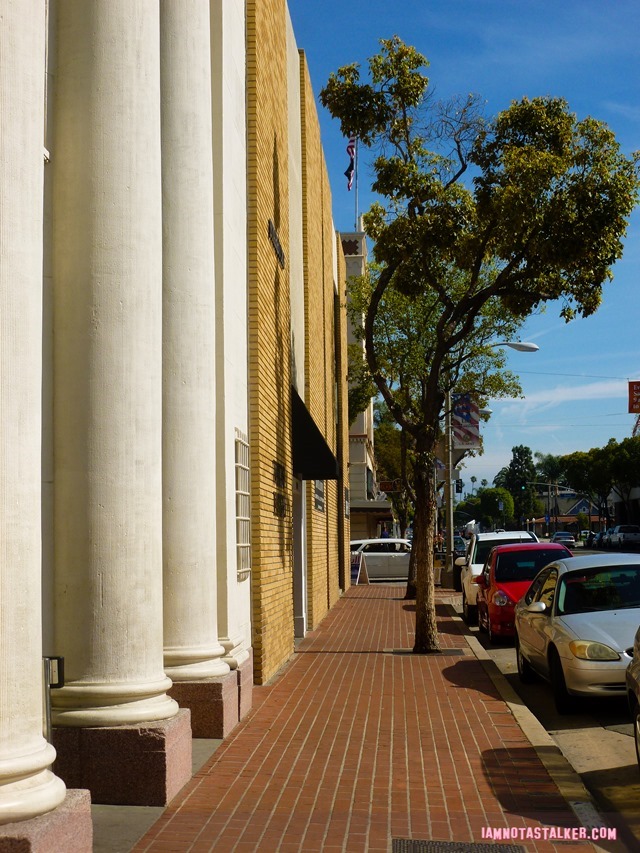 Filming of the segment took place on the building's south, East Chapman Avenue side . . .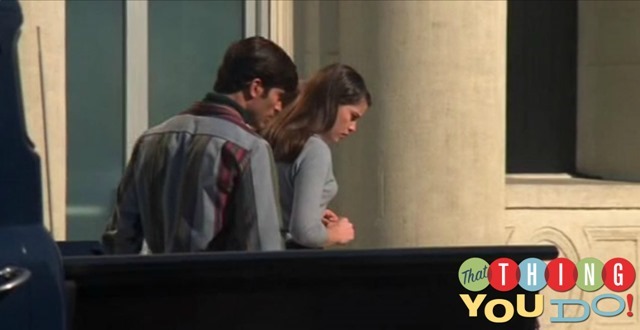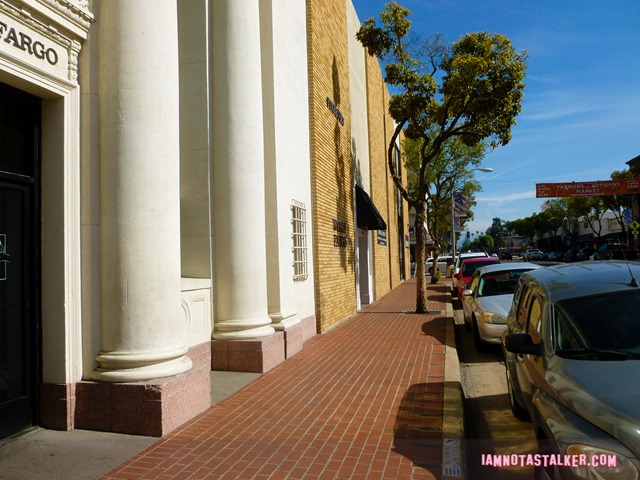 . . . where there are, unfortunately, no parking meters in real life, so I could not do a re-creation.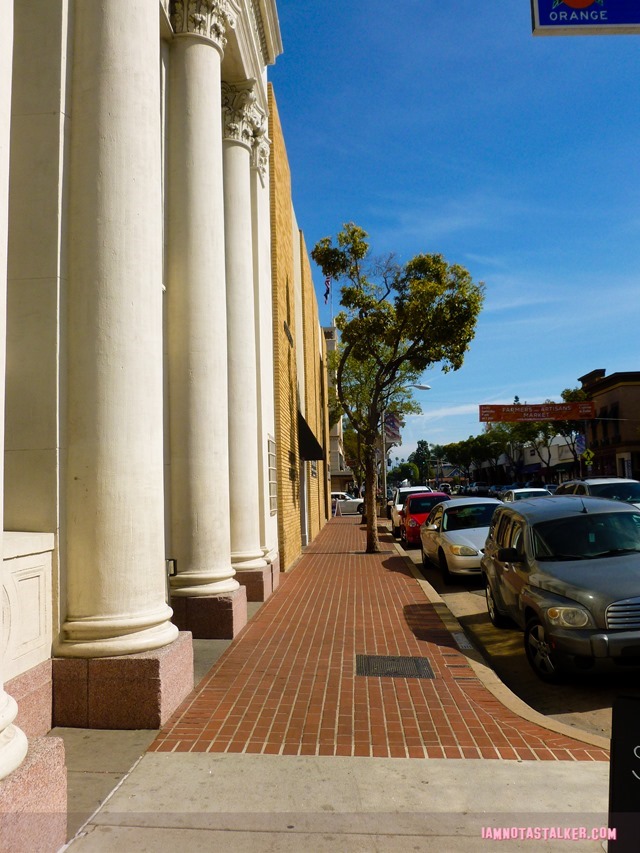 Being that I'm a klutz, though, maybe that's a good thing.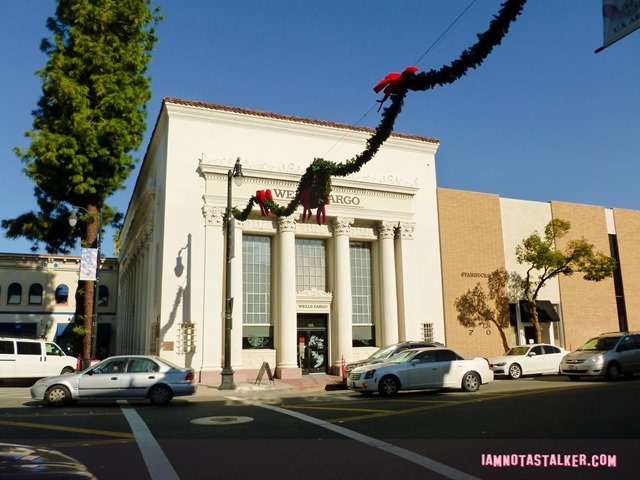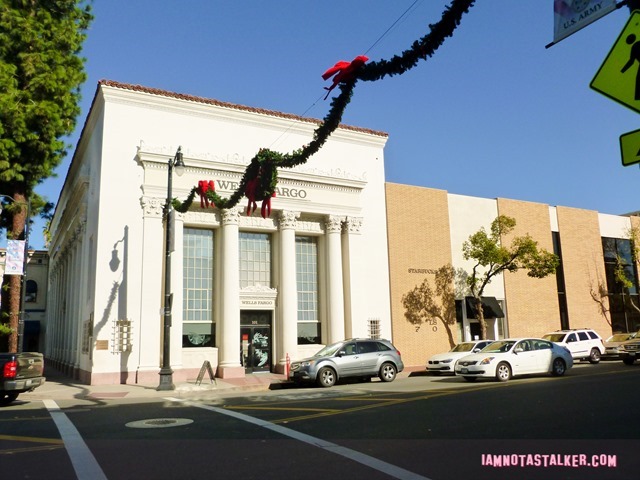 The building's other side (the west Plaza Square side) was seen briefly in the background of the Season 5 episode of Parks and Recreation titled "Partridge."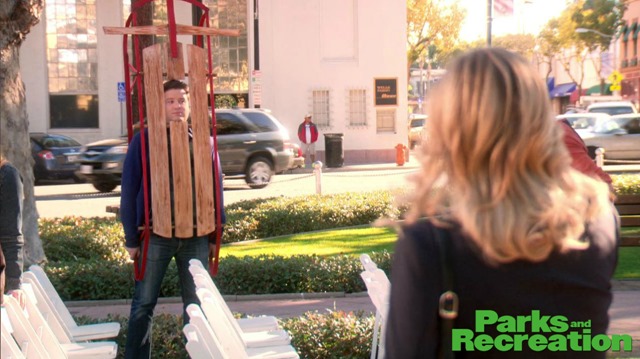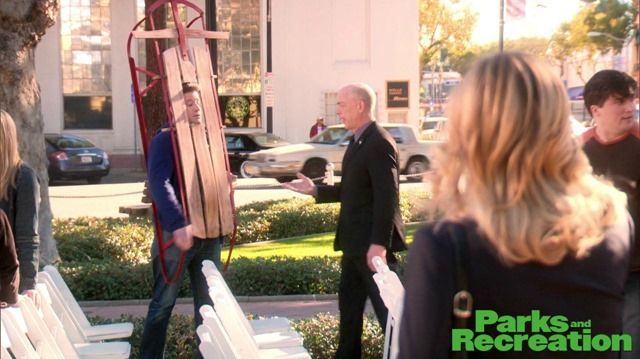 For more stalking fun, follow me on Facebook, Twitter, Instagram, Los Angeles magazine and Discover Los Angeles.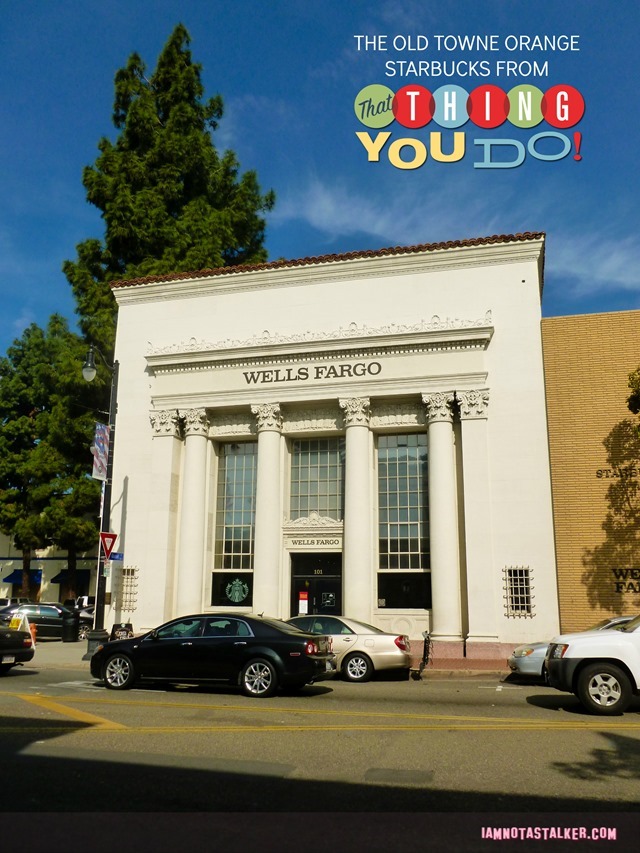 Until next time, Happy Stalking! 

Stalk It: The Old Towne Orange Starbucks/Wells Fargo from That Thing You Do! is located at 101 East Chapman Avenue in Orange.
101777