Center Stage from "Vanderpump Rules"
Apr 21st, 2017 | By
Lindsay
| Category:
TV Locations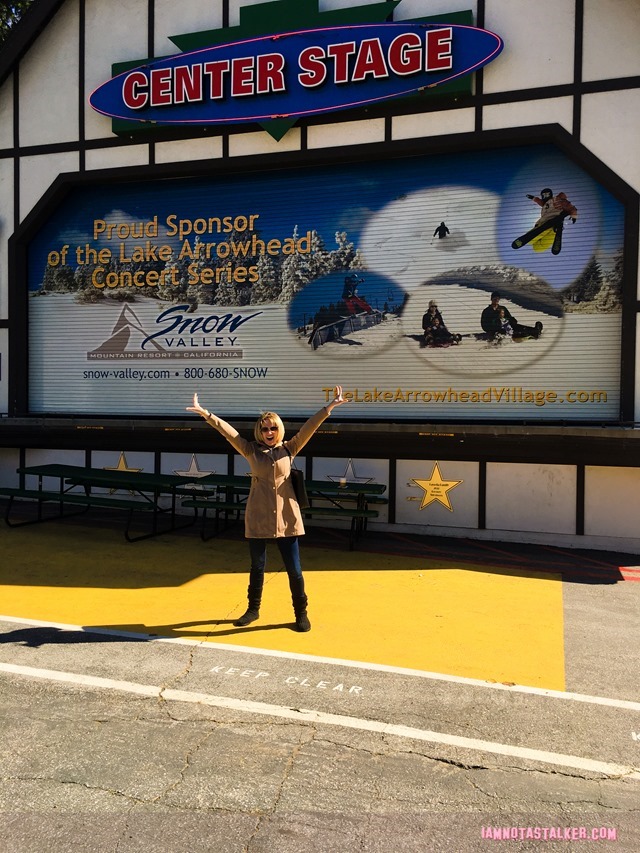 Continuing on with our Vanderpump Rules tour of Lake Arrowhead, the Grim Cheaper and I headed over to Center Stage, the outdoor concert venue where Pierce the Arrow, Tom Sandoval's band, played in the Season 2 episode titled "Only the Lonely."  Thankfully, this was an easy find and stalk.  Not only was the name "Center Stage" shown in the episode, but I knew from my prior visits to the area that the arena was located somewhere in Lake Arrowhead Village, the city's sprawling lakeside alpine-themed shopping center.  Once there, the venue's large red and blue sign made the place easy to pinpoint.
Center Stage was originally established in 2003 and, at the time, consisted of a small outdoor stage covered by an overhang.  You can check out a photograph of what it looked like in its early days here.  In 2005, a new arena was built, this one modeled after the defunct Ye Jester Theatre, an open air arena originally constructed at Lake Arrowhead Village in 1925.  You can see a picture of what the Ye Jester looked like while it was still in existence here.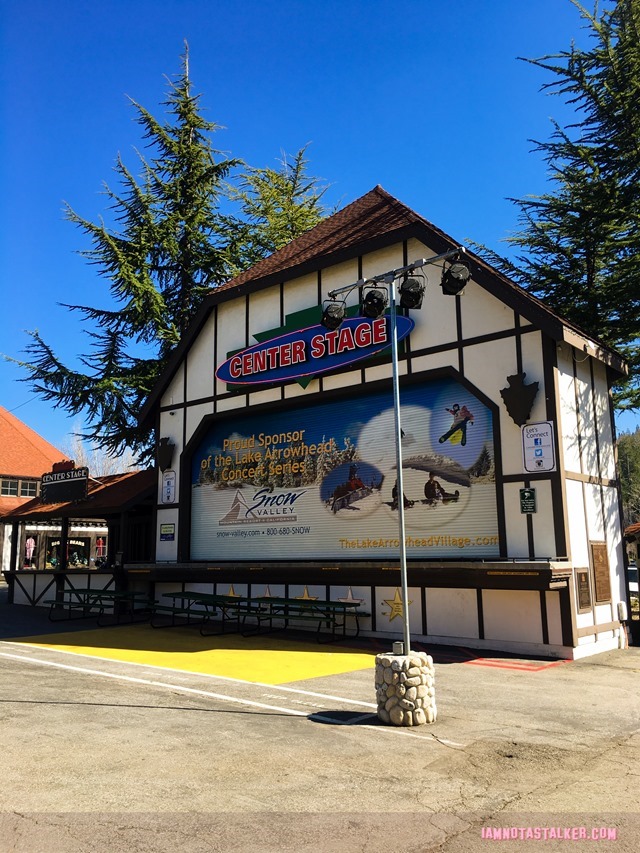 Ye Jester Theatre was sadly demolished, along with all of the original Lake Arrowhead Village buildings (aside from the post office, bank, real estate office, and former dance pavilion, which today houses Papagayos Mexican Restaurant & Cantina, another Vanderpump Rules locale), in 1979.  The year prior, a group of developers had purchased the shopping center and, because many of the storefronts were in a state of decline with outdated piping and wiring, decided to raze it to make way for new, but architecturally similar structures.  The entire center was subsequently set ablaze as part of a "burn to learn" exercise conducted by the Lake Arrowhead Fire Protection District and several other government agencies.  The Lake Arrowhead Village that stands today was erected in its place shortly thereafter.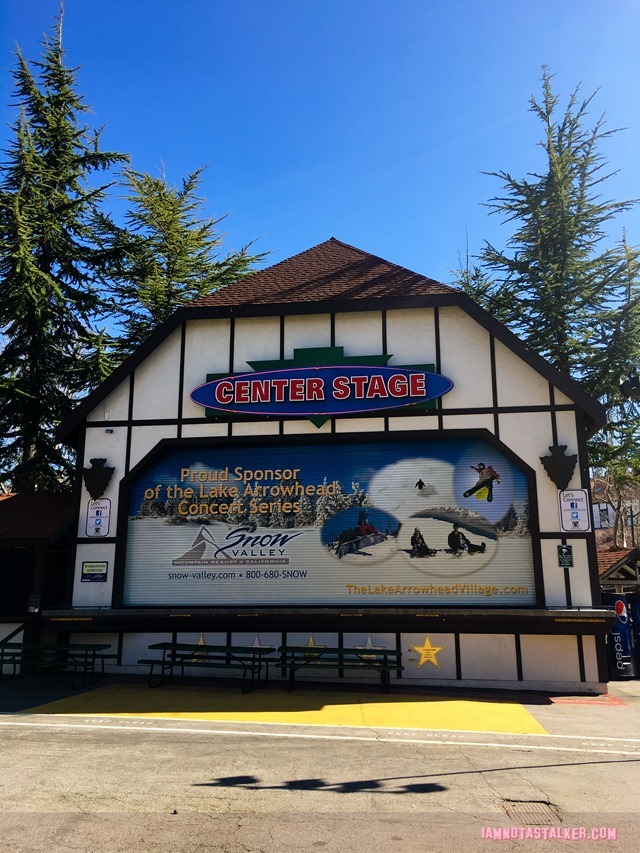 Center Stage is mainly utilized during Lake Arrowhead's Summer Concert Series, which runs each May through September.  The concerts, which feature bands from all musical genres, are open to the public and free to attend.  Reserved table seating can also be purchased.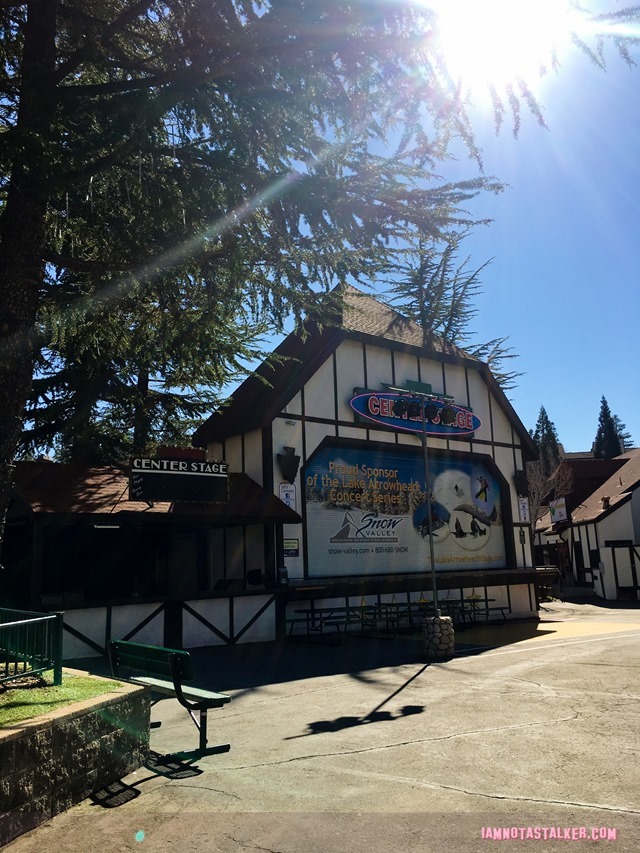 The venue also features a beer garden.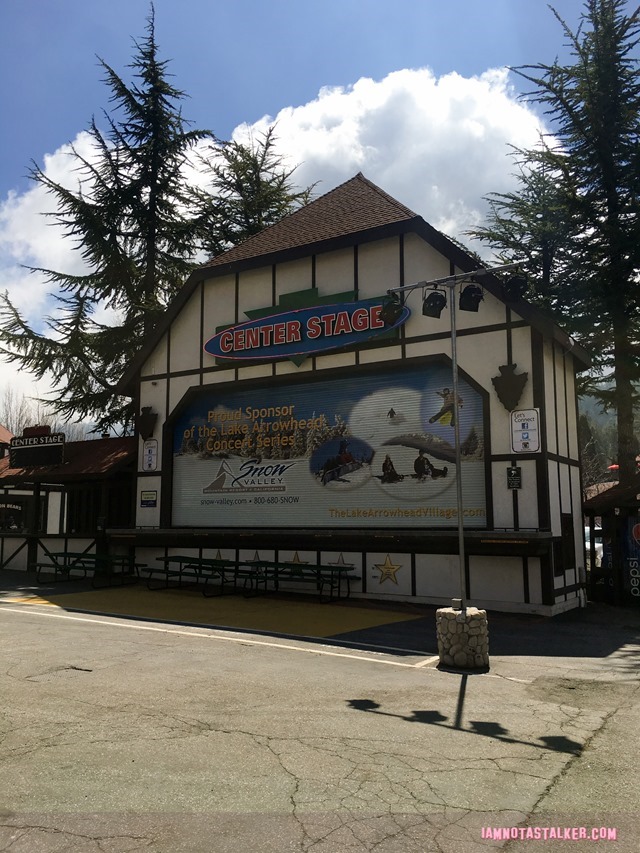 In the "Only the Lonely" episode of Vanderpump Rules, Tom and his band are featured at Center Stage as part of the Summer Concert Series.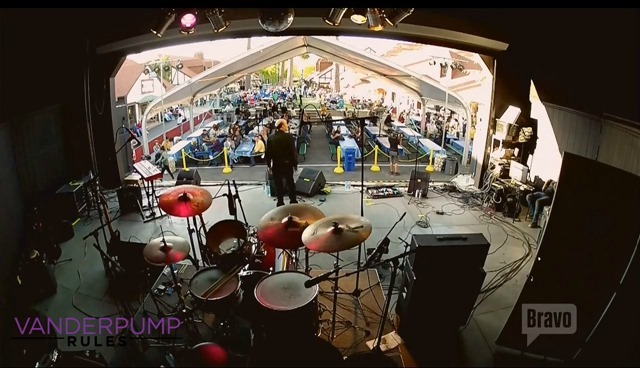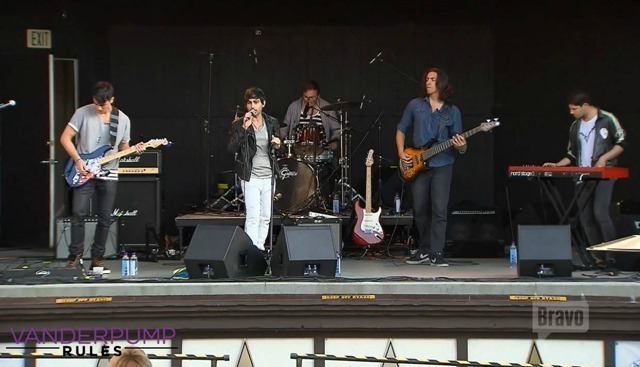 Their performance softens then girlfriend Kristen Doute's hostility towards Tom and, despite all the fighting that took place earlier in the episode, Kristen decides all is forgiven.  She explains, "Seeing Tom up on stage, it's just one of those moments that you forget every sh*tty thing you've put each other through.  And it takes you back to why you started dating to begin with.  It reminds me of why I love him so much.  There are definitely times that I want to punch Tom in his balls, but right now, in this moment, I want everyone to know that's my f*cking boyfriend up on that stage!"  As I said in my post about Woody's Boathouse Restaurant, which also appeared in the episode, it's no surprise that these two didn't last through the season.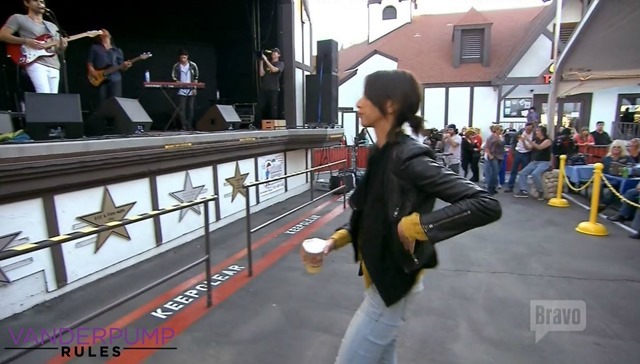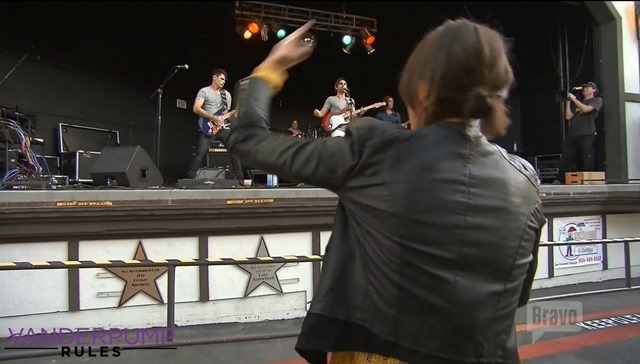 During Pierce the Arrow's performance, the Sur gang throws women's underwear at Tom, who is easily the most metrosexual guy to ever grace a TV screen.  (He regularly and unabashedly uses a flat iron, goes for spray tans, and shaves his forehead – yes, shaves his forehead!)  As Sur manager Peter Madrigal explains, "Tom's up there wearing women's hair products, women's eye liner, women's pants.  Why not throw him some women's underwear?  Maybe he'll wear those, too."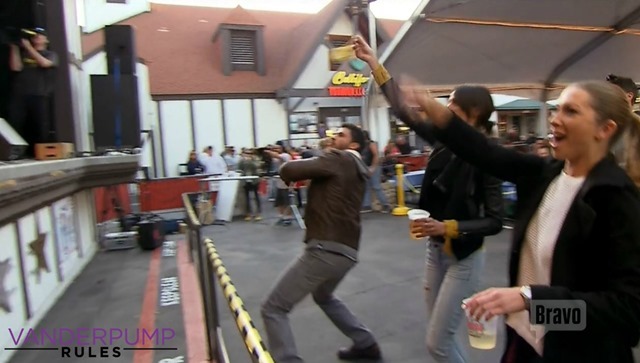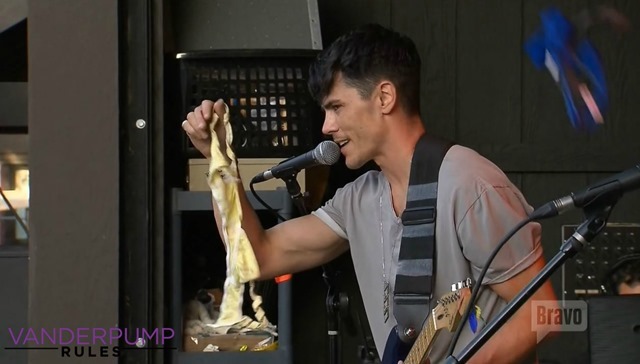 Later in the evening, Martha Davis and The Motels performed their 1982 hit "Only the Lonely" at Center Stage, hence the episode's title.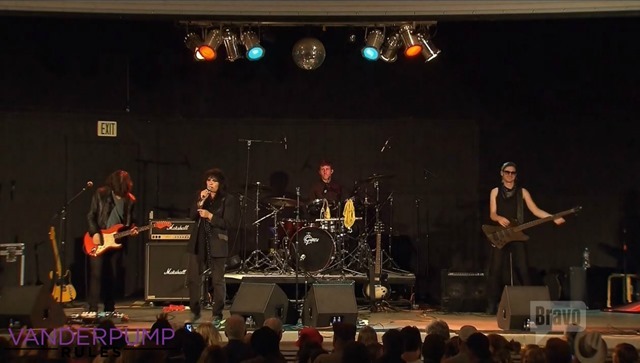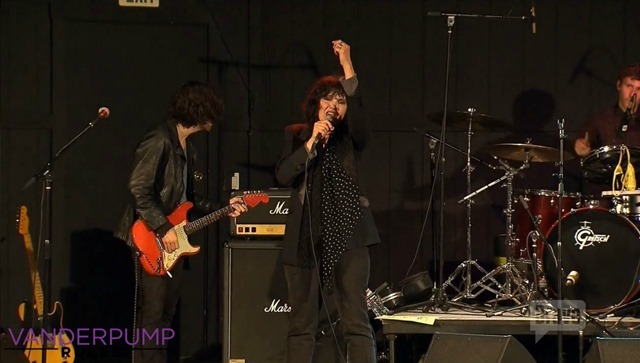 For more stalking fun, follow me on Facebook, Twitter, Instagram, Los Angeles magazine and Discover Los Angeles.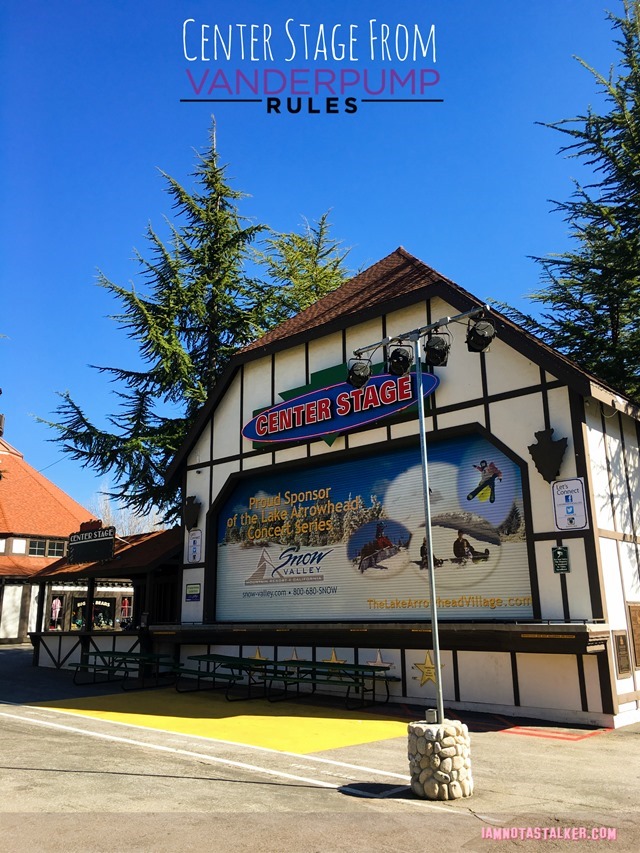 Until next time, Happy Stalking! 

Stalk It: Center Stage, from the "Only the Lonely" episode of Vanderpump Rules, can be found at the entrance to the Lake Arrowhead Village shopping center, which is located at 28200 CA-189 in Lake Arrowhead.  You can check out the line-up for the 2017 Summer Concert Series, as well as purchase reserved seating, here.  Woody's Boathouse Restaurant, which also appeared in the episode, is located in Lake Arrowhead Village, as well, just east of Center Stage.  You can visit the eatery's official website here.  Papagayos Mexican Restaurant & Cantina, another "Only the Lonely" locale, can be found in Building P-100 of the same center.  You can visit that eatery's official website here.
104162