Jewel's Catch One from "Pretty Woman"
Aug 28th, 2017 | By
Lindsay
| Category:
Movie Locations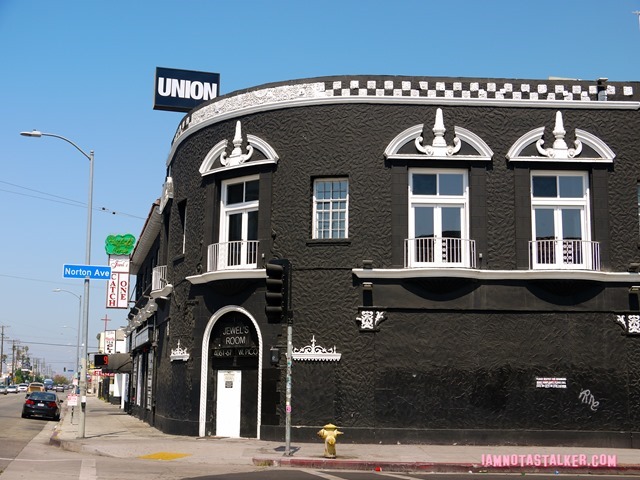 They say that Lady Luck makes for a fickle mistress, but she was certainly smiling on me earlier this month. Not only did I track down the Campbell residence from Soap and the original Mama's Family house during the first week of August, but fellow stalker Chas, from It's Filmed There, sent me a text saying that he had finally, finally located the interior of The Blue Banana from the 1990 romcom Pretty Woman, a place I had been looking for for ages. I was shocked to learn that Vivian Ward's (Julia Roberts) favorite hangout was actually Jewel's Catch One, an oft-filmed site that also appeared in another of my favorite movies, Girls Just Want to Have Fun. The Arlington Heights hot spot shut its doors in July 2015, unfortunately, after 44 years in business. It crushed me to realize that up until two summers ago, the venue was still in operation and I could have stalked it! Knowing the transient nature of nightclubs, in all my years of searching for the locale, never in my wildest dreams did I think it would still be in business, intact, or even remotely recognizable 27 years after filming took place. But a Google search of images of Jewel's Catch One showed me that, up until the closure, the lounge still looked exactly as it did in Pretty Woman. Another Google search told me that the site now housed a different nightclub named Union. I happened to be in L.A. when I received Chas' text, so I headed right on over to stalk the venue. And there was Lady Luck once again at my side. Union was closed when we stopped by, but while I was taking photos, one of the booking managers happened to walk out. I asked if there was any way he might show me the interior and he could not have been more happy to do so! I literally just about hyperventilated from excitement. That excitement only heightened when I saw that, despite the change in ownership, the interior of the club is still very recognizable as The Blue Banana!
Before I delve into that, though, a little history on the site. Jewel's Catch One was founded in 1973 by Jewel Thais-Williams, an African-American lesbian who had long been growing weary over the difficulty she was having getting in to the popular West Hollywood gay clubs of the era due to her skin color and gender. Recognizing the need for a safe haven for minority members of the LGBT community to dance, party and let loose, Jewel took matters into her own hands and purchased a neighborhood bar located on the ground floor of a three-level 1923 building that once housed the Diana Ballroom. She transformed the small space into Jewel's Catch One, a welcoming nightclub that offered the ultimate in privacy and discretion for its patrons. It quickly caught on, becoming so popular that Jewel was able to expand into other areas of the building, eventually purchasing and taking over the entire 7-room property.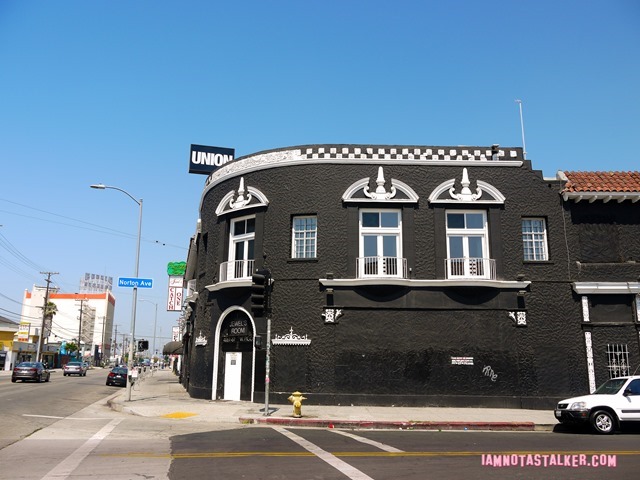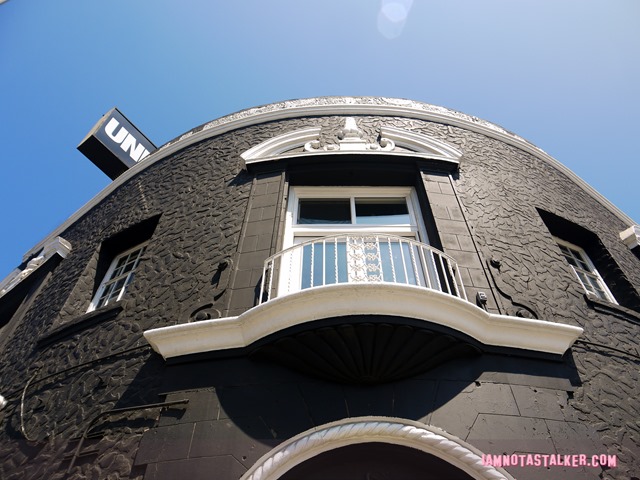 Jewel's Catch One attracted people of all races, genders, and sexual orientation. Thanks to the privacy the club afforded, it wasn't long before celebrities started popping in, as well. Just a few of the stars the lounge played host to include Sammy Davis Jr., Gregory Hines, Warren Beatty, Ali MacGraw, Madonna, Sharon Stone, Janet Jackson, Christina Aguilera, Sade, and Pink.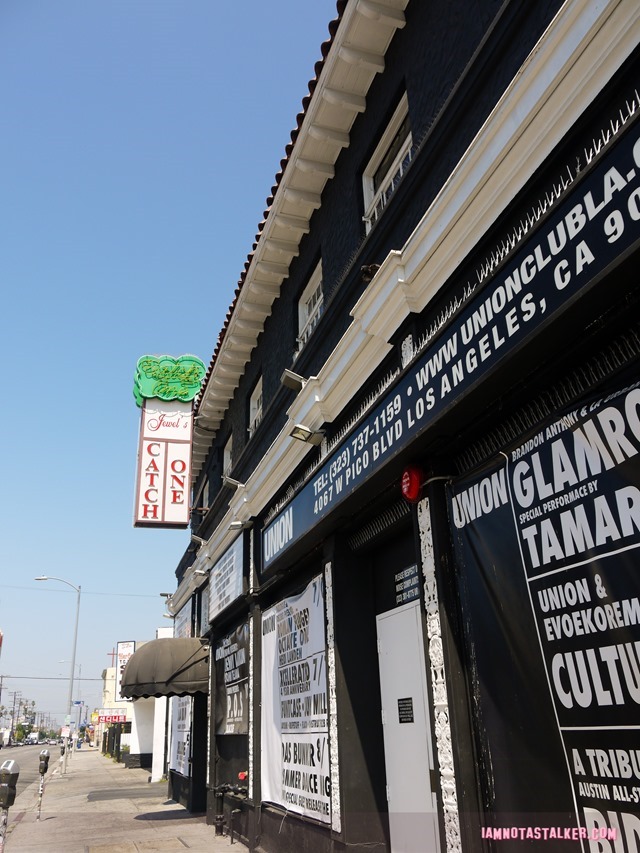 In 1985, the club suffered a massive fire in its top-floor disco room. Despite having to shut down for two years to rebuild, Jewel's prevailed, coming back stronger than ever.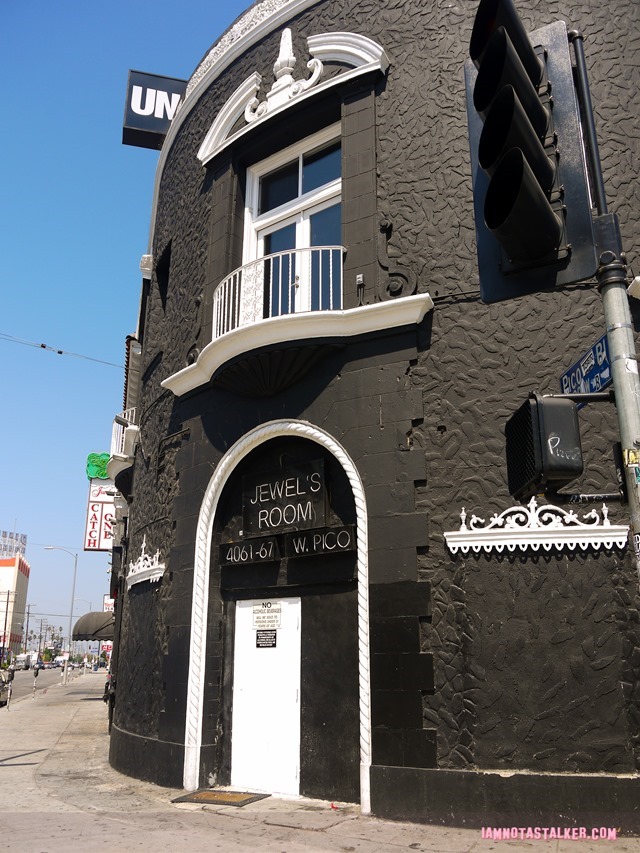 Thais-Williams could be found on the premises nightly, mixing drinks and mingling with her customers. She was so much more than just a nightclub owner, though. Jewel quickly found herself in the position of trailblazer, community leader, and humanitarian. When the AIDS epidemic first hit, she held fundraisers and offered her support to those afflicted. She helped local addicts get clean. She operated a soup kitchen out of Catch One's parking lot to provide food to those who couldn't afford to feed themselves. She co-founded countless community organizations, including the Minority AIDS Project, the Unity Fellowship of Christ Church, the Imani Unidos Food Pantry, and Rue's House, a living facility for women and children with HIV. She didn't stop there, though. After sitting through an appointment with an inefficient doctor in the '90s, Jewel decided to go back to school to study Eastern Medicine. She graduated in 1999 with a Masters of Science in Oriental Medicine – at the age of 60 no less. Two years later, she opened the Village Heath Foundation next door to Catch One. The free clinic, which is still in operation, provides medical services to the community's less fortunate. Today, Jewel can even add "producer" to the long list of her accomplishments, having served as one on a 2016 documentary about her club titled Jewel's Catch One.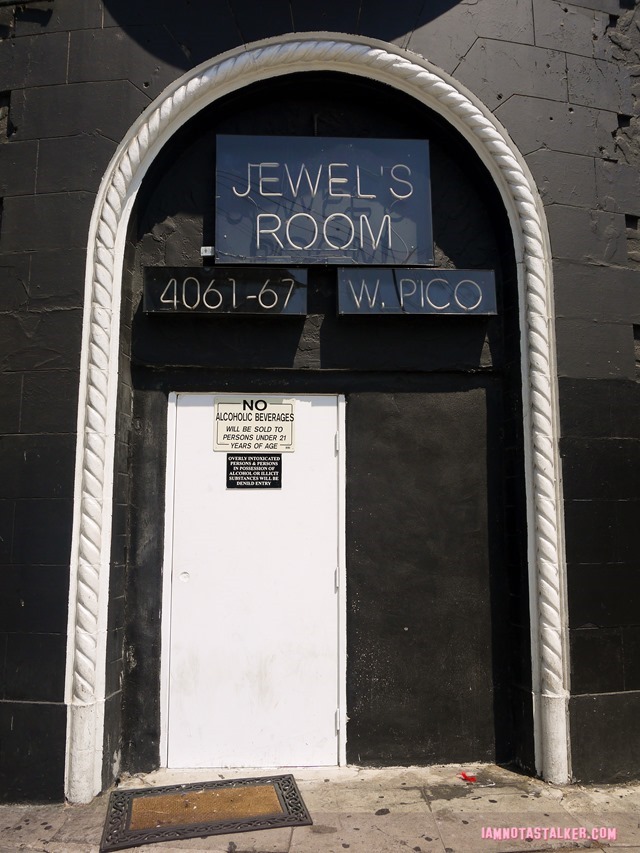 Sadly, Catch One saw a decline in patronage in recent years. As Jewel explained in a 2014 The Neighborhood News Online interview, "The need [for the club] isn't there anymore. The population was gay and lesbian for most of the years — though everybody came, including straight people and stars — but now the community can go anywhere they want to. And now, even when I come out on a Saturday night, no one's dancing, no one's talking. They're all standing on the edge of the room and all you see is white lights, screens." In July 2015, she decided to shutter the site, put it up for sale, and instead focus her energies on running the Village Health Foundation. The space was purchased by Mitch Edelson in November of that year and re-opened as Union in February 2016. I love that the club's original signage was left intact, despite the changeover.
Today, the venue boasts six dance areas known as the Disco, The Loft, Jewel's Room, Circle Bar, Noise Room, and Tavern. Jewel's Room (pictured below) is the space that appeared as The Blue Banana in Pretty Woman and is the area of the club most often featured onscreen. It is not very hard to see why producers choose to use it regularly. It definitely has a retro aura, even with the modernizations made by Edelson when the site became Union.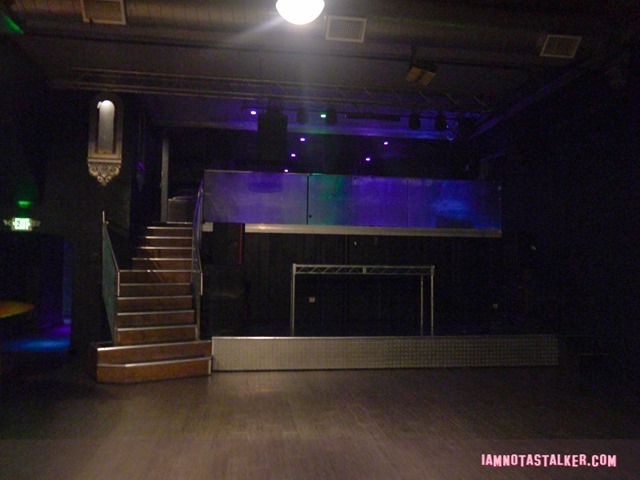 As I walked into Jewel's Room, I just about passed out from excitement.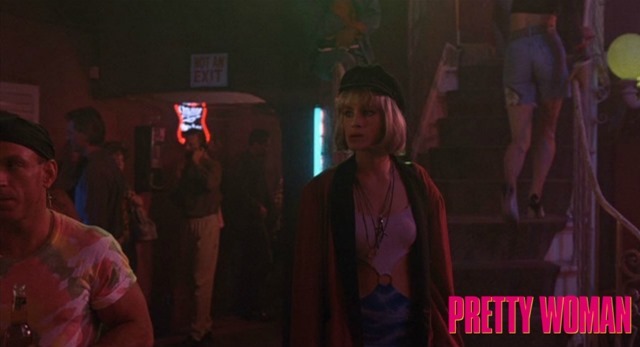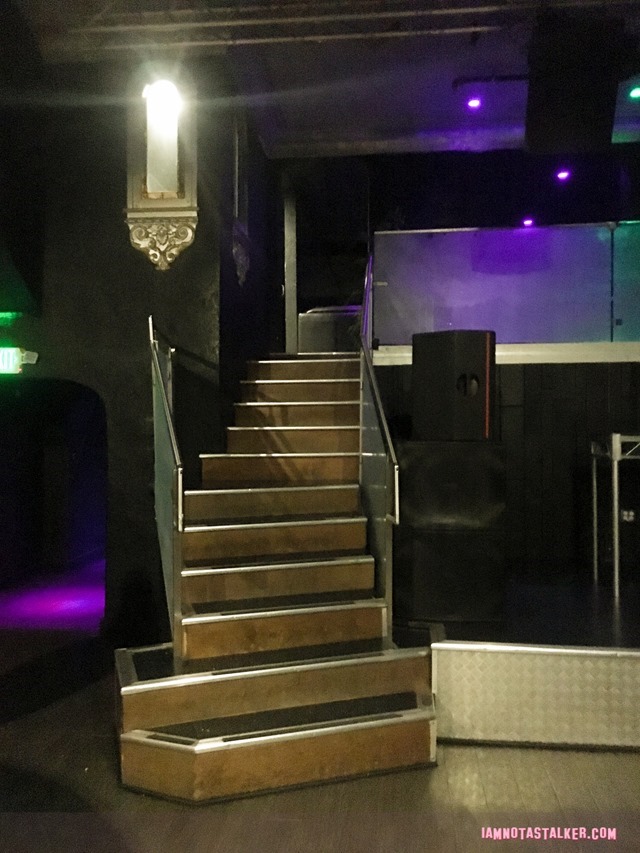 I was in awe at how recognizable it still is from Pretty Woman, as you can see above and below.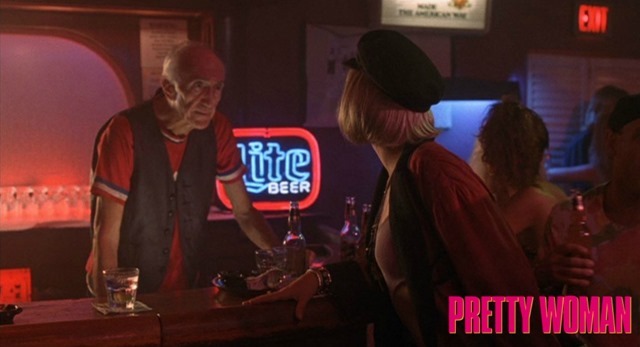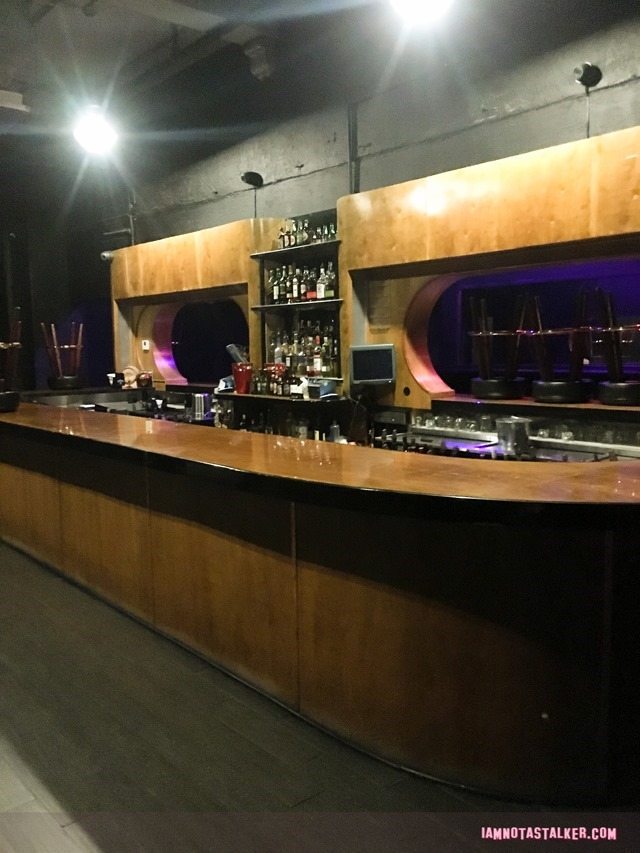 I was most excited to see the stairwell leading to the mezzanine, which Vivian walked down in the movie. The white metal railing has since been swapped out for a modern glass and metal railing (which bummed me to no end), but I was thrilled to finally be laying eyes on the stairs nonetheless.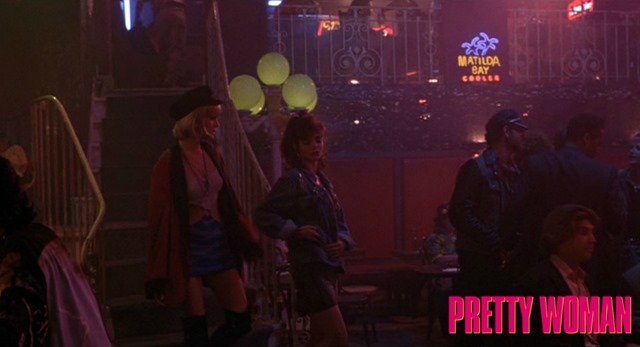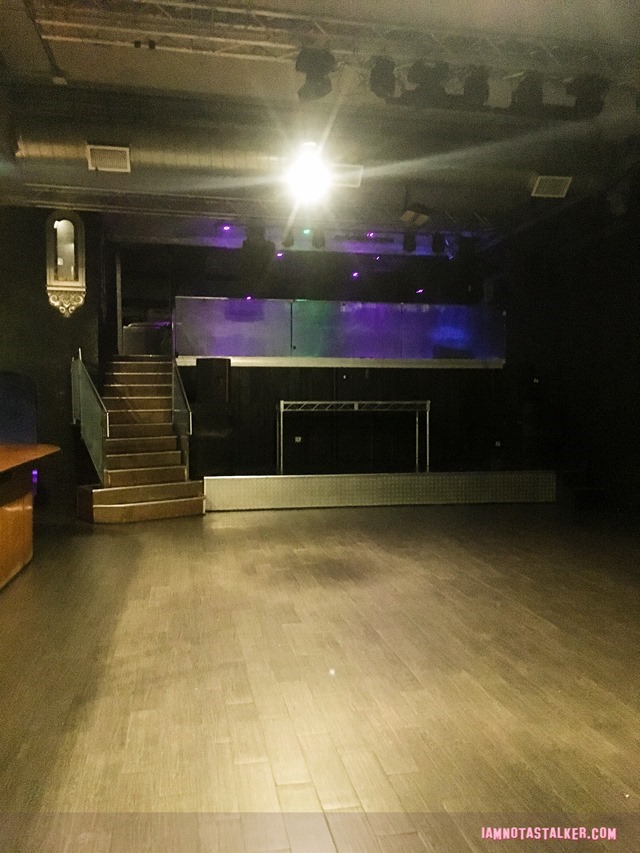 Never thought I'd be posing for this photo! Finally! (Due to the room's low lighting, my pictures came out a bit hazy, unfortunately – some worse than others. My apologies.)
Jewel's Room's mezzanine was referred to as the "Poor Room" in Pretty Woman. When I mentioned that factoid to our tour guide, he asked if I wanted to head upstairs to see the space in person. It was about that time that I completely lost my cool. (Again, I'm sorry about the poor quality of my photos here.)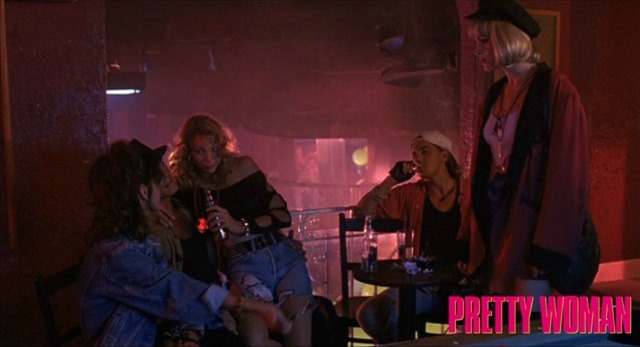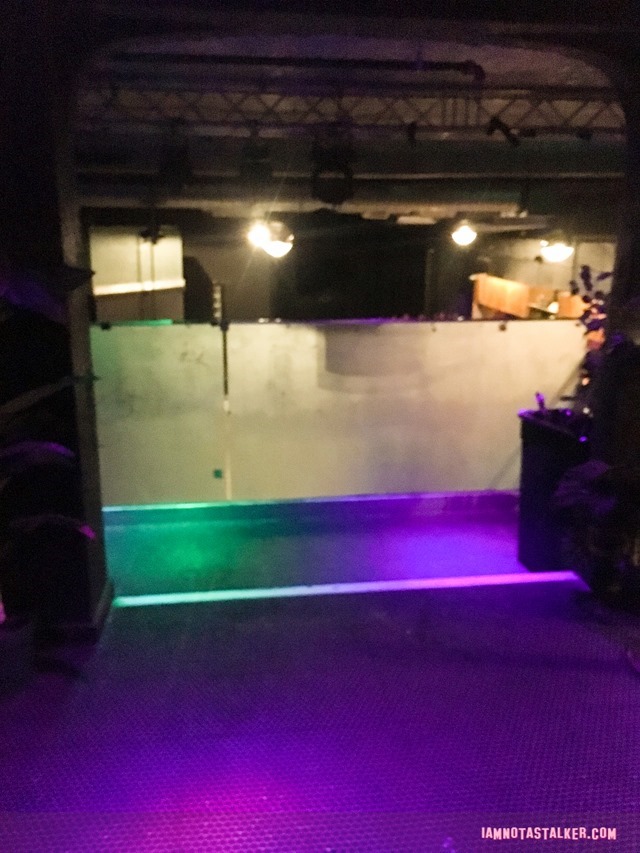 When I saw that the mezzanine area boasts an air hockey table in real life, I was ecstatic. Not quite the pool table seen in Pretty Woman, but close enough!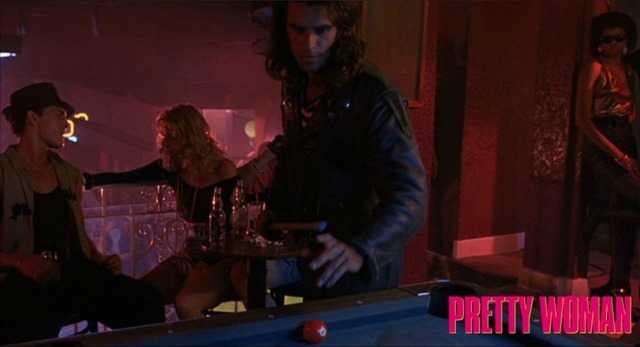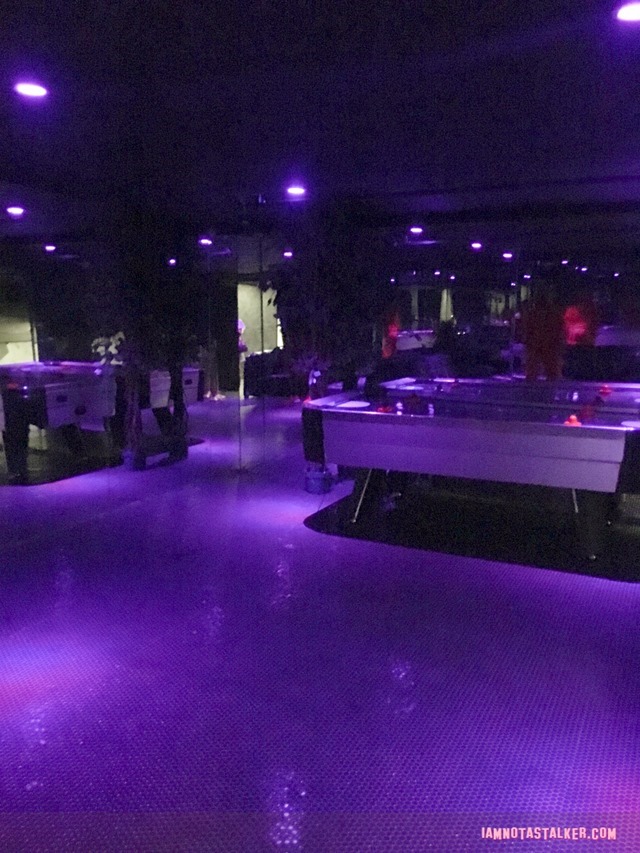 Another shot of the "Poor Room" is pictured below.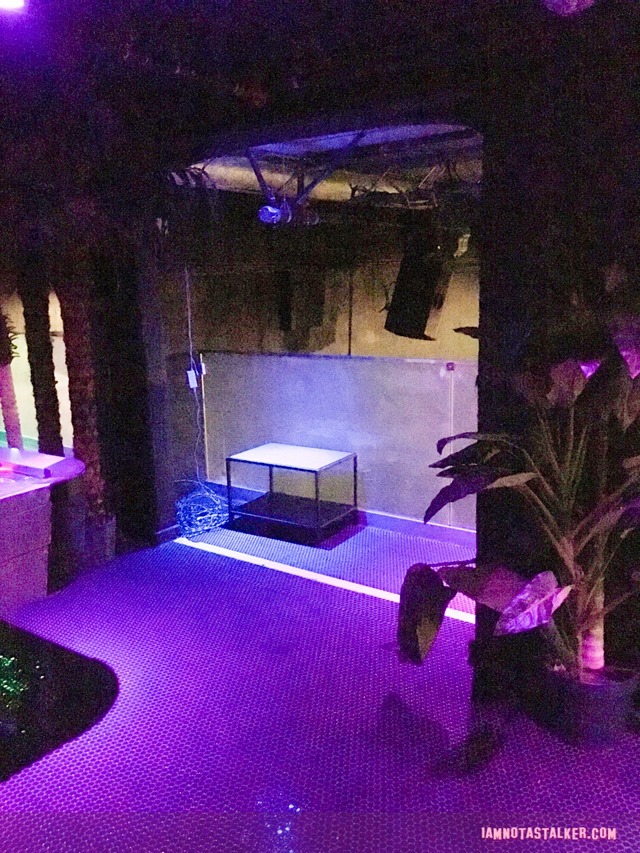 As I mentioned in this February 2012 post, the front exterior of The Blue Banana was a mocked-up section of the Egyptian Theatre in Hollywood.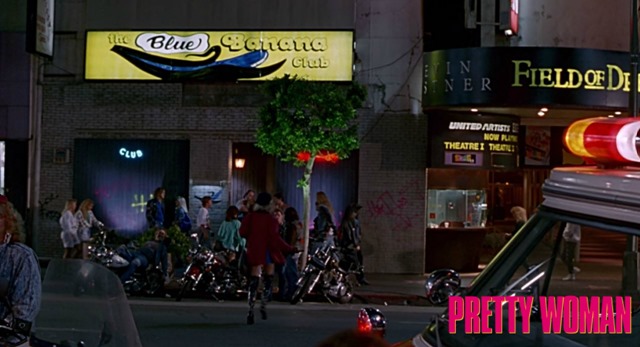 The rear exterior of Jewel's Catch One did appear in a deleted scene, though, that was featured on Pretty Woman's 15th Anniversary Special Edition DVD. In the scene, Vivian stops by The Blue Banana with Edward Lewis (Richard Gere) to look for her roommate, Kit De Luca (Laura San Giacomo). While there Edward proceeds to get into an altercation with drug dealer/pimp Carlos (Billy Gallo). It was because of that segment that Chas was finally able to identify the club. While watching the scene a couple of weeks ago, he happened to recognize Catch One's back entrance (namely the doorway and stairwell) from its appearance in both Girls Just Want to Have Fun and Pretty in Pink, two movies he has chronicled on his site. (You can check out his posts on those flicks here and here.)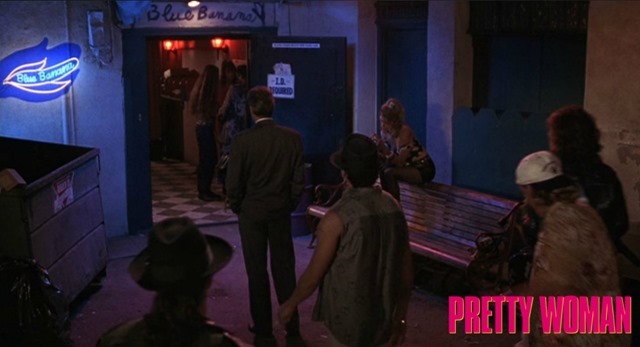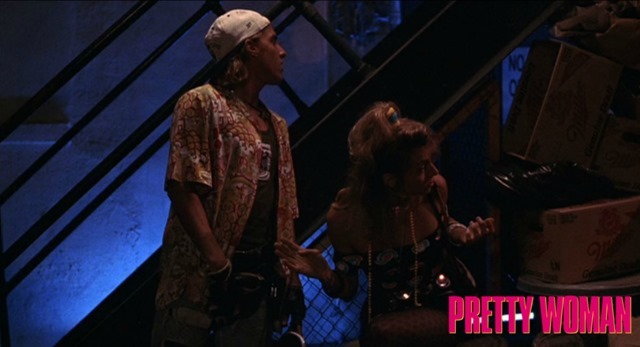 The interior of Jewel's Room was also utilized in the deleted scene.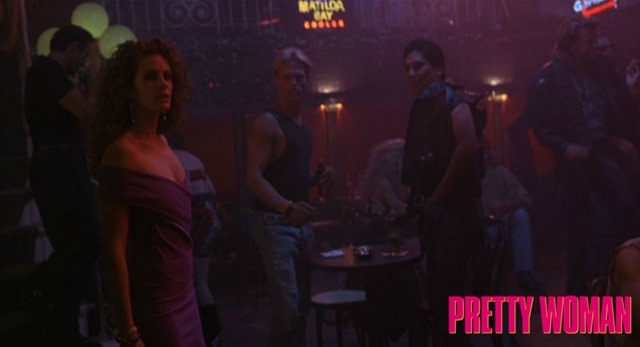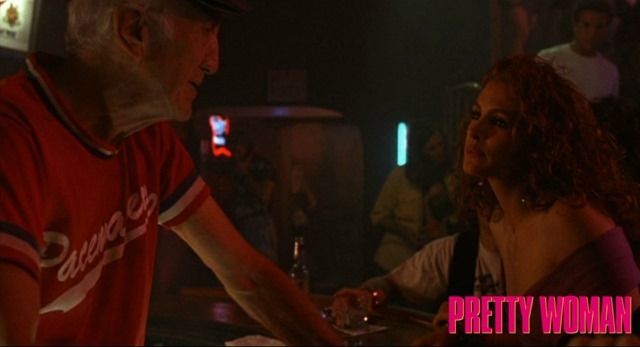 In fave movie Girls Just Want to Have Fun, which premiered in 1985, Jewel's Catch One portrayed The Court nightclub, where Janie Glenn (Sarah Jessica Parker) and Jeff Malene (Lee Montgomery) rehearsed for the big Dance TV contest. In the scene, Catch One's rear entrance masked as the front of The Court.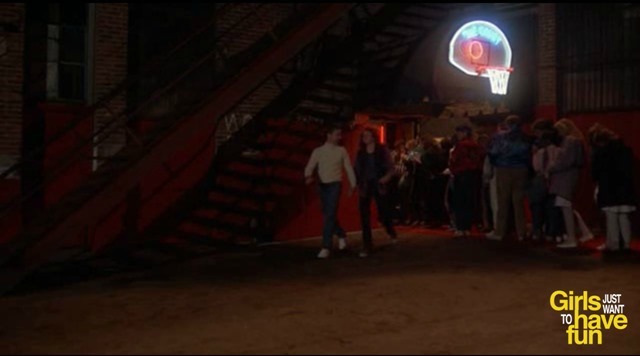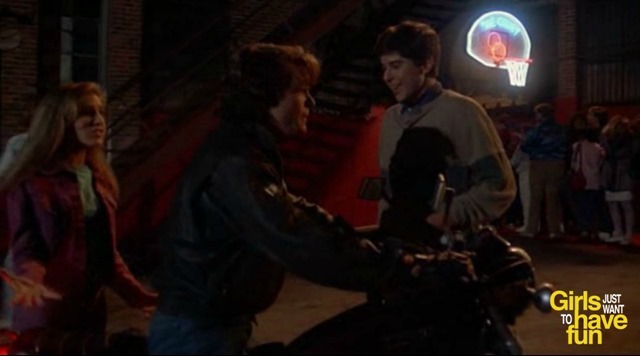 I am not sure if the scenes that took place inside The Court were shot at Jewel's, but I am guessing they were. I believe the Disco was utilized for those segments. Due to the fire that occurred in the Disco in 1985 and the subsequent remodel of the space, it is hard to say for certain either way, though.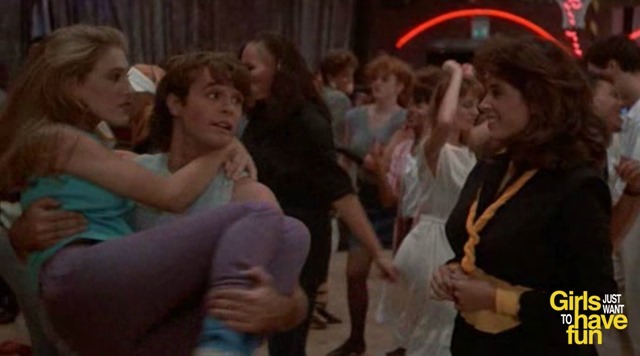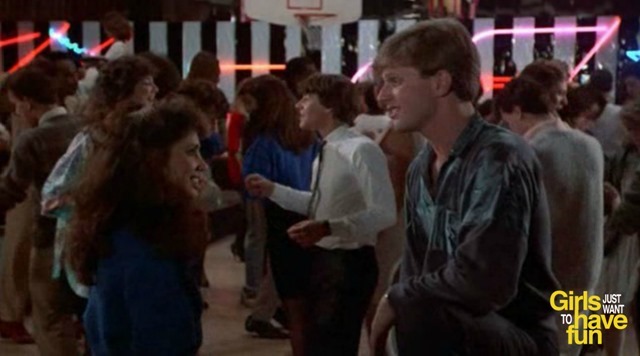 Catch One masqueraded as Cats nightclub, where Andie (Molly Ringwald) regularly hung out in 1986's Pretty in Pink.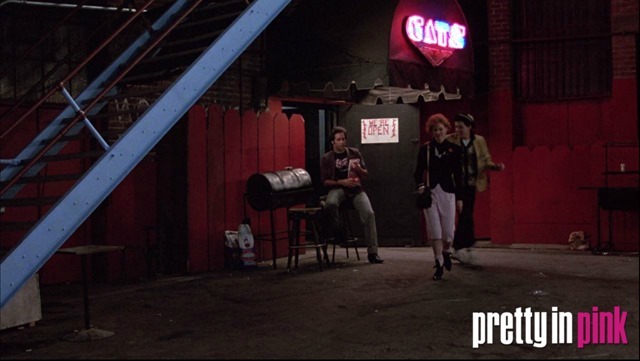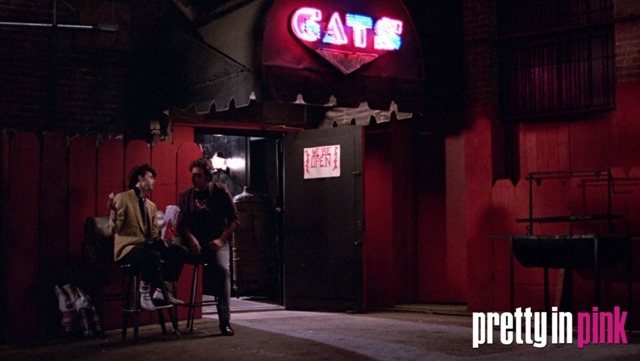 As you can see from comparing my photographs below to the screen captures above, Catch One's rear entrance is now fenced in and, though still recognizable, looks quite a bit different than it did onscreen in Pretty Woman, Girls Just Want to Have Fun, and Pretty in Pink.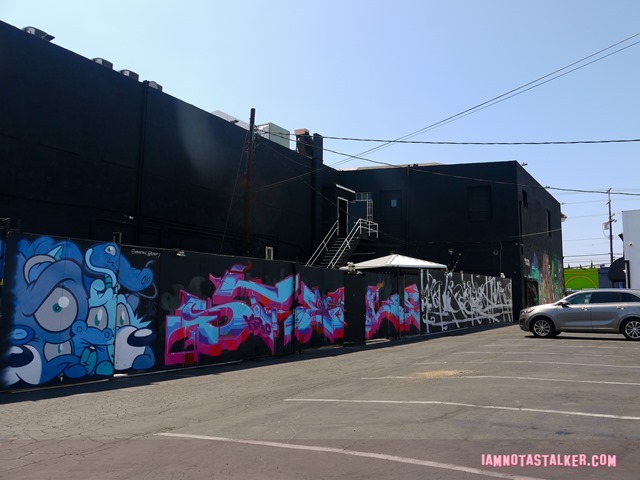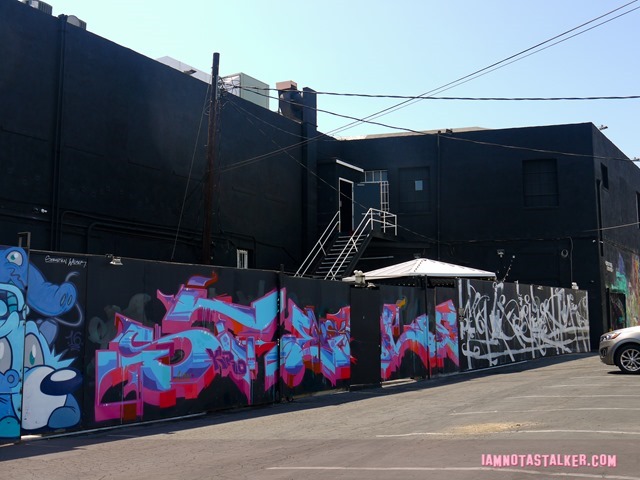 Thanks to our friendly tour guide, I was able to snap a pic of the stairwell seen in the three films from behind the fence.
Because so little of the inside of Cats was shown in Pretty in Pink and what was shown was dimly lit, I cannot say with any certainty if Jewel's Catch One or a different location was utilized for the interior segments.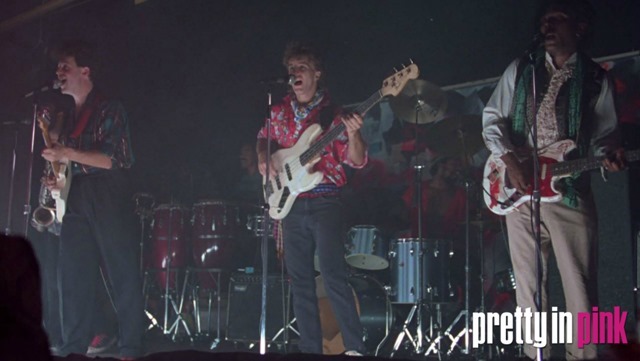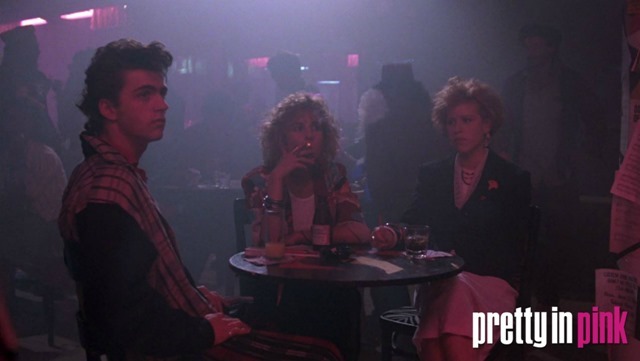 In the 1988 drama Beaches, Catch One popped up as two different spots. Jewel's Room first appeared as The Blue Cave, the New York City lounge where CC Bloom (Bette Midler) tried her hand at being a jazz singer.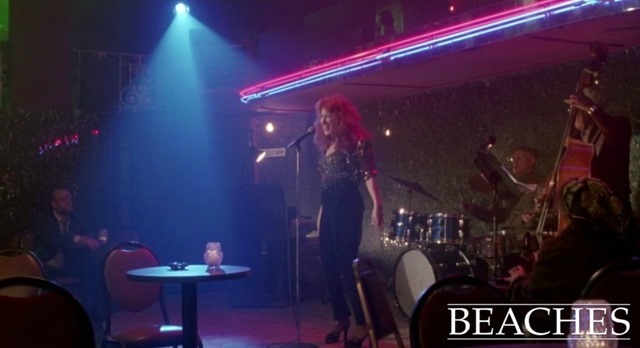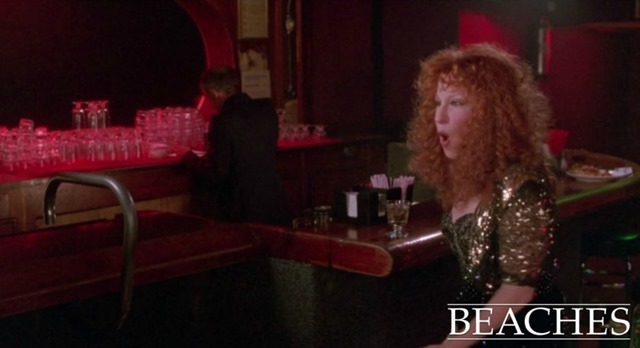 Later in the movie, the Disco portrayed San Francisco's Pink Palm nightclub, where CC and Hillary Whitney Essex (Barbara Hershey) made up after not speaking for years.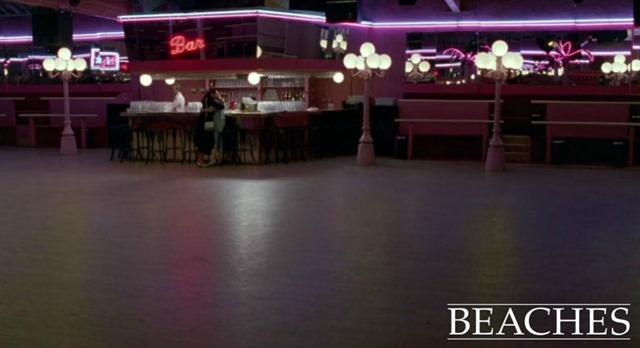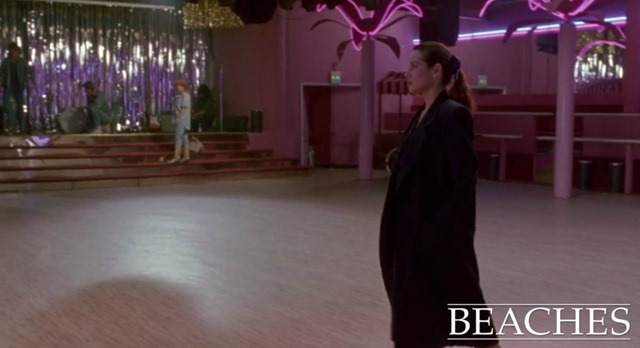 Jewel's Catch One also masked as two different places in the 1988 comedy I'm Gonna Get You Sucka. The Disco first popped up in the movie's Soul Train flashback scene.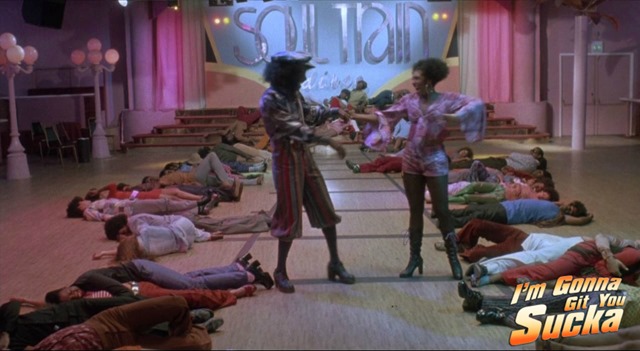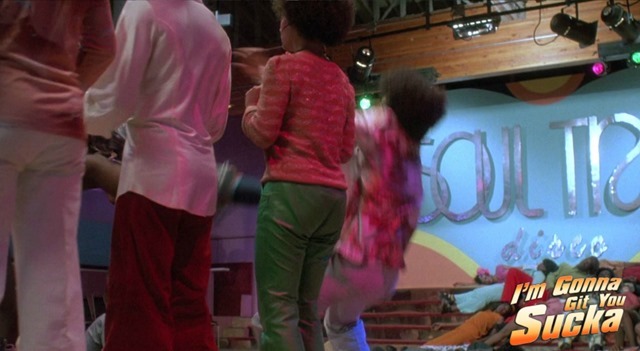 Later in the film, Catch One's front exterior . . .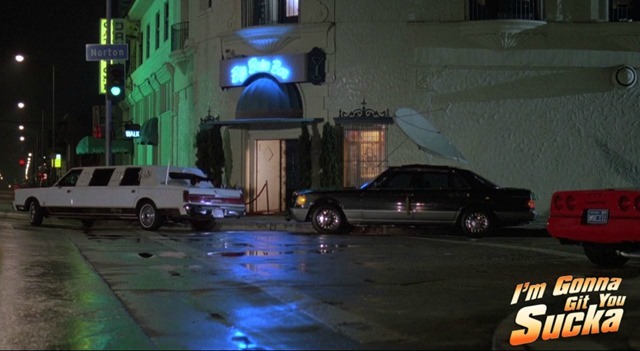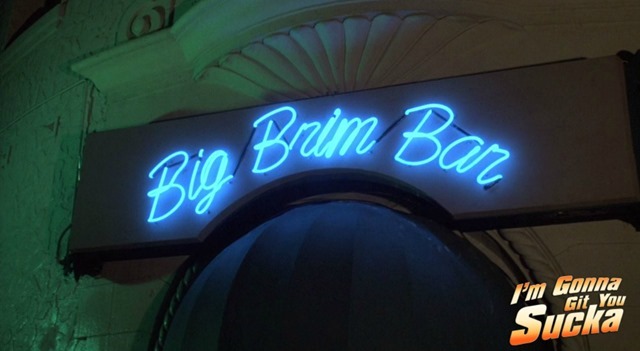 . . . and Jewel's Room portrayed the Big Brim Bar, the hangout of "every criminal and major player in town."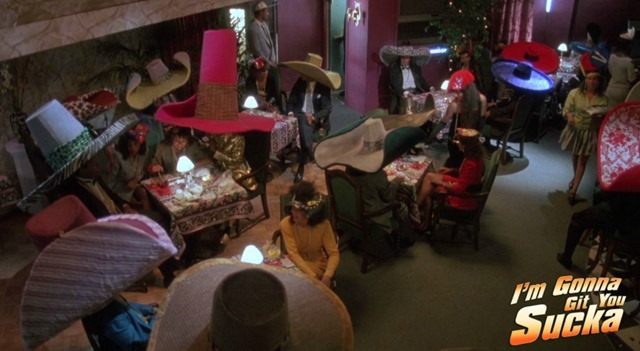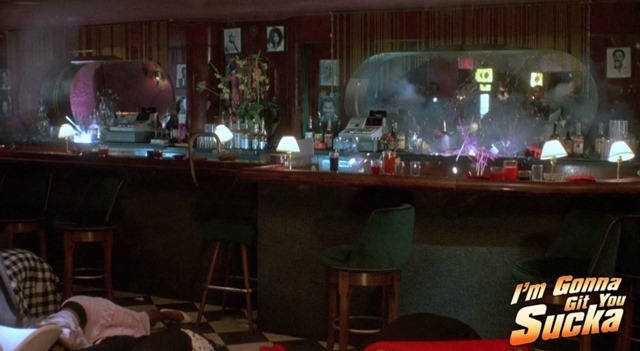 Catch's One rear exterior and Jewel's Room appeared as The Gold Tooth, the supposed Decatur, Georgia nightclub where Nisi (Halle Berry) and Mickey (Natalie Desselle Reid) hung out in the 1997 comedy B*A*P*S.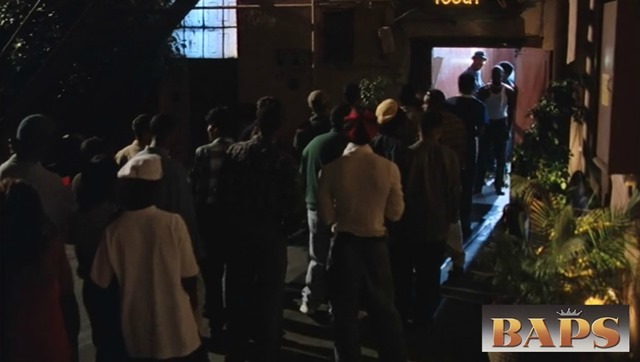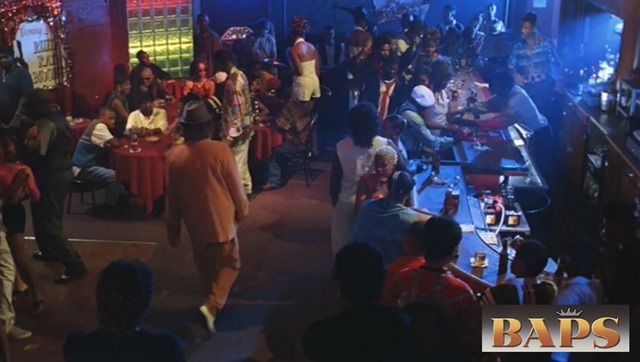 Jewel's Catch One played The Bell, the Philadelphia-area nightclub where 23 people were killed in a 1978 fire, in the Season 1 episode of Cold Case titled "Disco Inferno," which aired in 2004.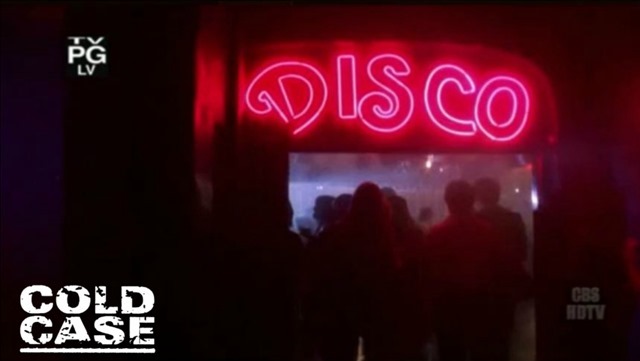 Though the Disco was utilized for the majority of the shoot, Jewel's Room was featured at the end of the episode as the spot where Lilly Rush (Kathryn Morris) took ADA Jason Kite (Josh Hopkins) to celebrate after solving the case.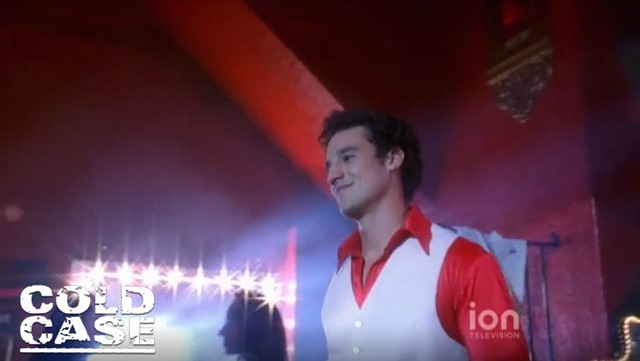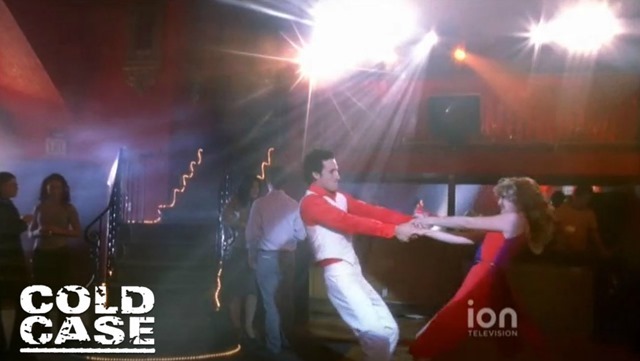 In 2015's Straight Outta Compton, the Disco portrayed Doo-To's Club, the Compton spot where Dr. Dre (Corey Hawkins) and Ice Cube (O'Shea Jackson Jr.) first performed.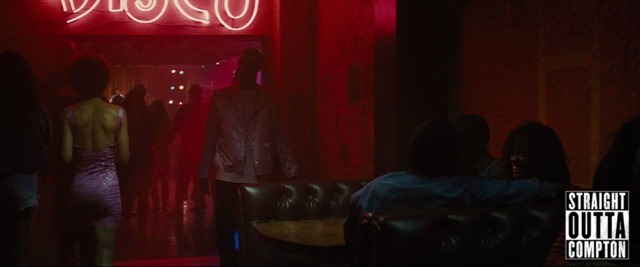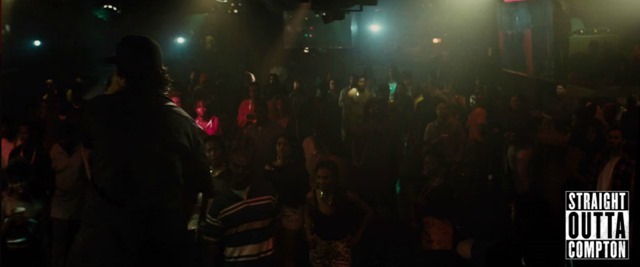 Jewel's Catch One was also supposedly featured in the 1993 Tina Turner biopic What's Love Got to Do with It, but I scanned through the movie and did not see it anywhere.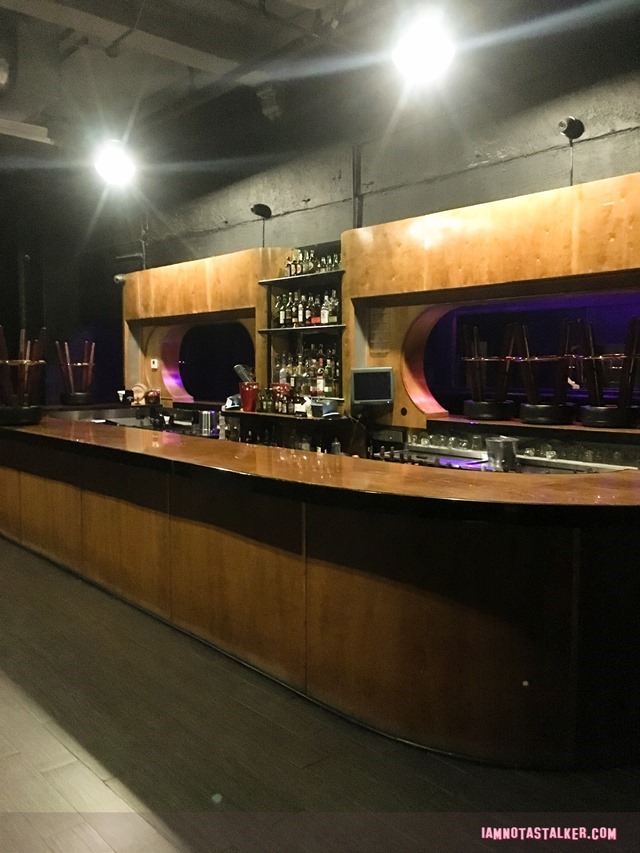 For more stalking fun, follow me on Facebook, Twitter, Instagram, Los Angeles magazine and Discover Los Angeles.
Big THANK YOU to Chas, from the It's Filmed There website, for finding this location!
Until next time, Happy Stalking!
Stalk It: Union, aka Jewel's Catch One, aka The Blue Banana from Pretty Woman, is located at 4067 West Pico Boulevard in Arlington Heights. You can visit the nightclub's official website here.
107086