Kristin Cavallari's House from Season 6 of "The Hills"
Sep 24th, 2010 | By
Lindsay
| Category:
The Hills Filming Locations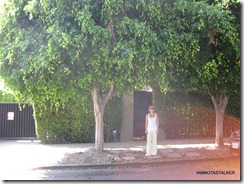 Literally just around the corner from Philippe Chow, the restaurant that I blogged about on Tuesday where Brenda and Donna ate veal brains on Beverly Hills, 90210, is the home where Kristin Cavallari lived during Season 6 of fave show The Hills.  I am embarrassed to say that I spent an exorbitant amount of time looking for this particular location and had absolutely no luck whatsoever in finding it.  Thankfully though, fellow stalker Britney embarked on her own hunt to track it down and quickly stumbled upon this Shelterpop article which stated that Kristin's home was formerly owned by "celebrity" hairstylist Eric Bilardi (apparently Eric has tressed everyone from Daryl Hannah to Jane Seymour).  Britney then searched for information on Eric online, wound up finding some public records which listed his former address, and voila, it was the right place!  Yay!  So, after my father and I finished lunch at Philippe's last Friday afternoon, we headed right on over to stalk Kristin's former pad.
Unfortunately though, because the property is surrounded by extremely tall hedges and a very high fence, not a whole lot of it can be seen from the street.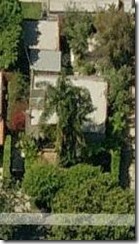 Nor can much be seen from aerial views.
But that's why God created real estate listings!  Kristin's Spanish-style home, which was originally built in the 1920s, was available for rent earlier this year at a rate of $5,750 per month.  The property, which last sold in 2007 for $1.3 million, boasts two bedrooms, two bathrooms, 1,400-square feet of living space, a garden, hardwood flooring throughout, a covered patio, several fountains, and an outdoor fire pit.
The house first showed up in the second episode of The Hills' sixth season, which was titled "Rumor Has It", in which Kristin throws a little housewarming shindig for herself.  I am fairly certain, though, that, like most of The Hills residences, Kristin never actually lived on the premises, but that it was used for filming purposes only.  And from how it appears in the real estate photos, producers seem to have used all of the real life homeowner's actual furnishings during filming –
– right down to the cups in the kitchen cupboards . . .
. . . and the cushions on the living room couch.  You can check out more photos of the house on the Shelterpop website here.
Ironically enough, the finale scene, in which Kristin walks out of her house and says a tearful good-bye to both Los Angeles and Brody Jenner, was not actually filmed in front of the property, as it was made to appear.  And unfortunately I have not yet been able to discern exactly where that scene was shot.  Ideas, anyone?
Big THANK YOU to Britney for finding this location!  🙂
Until next time, Happy Stalking!  🙂
Stalk It: Kristin Cavallari's house from Season 6 of The Hills is located at 819 North La Jolla Avenue in West Hollywood.  Philippe Chow, the restaurant where Brenda and Donna ate veal brains on Beverly Hills, 90210, is located just a half a mile south at 8284 Melrose Avenue, also in West Hollywood.
23944